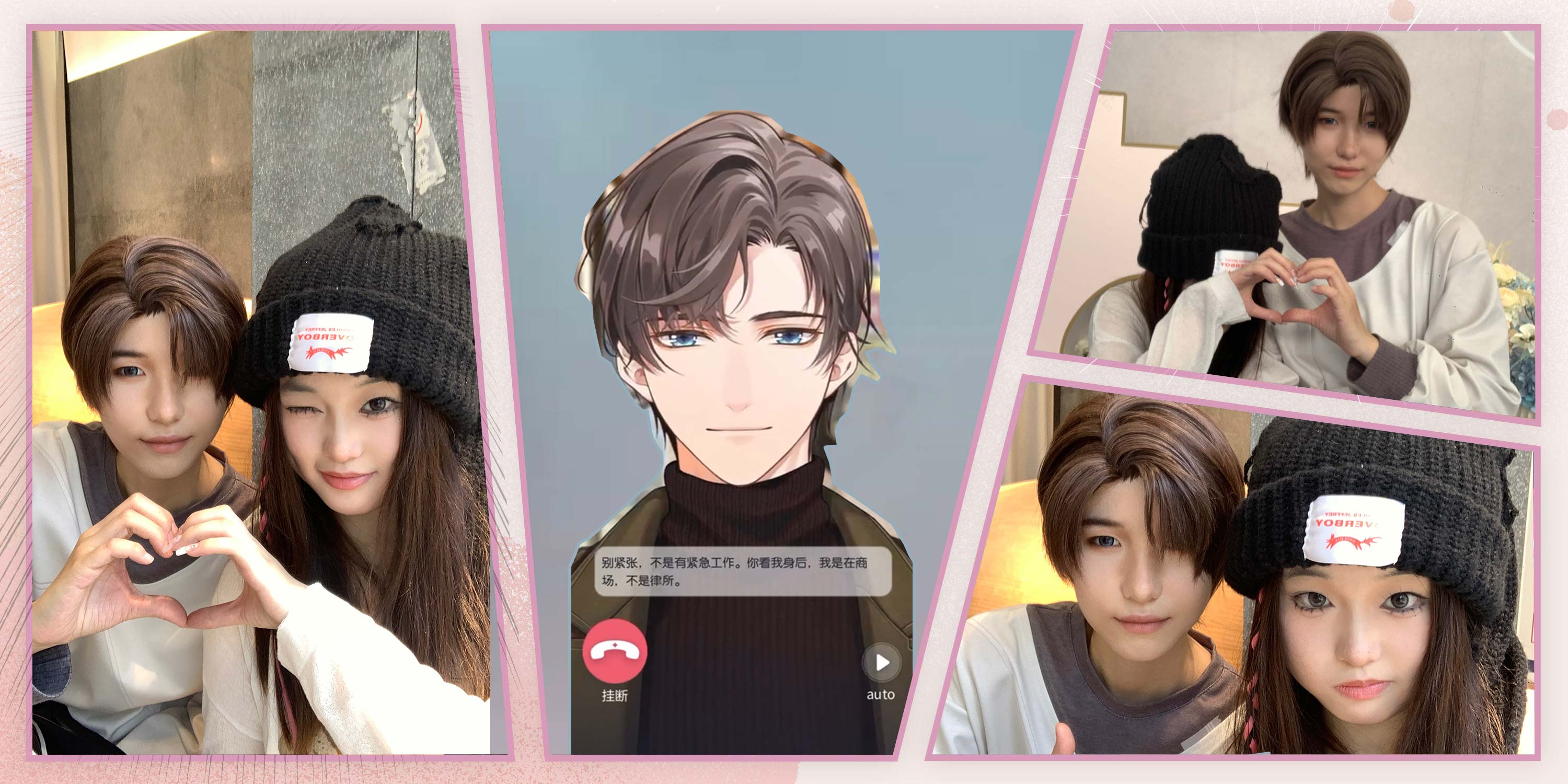 FEATURES
China's Newest Dating Craze: Real-Life Meetups With Virtual Boyfriends
During the pandemic, women across China became infatuated with the dashing male characters in a series of viral video games. Now, many are hiring cosplayers to bring their digital beaus to life.
Rynee Ren's first date with Zuo Ran was everything she'd dreamed of. They rode the carousel at the park. They visited a perfume shop, where they created their own unique scent together. Before parting, they even shared a passionate kiss.
The only issue was: Zuo Ran wasn't real. The person who Ren kissed was actually a female cosplayer, who the 20-year-old had hired to play Zuo Ran — a character from her favorite video game — for the afternoon.
Welcome to the brave new world of "cos commission" — a wildly popular new service that is helping women across China bring their virtual boyfriends to life.
In recent years, a growing number of Chinese women have been shunning real-life relationships, and instead finding romance in a series of viral video games. Members of this subculture, known as "dream girls," often develop powerful infatuations with the male characters in the games, spending thousands of dollars to unlock new levels.
Now, many are trying to move these digital relationships into the physical world. Dream girls like Ren are hiring professional cosplayers to impersonate the characters, and then organizing elaborate dates with their loved ones.
Photos of young women on cos commission dates have frequently gone viral on Chinese social media in recent months, with a related hashtag receiving over 100 million views on the Chinese version of TikTok, Douyin.
The reaction among the wider public has been a mix of intrigue, ridicule, and also some soul-searching. Though it sounds like a storyline from the sci-fi series "Black Mirror," the cos commission craze isn't really being driven by cutting-edge technology. 
For many, it's more a reflection of deep-seated social issues: namely, China's unbalanced gender relations and years of pandemic lockdowns that have left young people feeling isolated and disconnected.
Digital love
The cos commission scene has its roots in the world of otome, or "maiden," games. First developed in Japan during the 1990s, these are story-based video games that encourage female players to develop romantic relationships with the games' dashing male characters.
Otome games spread to China in the 2010s, and quickly attracted a massive audience. In 2017, "Love and the Producer" — a game about a media executive trying to build her career while dating four potential soulmates — received over 7 million downloads, inspiring a host of similar titles.
From the beginning, these games inspired passionate — at times, obsessive — fan cultures in China. Stories quickly emerged of dream girls spending tens of thousands of yuan in the games, as they tried to deepen their relationships with the characters.
This isn't because the games are particularly high-tech: The graphics tend to be average, and the interactions in the games are scripted. But the male characters have a powerful emotional appeal, particularly to "female players with low self-esteem," said Sun Yuannan, a lecturer at Shandong Normal University who researches the impact of otome games on women.
"The more they play, the more needy they become," said Sun. "Once the amount of time and money spent on the game reaches a certain level, one's feelings toward the virtual characters will be transformed … and it feels the same as a real-life romantic relationship."
The games' popularity rose even further during the pandemic. Across China, millions of students found themselves locked down for months on end, and unable to date in real life. Many turned to otome games for comfort, with Chinese tech giant Tencent scoring a big hit with a new title in 2021.
Ren, a student from the eastern city of Ningbo who spoke under a pseudonym for privacy reasons, was one of them. Before the pandemic, she had won a place to study at a university in Australia, but the 2020 travel ban left her stuck in China. For the next two years, she attended classes online at home, and struggled to meet new people.
Then, she found Zuo Ran. He was one of the protagonists in the otome game "Tears of Themis" — a star lawyer at a high-powered firm. At work, he seemed cold and aloof, but outside the office he became sweet and caring. Ren was smitten. She spent hours chatting with him via the game's scripted voice calls and text messages, spending around 15,000 yuan ($2,200).
Until recently, this kind of relationship would have ended there. But when cos commission communities began to emerge, Ren realized it might now be possible to meet Zuo Ran offline.
The first dream girls began paying cosplayers to dress up as their favorite characters a few years ago, but the practice only began to attract mainstream attention during the pandemic. In late 2022, posts by young women about their dates with cosplayers began going viral on Chinese social media. After China dropped its "zero-COVID" restrictions last December, the number of these posts multiplied.
Now, the cos commission scene is becoming increasingly organized. Dream girls have begun posting recruitment ads for cosplayers on the eBay-like e-commerce site Xianyu, or social platforms such as Douyin and Xiaohongshu.
Each ad specifies what character the cosplayer will have to play, the fee, and whether the cosplayer needs to be willing to kiss. Then, the cosplayers can reach out and arrange a date.
The meetups usually involve typical dating activities: meals, shopping trips, or visits to an amusement park. Cosplayers typically charge 100-200 yuan ($14.50-$29) per hour, with the dream girl also paying for any meals and activities during the date.
Ren went on her first cos commission date in February, and was delighted with the experience. For an afternoon, she truly felt like her beloved Zuo Ran had come to life, she said.
"I really felt his presence traveling from two dimensions to reality," Ren told Sixth Tone. "The cosplayer was able to deliver the experience in a real and tangible way."
Female dreams
Dream girls have frequently attracted criticism in China, with many deriding them as loners who are unable to cope with real relationships. But members of the subculture counter that they simply prefer their virtual boyfriends to men in real life.
As elsewhere, many women in China feel that real-life relationships can be disappointing and sometimes dangerous. The pressure to conform to traditional gender roles inside relationships remains powerful in many parts of the country, especially in rural areas. There have also been a spate of high-profile incidents involving violence against women in recent months.
Some dream girls have lost trust in men as a result. It's no accident that the cosplayers hired for cos commission are almost always female; clients tend to prefer an all-female environment for their dates, even if the cosplayers are playing male characters.
"The men can be paper, acrylic, iron, or virtual, but they can't be carbon-based creatures," said Jony Lin, a 26-year-old dream girl from Shanghai. "A safe and controlled environment is all we want."
The three dream girls who spoke with Sixth Tone all said they enjoyed their dates with female cosplayers, with several saying the experience exceeded their expectations.
"Men are either horny or act like I'm out of their league," said Ren, referring to her previous dating experience with men in real life. "In contrast, female cosplayers can give me a fully immersive experience, and I won't fear being judged or harassed."
The cosplayers go to great lengths to give their dream girl clients the most realistic dating experience possible. Many wear platform shoes, muscle suits, or chunky shoulder pads to match the virtual boyfriend's physical appearance. They also put a lot of effort into staying in character.
"She had studied my virtual boyfriend's role in advance and learned his way of speaking," said Lin. "Another cute detail that I found memorable was, while we were waiting at the traffic lights, the wind blew up my skirt, and she immediately stood behind me to help me cover up."
But the dating experience can sometimes feel too immersive. Ren said she found it difficult to move on and return to her normal life after the date.
"I almost became a stalker of the cosplayer I hired," she said. "I kept checking her various social media pages, desperately trying to figure out what she was doing at that moment."
At one point, Ren was even considering offering the cosplayer a large sum of money to stop going on dates with other dream girls as Zuo Ran. She knew from social media that many other dream girls have done this.
"Luckily, one of my friends stopped me from doing so," said Ren. "She reminded me that my love for the cosplayer was illusionary and fleeting, and that I should spend the money in the game to support the real Zuo Ran, who will not change his mind about me."
Some experts worry that cosplayers will find it easy to exploit their clients' infatuations. The risk is even greater given how informal the cos commission market is, according to Wu Yue, an associate professor at the University of Chinese Academy of Social Sciences.
"Even if both are women, this consumption model will certainly go wrong if it simply relies on verbal agreements and private payments, with no third-party guarantees," said Wu. 
Another widespread concern is that otome games give young women unrealistic expectations for their future relationships. Can a real man ever live up to the ideal presented by characters like Zuo Ran? 
Wu and Sun, who surveyed over 600 female otome game players in 2018, have their doubts. They concluded that the games appear harmless, but do in fact reinforce a "harmful rather than grounded idealism" among young players.
"The virtual characters in the games, the surrogates acted out by female cosplayers … they are too pure, too ideal," said Sun. "They are out of touch with reality and real masculinity."
The dream girls who spoke with Sixth Tone, however, rejected this idea. They said that they wouldn't expect their real-life partners to be as good-looking or successful as the characters in the otome games. They do, however, want to find a man that holds similarly feminist attitudes. 
Several dream girls said they found the video games highly educational. Unlike other forms of pop culture in China, they feel the games provide a useful model of what a healthy relationship should look like. 
"Before, I thought an ideal boyfriend was one who treats his girlfriend especially well, buying her very expensive gifts and always being the first one to apologize after an argument," Lin said. "Otome games are different from those old TV dramas, which portrayed women as weaklings who need to be protected."
In the game Lin plays, the protagonist runs a film company on the brink of bankruptcy. While dealing with the crisis, she meets several different kinds of men. Lin was often pleasantly surprised by the way they behaved.
"The first male character in the game is the president of a big business group. At first, I thought he would give me a sum of money," Lin said. "It turned out he didn't. Instead, he guided me step by step to solve the problem by myself."
'Emotional value'
The cos commission trend has also brought new opportunities to China's cosplay community. For some, the dream girl dates are an opportunity to make good money. But others are providing the service free of charge, as they feel moved by how much "emotional value" the dates provide to other women.
"This is a beautiful movement," one cosplayer, surnamed Wang, told Sixth Tone. "This unique fusion of ACG (anime, comic, and game) cultures has … provided an outlet for those who struggle to form real-life connections."
Wang, a primary school teacher from east China's Anhui province, started cosplaying as a hobby while she was in middle school. Now 23, she still keeps her hobby low-key, as she worries that her parents and friends will judge her.
When Wang heard about cos commission this past November, she quickly decided to volunteer as a cosplayer. She said she has enjoyed impersonating male characters on the dates, especially Diluc from MiHoYo's "Genshin Impact."
"On the one hand, I wanted to find something missing in my own personality through these roles, such as maturity," said Wang. "On the other hand, I also had this funny but evil idea: What's it like to pretend to be a mature man for a day?"
But the cos commission assignments are far more demanding than regular cosplaying, according to Wang.
"I literally need to be in character for a whole day," she said. "Some character costumes aren't very flexible, and the hairnet under the wig can be very tight and uncomfortable after wearing it for a long time … As someone who isn't very tall, I have to wear platform shoes that add 7 to 8 centimeters in height. Walking in them makes me feel like a mermaid."
Wang, however, said the clients' reactions make it all worth it. At the end of a recent date, she escorted a young woman back to her home. Before she went inside, the young woman hugged Wang for an entire minute, before whispering "thank you" as she turned to go inside. Later, she sent Wang a text, saying that she'd been thanking Wang herself, rather than her character.
"During the date, I could tell that she was very introverted," Wang said. "At that moment, I felt that doing this thing is very meaningful."
Editor: Dominic Morgan.
(Header image: Rynee Ren takes selfies with a cosplayer dressed as her virtual boyfriend. Courtesy of Rynee Ren, reedited by Sixth Tone)