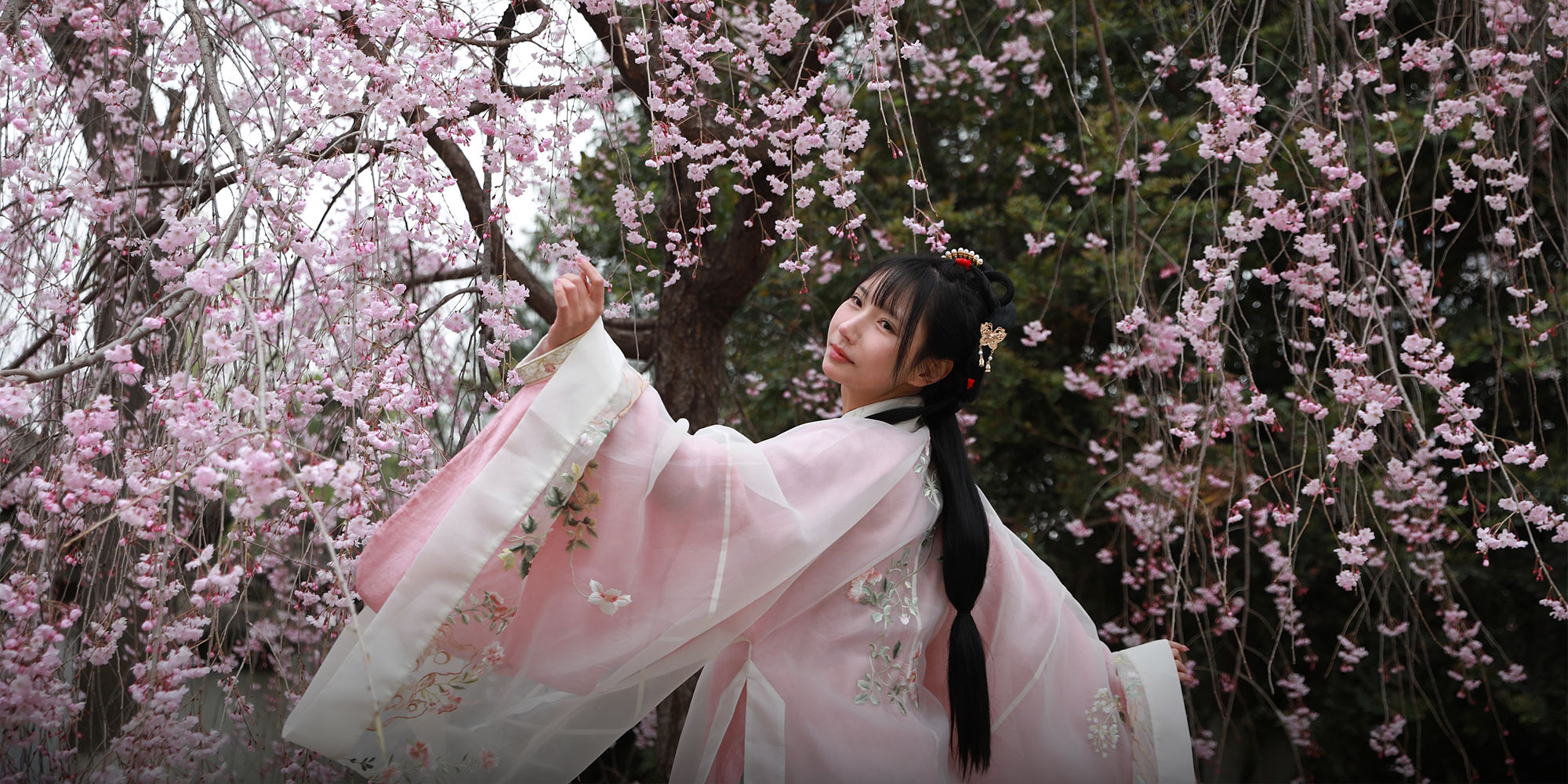 MULTIMEDIA
In China, Climate Change Disrupts a Beloved Tradition: Cherry Blossom Season
Cherry blossoms are reaching peak bloom weeks earlier than they did a few decades ago, as winter temperatures continue to rise.
Cherry blossom season is a big deal in China. When the sakura trees reach peak bloom each spring, massive crowds descend on local parks and colleges to admire the views and snap photos.
This year, the cherry blossom frenzy has been even more intense due to China's recent decision to end strict pandemic controls. On March 12, Wuhan University opened its cherry blossom festival to the public for the first time in three years. The first 15,000 tickets sold out within minutes.
But perhaps the biggest surprise is that it was possible to see cherry blossoms in mid-March at all.
Even by recent standards, a mid-March blooming period is unusual. When the Hubei Provincial Meteorological Service Center released its forecast for this year's cherry blossom season on March 6, it noted that Wuhan's trees were reaching full bloom "slightly earlier" than usual. 
Yet, viewed from a longer-term perspective, the date is even more striking. Historical data shows that the trees now flower significantly earlier than they did in the past.
Xiao Yihua, a professor at Wuhan University's School of Life Sciences, started a project to compile observation data on the university's cherry blossoms, which has now collected over 70 years of data. According to these records, cherry blossom season typically started in late March from the 1940s until the end of the 1970s. But since then, the date has been creeping forward.
Why is this happening? Tan Jing, an engineer at the Hubei Meteorological Service Center, told Sixth Tone's sister publication The Paper that there are many factors affecting the cherry blossoms' blooming period, including local sunshine, temperature, and precipitation levels. But temperature is the most important.
"Winter temperatures and average temperatures around 30 days before flowering have the greatest impact," Tan said. "A warm winter will bring early flowers."
This is in line with the findings of a study on cherry blossom flowering by Chen Zhenghong, an expert at the China Meteorological Administration. He found a link between the blooming period and the average temperature over the previous four months. Every time the average temperature during the preceding winter increases by 1 degree Celsius, the flowering date moves forward by an average of 2.9 days.
The Wuhan University data shows a similar trend. According to these records, the university's cherry blossoms have bloomed as early as February on just two occasions: in 2004 and 2021. Those years also happened to have the hottest Februarys since records began. The temperatures in Wuhan those months were more than 5 degrees above the historical average. The latest blooming period on record, meanwhile, began on April 4, 1969 — a year when Wuhan experienced a severe cold snap.
The rising temperatures are also leading to longer blooming periods. In the 1950s, the cherry blossoms at Wuhan University typically bloomed for only around 11 days. By the 1990s, they were staying in bloom for up to two and a half weeks, or even as long as 20 days.
In his study, Chen attributed the rising winter temperatures in Wuhan to the combined effects of climate change and urbanization, which creates "urban heat islands." These factors are also causing cherry blossoms to bloom earlier in other parts of the world.
Kyoto in Japan and Washington, D.C., in the United States are both famous for their cherry blossoms. Data from both cities shows that the blooming periods are getting earlier there, too.
Cherry blossoms, of course, are far from the only plant species being affected by climate change. Ge Quansheng, director of the Chinese Academy of Sciences' Institute of Geographical Sciences and Resources, analyzed historical observation data collected on 104 plant species at 145 sites across China between 1960 and 2011. The data showed that over 90% of plants began budding and flowering earlier during that period.
Data from the Chinese Phenology Observation Network shows a similar trend. Plants all over China — from lilacs in the northern city of Harbin, to kapok trees in the southern metropolis of Guangzhou — are flowering earlier now than in the past.
Shanghai's official city flower, the magnolia, usually blooms in early March. But in 2019, two magnolia trees at the Shanghai Botanical Garden flowered as early as Feb. 11, a full month earlier than normal.
Editors: Dominic Morgan and Luo Yahan.
(Header image: A woman poses for a photo in front of cherry blossoms in Xi'an, Shaanxi province, March 18, 2023. VCG)