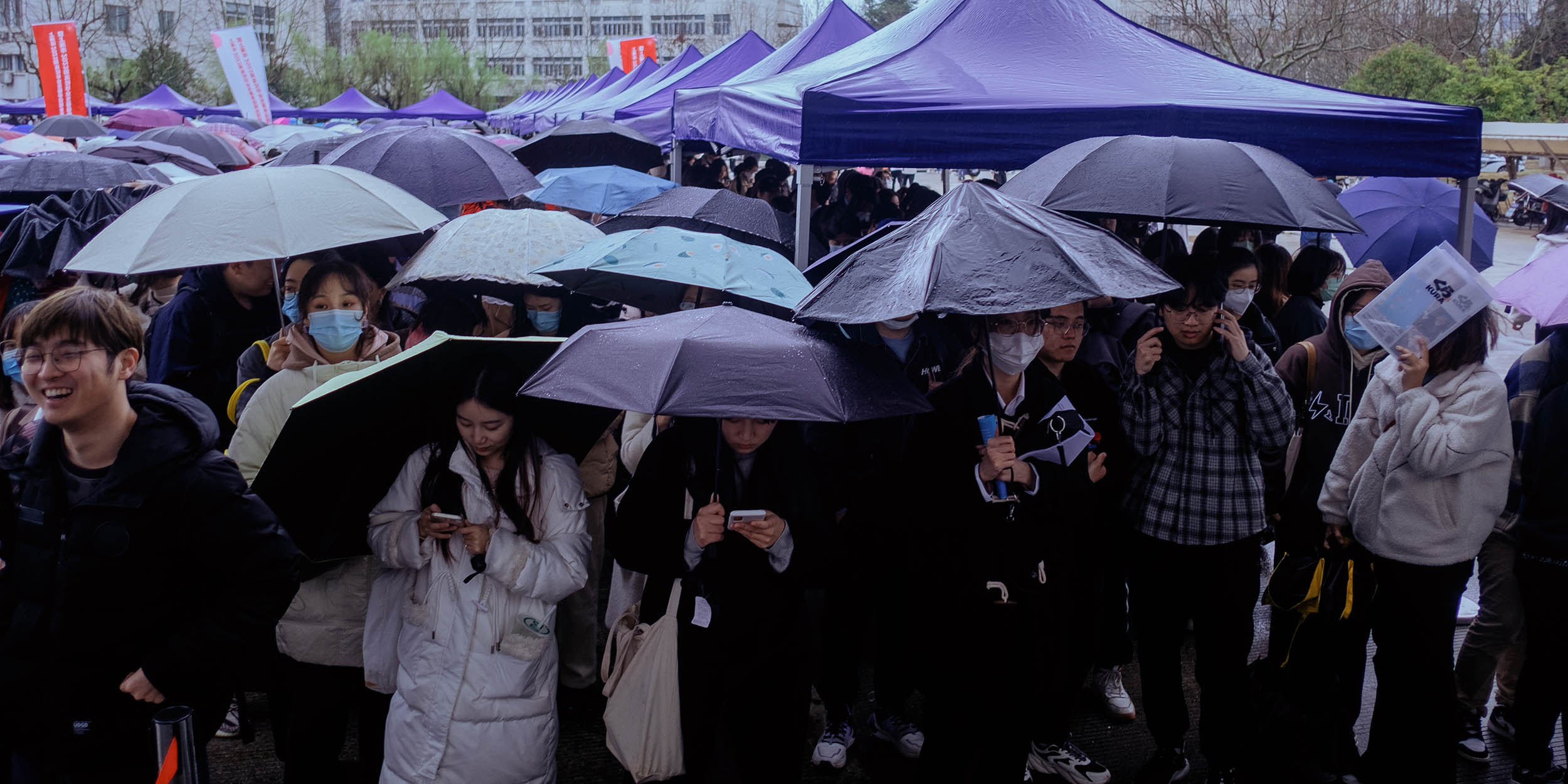 MULTIMEDIA
As China's Hiring Season Kicks Off, Thousands Flock to Job Fair
With a record high of 236,000 students graduating in Shanghai this year, authorities say they will continue organizing similar job fairs, along with online and livestream events.
Hours before the gates to the Shanghai government's largest job fair this spring opened to the public last Friday, the campus square at Shanghai Polytechnic University was already teeming with students. 
Huddled under umbrellas or wrapped in raincoats, nearly 30,000 college graduates from across the region braved the daylong drizzle in Shanghai to attend the job fair, where close to 37,000 jobs were on offer by 1,500 employers. 
By 1 p.m., the crowds were such that security guards had to control entry into the main buildings that housed the job fair. Once inside, students made their way across hundreds of booths arranged in narrow aisles offering jobs ranging from engineering to biomedicine, artificial intelligence to law, and integrated circuits to automation.  
And with the number of college graduates in Shanghai reaching a record high of 236,000 this year, government officials announced that they would continue organizing similar job fairs, along with online and livestream events in the same vein. 
As the country looks past the pandemic, the economy and youth employment are high on the agenda. China's employment has remained fiercely competitive in recent years with more and more fresh graduates entering the market each year. 
In July 2022, the unemployment rate for urban youth hit a historical high of 19.9% when more than 10 million undergraduate and postgraduate students graduated. 
Despite the numerous opportunities on offer at the job fair, some students found few relevant jobs. One of those was David Wang, 25, a third-year graduate student majoring in law at Shanghai Maritime University. 
After browsing through the job fair with two other classmates, Wang told Sixth Tone that while salaries were similar to what they expected, they did not interview at any of the companies. "We will wait for more relevant positions at the next job fair," he says.;
Another student, 22-year-old IT grad Chen Shenghui, said she's had a change of heart about her major. The current job scene, she says, has convinced her to pursue a postgraduate degree — in education. 
She says: "My college isn't the best for IT. You know how the industry looks these days. So, I will change my postgraduate major to education where I see demand increasing. Also, life is more stable as a teacher." 
Zhu Yinjie, the recruitment director of Sinopharm Chemical Reagent Co., Ltd., told local media that such in-person job fairs were more effective than ones held online. "A job is a two-way street. We listen to what students care about most and explain what we need. This can be communicated more directly." 
Editor: Apurva