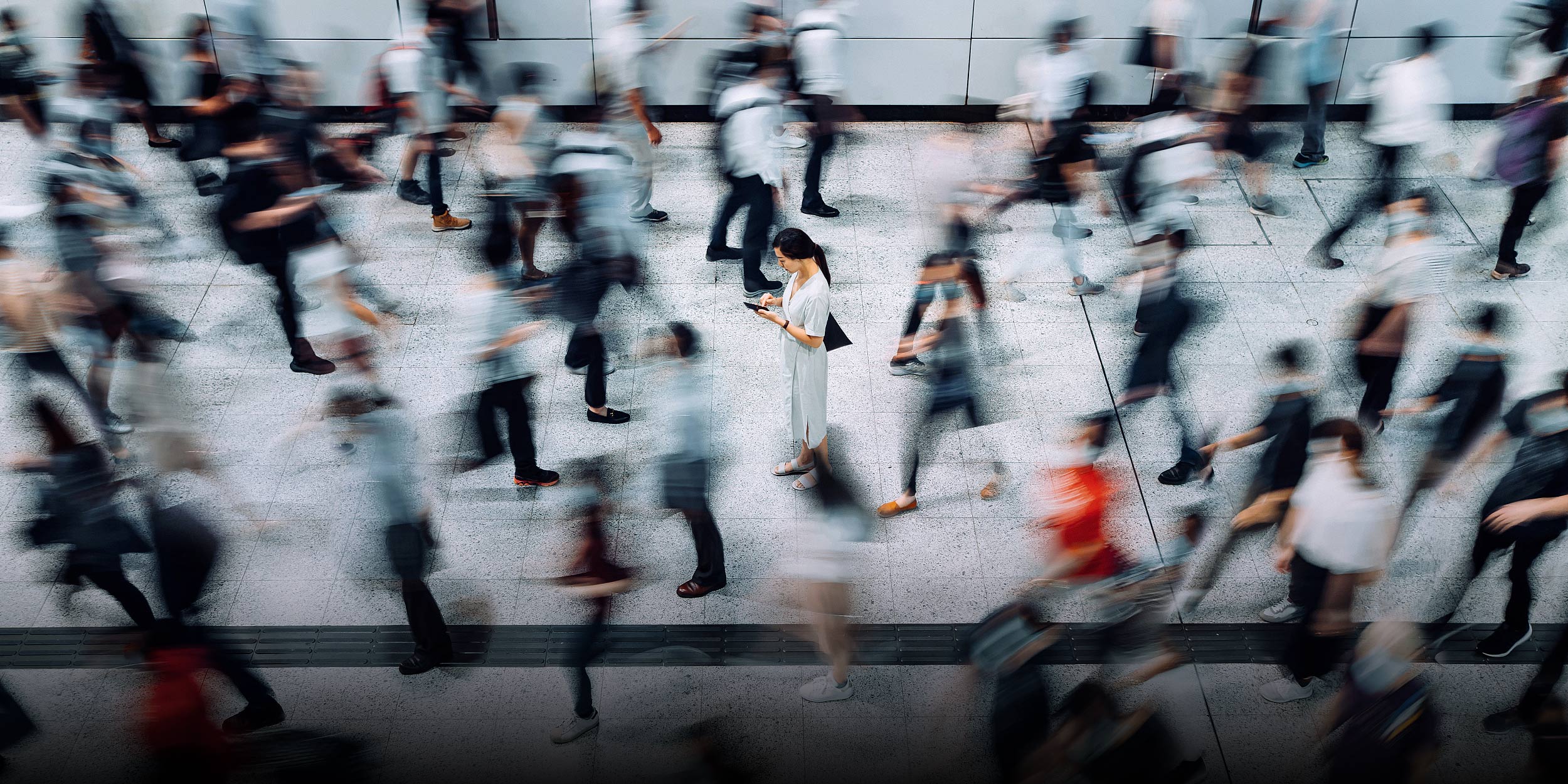 VOICES & OPINION
What's So Scary About the 15-Minute City?
China's early experiments show the concept makes movement easier — and control harder.
The occasional think piece to the contrary, big-city residents rarely enjoy their commutes. That's true in China no less than anywhere else, especially when for many a round trip might take four hours and as many as 10 subway transfers. Commuting complaints have become a fixture on Chinese social media: In February, a young Shanghai worker's frustrations about their commuting experience trended on microblogging platform Weibo. Streaming sites are peppered with vlogs like this one, from a Tianjin resident who said she'd been waking up at 5 a.m. every day for seven years to take a high-speed train to her job in Jinan, 260 kilometers away.
These aren't isolated cases. The China Academy of Urban Planning and Design identified more than 14 million people across 44 major Chinese cities who commuted 60 minutes or more each way in 2021. In Beijing, as many as 30% of residents commuted more than an hour each way. Long-distance commuting has grown so ubiquitous that the phenomenon even has an official name: "extreme commuting," used to describe commutes of 60 or 90 minutes or more each way. (Different countries have different standards.)
The rise of remote work during the pandemic brought some relief, but city officials around the world are increasingly realizing the importance of bringing home and work closer together. Last October, for example, Shanghai announced a new campaign to reduce the proportion of people with extreme commutes, promising to build a more convenient and extensive transportation network and to keep the average commute to downtown areas within 45 minutes. The city's long-term ambition is to build a network of "15-minute community life circles." Similar experiments are underway elsewhere, including Oxford and Paris, where in 2020 Mayor Anne Hidalgo unveiled a new slogan: "la ville des proximités," or "cities of proximity."
Intuitively, it's easy to blame extreme commuting on urban sprawl, but the two are not necessarily related. What really matters is the concentration or decentralization of urban functions. Back when China had a planned economy, people rarely ventured far, even in large cities. Large state-run employers often provided housing, dining, education, health care, and other welfare services; these self-sufficient units sprouted across cities where thousands of workers and their families worked and lived. A bicycle was all anyone needed to meet their basic needs.
As China shifted to a market economy, however, even state-run employers cut funding for housing, education, and other services. Meanwhile, waves of rural migration flooded cities and raised demand for housing, leading to the emergence of a private housing market. Local governments — which controlled the land — saw selling vast tracts to single developers as an easier and more effective way to raise money than meticulously managing the development of smaller, more mixed-use projects, and China's cities were soon blanketed by huge residential housing projects, many of them gated. Some, like the commuter complex of Tiantongyuan on the outskirts of Beijing, house hundreds of thousands of residents in a single compound.
The upshot of all this was a separation of jobs and housing, with large numbers of people moving daily between two points: their place of residence and their place of work.
The segregation of urban functions was not limited to residential development, however. Cities built single-use technology parks, industrial parks, and commercial streets, while clothing stores, restaurants, and barbershops — once scattered — were moved into shared commercial complexes like malls. This model improved productivity in cities when economic development was driven by manufacturing, yet its flaws are becoming more apparent as cities try to develop their services sectors. Commercial malls and streets are often located far from residential areas, requiring people to spend more time on the road in order to work, consume, and play.
That's why cities with a high proportion of service industries, like Shanghai, Beijing, and Shenzhen, have begun floating goals like building 15-minute community life circles. The idea is to blend urban functions in smaller spaces, obviating the need for long commutes. As envisioned in Paris, the plan would allow people to fulfill a dozen needs within 15 minutes' travel time.
The benefits of the 15-minute city are numerous. It reduces the cost of commuting, increases productivity, and allows people to spend more time with their families, enjoying life, or learning. (To that end, Paris has made libraries an essential part of their 15-minute range.) Shortened commutes also have environmental implications, and cities like Barcelona have included similar schemes in their climate change initiatives.
I myself am lucky enough to work in neighborhood that meets most of the criteria for a 15-minute community: in addition to offices and residential areas, my street has supermarkets, a school, a hospital, and a small public square. The only thing missing is a park.
So it's odd, from my perspective, to see critics arguing that the 15-minute city is a conspiracy to enclose people, when in fact, if anything, it makes travel more appealing. Think about a train full of passengers heading from a residential area to work, with people crowded for long periods and needless stops. Now imagine meeting most people's commuting needs in a few stops. Faster turnaround on the train means more space on public transportation for people who want to go further afield to visit parks, see an exhibition, or take part in a sport.
That's not to say the current experiments are perfect. Many cities are struggling to overcome decades of car-centric design decisions to implement their plans. For example, China's megacomplexes do typically offer basic amenities like supermarkets, but their sheer size poses a bottleneck for public transportation. Meanwhile, the vast tracts of land they occupy, combined with the fact that many are gated, break up the urban landscape and complicate planning initiatives. In the 2010s, the Chinese government tried to open these communities and implement a neighborhood system more conducive to priorities like 15-minute life circles, but it faced significant popular resistance before being deemphasized during the COVID-19 pandemic — in part because cities needed to track residents' movements.
In any case, the ideal of the 15-minute city represents a meaningful experiment in addressing big-city woes like extreme commuting. Knee-jerk opposition comes partly from compromised interests, like that of the auto industry, and partly from our own lack of imagination.
Translator: Katherine Tse; editors: Cai Yineng and Kilian O'Donnell.
(Header image: d3sign/VCG)