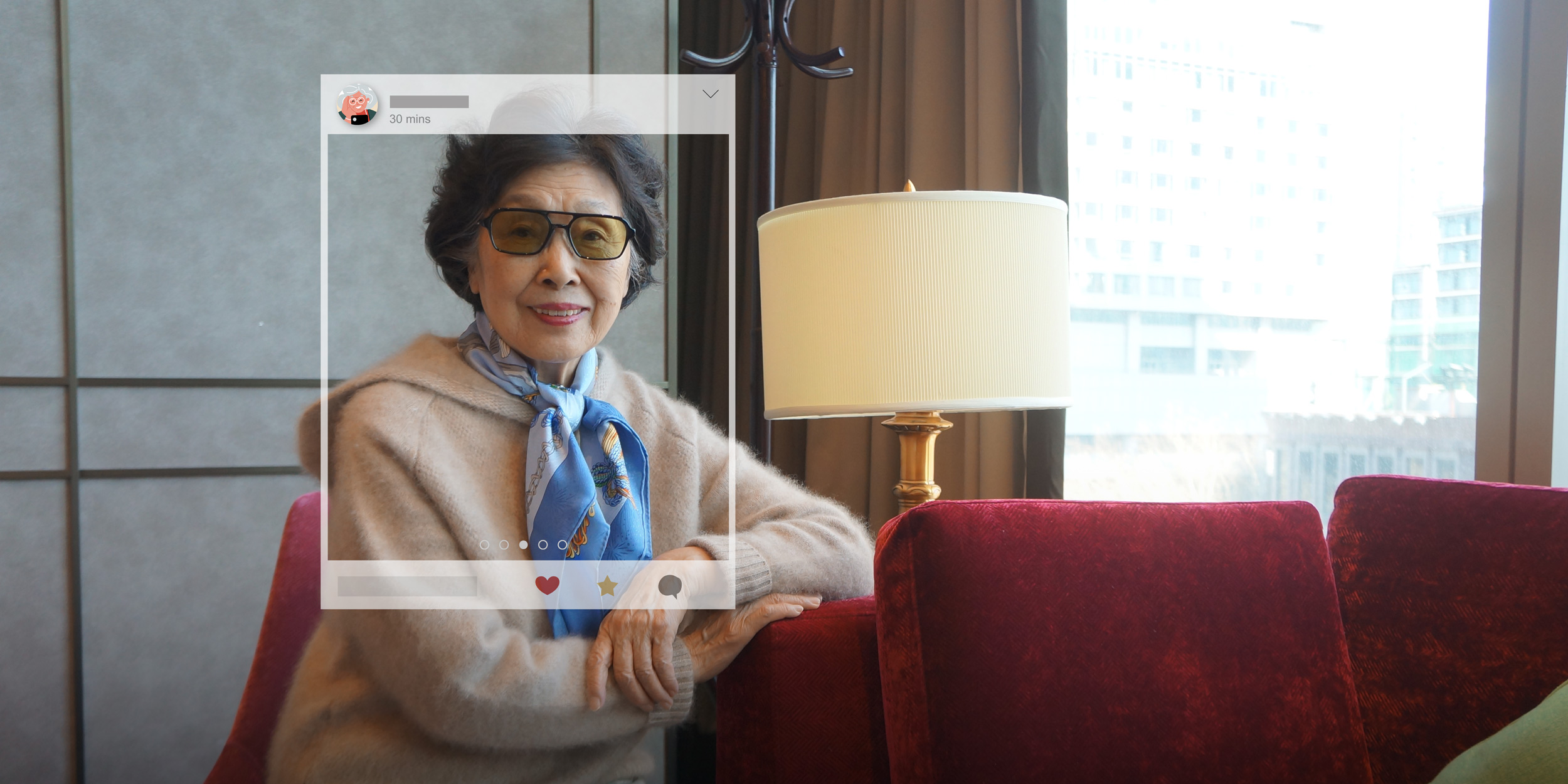 FEATURES
How an Army of Elderly Influencers Took Over China's Instagram
The pandemic led to a surge in the number of Chinese seniors using a range of mobile apps. Now, retirees are migrating onto an unexpected platform: the lifestyle app Xiaohongshu.
JIANGSU, East China — At a high-end dim sum restaurant in downtown Nanjing, Li Yaozhu is helping her 83-year-old mother shoot her latest viral video.
Sitting on a sofa by the window, Li films her mother as she ties her Hermes silk scarf in an elegant bow. Later, she'll edit the footage and post it to her feed on Xiaohongshu, a Chinese social app.
Li, a retired fashion retailer, began documenting her mother's outfit choices in 2020. It began as a way to pass the time during lockdown, she says, but since then it has become a serious hobby. She now has nearly 70,000 followers on Xiaohongshu, who eagerly await her mother's latest videos.
"She doesn't know the brands or how much they cost," Li tells Sixth Tone. "But my mother has great taste in clothes, and my followers enjoy seeing her outfit of the day."
Elderly influencers like Li's mother have flooded onto Xiaohongshu in recent months, shaking up a platform that is often labeled China's closest equivalent to Instagram.
Xiaohongshu is one of China's biggest social platforms with over 200 million users. But for a long time, it attracted a very specific user base: young, urban, and mostly female. The app was mainly viewed as a place where trendy millennials went to post selfies, swap lifestyle tips, and follow fashion influencers.
That, however, is beginning to change. China's seniors have become far more internet-savvy since the start of the pandemic, when digital platforms emerged as an essential part of the government's virus-control strategy.
During the lockdowns, millions of over-60s downloaded and learned to use food delivery, payment, and health apps for the first time. They often did so out of necessity: It was difficult to buy groceries — or complete mandatory COVID tests — without them.
Now, retirees are starting to branch out — and that's leading many to experiment with apps like Xiaohongshu. The number of content creators aged over 50 on the platform has reportedly surged by over 100% in the past 12 months alone.
For many seniors, Xiaohongshu is attractive because it offers a chance to build new social connections. They are often actively searching for a way to interact with more young people, says Zhu Qin, a professor at Fudan University's School of Social Development and Public Policy.
Many elderly Chinese are empty-nesters, and feel starved of social interaction, Zhu says. They tend to first sign up for the social app WeChat, but find opportunities to socialize there are limited. Children often block their elderly parents on the platform, for fear they'll disapprove of their lifestyle choices.
"This leads to loneliness among the aging population, and encourages them to turn to platforms where young people are the majority," says Zhu.
The way Xiaohongshu is designed makes it easier to connect with new people. Unlike WeChat, where people mainly chat with their friends and family, the app is a more open platform that connects people with shared interests.
In the past, Xiaohongshu's focus on aspirational lifestyle activities might have put off seniors, but that appears to be changing as income levels rise in China.
A spokesperson from Xiaohongshu said they had been struck by how "colorful" the content posted by older users is. Seniors not only share their everyday lives, but also videos of themselves trying out activities like hiking and playing frisbee.
"People pursue a better life regardless of age, and living standards are improving, so the elderly have higher and higher aspirations for their lives," said the spokesperson.
Making an impact
Li, the retiree from Nanjing, loves interacting with her followers on Xiaohongshu. She now spends two days a week running her account, shooting, editing, and livestreaming videos.
Occasionally, if she wakes up in a good mood, she records herself singing a song. Other times, she'll post videos of her mother enjoying a walk in a trendy outfit, or dyeing her hair in a hotel bathroom. She enjoys the comments these videos provoke from younger users.
"They often say, 'grandma looks amazing,' 'I love this granny,' or 'I hope I'm that elegant and beautiful when I'm old,'" Li says.
Some seniors have attracted even bigger followings. In 2019, a quartet of retirees from Beijing — who call themselves Glamma Beijing — went viral after posting videos of themselves strutting around the capital in elegant dresses. They have since amassed over 2.3 million followers on Douyin, the Chinese version of TikTok.
The group members tell Sixth Tone they enjoy chatting with their followers on social media. The vast majority of them are young: Research indicates that most people following elderly influencers on Douyin are between 18 and 24 years old. To their Gen-Z fans, Glamma Beijing are authentic, natural, and down-to-earth, with their own unique fashion sense.
"As retirees, our abilities are declining at this age, but instead of declining, we're doing something more impactful," adds Sun Yang, a 67-year-old Glamma Beijing member.
In some cases, Glamma Beijing's content makes a profound impression on their young fans. "There are some young people suffering from depression who see how happy we can be at our age, and this helps them in their recovery," says Lin Wei, another member of the group.
Zhang Yuru, a 24-year-old from Nanjing, is one of many young Chinese who have begun following elderly influencers on Douyin and Xiaohongshu during the past two years. She says she has been inspired by the seniors' positive attitudes.
"When people think of old people, they tend to picture them as stubborn, nagging, unfashionable, and slow," says Zhang. "But these seniors on social media seem so energetic and full of life, and I don't see any age anxiety in them. This makes me less fearful about getting old."
Meanwhile, as the number of seniors using Xiaohongshu grows, elderly users are starting to form their own communities on the platform.
Li Liping, a retiree from Shanghai, has been posting on Xiaohongshu since 2018. The 67-year-old now has over 15,000 followers on the platform, with whom she likes to share "philosophical insights" about life.
"Previously, I mostly recorded my own life, but now that I have more fans I think I can help them, and so I pay more attention to deeper things," says Li, who isn't related to Li Yaozhu.
Li also follows many other middle-aged and elderly people on Xiaohongshu, and they all regularly like and comment on each other's posts. She says that she doesn't worry about getting older, or about how old her followers are.
"To feel the beauty of life and to show the beauty that is unique to each age group is the most important thing for me," she says.
Fighting for seniors
For Chinese social platforms, seniors now represent a potentially enormous new market. China's over-60s population is predicted to skyrocket over the coming years, from 280 million in 2022 to 402 million in 2040.
Today's seniors are also prolific internet users. In 2021, the Chinese government required major websites and apps to create senior-friendly interfaces: making text larger and clearer, and colors bolder. The same year, a survey found that 51% of middle-aged and elderly internet users spent over four hours a day online — more than the national average.
One of the first tech companies to try and tap into this market was Meipian — a social app that was founded around the same time as Xiaohongshu, in 2015.
Meipian's unique selling point is that it allows users to quickly edit and upload up to 100 photos at once. The company soon found this feature appealed to one demographic in particular: the elderly.
As millions of seniors signed up, Meipian decided to lean into this trend. Over time, the app has developed into a unique platform: a massive social network targeted specifically at retirees. Seniors use the app to document their lives, share photos and poetry, meet people with shared interests, and organize activities such as singing or painting groups.
Today, Meipian reportedly has around 200 million users, of which half are over 45 years old. Many in China jokingly refer to the platform as "Laohongshu" — "Old Red Book" — to contrast it with Xiaohongshu, the millennial-friendly platform whose name means "Little Red Book" in English.
But as more elderly users flock to Xiaohongshu, the "Old Red Book" is struggling to stay relevant.
The company was already having trouble monetizing its business. It went to great effort to organize activity groups to help users with shared interests connect via Meipian, and even began organizing offline activities for its users. But its elderly user base wasn't keen on paying to attend these events, or on shopping via livestream.
Now, Meipian risks losing its top influencers to Xiaohongshu — a platform where content creators can find a larger audience, and more opportunities to cash in on it.
Du Qing, a retiree from Beijing, set up an account on Xiaohongshu last November. She had already been using WeChat and Meipian, but she wanted to get to know people from her son's generation.
"Meipian is full of people my age, but it's so interesting to interact with so many young people on Xiaohongshu," Du says.
Du quickly became a hit on Xiaohongshu. Unlike most elderly users, who tend to document their daily lives, she began posting surreal, heavily edited photos. In one, she photoshopped herself seven times into a landscape. In others, she imitated famous historical paintings.
Within three months, she had more than 10,000 followers. Du is pleased that people enjoy her work, but mostly she is glad that she now has so many opportunities to interact with her young fans.
"I hope that by posting this content I can get a feel for the lifestyle of young people, and interact and communicate better with my son," she says.
Most of the elderly influencers who spoke with Sixth Tone said they posted content as a hobby, rather than as a way to make money. But many have received offers for commercial opportunities.
As soon as Li Yaozhu began building a following, representatives from influencer agencies began reaching out, trying to sign her up. But the retiree declined.
"The Xiaohongshu account is like a diary for me, belonging to me personally," Li says. "Once I partner with a team, it will change the nature of what I do. Going commercial may affect my normal life."
Li has started to monetize her account in her own way. Every Sunday, she livestreams for a few hours on Xiaohongshu, introducing a few products she likes in each show: jeans, shirts, or pieces of jewelry. Her fans can then buy the products on Xiaohongshu Live — an e-commerce platform linked to the app — at a discount.
Li says she only makes a few hundred yuan from each show, and says she mainly does it because it helps her engage more with her fans. She's more excited about starting to travel with her mother again. 
Before the pandemic, Li and her mother traveled to 28 countries together, but they haven't left China since the country imposed travel restrictions in early 2020. Now that the borders are finally open again, Li hopes to plan a trip to Thailand, or a cruise along the Rhine in Europe. She's sure her followers will enjoy the videos, too.
"I feel so lucky to have a platform like Xiaohongshu," she says. "The videos I post will be a treasure for me when my mother passes away, and I will have lots of memories to commemorate."
Additional reporting: Gao Yidan and Chang Minxiao; editor: Dominic Morgan.
(Header image: Li Yaozhu's mother poses with her scarf in Nanjing, Jiangsu province, February 2023. Fan Yiying/Sixth Tone)