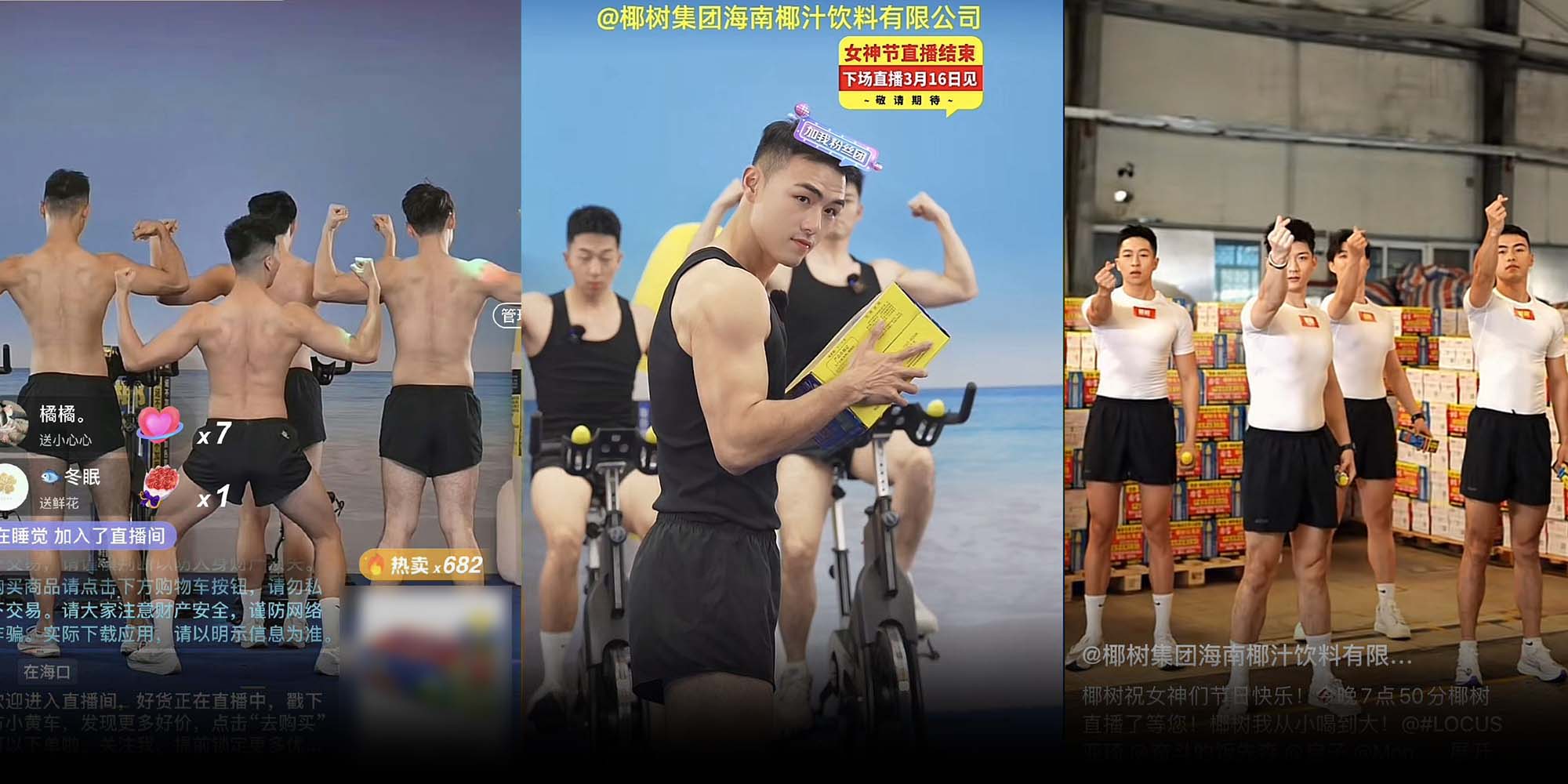 NEWS
Chinese Coconut Drink Known for Sexist Ads Turns Its Gaze to Men
The strategy, however, hasn't yet worked entirely in the company's favor.
Years after using women in sexist advertisement campaigns, China's much-favored coconut milk brand is now putting the gaze on men's bodies, as they use gym-built men to promote the brand for the first time.
Coconut Palm debuted their male models on Women's Day during their daily livestreams on short-video platform Douyin, the Chinese version of TikTok. Dressed in black shorts and tank tops, the men flaunted their abs and muscles while selling products.
A product of the island province of Hainan, Coconut Palm is so popular that it has been served at state banquets. But the brand's advertisements that tout the coconut milk's ability to give women large breasts and fair skin have frequently touted controversy, with local authorities in 2019 saying Coconut Palm was "suspected of false and vulgar advertising."
The motive behind Coconut Palm bringing male models on board is unclear, and Sixth Tone's phone calls to the company Monday went unanswered.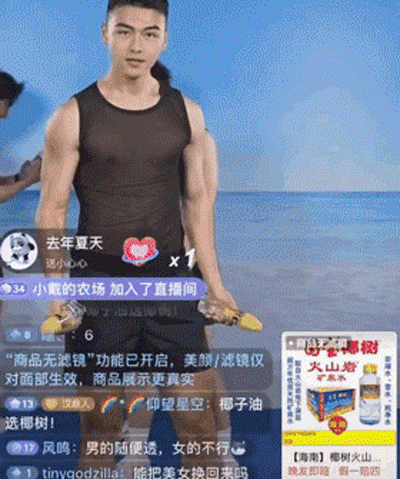 Videos of the men posing together with female models during Coconut Palm's livestreams have since gone viral and are still dominating discussions on major social platforms like Xiaohongshu and Weibo. Many viewers even commented about what the men should do and wear during the next livestreaming sessions — some suggested they should shave their legs, while others recommended having them in suits.
"The brand is promoting equality as it really objectifies everyone equally," a user on lifestyle platform Xiaohongshu wrote.
As Coconut Palm's recent campaign went viral, the brand appears to be capitalizing on the interest. During the past few nightly livestreams on Douyin, the host also asked the audience to take screenshots or record the male models taking off their shirts, though didn't say why.
But Coconut Palm hasn't completely gotten rid of their female models — dubbed the "four beauties" — and still shows them dressed in tight clothing during their livestreams. Douyin, which even limits women from advertising lingerie, resulting in men taking up that role, has suspended the brand's livestreams several times over "vulgarity."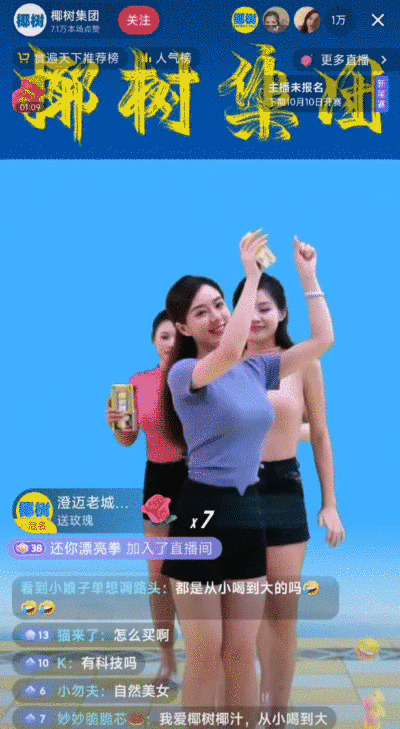 Domestic media reported that Coconut Palm's recruitment of male models is a shift in its promotion strategy, though the brand still seems to invest heavily on appearance. The male models were required to be over 5 feet, 9 inches tall and have abs.
Meanwhile, Coconut Palm's male models haven't been entirely successful in helping boost the company's image or sales. According to Chanmama, Douyin's e-commerce data analysis platform, sales for the coconut milk were below 1,000 yuan ($145) when the male models made their debut on March 8, with about 100,000 viewers joining the livestream that night, compared to the "four beauties" who racked in more orders before the men joined.
"Their drinks do taste good," one Weibo comment said. "But I feel embarrassed to buy the products considering their packaging and ads."
Editor: Bibek Bhandari.
(Header image: Screenshots show male models presenting Coconut Palm products. From Douyin)