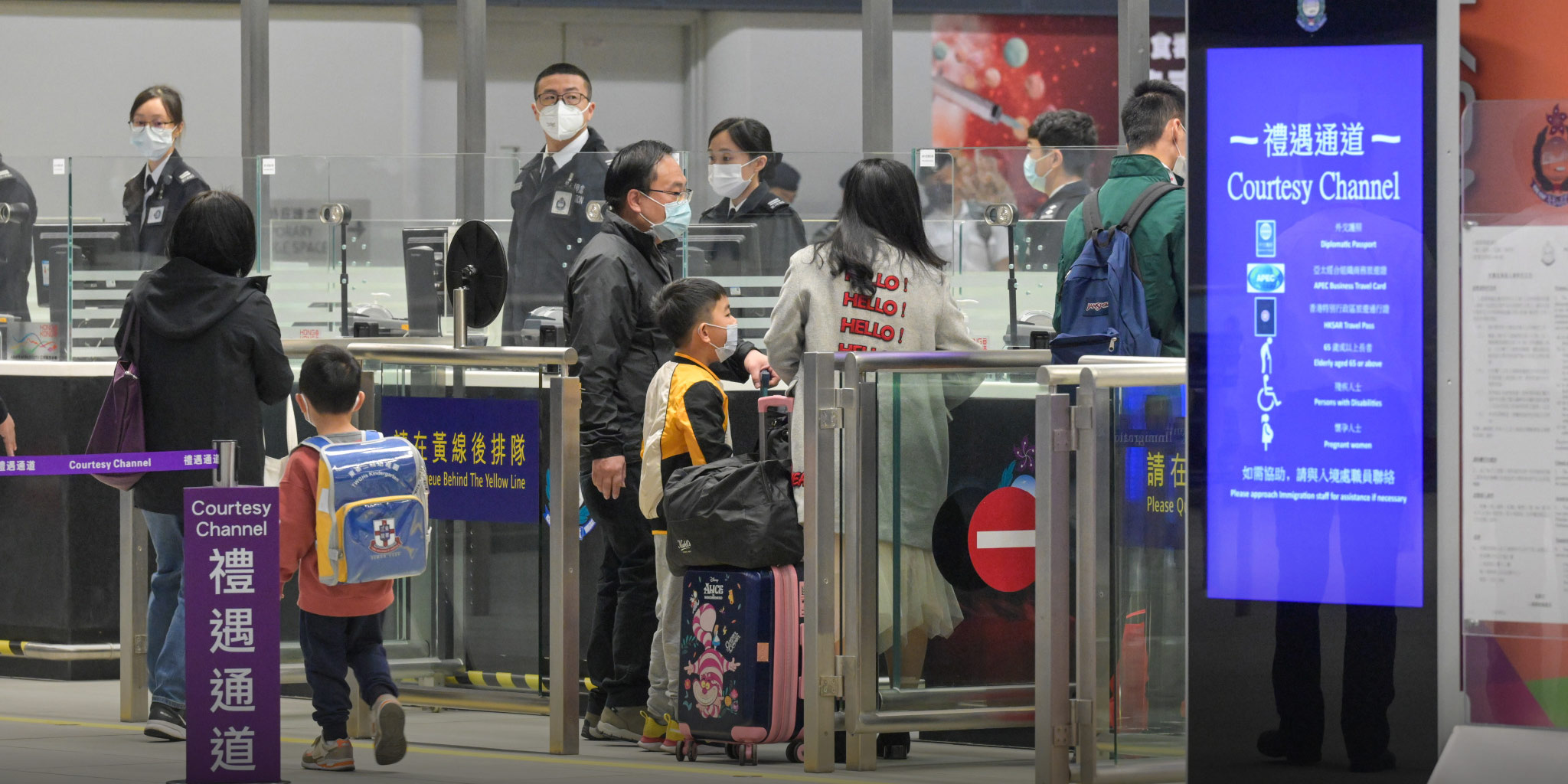 FEATURES
Hong Kong-Shenzhen Border: Back to Business, But Not as Usual
Three years of strict border restrictions disrupted the lives of thousands who depend on commuting between the two cities. More than a month after the border fully reopened, travel is still gradually returning to normal.
This is the last article in "Recovery" — a series of reports on how communities across China are attempting to move on from three years of strict pandemic-control measures. Read part 1, part 2, part 3, and part 4. 
When the new school semester began on Feb. 1, a Shenzhen resident surnamed Li took three days off from work to accompany her 12-year-old daughter to a school in Hong Kong across the border. 
She was worried that after only attending online classes for three years, her daughter, who's been enrolled at the Hong Kong school for six years, wouldn't be able to adjust to in-person classes right away. 
"Also, I was anxious about whether she would be able to deal with all the new procedures before crossing the border like reservation information and nucleic test results," says Li, who asked to be identified only by her surname. 
That was just days before all border crossings between Hong Kong and the Chinese mainland reopened fully on Feb. 6 — the first time in three years. The restrictions were first eased on Jan. 8, the same day China scrapped quarantine requirements previously mandated under the "zero-COVID" policy for international arrivals. 
For the next month, however, travelers crossing the border needed to provide a negative COVID-19 test taken within 48 hours before travel, and passenger quotas were in place.  
The conditions notwithstanding, it was a shift Li had long been waiting for, since she was more than eager that her daughter return to school. "She became nearsighted and is a little more introverted now compared to before. She also feels lonely," says Li. "I hope she can go back to enjoy the campus life and become the happy girl she was three years ago." 
Since Feb. 6 though, it's become easier and Li stopped accompanying her sixth-grade daughter across — most students are now picked up by shuttle buses or school staff. 
But before the pandemic, such factors were inconceivable. Hundreds of thousands made the daily commute between Shenzhen and Hong Kong for family reunions, education, work, or just leisure. Easily accessible by train, bus, or car, either city was just a stone's throw away. 
While many from the mainland often studied in Hong Kong, where they believed the education is better, they lived in Shenzhen, where rent is more affordable. The cost benefits and higher salaries made the effort worthwhile for working professionals or businessmen too. 
But for the last three years, stringent pandemic-fueled restrictions severely curtailed transit across the bustling Hong Kong-Shenzhen border. And on Feb. 8, 2020, the Hong Kong Special Administrative Region government imposed a 14-day mandatory quarantine on all travelers from the mainland.  
Overnight, families, students, and businesses with ties on both sides were dealt a crippling blow.  
Though travel between the two cities has revived over the last few weeks, it still isn't back to pre-pandemic levels. In the weeks after borders were fully reopened, travel has gradually ticked up. 
According to government data, the daily number of passengers commuting to and from Hong Kong increased from around 280,000 on Feb. 6 to over 440,000 on March 16.
While the scrapping of border restrictions has prompted some to start commuting again, others are taking into account the grueling commute, daily travel expenses, and fatigue associated with this lifestyle before making a decision.
As the pendulum swings
Since Cui Shi was five years old, the commute between Shenzhen and Hong Kong was an integral part of her daily routine, albeit a challenging one. Her father's from Hong Kong and her mother from Shenzhen, which meant Cui was excluded from free compulsory education in the mainland. 
So Cui, along with hundreds of other "cross-border children," had little choice: either enroll at international schools in Shenzhen, which are very expensive, or put up with the commute to Hong Kong from a very young age, where education was free. 
"I had to catch the earliest subway to get to school on time. I was in a hurry every morning. If I missed a bus, I could only take a taxi or just run to school," recalls Cui. "Sadly, I was always late." 
In 2019, before the pandemic, more than 27,000 students from Shenzhen made this trip to attend kindergartens, primary, and middle schools in Hong Kong, according to government data. 
For the 2021-2022 semester, however, it had fallen to around 18,000 — despite the restrictions, most were willing to endure the uncertainties for the promise of a better education across the border. 
In Shenzhen, many are envious of "cross-border children" like Cui or Li's daughter. They believe studying in Hong Kong gives such students an edge over those in the mainland, who must struggle through the competitive yet grueling gaokao, China's college entrance examinations. 
But Cui has a contrasting opinion. She says she feels like "an urban version of a mountain child," referring to children who study in China's remote hilly regions and need to travel vast distances, often on foot, to attend school.  
Cui says: "A single trip often took one or two hours. It could take up to four hours if there were too many other students like me or traders in the line at the checkpoints. I often fell asleep as soon as I reached home. And sometimes, I was too tired to even eat." 
The daily commute eventually took a toll on Cui's health. She suffered serious stomach problems, and in high school, weighed less than 40 kilograms. 
In 2018, Cui finally decided to end the daily grind, choosing to attend university in Shenzhen. But since her parents got divorced and lived apart, spending time with both meant she had to continue the very commute she sought to avoid. 
When all border checkpoints between the two cities imposed mandatory quarantines in February 2020, Cui was in Hong Kong, visiting her father. And there she remained stranded for six months: Though she was at university, all classes had shifted online.  
Unlike most, Cui felt somewhat relieved. "I finally got to take a break and didn't have to run back and forth anymore," she says. In September 2020, she returned to Shenzhen to start a new semester on campus, but only after completing 14 days of quarantine at a centralized facility.  
Most cross-border students weren't so lucky. Many had to rely primarily on online classes for three entire years. Grappling with the flux, some chose to transfer to local schools in Shenzhen. 
Time and money
While her Hong Kong identity compelled Cui to cope with the commute, many others voluntarily choose such a lifestyle, primarily to manage their finances better. 
Han Tianyu, 33, lives in Shenzhen and spent a year completing a master's degree at the City University of Hong Kong in 2018. "Saving costs is the biggest motivation to commute across the border," he told Sixth Tone. 
"On my salary, I didn't have much choice — the rent in Hong Kong can be twice as much as that in Shenzhen." 
After graduating, Han found a job in the insurance business. Though most of his clients are in the mainland, he has to visit the Hong Kong office occasionally to deal with paperwork. 
The cross-border commute doesn't bother him. "I just got used to it. I believe spending more time on the road is worthwhile, especially if it helps to reduce the cost of living," he says. 
Han underscores that he isn't alone. "Lots of other office workers in Hong Kong do the same thing. Even some Hongkongers choose to rent an apartment in Shenzhen," he says. 
"The considerations might vary a bit. For me, I can spend 8,000 yuan ($1,150) and find a very decent place to live in Shenzhen. But in Hong Kong, even if I double my budget, the rooms I can rent will likely be tiny and unpleasant." 
According to a 2019 survey published by the Planning Department of the Hong Kong SAR, more than 25,000 office workers commute to Hong Kong from the mainland on a daily basis. Another 190,000 travel frequently across the border for business trips in Hong Kong. 
According to Han, the mandatory quarantine imposed over the last three years majorly impacted his work. "It was costly and there was a great deal of trouble," he rues. 
His work required him to commute between the two cities despite the crippling mandates. At the time, such travelers were quarantined at designated facilities for 14 days, which they had to pay on their own. 
While the quarantine duration gradually reduced from 10, and later to seven days, the cost increased: from around 300 yuan a day initially to a peak of around 800 yuan.
"The business operation center is in Hong Kong. Though we were not required to work frequently from the office, paperwork was still unavoidable," explains Han, adding that he paid for the time spent in quarantine from his own pocket. 
When he learned about the border reopening fully again, Han recalls feeling surprised. "We thought it would take a bit longer, like another three months or so," he says. "My first reaction was: Things are finally back on the right track. I'll work harder to make up for what I lost in the past three years." 
Han now plans to buy an apartment in Hong Kong when he saves enough. "That will make life easier for my future children," he says. 
With travel gradually returning to normal, postgraduate students are also now looking at options to save costs and live a better life. 
"Living in Shenzhen is much more comfortable than in Hong Kong. And the rent is more affordable too. If I can find an apartment close to the border, I will consider living in Shenzhen," says Li Lei, a senior student enrolled at the Chinese University of Hong Kong for a master's program this autumn. 
Just like Han, she wants to save more on rent and live in a larger apartment even if it means a daily commute across the border. 
Even Cui, who for years sought to end the dreaded daily commute, has come around to acknowledging the substantial cost benefits in straddling two cities. She now plans to move to Hong Kong for work after she graduates later this year. 
"Salaries are much higher in Hong Kong," she says. "So, to be realistic, I'd prefer to work in Hong Kong. But maybe after 10 years or so, when I save enough, I'll move back to Shenzhen. The pace of life here is comparatively slower and the living conditions are better."
Editor: Apurva.
(Header image: Students wait at the checkpoint before entering Hong Kong, Feb. 6, 2023. Chen Yongnuo/CNS via IC)