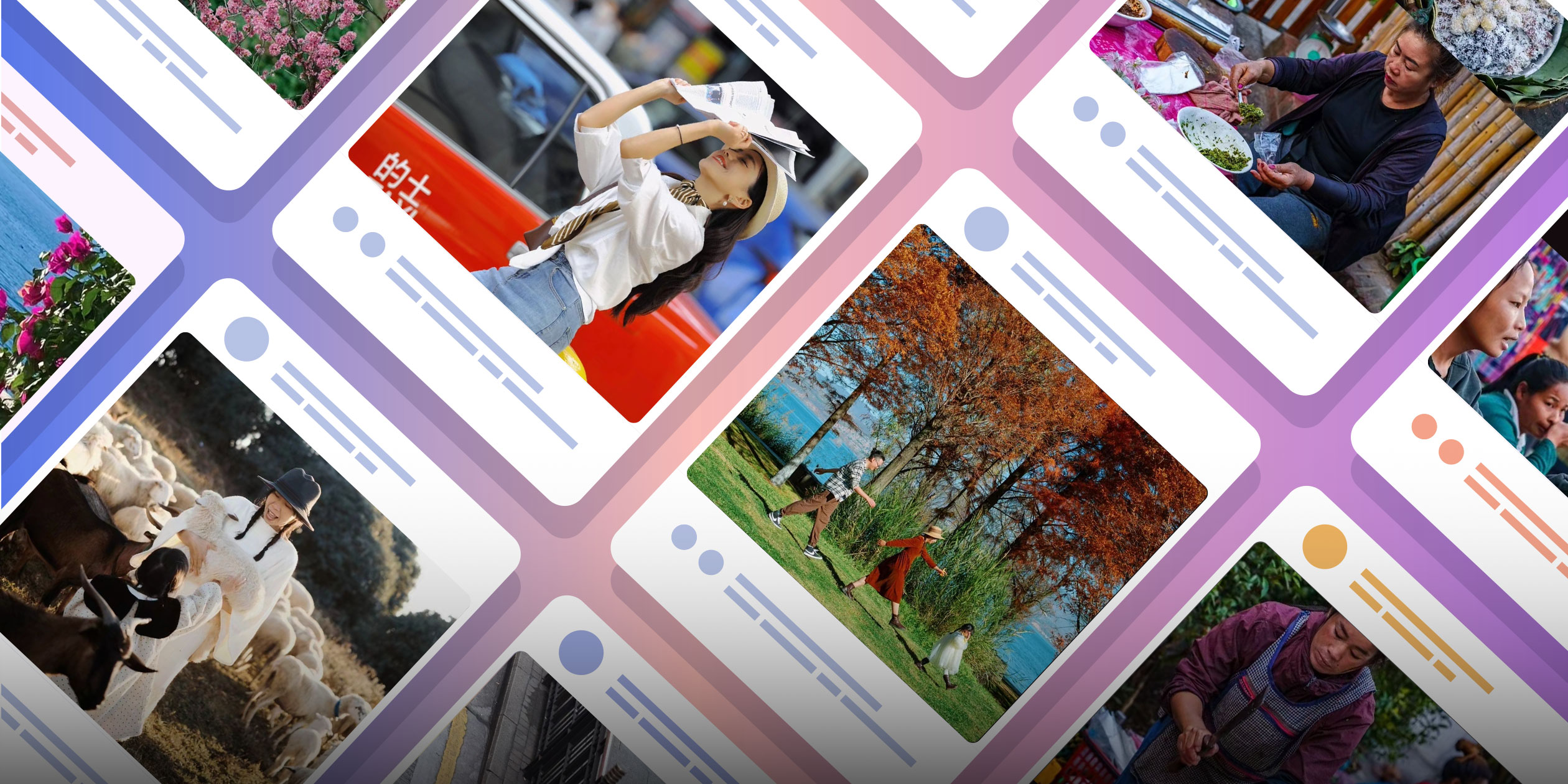 FEATURES
As Tourism Bounces Back, China's Travel Bloggers Ride the Rebound
Most had no place to go while restrictions were in place. But as China looks past the pandemic, travel influencers, on whom many increasingly depend to make decisions, may hold the key to a quick revival.
This is the fourth article in "Recovery" — a series of reports on how communities across China are attempting to move on from three years of strict pandemic-control measures. Read part 1, part 2, part 3, and part 5. 
For several days in mid-January, Zheng Chengyang cruised along Route 13 in Laos, soaking up the breathtaking scenery along the Mekong river. 
As he reached the southern end of the vital 1,400-kilometer highway that originates from the city of Boten in the north at the Chinese border, a checkpoint employee gazed at him in surprise. 
"The employee said I was the first Chinese person they'd seen in the past three years," Zheng told Sixth Tone. 
Zheng was among the first from China to cross international borders after all COVID-19 restrictions were scrapped last December. But at that checkpoint, Zheng realized he was at a crossroads — in more ways than one. 
On the one hand, he was spoilt for choice: straight ahead was Cambodia, Thailand beckoned to his right, and Vietnam was an hour's drive away. But with travel, international and domestic, finally open again, Zheng, an offbeat traveler and online influencer, felt buoyed by the opportunities ahead. 
"In that moment, I felt reconnected to the world," says Zheng.
For three years, the relatively nascent yet rapidly growing domain of travel bloggers and online tourism influencers ground to a halt when China imposed strict measures to contain the spread of COVID-19. Outbound international travel was severely restricted. 
Bloggers like Zheng saw their prospects abruptly diminish since they were largely limited to traveling only within the country. And when lockdowns, mandatory testing, and health codes became more widespread, many travel influencers abandoned their pursuits altogether to concentrate on more stable jobs.   
"Travel bloggers have to update frequently, otherwise they risk losing their appeal and, more importantly, followers," explains Zheng.  
It wasn't just bloggers and influencers who felt the strain — it was also felt keenly by China's tourism industry, which until 2020 was expanding rapidly. In 2019, over six billion domestic trips and 155 million outbound trips were recorded, generating around six trillion yuan ($860 billion) in revenue — 11% higher than the previous year. 
In 2022, it had dropped significantly to 2.5 billion trips, and no outbound trips.
But with China dismantling all restrictions under the "zero-COVID" policy last December and health authorities declaring in January that the wave of infections was over, the travel sector is slowly but surely showing signs of improvement. 
During the Spring Festival vacation, about 300 million trips were recorded — or 75% of what was witnessed in 2019 — across China amid a surge in demand from people keen on family reunions and travel for the first time in three years without restrictions.
Jessie Zhai, general manager of the content platform at Trip.com Group, tells Sixth Tone that with travel reopening again, her platform has begun to offer travel bloggers more incentives to publish informative and valuable insights. 
According to Zhai, there were 230,000 new bloggers in 2022 compared to the previous year. She believes travel influencers now play a key role in helping regular travelers make decisions about which destinations, hotels, restaurants, and tourist attractions they go to.
"They're not only content creators — they're also trip planning 'companions,'" says Zhai. "Therefore, we also hope to use the power of travel bloggers to provide users with a better and more convenient and in-depth travel experience."
Though experts warn that a full recovery may still take months, China is ready to hit the road again. And travel bloggers, who depend solely on earning money from sharing trip tips, photos, and videos online, are already leading the charge.
A fresh start
Lin Ruotong quit her job without any hesitation soon after China reopened its borders last December. 
"Clearly, China was relaxing restrictions, so I decided to pounce on the opportunity," says 27-year-old Lin. A television host at a Xi'an broadcasting station in northwest China's Shaanxi province, she wants to now pivot away from mainstream media and focus on managing her social media accounts.
Her husband, Xu Jun, who previously quit his job at a Fortune 500 company, is confident about monetizing such accounts. On the microblogging platform Weibo alone, the couple has over one million followers. Incidentally, both have signed influencer contracts with Trip.com Group.  
But despite their popularity online, sponsorships from airline companies and tourism authorities began drying up after 2019, when tourism slowed to a crawl. It forced Xu to change their strategy, focusing instead on collaborating with international brands and promoting their products online. 
Lin recalls their ordeal during the pandemic. "On many occasions, the destinations were decided and we had submitted a shooting schedule. But as soon as we set off, policy shifts forced us to change our plan," says Lin. 
"When we told our sponsors about the changes, some would understand and wait for us, but others just terminated our project and found other available bloggers."
According to Lin, the psychological stress far outweighed the financial losses. "The torture was endless: It would continue all through the project, ending only when we finished the project. Then we'd get another sponsor and the cycle would start again," says Lin. "The uncertainties really impacted us." 
Unlike Lin and Xu, who decided to tough it out, some travel influencers had simply reached their limit. 
Last October, just months before COVID-19 restrictions were eased, Su Ziwen deleted all the content from her social media account that had 400,000 followers. She wrote a farewell letter on her alternative account, and quit. 
Su started documenting her adventures across the globe in 2017. In the years that followed, she visited hundreds of cities, wrote travel tips, and shared incredible photos. On social media, she attracted millions of views, which, for her, ensured a life of luxury and adventure for free. 
"I could tell them about experiencing a fantastic hotel in Bali for just 800 yuan, or discovering Tokyo through iconic movie scenes shot throughout the city," says Su, who used a pseudonym to protect her privacy. "But when traveling became tedious, it no longer brought any happiness," she says.
She still hasn't forgotten the excitement. "It was so cool. I jumped into the sea, I dived from the sky, I walked across fields. My access to the world widened, and I became less self-conscious and more confident. In a word, I was glowing," she says. 
All that faded when the pandemic started, and to make matters worse, travel restrictions began kicking in. "It wasn't easy to even get out of the city," says Su, who at the time lived and worked in Beijing. "Though the city has abundant attractions and landmarks, it felt harder and harder to produce more creative content."
For Su, though, it wasn't just the lack of travel; she also felt a little burnt out. Once, she spent just around one day in Kyiv in Ukraine but managed to visit 14 attractions, and shared all the photos the same night on social media. "It went dark at 4 p.m. local time, and the snow was up to my ankles," she says. 
She was younger then, and more excited about sharing her life with the world. "Now I'm turning 30, I feel I don't have the energy anymore," she says. She adds that she can't catch red-eye flights any more, and often has the urge to just sleep at the hotel. 
With little to upload online, Su's blog eventually went from daily posts to once-a-month updates. And when it was time to call it a day, it wasn't an easy choice. In the end, it took her about two agonizing years to finally quit her online career and focus on her "formal job." 
Carpe diem
In stark contrast, Zheng saw an opportunity amid the pandemic. He quit his job at a bank in 2020 to focus on traveling. In 2022 alone, he visited over 200 cities.
While sponsorships covered around half of his trips, he spent around 170,000 yuan from his own savings on flight tickets and hotels. His previous job, along with small investments and profits from running a small bubble tea store, allowed him to save enough money. 
"I have been repeatedly told that my life was too free to be true," says Zheng. "I'm always heading off to a new place."
And while ordinary travelers dreaded the prospect of lockdowns and quarantines, Zheng was undaunted. He says he somehow always managed to evade the surge of the virus. 
"My health code never turned red or yellow, and I never experienced lockdowns, or was ever required to quarantine," he says. Under China's COVID-19 protocols, a red code was given to those who were infected, while a yellow code indicated those in quarantine or who missed mandatory tests. 
Zheng attributes this to three reasons. First, he says, he always researched his destinations. "All governments were publishing the latest updates about COVID-19. The key was to never try to bypass the rules," he says. 
Second, he always avoided popular destinations. Last summer, when thousands flocked to Sanya, in south China's Hainan province, where many were stranded amid an outbreak, Zheng traveled to the lesser known city of Xichang in the southwestern Sichuan province. With its abundant sunshine and sandy shores surrounding the city's biggest lake, many locals have dubbed Xichang the "little Sanya." 
"It took me a whole day of driving to reach the place. Its relative seclusion protected it well from massive crowds during the pandemic," says Zheng, who spent 10 relaxing days in Xichang.
Last but certainly not least according to Zheng was to sense danger in advance. "You needed a comprehensive understanding of the local people's lifestyle, the city's medical resources, and its anti-pandemic history," he underscores. 
His non-stop traveling in the middle of the pandemic drew more than 100,000 followers on multiple social media platforms. To better manage his accounts, Zheng started spending more time on videos, photos, and vlogs.
With so much on his plate, all the traveling did eat into his savings. "Traveling is still a luxury, because you have to spend time and money," he says.
He says he misses the days of backpacking around the world when he used to buy decorative Chinese knots or silver accessories made by China's ethnic minorities before embarking on his journey. He recalls selling them while sitting in plazas in other countries, saying: "That's how I used to fund my travels." 
Chasing the dream
Four years ago, Wang Huanran, 33, started modestly too. She began just by sharing about her idyllic life in Dali, a city in the southwestern Yunnan province, on Xiaohongshu, China's lifestyle platform. Tired of the urban rat race and concrete jungles, she decided to leave Beijing in 2019 when her daughter was born.  
"I'm not a city person," Wang tells Sixth Tone, adding that she hoped to give her daughter a more holistic experience, be it visiting a farm, riding a horse, catching fish in the lake, or just waving her hands in the open air to feel the wind. 
She quickly grew popular as a few thousand mothers soon followed her account. But when the pandemic hit, updates were harder to come by and travel presented a challenge. 
"I faced obstacles when I wanted to travel with my daughter. On one occasion, I was stopped on the highway and advised against going forward. I had to turn back," she recalls. 
The setback only steeled Wang's resolve to become more professional. She realized that gaining more influence in the blogosphere had its advantages: Her trips might be sponsored or, better yet, she could get backing from local governments. 
"If I became influential enough, traveling might get more convenient too," she says. 
Putting her plan into action, Wang wrote about her daughter growing up in Dali during the pandemic. "A childhood without masks and nucleic acid tests. And moving from a city to Dali, we felt what relaxation is," she wrote. It was an instant hit and gained 3,000 likes online. 
And when her account garnered over 100,000 followers, the money followed: She earned about 100,000 yuan through sponsorships. 
Incidentally, Wang's success was almost an aberration in the travel sector. "In Dali, 80% of the travel agencies, farms, homestays, and summer and winter camps, and basically anything related to tourism closed down," she says. 
But now, with travel and tourism bouncing back, Wang senses more opportunities. She's planning a trip to Thailand, where she intends to explore international schools for her daughter. 
"Although I'm a travel blogger, I hope that my experiences will inspire mothers to prioritize their children's needs and make better plans for them," she says. 
Hope is what saw Wang through the pandemic; and across China, it's a sentiment many in her profession now share. 
Just like Zheng, who back at the checkpoint in Laos decided to return to China after the long road trip. He flew to the northwestern Xinjiang Uyghur Autonomous Region hoping to catch the tail end of the skiing season. Later, he plans to go diving in Sri Lanka, or maybe even try hiking in Nepal. 
Editor: Apurva.
(Header image: Visuals from interviewees and gmast3r/VCG, reedited by Sixth Tone)