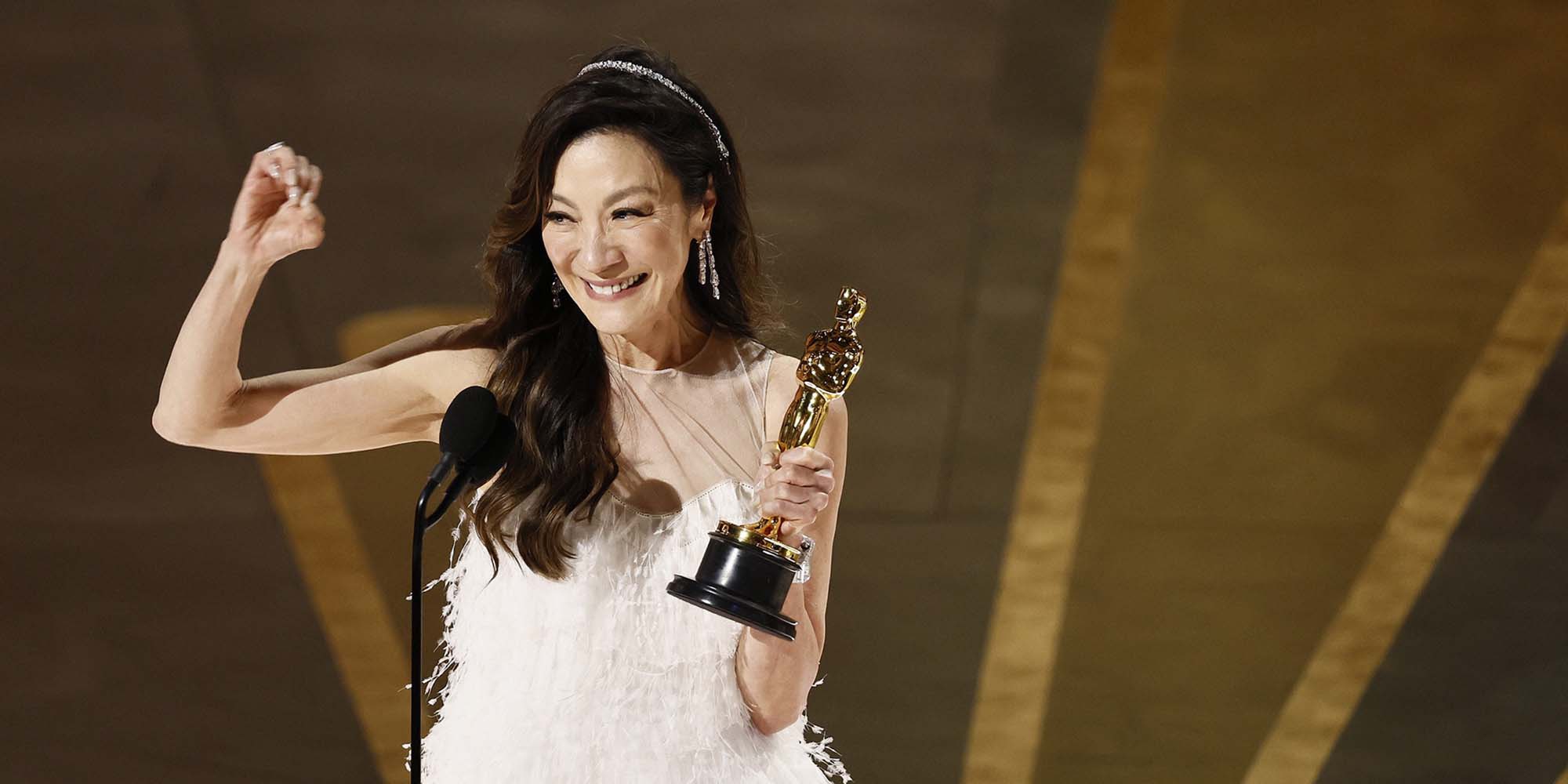 NEWS
Chinese Women Cheer Michelle Yeoh's Oscar Win
The 60-year-old's achievements have led to discussion on the plight of China's middle-aged actresses struggling to get work due to their age.
Chinese women and social media users hailed Michelle Yeoh for her historic Oscar, becoming the first woman of Asian heritage to win the Best Actress category in the global film industry's most prestigious award.
The 60-year-old Malaysian actress bagged the gold statue for her performance in the multidimensional blockbuster "Everything Everywhere All at Once." Yeoh won over both the movie critics and the audiences with her role of a Chinese-American laundromat owner confronting both career and family troubles while possessing superhero powers in a multiverse.
"For all the little boys and girls who look like me watching tonight, this is a beacon of hope and possibilities," Yeoh said while receiving the award. "Ladies, don't let anybody tell you you're ever past your prime."
Yeoh's win on Monday particularly struck a chord with many women in China, in and outside the industry. While many middle-aged actresses have called out the ageist attitudes in the industry, those in other professions have also complained of discrimination due to their age — the retirement age for women in blue-collar jobs is 50 in China.
"Women should never be bound by definitions, and we're always on the way to reaching our peak," said a highly upvoted comment under a related post on microblogging platform Weibo, where the hashtag dubbed "Michelle Yeoh from history to herstory" was trending Tuesday.
"It's a dream to see a 60-year-old Asian actress apply all she's learned, play the character tailored to her in a fantasy film, and win the biggest awards in the industry," another user wrote.
Yeoh rose to fame in China after developing her career in Hong Kong and starring in a series of Chinese action movies in the 1990s, including "Police Story 3: Supercop" with actor Jackie Chan. She soon turned herself into a female action star, or "female fighter," a rare existence in a male-dominated field.
Globally, the Malaysian actress gained the spotlight in "Tomorrow Never Dies" in 1997 as the first woman of Chinese descent to play a leading role in the James Bond series. Yeoh further won accolades for her role in "Crouching Tiger, Hidden Dragon," which received 10 nominations at the 2001 Academy Awards and won the Best Foreign Language Film.
Yeoh's Oscar win has also led to online discussions on the plight of Chinese middle-aged actresses shunned from the limelight because of their age. Similar discussions also ensued last week after Chinese audiences raved about the performance of 42-year-old South Korean actress Song Hye-kyo in the Netflix series "The Glory."
"For a Chinese actress in her 60s, she can only play a vicious mother-in-law if she hasn't retired by then," one Weibo user wrote. "There aren't many scripts written for middle and senior-aged women (in the industry)."
During a film festival in 2019, Chinese actress Hai Qing, who starred in the acclaimed movie "Return to Dust" last year, publicly appealed to directors and producers to give more opportunities to middle-aged actresses. Many industry insiders have blamed investors for choosing popular artists to evade risks, as well as the prevalent Asian culture for its appetite for young women to satisfy the male gaze.
But some say that the situation has improved in the past few years after more and more female actresses have called out on the practice and won public support. Apart from movies, many middle-aged actresses are now partnering with luxury brands that are choosing them instead of scandal-hit younger celebrities.
"It takes time for the shift to happen," Zhu Mo, an author and film producer, said in a conference in early March.
Editor: Bibek Bhandari.
(Header image: Michelle Yeoh after winning the Oscar for Best Actress for 'Everything Everywhere All at Once' during the 95th annual Academy Awards ceremony at the Dolby Theater in Hollywood, Los Angeles, California, U.S., March 12, 2023. ETIENNE LAURENT/IC)