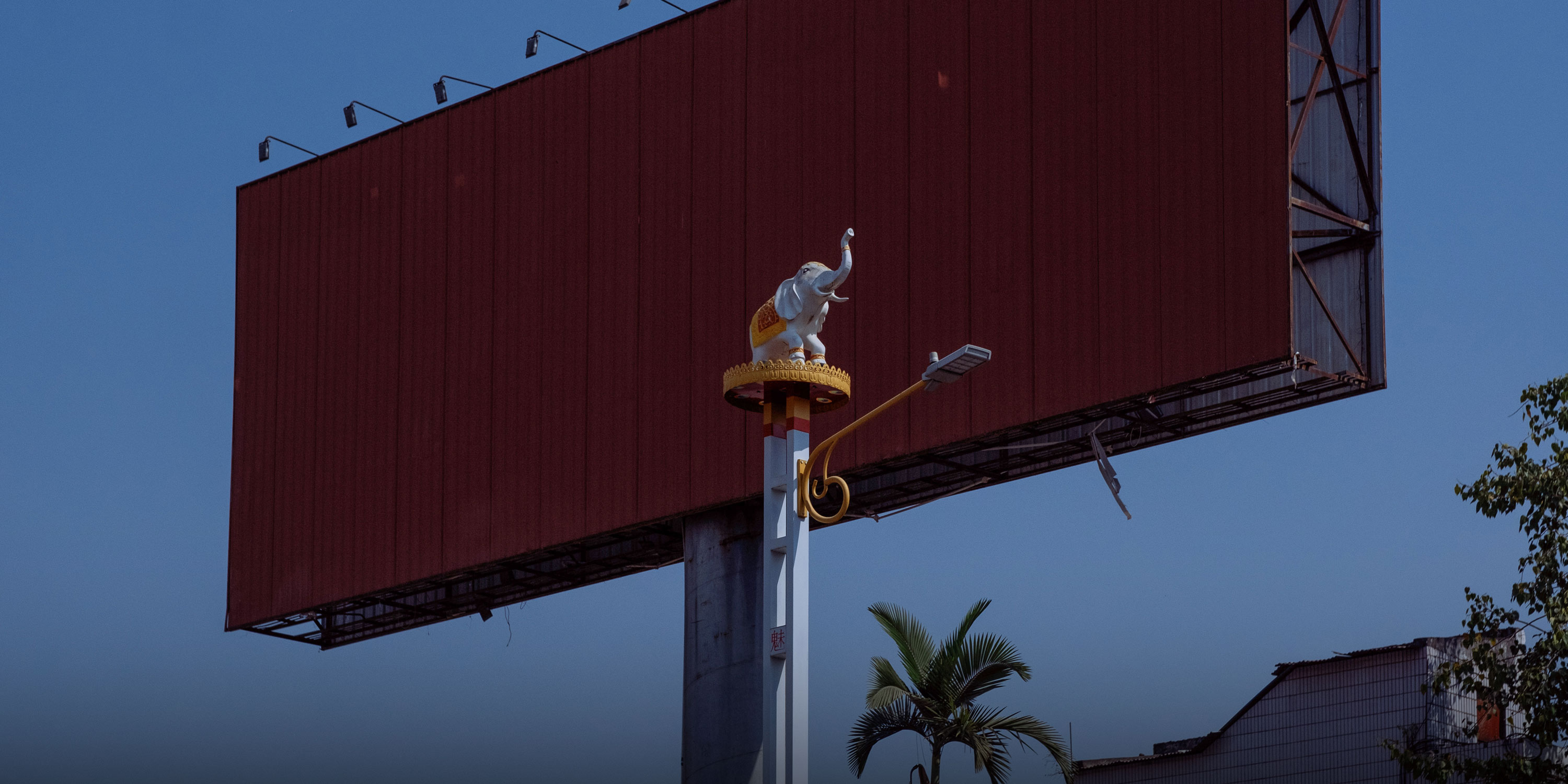 FEATURES
After 3 Years of Lockdowns, a Chinese Border City Struggles to Rebuild
Ruili faced some of China's strictest virus-control measures during the height of the pandemic. Now, local people are gradually picking up the pieces.
This is the third article in "Recovery" — a series of reports on how communities across China are attempting to move on from three years of strict pandemic-control measures. Read part 1, part 2, part 4, and part 5.
YUNNAN, Southwest China — Inside Duobao Zhicheng, one of the largest jade markets in Ruili, the noise is deafening. 
Dozens of traders hold up green jade jewelry and carvings in front of their smartphone screens — which they're using to livestream to customers all over China — and yell their prices at the top of their voices.
As China moves on from three years of strict pandemic controls, life is gradually returning to normal in Ruili — a remote city sitting on China's southwestern border with Myanmar. But the recovery is likely to be slower here than in other parts of the country.
Before the pandemic, Ruili's prosperity was built on its status as the main gateway between China and Myanmar. Billions of dollars of fei cui — a variety of green jade that is highly prized in China — flowed from Myanmar's mines into the Chinese market each year, with much of it channeled through Ruili.
After COVID hit, however, the city's frontier location became a liability. With China wary of infections spreading across the border, Ruili faced a string of weekslong lockdowns. From early 2021, the border was sealed entirely, and surrounding neighborhoods were evacuated. Undocumented migrants from Myanmar were rounded up and forced to return home.
The jade trade was brought to a standstill. Jade could not cross the border, and Ruili's markets shut down. Large numbers of businesses folded. By 2022, data from Ruili's mass COVID testing program suggested that around 200,000 people had left the city — nearly half of its pre-pandemic population.
Now, the city is finally reopening. In December 2022, China abandoned its virus-suppression strategy, bringing an end to three years of lockdowns and domestic travel restrictions. The China-Myanmar border began operating again the following month.
As in other parts of China, life has quickly returned to the streets of Ruili. The jade markets are bustling once again, and traders are returning to the city. Long lines of people can be seen crossing the border checkpoint each day. Yet beneath the surface, many challenges remain.
Stone gamblers
For jade trader Guo Caijia, the relaxation of local COVID rules has come as a huge relief. Sitting in his apartment in Ruili, which doubles as a workshop and storage room, he explains that it took a while for him to realize how seriously the virus-control measures would affect him.
"At first, we thought that the lockdown wouldn't last long," says Guo, while examining a hefty chunk of raw jade. "Then, we gradually realized that things are not right and are getting worse and worse. And we thought, 'What do we do if we can't buy stones? What do we do to live?'"
Guo works in the first stage of the jade trade, which locals call du shi, or "gambling on stones." Traders select raw fei cui that has just been shipped across the border, and then try to sell it on to buyers in China at a markup.
Before the pandemic, stores and warehouses filled with fei cui stones could be seen on streets all over Ruili. Traders like Guo would spend hours shining powerful LED lights through these stones, assessing the quality of the jade concealed inside.
But after COVID hit, finding good stones became more and more difficult, Guo says. Every time Ruili was locked down, the supply of fei cui would be cut off. Then, in 2021, the border was sealed, and the trade shut down completely.
Yet, somehow, Guo survived, and now he is hopeful that he can start making money again. He stresses, however, that the recovery will be gradual, and it may be months before the jade trade is back to normal.
"It has come back a lot," he says. "Now cars and people are circulating again, and many people who left to work in Zhejiang, Guangdong, and Shanghai are coming back. The market is back on, everything is open."
Try, try again
Business is also picking up at the Duobao Zhicheng jade market. At its peak, there were up to 70,000 people in Ruili selling fei cui via livestream, and they sold 30 billion yuan ($4.3 billion) of jade products a year, according to He Lei, the owner of the market. 
But the industry is much smaller now: Many companies were "wiped out" during the pandemic, he says. "COVID had a huge impact," He tells Sixth Tone. "I invested millions — all gone."
He, however, is an upbeat character. The lockdowns gave him a chance to catch up on sleep, he says. Now, he appears to relish the challenge of rebuilding his business. "No problem, let's do it again! There's no other way but to try again," says He, bursting out laughing.
Livestreamers at the market echo this sentiment. Run Zi, a migrant from south China's Guangdong province, has been selling fei cui jewelry in Ruili for eight years. But most of her former colleagues left during the pandemic, she says.
"COVID had a very big impact on every industry, not just us who work with jade," says Run Zi, who spoke with Sixth Tone using a pseudonym for privacy reasons. "Before COVID, our company had 120 people, then we had fewer than 20 left."
A motormouth by nature, Run Zi relishes the intense, fast-paced atmosphere at the market, and she doesn't plan to quit. She estimates that the fei cui livestreaming business has recovered to about one-third of pre-pandemic levels.
"Now, we are all gradually recovering," she says. "I believe I am strong enough to achieve what I had before."
Across the bridge
But crossing over the Ruili River, it's clear that it will take time to repair the damage in some parts of the city.
The Ruili River is the natural border between Myanmar and China, but a slice of land on the Myanmar side of the river belongs to China. This is Jiegao, the district where Ruili's main border crossing is located.
Jiegao was once the engine of the city's economy: 85 billion yuan of trade passed through the district in 2019. But that changed when Chinese authorities decided to seal the border.
On March 30, 2021, the bridge connecting Jiegao with the rest of Ruili was closed to vehicles and pedestrians. Residents and businesses were moved out of the district, and the local economy effectively ground to a halt.
The bridge is now open again, but many businesses have yet to return. Streets in several areas are completely deserted, with detritus from previous lockdowns scattered around.
Before the bridge that connects Jiegao with the rest of Ruili stands an abandoned tourist visitor center. Barbed wire is spread across the entrance. Inside the empty security guard's cubicle, a thermometer and registration form still sit on the table. Thick cobwebs hang from the handlebars of the electric bikes parked in the corner.
Across the bridge, Border Crossing Avenue — the wide road leading to the Jiegao border checkpoint — is eerily quiet. Almost all businesses on both sides of the road are shut, including the three-story Fei Cui Evaluation, Carving, and Livestreaming Training School.
At the border crossing itself, the streets come to life. Vendors are selling cheap jade, exotic snacks, and souvenirs to groups of tourists. 
According to official statistics, over 6 million domestic tourists visited Ruili in 2019. Though visitors are starting to return, the numbers are far lower than before the pandemic, locals say.
"Half of what it was? No. Thirty percent? No. I would say between 20 and 30," says one trader, who sells cheap candy, coffee, soap, and traditional medicine imported from Southeast Asia.
A bus arrives and a tour group of retirees descends, accompanied by a young guide carrying a flag and loudspeaker. The guide skillfully lines up his charges to take the mandatory group photos in front of the border crossing, then herds them back onto the bus to head to the Jiegao jade market.
Jiegao market, one of the largest in Ruili, is a shadow of what it was pre-COVID, the sellers agree. A businessman from Shanghai, surnamed Li, is walking around, trying to decide whether to set up a stall. The stalls now cost just 1,000 yuan a month — "cheap," Li says. Things are picking up, but a full recovery is six months away, he adds.
Down the road, a man from Guangdong province, also surnamed Li, has just opened a duty-free shop selling expensive liquor to tourists driving in from major Chinese cities. Business is going well so far, he says.
His customers' BMWs and Land Rovers are parked next to an abandoned construction site. Inside the lot loom two huge, half-finished golden towers. A sign at the entrance reads: "World Trade Center."
Editor: Dominic Morgan; photo editors: Ding Yining and Qi Ya.
(Header image: An empty billboard on a roadside in Jiegao District, Ruili, Yunnan province, Feb. 15, 2023. Wu Huiyuan/Sixth Tone)