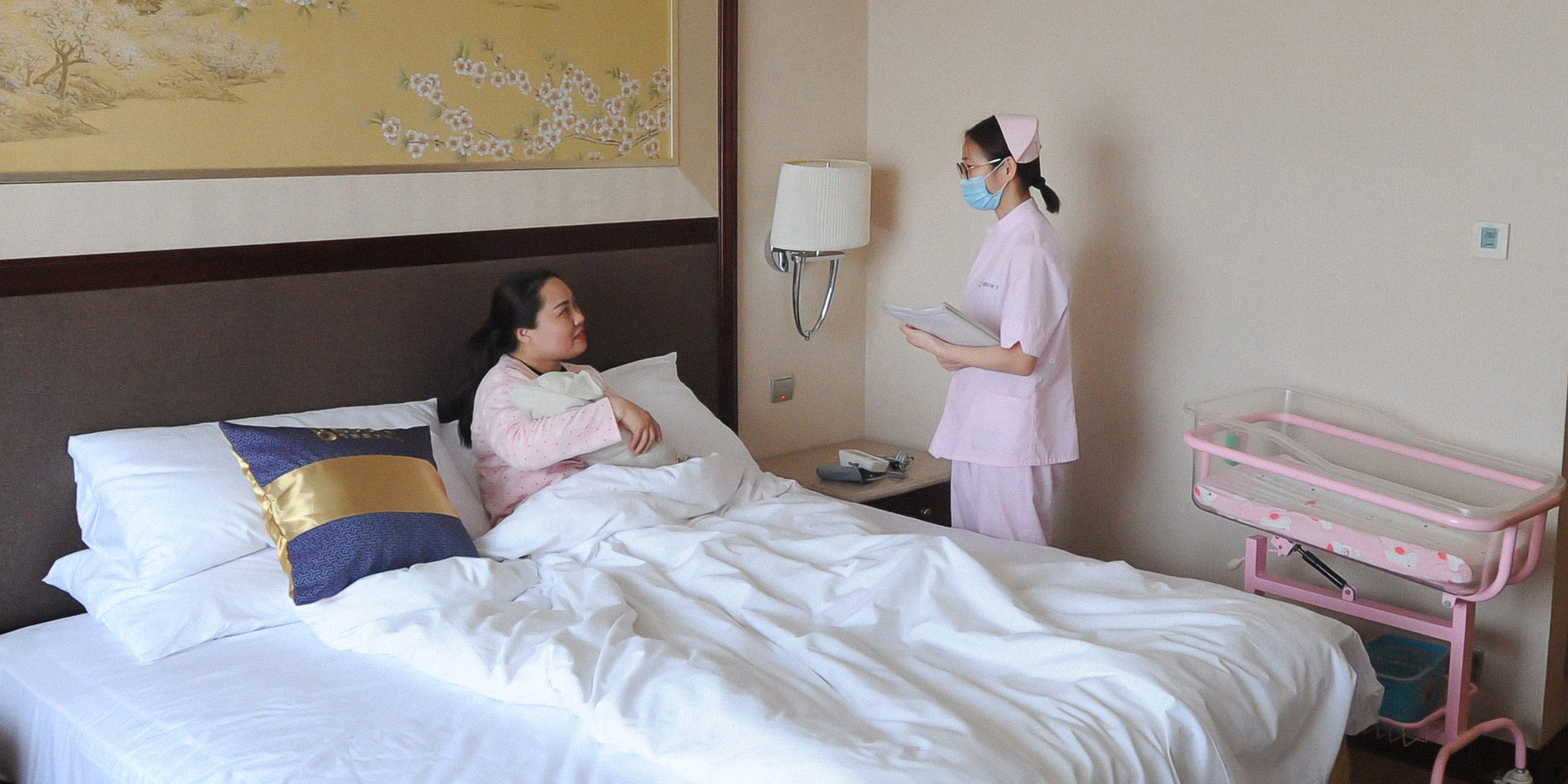 FEATURES
China's Maternity Hotels Offer New Moms a Break — From Their In-Laws
Maternity hotels have found success by tapping into the Chinese tradition for mothers to "sit the month" after giving birth. But they also offer young moms another benefit: an escape from unwanted parenting advice.
The scent of herbs filled the room. Doris Luo lay face-down on the bed as a masseur softly rubbed her shoulders and back. A knock at the door indicated that her afternoon tea was ready to be served.
Then, a loud cry pierced the silence — Luo's newborn baby boy had woken up. A nanny arrived and helped the 32-year-old shift into a more comfortable position while she breastfed the child. After 20 minutes, she took the boy away to burp him. Luo turned back to her afternoon tea.
Luo was a guest at a new style of hotel that is spreading rapidly across China: luxury "maternity hotels" that help new mothers zuoyuezi, or "sit the month," in comfort.
The custom of zuoyuezi goes back centuries in China. After giving birth, new mothers are expected to stay indoors for an entire month, avoiding cold temperatures or any form of physical exertion. This is believed to aid their physical recovery.
The exact rules vary from place to place, but the tradition remains common all over China — and can be highly restrictive. Families often forbid new mothers from leaving the house, drinking cold water, or bathing with anything other than boiled water. In some places, mothers are even told to stay away from TVs, smartphones, and hair dryers, to avoid any possible radiation.
Tensions often run high during this period. Many young parents grow frustrated by their relatives' overzealous enforcement of zuoyuezi customs, and what they perceive as outdated parenting advice. As one Chinese saying goes: "A fight during the yuezi can lead to a lifelong feud."
That's leading to a growing number of moms choosing to "sit the month" at maternity hotels, where they can enjoy a range of postpartum services, spa treatments — and a few weeks away from their families.
The first maternity hotels emerged in major Chinese cities like Shanghai and Beijing in the 2000s, and were targeted exclusively at the super-rich. Guests were typically charged around 15,000 yuan ($2,100) per day. But the concept is now spreading nationwide and becoming increasingly affordable.
Luo checked into a maternity hotel in her hometown of Nanchang, the capital of east China's Jiangxi province, in 2022. She paid 40,000 yuan for her 26-day stay, and said it was worth every cent.
"Life here was so wonderful for a mother who just gave birth," Luo told Sixth Tone. "At home, my relatives would repeatedly remind me to wear hats and long socks. But here, besides breastfeeding, all you had to do was finish six meals a day and sleep. And you can play with your phone as much as you want."
China's market for maternity hotels grew tenfold between 2013 and 2019, rising from 1.7 trillion yuan to 17.9 trillion yuan, according to a report by market research firm Intelligence Research Group. By 2030, it's predicted to surpass 30 trillion yuan.
Industry insiders are particularly bullish about the potential for maternity hotels to expand into smaller Chinese cities. Meng Qiuping, an investment advisor at a maternity hotel chain with over 600 outlets in China, says that 90% of the new hotels her company has opened over the past few years have been based in lower-tier cities and counties.
There are two main advantages to targeting smaller cities, Meng says. The first is the lower costs. Opening a high-quality facility in a city like Shanghai or Beijing requires a massive upfront investment, making it harder to make a profit.
"Most of the money will be spent on the extremely expensive rent in city centers," says Meng. "It's easier to find a 2,000-square-meter site in small towns and counties."
The second advantage is the sheer size of the market. There are over 40,000 counties and towns in China with a combined population of more than 500 million people. In addition, couples in smaller Chinese cities tend to have more children than those in first-tier cities. In Shanghai, for example, only 24% of newborns are second children, but in China as a whole the rate is over 55%.
"Metropolitan couples usually … want to put all their resources into an only child," says Meng. "But in small cities and counties, couples with a steady income are more willing to have two or even three kids."
Though maternity hotels are only just beginning to spread to smaller Chinese cities, Meng says families there are already familiar with the concept. "Thanks to the influence of social media and celebrities, almost every woman knows about maternity hotels," she says.
For many families, the hotels don't represent a break from zuoyuezi traditions so much as a modernization of them. 
In China, public opinion differs about specific zuoyuezi customs: Duan Tao, a well-known Chinese obstetrician, argues that the rules don't need to be so strict now that most Chinese homes are fitted with modern appliances, heating, and hot water. "It's OK to take a shower and wash your hair, enjoy the cold air conditioner … and use smartphones," he says.
But few appear to question the general principle of having mothers sit the month. The tradition remains so deeply rooted that Chinese social media users reacted with astonishment when Catherine, Princess of Wales, made a public appearance wearing high heels and a short dress shortly after giving birth in 2015.
As a result, maternity hotels tend to brand themselves as offering a more "scientific" approach to sitting the month. This allows them to appeal to young parents' desire for modern, specialist care, while also nodding to zuoyuezi traditions.
The Xiangshan Postpartum Care Center — located in Xiangshan, a coastal county in east China's Zhejiang province — has taken this approach. The facility, which opened in 2018 and is affiliated to a local private maternity hospital, says that it has 80 support staff onsite, including pediatricians, nurses, nannies, psychological counselors, and a yoga coach.
"Modern women are pursuing a more scientific approach to both taking care of babies and fully recuperating during the first month after childbirth," Wu Jiani, the center's manager, tells Sixth Tone.
The center also pays a lot of attention to the guests' diets. According to Chinese tradition, new mothers should eat lots of high-fat, meat-based soups while sitting the month, as this is believed to help them produce nutrient-rich milk for their babies. Wu, however, says that the center has designed a four-step meal plan in consultation with specialists at the local maternity hospital, which they claim is more effective in helping mothers recover.
"In the first week, we use lighter recipes to help the mothers discharge lochia," she says. "The nourishing step starts from the third week, when we'll use high-end ingredients rich in protein … to help mothers get more nutrients."
Between meals, the hotel provides a range of activities for mothers and infants, such as stretching, swimming, and massage sessions, Wu says. These classes are designed to aid the infants' mental and physical development, and help mothers develop a deeper bond with their children.
"The first 1,000 days are a key period for kids to absorb knowledge," Wu says. "We will interact with the babies and teach the new parents to start emotionally communicating with their babies … That's what we learned from the first-tier cities."
A decade ago, the hotel likely would have struggled to attract customers in a provincial county like Xiangshan. But China's feminist awakening has brought profound changes to social attitudes over the past few years. 
Postpartum incontinence, for example, was once considered shameful, and very few mothers suffering from it would seek medical assistance. Now, female celebrities often speak out about their pain after giving birth, and fewer women feel they need to conform to the Chinese ideal of self-sacrificing motherhood, Wu says.
"Women have realized that they should treat themselves better," says Wu, adding that this is why the hotel's number of customers has continued to rise despite China's plunging birth rate.
Wu Jina, a 41-year-old from Xiangshan, checked into the center after giving birth to her second child last year. Wu, who isn't related to Wu Jiani, the center's manager, says the 28-day stay was worth the money. At her age, she didn't feel she had the energy to take care of her baby all by herself.
"My family was also supportive of this decision," says Wu. "It's a temporary shelter for families to ease the transition between hospital and home, giving us more time to accept the huge change of having a new baby."
Ma Lin, a 50-year-old who has worked as a live-in maternity nurse for two decades, tells Sixth Tone that she plans to open a maternity hotel in her hometown of Guanyun, a county of 800,000 people in east China's Jiangsu province. She sees the business as a way to provide new mothers with a much-needed refuge.
"I know how fragile and emotional women can be after giving birth," says Ma. "Many people think that only delivering the child is painful, but that's not the case. When you're facing a crying baby that needs its diaper changing and feeding every two to three hours, it's the start of a new challenge."
In her years as a nurse, Ma has also witnessed many disputes between mothers and their relatives during the yuezi. In rural areas especially, families often still hold traditional views on child-rearing, she says. On one occasion, Ma saw a mother weep for hours after her in-laws insisted on binding her baby daughter's legs together tightly with string.
"The in-laws believed that it would help the baby's legs grow straight in the future," says Ma. "The young lady was too weak to argue with the whole family. Even when I stood up to defend her, the older relatives still wanted to stick to the convention."
Ma hopes that her maternity hotel can help shelter women from those kinds of large, patriarchal families. She says that when she becomes a grandmother, she will pay for her daughter-in-law to stay in a maternity hotel, no matter how much it costs.
"I want my daughter-in-law to have the happiest yuezi," she says.
Editor: Dominic Morgan.
(Header image: A nurse talks to a new mom at a maternity hotel in Wuhan, Hubei province, 2018. Cheng Ying/VCG)