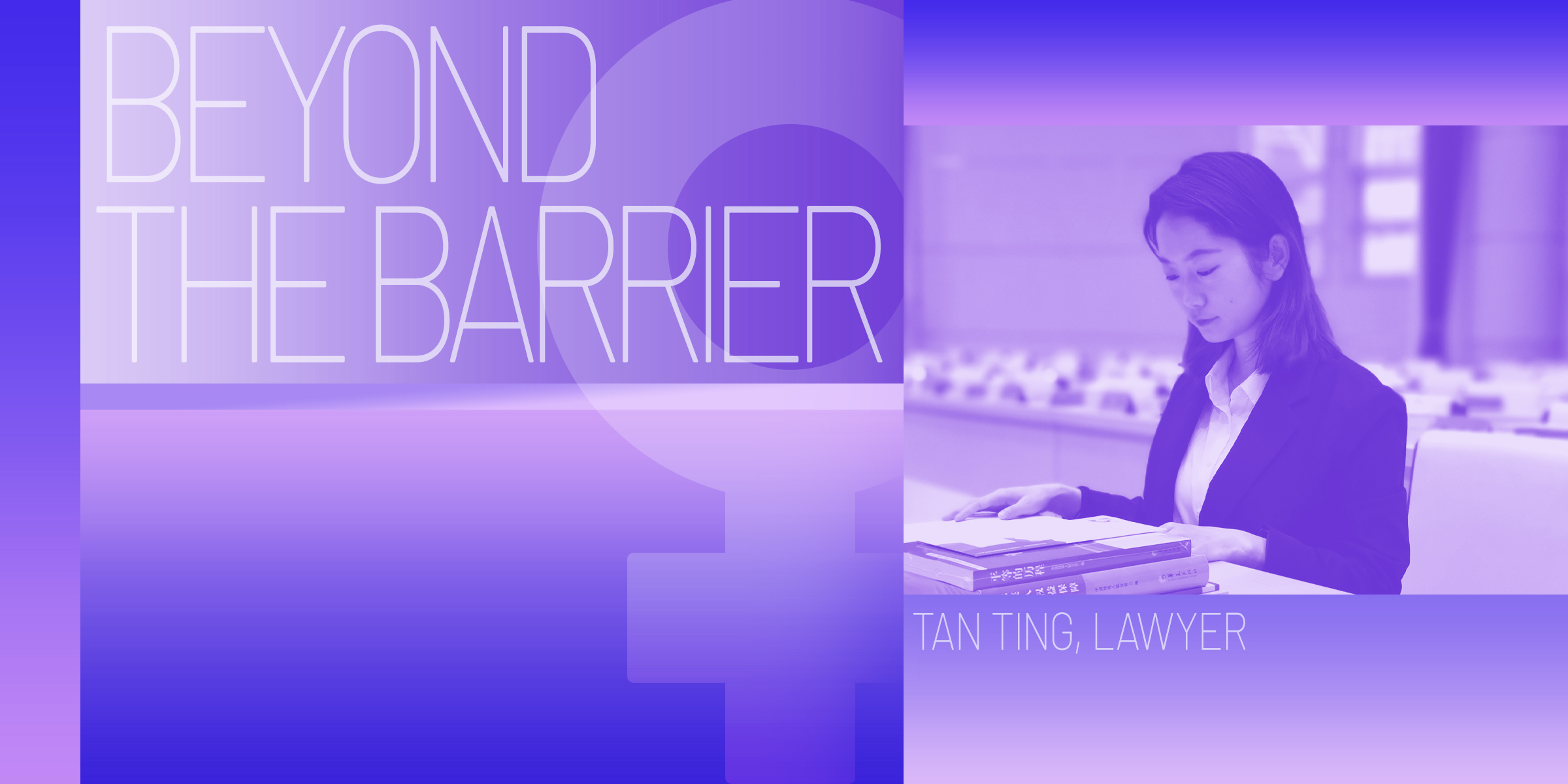 NEWS
China's First Deaf Lawyer Beat The Odds. Now, She's Giving Back.
There still isn't a system in place for Tan Ting to argue in court so she works on spreading legal awareness among the deaf. In China, that's equally important.
This is the last of a three-part series to mark International Women's Day this year. Read part one here and part two here. 
Always dressed in a baggy white shirt and black suit while at work, Tan Ting is the quintessential Chinese lawyer. Every day, she advises clients, attends training conferences, and also makes short videos and hosts livestreams to make legal knowledge more accessible. 
Far better than most, Tan understands the significance of accessibility — she is China's first, and arguably only, deaf lawyer. And though she's still in her early 30s, Tan has been working for years on the frontline helping the country's deaf and hard of hearing community.
Tan, who is from the southwestern Sichuan province, made waves in 2021 after passing the national judicial examination on her third attempt, a remarkable feat considering she majored in special education. And her struggle to shape her own destiny while overcoming her disability and immense personal loss instantly caught the public's eye. 
But her story also serves as a reminder of the practical challenges that China's deaf face in accessing legal services, a crisis long invisible in society. But Tan is determined to help bring change. 
"The low level of literacy and education combined with the lack of access and effectiveness of laws lead to a very limited legal awareness among the deaf," Tan told Sixth Tone in an interview over text message. 
She underscored that people with hearing disabilities often did not realize that a legal violation had occurred or that, as citizens, they even had rights to defend their own interests. A 2022 national survey showed that in 2020, more than a fifth of people with disabilities above the age of 15 were still illiterate. 
To illustrate the divide, Tan recalls a woman she once helped. Her client had lent more than 100,000 yuan ($14,500) to a classmate who gambled the money away. When she asked for it back, her friend threatened to turn her in to the police on charges of "collusion." 
In another case, she stopped a college student from taking his own life. This client believed a friend, who was refusing to return money she had borrowed from him, would be held responsible if he killed himself. The student later told Tan that without her intervention, he would have taken the fatal step. 
A lot of the time, Tan also has to deal with issues no other lawyer would ever have to. "Many deaf people come to our law firm to ask us to help call the police," she explains. 
The lack of awareness among the community is also evident in the short Q&A videos Tan creates — most are about how people can deal with basic issues such as being denied permission by parents, parents-in-law interfering in marriages, or whether forced sex in a relationship constitutes sexual assault. 
According to Tan, the harsh reality of her job is that she has to spend more time simply talking with her clients to gather sufficient information about their cases. Often, most can only communicate in a jumble of words and phrases. 
Her concerns also shed light on an even more important underlying issue — the severe shortage of sign language interpreters. China has fewer than 10,000 interpreters to serve a community of around 28 million. And in 2019, only five universities offered sign language as a major. 
"In the court, the most respected role is the sign language interpreter, whose words decide the defendants' crime and punishment, sometimes even life or death," said Tang Shuai, who hired Tan at his law firm and is well-known among China's deaf community, in a 2018 interview with Sixth Tone.
Despite the crucial role they play, there is an even greater shortfall in interpreters with adequate legal knowledge, particularly since most lawyers don't actively study sign language themselves. Also, some legal professionals are reluctant to take up cases involving people with disabilities, since it often means more work but less pay.
"While the hearing have a lot of resources to defend their rights and interests, the deaf simply don't," explains Tan. In 2021, she met a woman who had spent nearly 18 months just trying to find her team to help her divorce her husband. She claimed he had abused her even when she was pregnant, which led to two miscarriages. "She couldn't help crying when she told us her experiences using sign language," recalls Tan. 
The problem is further compounded by the fact that interpreters and the deaf community use different forms of sign language. While interpreters use Chinese Sign Language, the standardized form officially promoted since the 1990s, many of China's deaf only use Natural Sign Language, which has different grammar and varies from region to region. 
According to a national survey by Beijing Normal University, 29% of deaf people claimed they couldn't understand the sign language displayed on television, which uses Chinese Sign Language. 
When Tan began working at Tang's law firm as a paralegal, she recalls feeling overwhelmed by the number of deaf people desperately searching for help. "I feel countless eyes casting their gaze on me, but I am unable to help," she wrote on social media. "Dealing with this dilemma is even harder than fighting my own ordeal."
But such challenges have never stopped Tan. "I will keep fighting as long as I am still able to. I don't like giving up," she told Sixth Tone. 
It's how she's always been. 
Growing up in a village amid the mountains in Sichuan, Tan lost her hearing at the age of eight after a medical accident while being treated for otitis media, an inflammation or infection of the middle ear. 
She gradually lost the ability to speak, which forced her to spend most of her time at home since she couldn't go to school. "When I was young, I thought I was the only one in the world who couldn't hear," she recalls. 
Five years later, however, she finally started school again when her parents found a special needs school in Xichang, a city five hours away. From then on, studying became her only mission. 
While many classmates dropped out to either find jobs or get married to reduce the burden on their family, Tan's parents were determined to see their daughter leave the mountains and explore a bigger world. They insisted she finish her studies. 
Though she graduated with a major in special education, Tan decided to pursue a career in legal services after spotting a job advertisement at Tang's law firm. "I'd heard of Tang in news reports and was touched by his devotion." 
She was soon hired as a paralegal along with her husband, who she had met just before taking the gaokao, China's college entrance exam. 
Impressed by the valuable services Tang's firm provided and driven by a strong desire to help others like her, Tan decided to give the national judicial exam a shot. Since Tan was a novice, many thought her endeavor was impossible, especially considering the pass rate for the exam in China is just 13%.
But Tan went back to her books, learning everything from scratch. "It took me quite a while to realize that the legal term 'juridical person' wasn't referring to a real person," she says. And most video tutorials did not have subtitles. 
She came up short in the first two attempts, though the margin narrowed the second time. As she prepared for her third attempt in 2020, her mother was diagnosed with cancer — the same disease that had taken her father's life while she was still at college. 
Her mother's deteriorating health put Tan on the verge of a mental breakdown. "That's the only time that I truly wanted to drop out," Tan rued. A week before the national exam, her mother's condition progressed to the final stage. 
Tan told her she was thinking of quitting. But her mother was adamant. "Live for yourself and for society, not for me," she told her daughter, just months before cancer claimed her life. 
Tears streaming down her face, Tan took the exam and passed — a result her mentor Tang described as a "miracle," since it would prove to the public that deaf people can also enter the legal profession. 
It's now been three years since she aced that exam, and Tan is studying again — this time, to learn different sign languages and use audio-to-text transcription software so she can help clients better. 
She's still not able to represent herself in court since there isn't a system in place for deaf lawyers to make arguments in courtrooms. But she recognizes that increasing legal awareness among the deaf community is an equally important task. Apart from legal issues, Tan has also made videos and hosted livestreams on education across major social media platforms. Occasionally, she even gives in-person lectures. 
Were all the sacrifices she made worth it? 
"Many have told me that they want to study law, learn sign language, and join our team," explains Tan. She adds that she's also been hired as an instructor at the Southwest University of Political Science and Law, which collaborates with Tang's law firm to help train sign language lawyers.
The future, she believes, is optimistic: "There will be more excellent people helping the community and more deaf people trying to push their limits." 
Editor: Apurva 
(Header image: Fu Xiaofan/Sixth Tone)