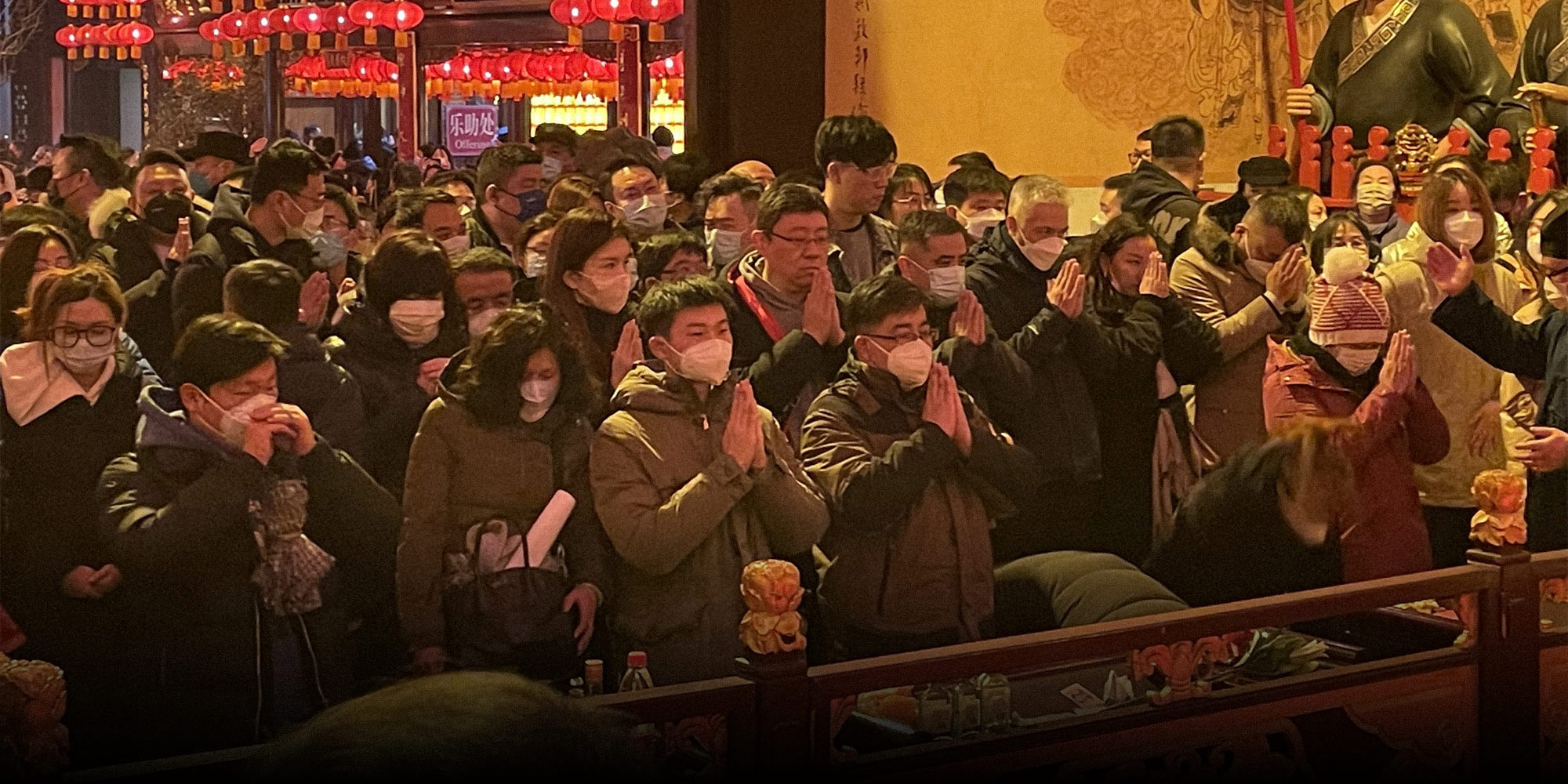 VOICES & OPINION
Post-COVID, China's Taoist Temples Are Still Finding Their Way
Taoist Temples spent the past three years moving services online. Can they bring devotees back?
Shanghai's Taoist City God Temple is one of the biggest in the city, but on a particularly busy day in late January, visitors wanted answers. Every day, city residents visit the temple to donate prayer tablets and receive the blessings of the gods. In the past, this was a relatively straightforward affair. You simply watched as temple staff inscribed your name and wish on the tablet and hung it up on the wall.
This year, however, almost everything but the hanging was done via app. Getting your wish granted required registering and paying through the temple's account on messaging platform WeChat, after which staff wrote out the names and wishes in the order they were received. For the most part, the new system worked smoothly, but some longtime devotees accustomed to quick service found it hard to trust that their dedication would be fulfilled. On my January visit to the temple, I watched as priests and other staff attempted to reassure visitors, even telling them they could come back in a few hours to check for their tablets.
This Lunar New Year was the first since 2020 celebrated free of China's strict COVID-19 controls, and many of the returning faithful found their favorite temples changed in their absence. Beginning in May 2020, Taoist temples in Shanghai began rolling out online services, typically through WeChat, as a way to stay connected with the faithful while complying with COVID-19 prevention rules. Anyone wanting to visit a temple first needed to register and purchase tickets online; they could also use the app to sign up for religious assemblies and other merit-gaining activities.
Over the course of three years, these systems gradually improved, eventually becoming a crucial link between worshippers and local temples. For example, this year's ritual celebration of the Tai Sui deities — one of the most important festivals on Shanghai's religious calendar — saw a daily average of 7,000 people registering to take part in the City God Temple's online services.
The proportion of younger people involved in temple activities also increased during this time. According to Master Lu of the City God Temple, three years ago, the majority of people involved in temple activities were middle-aged or elderly. More recent internal data shows that 70% of online participants are under the age of 50.
These developments may seem like a good thing, but Shanghai's Taoist priests aren't celebrating just yet. For many, the increase in online registrations for religious activities is a case of quantity over quality, as priests have less contact with worshippers and in-person participation in religious ceremonies continues to decline. One of the City God Temple's priests, surnamed Xia, told me that beneath the surge in participation in religious activities, the physical connections between believers and temples are slowly being eroded. He believes this is not conducive to the healthy development of either Taoist temples or Taoism itself. (Many other temples in the city cannot even point to a record of successful online services.)
Prior to the pandemic, the Tai Sui ritual saw City God Temple priests lead templegoers in prayers to the goddess Doumu, the "Mother of All the Stars" in Taoism. When the priests began reading out the names and birthdates of believers, the regulars congregated around the altar and listened carefully for their names and the names of their loved ones. For the past three years, however, many people were unable to take part in these activities in person. Even now, three months after China lifted its "zero-COVID" policy, many temples continue to discourage in-person participation to avoid being overwhelmed.
The rituals have changed as well. Before the pandemic, adherents would bring towels or underwear to temples and place them on the altar to be consecrated by the priests before taking them home. During the pandemic, most temples attempted to make up for the lack of in-person attendance by purchasing towels in bulk and mailing them out to believers who registered online.
This practice has outlived the attendance restrictions: During this year's Tai Sui festivities at Caishen Temple in Shanghai, more than 100 people received water blessings from priests, but bringing items from home was still forbidden. One regular visitor to the city's Baiyun Temple sighed that the temple-provided towels, while appreciated, were too impersonal and not as effective as having their own items consecrated.
The rise in participation among young people may also prove illusory. For many young Chinese, attending a Taoist assembly or getting a prayer tablet online has become trendy, similar to having their tarot read or accumulating merit through digital "wooden fish" apps. They don't value the rituals themselves, nor do they necessarily subscribe to Taoist beliefs. Rather, they simply hope to hand over some money and recite some sutras in exchange for the promise of better luck.
Meanwhile, the number of people visiting places of worship today remains far below what it was three years ago. Wang, a priest at the City God Temple responsible for inscribing written charms of the God of Wealth, told me that visitor numbers were still well down from their pre-pandemic peak, when guards were needed to keep the crowds in line. In addition to messaging from the temples discouraging in-person visits, a priest, surnamed Sun, guessed that falling incomes during the pandemic may have affected people's devotion.
Shanghai's Taoist temples have made a concerted effort over the past three years to build and strengthen their connections with worshippers of all ages. Modern technology has helped make this possible, but as other congregations around the world have learned the hard way over the past three years, the internet is not always a substitute for in-person engagement.
There's no way to turn the clock back. Temples are operating in a new environment. All they can do is reach out — and hope that their congregations return the favor.
Translator: David Ball; editors: Wu Haiyun and Kilian O'Donnell.
(Header image: People pray at Shanghai's City God Temple on Lunar New Year's Eve, Jan. 21, 2023. VCG)