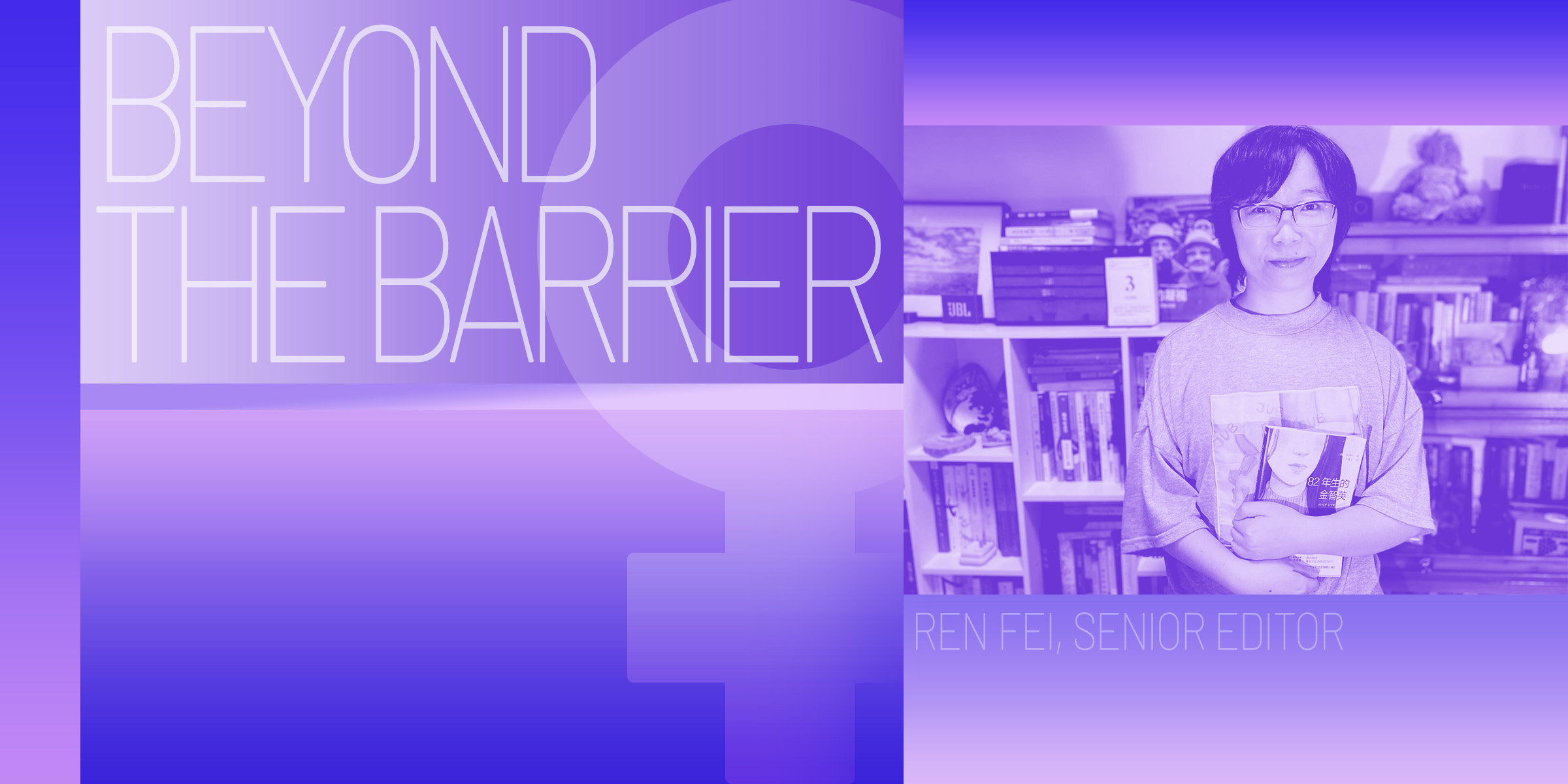 NEWS
Meet the Editor Pushing to Turn the Page on Women's Literature
For Ren Fei, publishing books about, for, and by women is more an instinctive act rather than a deliberate one.
Editor's Note: A publisher, a serial entrepreneur, and a lawyer. All women, all in their 30s, and all leaders in professions that in China are overwhelmingly dominated by men. To mark International Women's Day this year, Sixth Tone profiles three women who pushed the boundaries in their respective fields and are now using their experiences and expertise to empower a new generation of women in China. 
With its evocative prose and poignant storytelling, "Kim Ji-young, Born 1982" by South Korean author Cho Nam-joo has become a cultural touchstone for Chinese readers looking to explore the world of women writers. 
The book follows Kim as she struggles with gender inequality, discrimination, and societal pressure but is fortunate enough to have a considerate husband and an understanding mother. Its bold feminist themes instantly struck a chord across China — so much so that "Kim Ji-young" became a symbol for the everyday struggles women endure.
But Ren Fei, a senior editor at the Beijing-based Xiron Books who was responsible for publishing the translated book in China in 2019, says that for many starting out into the genre, Cho's seminal work is merely the beginning. 
The ripple effect the book had was illustrated when Ren's team decided to include an email address on the last page so that readers could share their own "Kim Ji-young moment." "I must confess though that our team did not expect to receive much feedback," Ren told Sixth Tone.  
They were delighted to be proven wrong. So overwhelming was the response from readers — often they opened with "Hi sister Ji-young" — that the emails continue to pour in even today. Most are personal stories from readers describing their "moment," sometimes while in the kitchen, sometimes the bedroom, or even at the park. 
Ren's team received letters from several men as well, most of whom said the book had inspired them to reevaluate their relationships.  
Despite the staggering reception to "Kim Ji-young, Born 1982" and its resonance with readers, Ren, who is among the few women in top positions across China's publishing industry, got into the business "by chance."
Now in her 30s, Ren recalls the time she graduated. "I was just looking for a job that would let me work with words," she says. Soon enough, she applied to jobs at several companies, including media outlets. 
"Well, the first offer was a publishing job and I thought, alright, let's give it a shot first," said Ren. "I've been doing it ever since." The company was Xiron Books. 
A while later, she moved to UnRead Publications, where she introduced Alice Sebold's novel "Lucky," a memoir about surviving sexual assault, to China. Then she brought 1977's "The Women's Room" by Marilyn French, a milestone in modern feminism, to domestic readers. She went back to Xiron Books in 2018.
According to Ren, publishing books focused on women's literature is more an instinctive act rather than a deliberate one. She says: "As a woman, it's uncommon for me to not prioritize gender-related concerns since they are intertwined with my daily experiences."
She's overwhelmed every time she reads news about extreme violence against women. She recalls several incidents in China. They include reports about a trafficked woman who was chained to a wall in the eastern Jiangsu province; the Nth room scandal; and the brutal attack against several women in Tangshan in the northern Hebei province. All were met with shock and outrage across China. 
"As a member of society, it's hard for me not to think about what I would do if similar things happened to people around me: what if my friend had been trafficked? Or was being domestically abused? What would I do? What should they do? This feeling of being hunted is ever-present," she says. 
That's when she asks herself: "Will everything be better if I get to publish one more book?"
Ren's question is rooted in one of the first translated books she published — Alice Sebold's "Lucky," which was originally released in 1999, while the Chinese version came out in 2016.
"In the U.S., it might have been just another book on how unfair the system is to victims of gender violence. But in China, the book was pioneering. In libraries, Chinese books that talk about rape survivors are few and far between," says Ren. 
The lack of a comparable context left readers in China ambivalent. The conflict played out on Douban, China's review platform, where most readers obsessed over the facts mentioned in the book. The short review page was inundated with criticisms of the convoluted legal proceedings, which many said were unnecessary.
But as debate over gender slowly increased across the country, newer reviews surfaced on Douban. Many expressed empathy and echoed the mental crisis recorded in the book. 
"There have never been 'too many' feminist books, only too few and we need more. There's been a surge in women's literature in recent years but it still doesn't go far enough," says Ren. 
According to Ren, books like "Kim Ji-young, Born 1982" challenge social norms.  She says the book's protagonist tears down brick-by-brick the thick wall of stereotypes that had confined her, thus freeing her from suffocating societal expectations. In the end, through self-reliance, Kim discovers inner peace and is no longer bound by the chains of gender norms. 
"Whenever I read news pieces about gender and other social issues, I am no longer an outsider. I feel the sadness or happiness people may have. I'm you. You are me," says Ren. "That's called empathy."
It was this thought that inspired Ren and her team to include the email address where readers could describe their Kim Ji-young moments. While the book and the feedback proved incredibly successful, Ren recalls being anxious at the time. 
"We all know about the protests the book and the adapted movie triggered in South Korea. I was worried that we may face a similar situation here in China," says Ren. "Though that did not happen, does it mean we have a more gender-friendly environment?"
A quick look at her own industry answers the question.
"China's publishing world is overwhelmingly female but in its top echelons, women occupy few management positions, exactly like how it's described in 'Kim Ji-young, Born 1982'," she says.
According to Ren, the conspicuous absence of women in publishing underlines a collective ignorance that may take a longer time to address.
She says: "We need more books that explore gender. We need to discuss more gender-friendly ideas. We need more voices to reflect if the life we have now is the life we need or if we can do better."
Editor: Apurva 
(Header image: Courtesy of Ren)