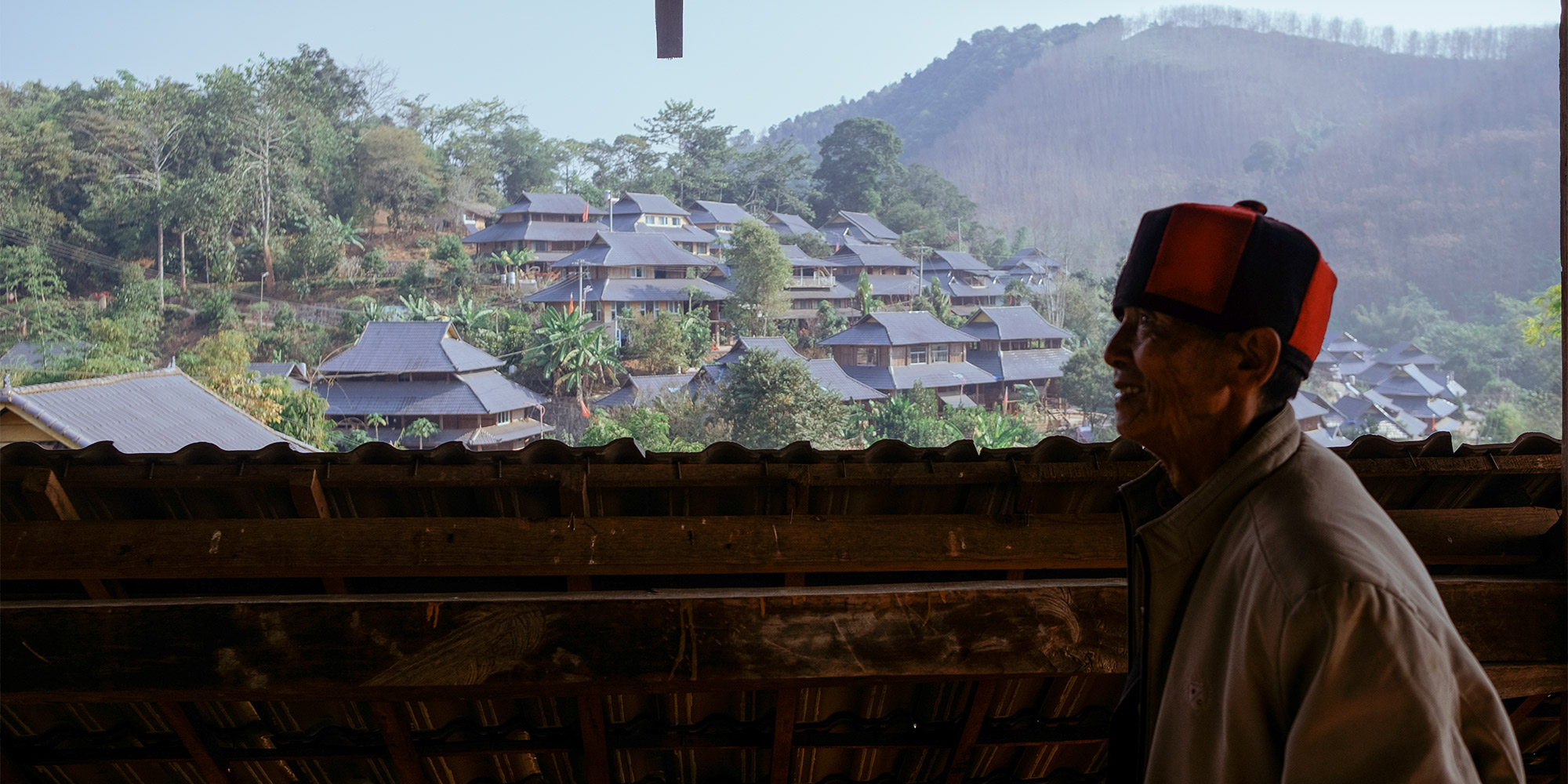 FEATURES
A Chinese Village Bet Its Future on Tourism. Then, COVID Hit.
Hebian was one of many Chinese villages that escaped poverty by transforming into a tourist resort. But when the pandemic struck, the village was forced to reinvent itself once again.
This is the first article in "Recovery" — a series of reports on how communities across China are attempting to move on from three years of strict pandemic-control measures. Read part 2, part 3, part 4, and part 5.
YUNNAN, Southwest China — Huang Zhicheng looks surprisingly relaxed as he sits in his empty bar sipping a beer.
The 34-year-old bar owner has barely sold a drink for three years. But he isn't too worried about the future, he says.
"Things are getting better — we have exceeded our expectations," says Huang, gazing out at a backdrop of rolling hills covered with a mosaic of jungle, banana plantations, and rubber trees.
When China imposed strict lockdowns to control COVID-19 in 2020, the future looked bleak for places like Huang's home village of Hebian — a remote settlement nestled in the mountains of southwest China's Yunnan province.
Like many Chinese villages, Hebian had bet heavily on tourism as a shortcut out of poverty. Locals had invested to convert their homes into guesthouses, often taking out sizable loans to do so.
Then came the pandemic. Almost overnight, Hebian was cut off from the outside world. The road into the village was barricaded, and outsiders required a permit to enter. Travel restrictions would remain in place for much of the next three years. The villagers were forced to go back to the land, living off the crops they grew and making some extra cash by harvesting rubber.
Yet, as China finally moves on from "zero-COVID," Hebian is far from the beleaguered community some might expect. Locals like Huang appear full of confidence. In some ways, the village even seems to be in a stronger position than it was before the pandemic.
The tourists have yet to return, but development in Hebian is pressing ahead. Some villagers have developed profitable new agriculture businesses. Others are experimenting with alternative sidelines like aquaculture. Higher up the mountain, a luxurious new set of guesthouses is under construction.
Many challenges remain, and the damage inflicted during the pandemic was severe. But the way Hebian has reinvented itself has been remarkable — and suggests that China's economic recovery will be more uneven, and locally driven, than many predict.
New frontiers
Hebian — the name means "by the river" in Chinese — is isolated and there is no public transport running here. Driving from the town of Mengla, past the signs warning of wild elephants crossing roads, it is easy to miss the turnoff into the mountains.
The road then zigzags wildly through plantations of rubber trees. It used to be a dirt track, impassable in the rain, says the driver. Twenty years ago, there was only one motorbike in the whole of Hebian and getting to town could take days, he adds.
The village's 200 or so inhabitants belong to the Yao ethnic minority that lives on both sides of the China-Laos border. Many local men go to Laos to find a wife. Most older people do not speak Mandarin, only Yao.
The villagers here are used to dealing with adversity. Until recently, Hebian was a largely subsistence economy. The villagers grew their own crops: rice, bananas, and corn. To earn money, they would sell some of what they grew, harvest rubber, and go to nearby towns to do manual labor.
In 2015, the villagers made on average just 4,300 yuan ($620) per year, just above China's official rural poverty threshold of 2,800 yuan, researchers from the China Agricultural University told Sixth Tone. Most lived in mud-floored huts with no plumbing. Many were in debt.
The village may have been poor, but it did have one highly valuable resource: its spectacular vistas of jungle-covered mountains and valleys.
It was this scenery that impressed Li Xiaoyun, a renowned professor of development studies at Beijing's China Agricultural University, when he visited Hebian in 2015. Captivated by the village's potential, Li set about transforming Hebian.
He founded a nonprofit — Action Against Poverty — raised funds, and drew up a plan to turn the village into a high-end tourist resort. He encouraged and helped the locals to pull down their makeshift huts and build homestay-style accommodation catering to moneyed visitors from China's big cities.
For a while, the plan worked. The locals faced a steep learning curve, as they transitioned from subsistence farming to running upscale hospitality businesses. But visitors did begin arriving, and the village quickly became better off.
Hebian was not a budget destination. The rooms cost between 500 and 4,000 yuan per night. In addition to tourists arriving from Beijing and Shanghai in their 4x4s, international tourism conferences were brought to the village.
By 2018, Hebian's average household income had more than doubled compared with 2015, rising from around 15,000 to more than 30,000 yuan, according to the China Agricultural University researchers. It even achieved national fame, with Chinese media holding up the village as a model for curing rural poverty through tourism.
Then COVID hit. Because of its location close to the China-Laos border, anti-COVID measures in the region were particularly strict.
Anyone wishing to enter or leave the area needed to apply for a special pass. Tourists were not eligible. When cases flared up in Yunnan province, a roadblock would be erected, cutting the village off from the rest of China.
The village reverted back to its old subsistence economy. Zhou Zhixue, who runs the village's tourism cooperative, said that COVID "sent the villagers back a generation" in terms of lifestyle.
"We could not leave the village for long periods, but this meant we could not misspend our money in town either," he said. "We just harvested rubber and planted crops."
Adapt to survive
China's "zero-COVID" era ended almost as abruptly as it started. In December 2022, after nearly three years of the pandemic, the government announced it would phase out restrictions.
Within days, people were able to move across the country freely once more. The virus arrived in Hebian soon after — practically the entire village was infected, according to Huang. "Our symptoms were very mild, just a slight fever for a couple of days," he said.
A short-lived tourism boom followed. The village's guest houses suddenly saw a rush of bookings, as China's urbanites desperately sought a change of scene over the upcoming Lunar New Year holiday.
"During Chinese New Year, we were completely full," said Zhou. "On Jan. 17 we opened, and then every room got booked within 24 hours. I had calls and messages at every hour of the day. People were saying, 'If you don't have a room, can you just lay us a bed on the floor?'"
But the tourism industry has yet to truly recover. When Sixth Tone visits Hebian in early February, the village's main square — which doubles as a parking lot — stands empty.
"There are no tourists in the village today," said Zhou, before quickly adding: "But we have people coming tomorrow and the day after."
Now, the only paying guests in Hebian are a dozen PhD students from China Agricultural University, who are researching the local economy.
PhD candidate Chen Weixuan said that the pandemic had led to unexpected changes in Hebian. Though the lockdowns hit the village hard, it also spurred innovation. With tourist revenues cut off, the villagers realized that tourism could be unreliable, and started focusing on making money by diversifying their crops.
"Income sources that had not existed before appeared, such as stringless beans," said Chen. "Villagers chose them because the market price was high. They heard that another local village had gotten good results, and they followed their example."
Another new cash crop is a variety of banana called bajiao. Locals had been growing bananas for years, but the bajiao has one major advantage: It receives far more generous payouts from local crop insurance schemes, which allows villagers to make a profit even if elephants devour their fruit.
"Either way, you don't lose money," said Chen.
Fresh dilemmas
Elephants have become a real issue in Hebian. In the past, they were rarely seen in the area. But as China has strengthened its wildlife protection policies, their numbers have grown, and there is now a herd of 40 living in the jungle encircling the village.
The animals are part of a dilemma the village is now grappling with: Now that "zero-COVID" is over, should they return to tourism? Or should they press ahead with the agricultural ventures they launched during the pandemic?
Each has its own risks. If you choose to go into farming and invest in seedlings and fertilizer, an elephant can eat — in one sitting — the entire crop that is supposed to provide your annual income.
Tourism, on the other hand, is a fickle business, as COVID has shown. What's more, the competition is intense. More than 40 out of Hebian's 57 households now offer accommodation. Each one is advertised individually on Chinese booking platforms such as Ctrip and Qunar.
Deng Linyou decided against going into tourism. The cost, he said, was prohibitive: "You need space for customers to live and eat. If we add a floor to the house, that can be as much as 200,000 yuan for the renovations."
Instead, Deng got several people together to invest in planting bajiao. But he calls planting bajiao a "gamble."
"Last year I planted bajiao, but then the elephants ate it all — about 20,000 yuan worth," said Deng. "There's nothing you can do. The elephant will only leave once it's full. Then it comes back the following day."
One elephant had wandered into the village and eaten the bananas growing in front of Deng's house just the previous week, Deng grumbled. And tragedies have also been known to happen: Last year, a villager was trampled to death in an elephant attack while working in a rubber tree plantation.
But returning to tourism is far from simple. Huang, the bar owner, said that some locals still don't know how to manage their homestays even after running them for years. During the lockdowns, many simply left their guest rooms untouched, he said.
"For up to three years, nobody went into the rooms, and equipment like the toilets stopped working," said Huang, shaking his head. "In some rooms, mice made nests in the beds!"
Searching for answers
Dong Qiang, a professor at China Agricultural University who is now the director of the Action Against Poverty nonprofit, said that his priority is to help villagers solve these problems. He already has big plans.
"Before, every family managed their rooms, but now we will hand it over to a specialized team of cooperative members," he said. "They will do the cleaning and maintenance."
Dong also wants to refocus Hebian's tourism strategy. Because the village is small, it can't accommodate many visitors, he said. So, the best way to make a profit is to focus on quality rather than quantity. At the top of the village, construction has already begun on a new set of luxury rooms, which will offer superior views of the surrounding mountains.
"Now that COVID is over, we will see how the market responds," Dong said. "We already have five high-end rooms that cost 4,000 yuan per night, but if we get funds we'll have 20. We want to create nice spaces, so that visitors don't just use the rooms to sleep, but to live in and work."
Across one of these mountains, Deng and his bajiao partners are working on another construction project: Cutting a road to create a new plantation on the mountainside. A mechanical digger is ripping through the scrub and red earth.
The field is specifically designed with elephants in mind. By planting the bajiao on a steep slope, the locals hope that the fruit will be out of reach of the animals.
Elephants may be the iconic species of Yunnan, but it's hard to overstate how much the villagers are sick of them. One local, surnamed Li, offers his thoughts while sitting on his motorbike.
"When I was a kid, I really wanted to see an elephant," Li said. "Now, I never want to see another one again."
"Nobody listens to us, the common folk, about the elephant problem," added another villager, bitterly.
Yet the villagers appear upbeat about the way local agriculture is developing. During "zero-COVID," the local nonprofit gave every household 500 yuan of saplings to plant bajiao, said Dong. Some households were also supported to produce honey and raise chickens to sell, rather than simply to consume themselves.
"Before we had a natural economy, which means I grow something to eat myself," said Dong. "Now, it has changed to a market economy where people can earn money."
Another family has begun expanding their fish farm, Dong added. "They farmed fish before, but never as much as now. They made money and filled the demand in the village."
As darkness descends, the village goes quiet, but then traditional music starts playing in the square. The local women are attending a class to learn traditional Yao dancing.
The classes are being held for two reasons, explained Ji Lanlan, one of the China Agricultural University PhD candidates. One is cultural revival: Most Yao do not know their traditional dances. The second is related to the tourism plan: The idea is that the women of Hebian will eventually perform for the tourists.
The instructor, sent to the village from Mengla, is having mixed success. The movements are many and complicated, and some women are trying to follow them while holding their small children. Others struggle to follow his Mandarin instructions.
After a while, the instructor becomes exasperated. "Horizontal means this, vertical means this!" he sighs, while drawing lines in the air.
The lesson is long, but the women persevere. As the minutes pass, their movements slowly grow more and more coordinated. The rest of the village can only hope their efforts pay off, too.
Editor: Dominic Morgan.
(Header image: A local resident looks out from his home, Hebian Village, Yunnan province, Feb. 10, 2023. Wu Huiyuan/Sixth Tone)