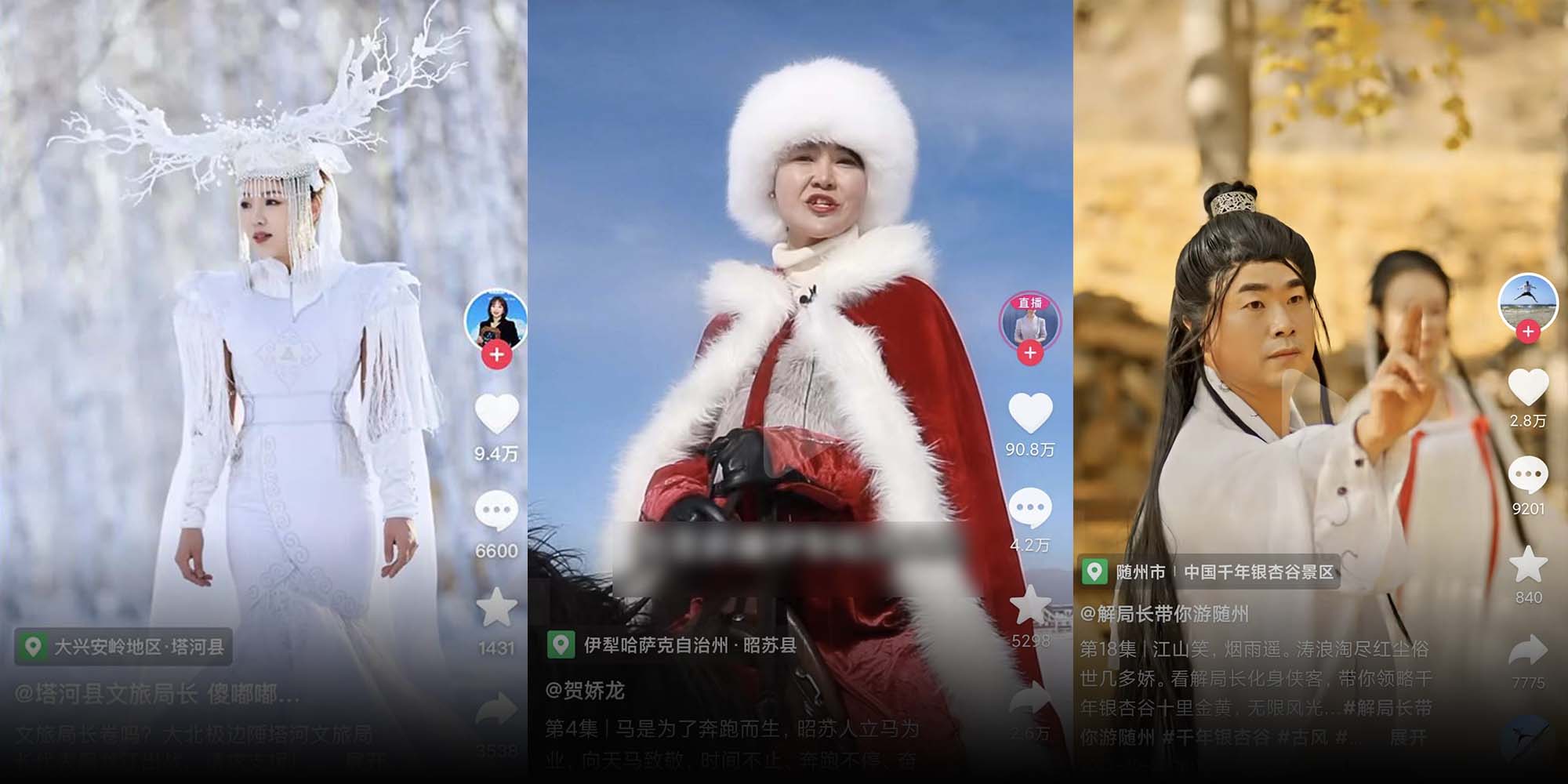 NEWS
From Cosplay to Viral Videos, New Tourism Ads Are a Sight to See
Hoping to capitalize on renewed travel interest, officials in lesser-known destinations hope social media campaigns will lure more visitors.
From an astronaut in a national park to a medieval warrior at a scenic spot and even a princess strolling across a frigid forest, officials across China are increasingly turning to cosplay to promote tourism through social media.
For Chinese travelers, especially among Gen-Z, travel has become a crucial way of exploring their personal interests, experiencing different cultures, and broadening their horizons. A report by research agency Dragon Trail International showed that, along with TV shows and films, online influencers almost equally impacted travelers and their choice of destinations.  
The tourism industry also hopes to quickly capitalize on renewed travel interest in the wake of China's Jan. 31 announcement that the latest COVID-19 wave had ended. And while tourists have already begun to flock to major tourism hubs, officials in lesser-known destinations are using every opportunity to attract China's urban travelers. 
Most recently, Du Bo, director of the culture and tourism bureau in Tahe County, in northeast China's Heilongjiang province, became popular after her videos featuring local scenic spots and the culture of the Oroqen ethnic group went viral online. Du hopes her videos, which have more than 100 million views online, will help bring more tourists to the county, local media reported Tuesday. 
In one of Du's most watched videos, the 45-year-old, dressed up as the "master of the forest," walked across a frozen forest in an all-white gown with matching traditional Oroqen headgear, as the song "Let It Go" from Disney's "Frozen" played in the background. 
"All the members on my shooting team are colleagues, and aren't professionals in terms of making and editing videos," she was quoted as saying. "Most of the time, we had to shoot in temperatures of minus 20 degrees Celsius. My teeth were chattering and my body felt numb."
Du explained that they chose to shoot in a local birch forest to commemorate the 70th anniversary of the Oroqen people, an ancient nomadic ethnic group in China, leaving the birch forest and settling on the plains. Tahe County's Shibazhan Oroqen Ethnic Town is the largest gathering place of the Oroqen people in China. It's also an important cultural resource for local tourism, said Du. 
Du is among several regional tourism officials in China to try and capitalize on the social influencer trend in an attempt to replicate the success of Tibetan heartthrob Tenzing Tsondu. 
Tenzing became an online sensation more than two years ago for his movie star looks. The 22-year-old influencer used his fame to attract millions of fans and billions in tourism income to his hometown in Litang County in the southwestern Sichuan province. He has been hired as the "tourism ambassador" ever since. 
Taking a leaf out of Litang's playbook, a group of officials soon began marketing their hometowns either on horses galloping across snowy ground, or in ethnic minority costumes and landscapes. 
Editor: Apurva
(Header image: Screenshots of social media campaigns featuring tourism officials. From Weibo)