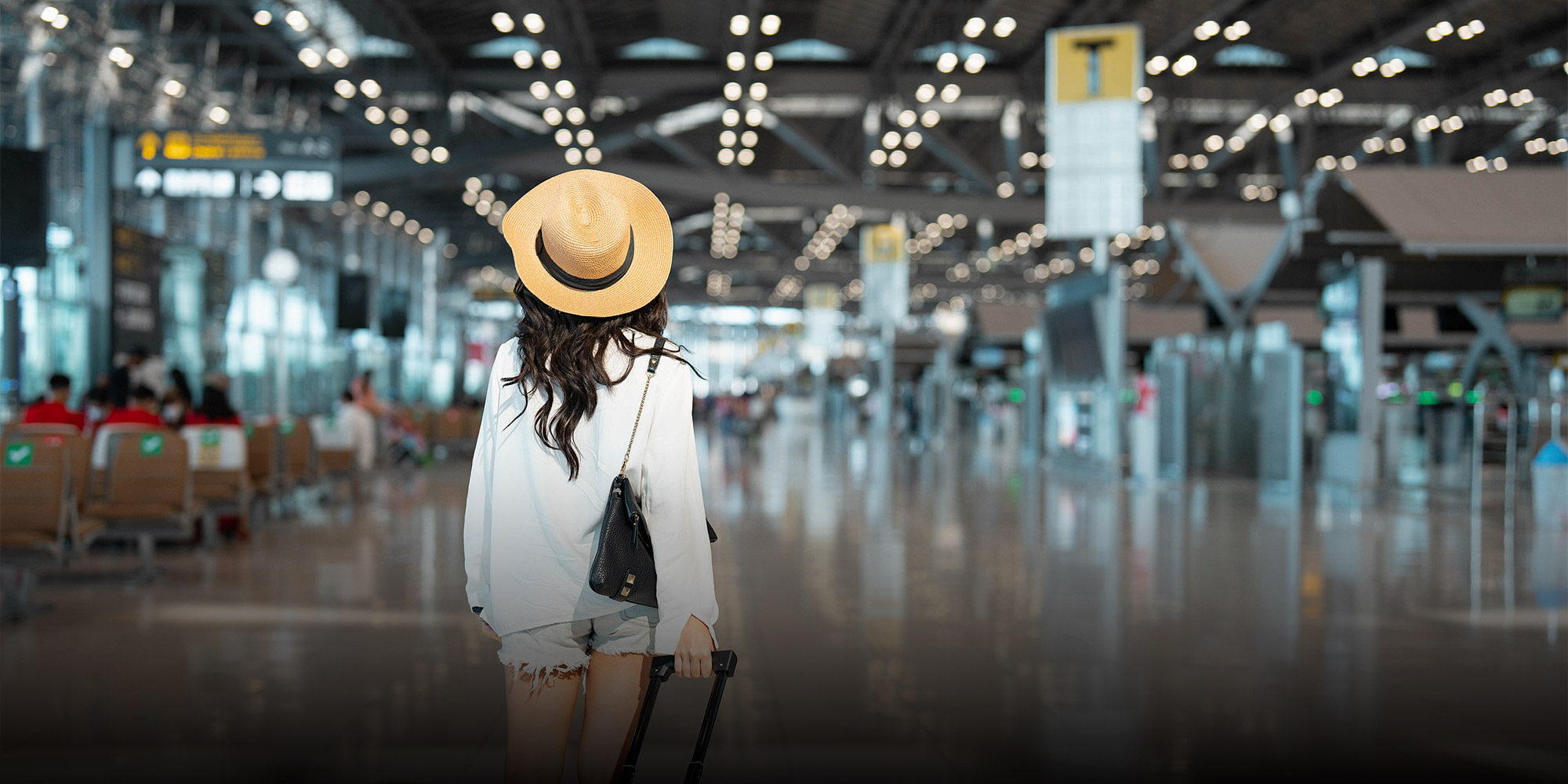 FEATURES
China's Tourism Rebound Faces a Roadblock: A Lack of Travel Agents
Millions of Chinese tourists are ready to start traveling overseas again. But the travel industry isn't ready for them.
When China announced it would phase out restrictions on overseas tourism in late January, no one was more surprised than travel agent Cao Jingning.
The 31-year-old runs a business organizing tours for Chinese travelers in Singapore, but the company had effectively been on life support throughout the pandemic. The firm hadn't received a single booking since January 2020, when China banned overseas tour groups as part of its "zero-COVID" strategy. 
Cao had already laid off almost all her staff, and had few hopes things would change anytime soon. "We were very pessimistic about the 2023 outlook," she told Sixth Tone. "If it weren't for my passion for this industry, I'd have given up a long time ago."
Then, the ban was gone. Days before the Lunar New Year holiday, China's tourism authority said package tours to 20 destinations — including Singapore — would soon be allowed. Just two weeks later, the first Chinese tour groups began jetting off from airports all over the country.
The abrupt reversal caught Cao totally off-guard. Within days, she began receiving bookings, but she wasn't prepared. Singapore's visa policies were still unclear; her connections with local hotels and restaurants, which had suffered during the pandemic, had withered; and she had no staff to help her. 
Cao quickly began calling up her former employees, hoping to convince them to come back. It was a tough sell. "Some of them have found stable jobs and are reluctant," she said.
Similar scenes have been playing out across China's travel sector in recent weeks, as the massive industry scrambles to react to the sudden return of outbound tourism.
When China scrapped its "zero-COVID" rules, some predicted a "big bang" for the global tourism industry as Chinese holidaymakers flooded overseas. Before the pandemic, China was the world's biggest outbound tourism market, with 155 million trips taken in 2019.
That hasn't happened so far. On Feb. 6, the day that outbound package tours resumed, 676,000 people crossed China's borders — the highest figure in three years, but only around one-third of the level typically seen before the pandemic. 
The slower-than-expected rebound is partly a result of sluggish demand: The Lunar New Year holiday — the traditional peak travel period in China — was already over by Feb. 6, and some Chinese consumers are still hesitant about traveling abroad, industry insiders told Sixth Tone.
But supply-side issues are also playing a major role. In many cases, tourists are ready to return to overseas destinations, but travel companies aren't. 
After three years of practically zero bookings, China's travel industry faces a daunting rebuilding job. Agencies have folded or lost staff. Airlines have cut flights. Partner businesses in overseas destinations have disappeared.
Firms are still working through all these issues. Trip.com, China's largest online travel company, offered nearly 1,200 tour options covering 16 foreign destinations on Feb. 6, whereas it had tens of thousands of products spanning around 60 different countries before the pandemic.
"The restart of this business faces quite a few challenges," said Fang Zeqian, an analyst at Trip.com's Global Research Institute. "The limited airline resources and the unclear group tour visa policies mean there are relatively few outbound group tour options at the moment, and many are quite expensive. It takes time to rebuild the supply chain and teams abroad."
All of this is having a particularly strong effect on China's tourism figures, because many Chinese travelers still prefer to join group tours rather than organize trips independently. In 2018, package tours accounted for over 55% of China's outbound tourism market, according to a report by the China Tourism Academy.
Cao is making some progress reviving her agency. Before the pandemic, she employed more than 20 staff. She was forced to lay off almost all of them in mid-2020, but now she has rehired more than 10. Other former employees have chosen to continue with their new careers, which include kindergarten teaching, fruit peddling, and working as daigou, or professional shoppers, she said.
So far, the agency has received a dozen orders. Most of them are Chinese tour groups planning to visit Singapore or Malaysia for business or academic purposes, said Cao. Before COVID, her company ran dozens of tours every month.
"At the moment, there are very few groups coming for pure tourism purposes," she said. "It will take time for a full recovery."
The turbulence of the past three years has taught many in the travel industry to move cautiously. Zhan Shi, a former tour guide who lost his job in 2021, told Sixth Tone that he's uncertain how quickly the industry can recover.
"Tourism has turned out to be such a fragile industry," said Zhan, who spoke under a pseudonym due to privacy concerns. "Natural disasters, wars, economic crises, and changing political situations can all impact the business. Although I'm generally optimistic about the recovery of the outbound tourism market, I want to be more careful this time."
Before the pandemic, Zhan spent nearly a decade leading Chinese tour groups around Europe. He flew back from his last job in Paris in mid-January 2020. Days later, China suspended all outbound tours.
After the ban, Zhan's employer — a state-owned travel agency based in Shanghai — put its entire team of 100 tour guides on a basic salary of just over 2,000 yuan (around $300) per month. For the next few months, the staff received endless training sessions and waited for the borders to reopen.
But by mid-2021, tour groups were still banned, and Zhan's employer decided to lay off the entire team. They weren't alone: The number of workers at Chinese travel agencies fell from 420,000 in 2019 to less than 280,000 in 2021, according to the state tourism authority.
For Zhan, it was a tough period. He eventually managed to find a job as a sales executive for a sports equipment supplier, then took another sales role at a securities firm. But he struggled to adapt to an office job after years as a tour guide.
"I worked very intensively as an outbound tour guide … but the work was quite flexible," said Zhan. "It didn't require rigid hours sitting in the office. I didn't need to deal with office politics."
Now, Zhan's former employer is keen to rehire him, but the agency isn't willing to offer him a full-time role yet. Nevertheless, Zhan plans to accept the offer.
"The company is not 100% confident how quickly the market will come back, so they're planning to invite me in as a freelancer," he said. "I'm going back to tourism because it takes you to see so many places and you meet different people."
Cao is more bullish about her agency's prospects. In 2022, when her company was making no income at all, she had completely lost hope of a revival, she said. She had even begun livestreaming on TikTok with the aim of attracting new clients from the United Kingdom, Thailand, or Indonesia. 
Now, however, she is confident that her firm will receive a surge in bookings over the summer, when Chinese students and their families often organize study tours to Singapore.
Fang, the analyst, also expects the market to pick up by the summer — though she's uncertain how quickly it can make a full recovery.
"The four main holidays, including May Day and the Dragon Boat Festival in June, will be important periods that will tell us whether the outbound travel market will surpass what was recorded in 2019," she said.
Editor: Dominic Morgan.
(Header image: Jackyenjoy photography/VCG)