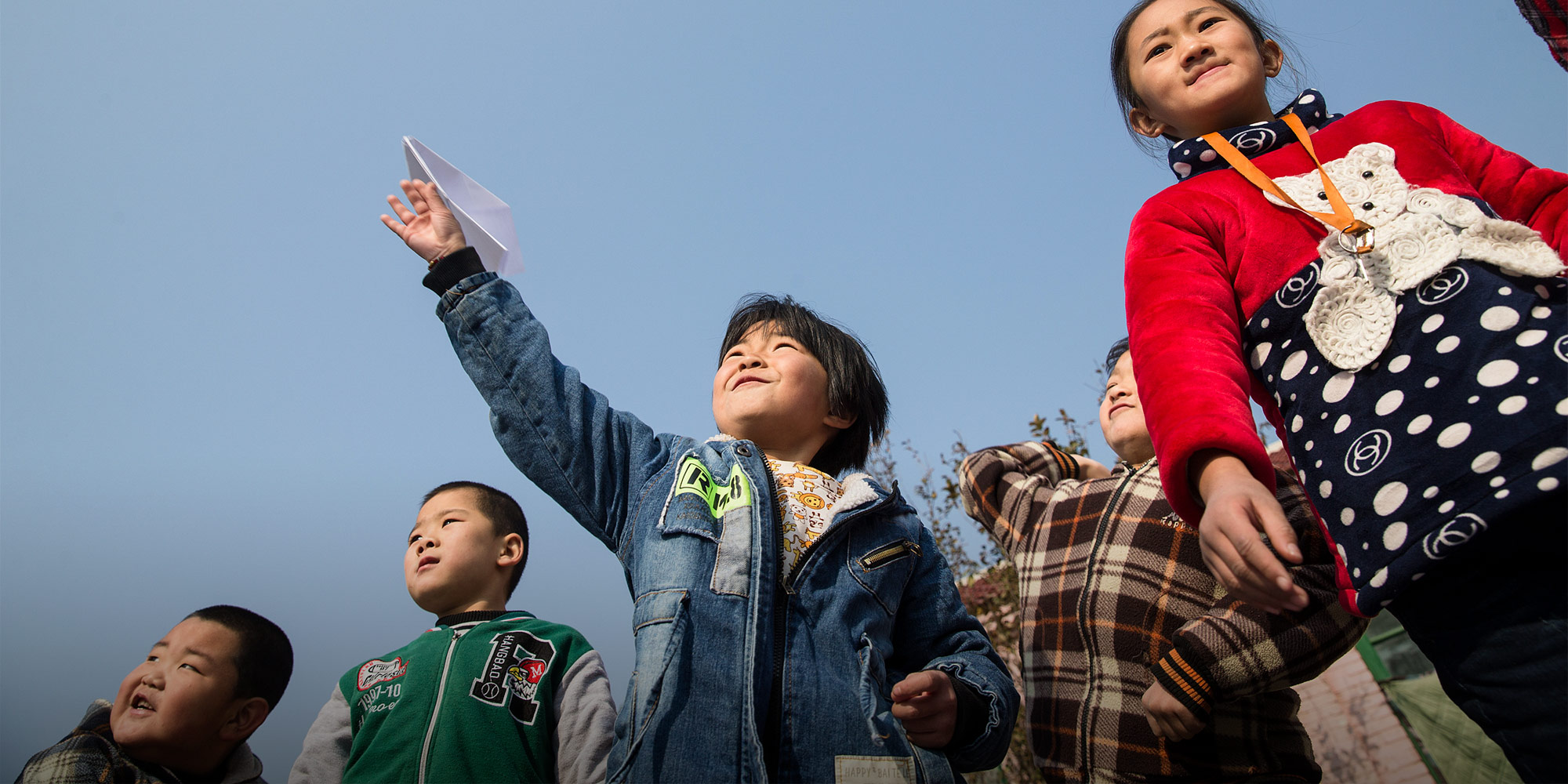 VOICES & OPINION
How the Pandemic Left China's Migrant Kids Behind
A spike in the number of "left-behind" children over the past three years threatens years of progress.
This Spring Festival, many of China's migrant workers returned home for the first time in three years. For some, it was their first time seeing their kids since 2020.
The plight of China's "left-behind" children is not a new topic. China's migrant population is larger than the total population of the United States. Where their children go, and whether they are allowed to grow up alongside their parents, has been a hot-button issue for decades. In 2020, there were over 130 million children of migrant parents. That means decisions on family migration affect 40% of Chinese children.
The good news is the percentage of migrant families with left-behind children fell steadily over the past decade, from roughly 70% in 2010 to 50% in 2020. Since 2015, the Chinese government has unveiled a series of policies meant to promote urbanization and regularize the status of migrants. The restrictive hukou household registration policy has been progressively loosened, particularly in small and midsize cities, and rural families relocated into urban areas. This has led to a continuous increase in the number of children able to accompany their migrant parents and a corresponding decline in the number of left-behind children in rural areas.
Less encouraging is the data from the last three years. Although reliable statistics are hard to come by, education figures suggest that the pandemic has reversed some of the progress of the past decade and separated large numbers of children from their migrant parents.
Although COVID-19 had a negative overall impact on economic development and population mobility, China's migrant population actually grew in 2020 and 2021. But data from the national education authorities shows that the number of children who moved with migrant workers to cities during the compulsory education period — from 6 to 14 years old in China — declined significantly, from 14.3 million in 2020 to 13.7 million in 2021. The decline was particularly noticeable among primary school-aged students, whose population fell by nearly 5%.
There are a number of potential explanations for this drop, not all of them directly related to the pandemic. First, after China implemented a comprehensive two-child policy in 2016, fertility briefly spiked. The children born during this boom are now entering school, but despite years of warning, the surge in enrollment seems to have caught many cities off guard.
Faced with an enrollment squeeze, migrant admissions are often the first item on the chopping block. Although central government has emphasized the importance of education for migrant children, migrant enrollment in urban primary schools in 2021 still fell by 75,300 from 2020.
Second, the pandemic has caused the job opportunities available to, and incomes earned by, migrant workers to fall, pushing many migrant families to send their children back to their hometowns.
Third, the campaign to limit private educational institutions catering to primary and middle school students also affected migrant education. A new Ministry of Education policy mandated the proportion of compulsory education-aged students enrolled in private education programs in all provinces should not exceed 5%. Since their hukou are typically not registered in the city where their parents work, many migrant children are unable to access the local public school system. Although local governments in cities like Guangzhou have increased seats at public schools for migrant children in recent years, demand has far outstripped supply, especially after many private schools were closed or had their enrollment restricted beginning in 2021. The number of migrant children enrolled as students in private primary schools was 281,000 fewer in 2021 than in 2020, a decline of 13.25%.

Finally, many migrant families are unable to send their kids to high school in their city of residence. This helps push migrant children back into their hometown school systems for middle school and the final years of primary schools. In 2021, for example, the number of migrant children enrolled as students in grade six was 195,000 lower than the number of grade five enrollees in 2020.
Now that the first wave of the pandemic has passed and pandemic restrictions have been lifted, social and economic development and population mobility have already begun to recover. However, for the children of the migrant population who returned to their hometowns during the past three years, picking up where they left off in the city is easier said than done. More and more flexible classroom seats are needed to accommodate them as they return.
Eventually, the current spike in enrollment caused by the two-child policy will level off. By 2025, the enrollment of children with an urban hukou is expected to decline, and the vacancies available to migrant children will increase. At that time, the enrollment conditions for migrant children will likely be lowered.
But that doesn't mean the problem of migrant education will be solved. Issues like access to child care and health care also need attention. After the "double reduction" campaign against private tutoring in 2021, there has been a notable decline in community services available to migrant families with children, including child care and after-school programs. Compared with urban families, parents of migrant children usually work longer hours, and their own parents are less able to share in the work of childrearing. Migrant communities need more, not fewer child care resources if they are to stay together.
Our cities must be judged on how they treat their most marginalized residents. It is vital for children to grow up with the company and support of their parents. That is true of migrant families no less than those with an urban hukou.
Translator: Matt Turner; editors: Cai Yiwen and Kilian O'Donnell; portrait artist: Wang Zhenhao.

(Header image: VSI/VCG)