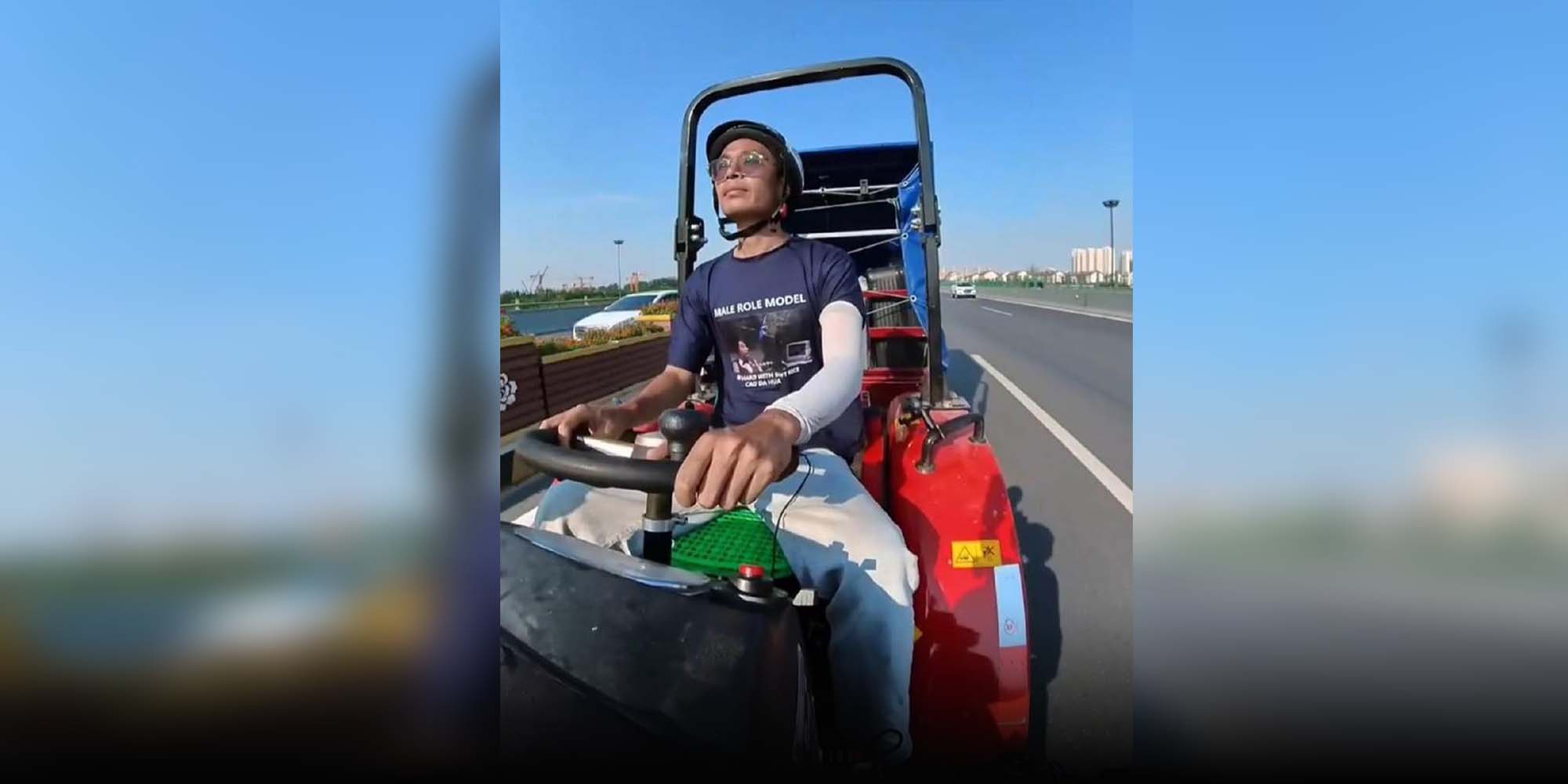 NEWS
Targeted Online for Months, Douyin Livestreamer Kills Himself
He recently complained of the attacks on his channel; his wife says he had become depressed in the past six months.
Days after complaining that he had been "maliciously" attacked online for months, Sun Fanbao, a short-video influencer in the eastern Shandong province, killed himself earlier this week.  
His death sparked widespread concerns over the lack of supervision concerning cyber violence, an issue under increasing scrutiny across China amid a series of similar, and sometimes high-profile, cases.
Sun, 38, known on the short-video app Douyin as "Guanguan," shot to fame in 2021 after documenting his 4,000-kilometer trip to Tibet from Shandong on a tractor. As reports of his death emerged online Wednesday, his wife said on Douyin that he had killed himself by drinking pesticide. She also claimed that Sun had been repeatedly the subject of accusations and insults by a "fan" and had become depressed in the past six months.
Local police told domestic media that they had been notified of the suicide and had submitted a report to higher authorities. 
Along with his wife, Sun left behind a three-month-old child and two elderly parents. "With two people aged over 60 and a three-month child left behind, I don't know what to do now," his wife said. "I guess only those who have experienced such cyber violence can relate to what he has been through."
In a set of videos released on Feb. 11, Sun, who had around 320,000 fans on Douyin, complained several times that he had been targeted by an "unknown person" who constantly called him a liar and accused him of tricking fans with sensational content and fake products. Sun also claimed that the attacker, using several aliases to send "malicious" remarks, also flagged his content, eventually forcing him to shut down his livestreaming show. 
Sun also claimed the vilification continued despite his appeals to the platform, which wasn't able to prevent his attackers from creating new accounts and making the same allegations.  
His death has garnered widespread attention on social media. While some blamed his anonymous attackers and called for action against them, others expressed their concerns over such repeated incidents across the internet in China.  
"Not a snowflake is innocent when an avalanche descends," a user wrote on the microblogging platform Weibo. 
The tragedy comes at a time when a spate of cases involving cyber attacks have made headlines. In January 2022, an 18-year-old boy died by suicide following multiple accusations that he was manipulating public emotions after he shared the story of him finding his biological parents.
That same year, a woman claimed that her mother had died of a heart attack after being relentlessly humiliated by a group of "hackers" who had gained access to her online class. Calling themselves "bombers," such attackers disrupt virtual classes, usually by hurling verbal abuse at teachers, playing music, sharing their screens, and spamming the in-app chat box. 
The incidents prompted a crackdown, with authorities deeming that platforms should be primarily responsible for stamping out such issues. Launching a campaign last April, China's internet watchdog ordered 18 major online platforms to develop a monitoring system and impose stricter punishments on users committing cyber violence. Another regulatory action ensued in November, following the death of the teacher.
China's lawmakers have also called for legal efforts to be ramped up. In 2022, delegates at the National People's Congress proposed a special law against cyber violence that would address and adapt to the issue.
Editor: Apurva 
(Header image: A screenshot from one of Sun Fanbao's videos. From The Paper)