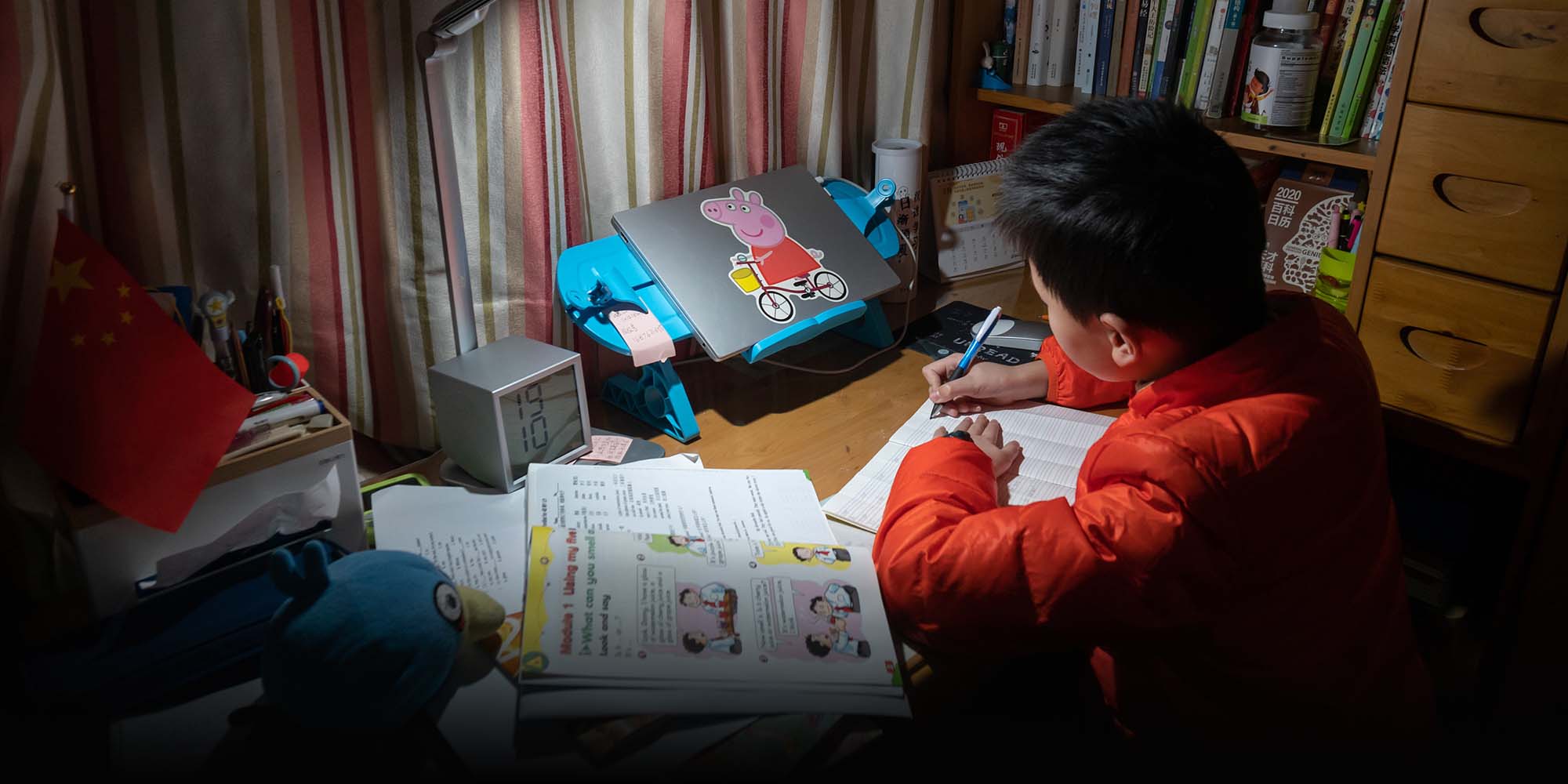 NEWS
In Jiangsu, a New Plan for Students: More Sleep, Less Homework
A school has ordered students to stop doing homework at 9 p.m. and also exempted them from completing it the next day.
Amid a nationwide drive to reduce the academic burden on students, a primary school in China's eastern Jiangsu province has issued a new diktat: no homework after 9 p.m.  
The Bo'ai Primary School in Changzhou City has ordered its students to "unconditionally" stop doing their homework after 9 p.m. It also exempted them from completing it the next day too, local media reported Monday, citing a school notice. 
The notice, dubbed the "nine o'clock circuit breaker mechanism," also stated that the school would strictly regulate the total amount of homework in the new academic semester that began last week, and asked parents to improve how they assist their children with schoolwork at home. 
The school's rationale is twofold: ensure students get sufficient sleep, and help teachers improve their standards, officials told local media. A 2021 survey conducted by the National Education Ministry showed that 67% of students in elementary and middle schools weren't getting enough sleep according to the national standard, which stipulated 10 hours and 9 hours, respectively.
"Teachers should increase learning efficiency in classes and reduce repetitive after-school assignments to help students sleep better," officials said.
The measure triggered several discussions with mixed reactions on social media Tuesday. While some praised it, believing it would guarantee students more independence in their coursework, others questioned its possible negative effects on their academic performance in the absence of supervision.
"This has sent a clear message to parents that they should put their children's health first, and that students don't have to complete tasks if they already know how to do them," commented one user on Weibo, China's microblogging platform.
"Now it all comes down to the parents. The kids could start the homework at the last minute before 9 p.m. if their parents are willing to let go (of their supervision)," another wrote.
In recent years, China has increased its scrutiny on school education, which has long been plagued by score-centric evaluation mechanisms. Regulators have also banned after-school academic tutoring activities and cracked down on unauthorized competitions. The moves to reform China's intensely competitive education system are aimed at easing academic pressure, a major cause of mental health crises.
Education regulators have also stipulated that students in elementary and middle school should not spend more than an hour and one-and-a-half hours a day respectively on written assignments. Another regulation stated that students should not be asked to come to school earlier. 
The Bo'ai Primary School's decision is in line with policies announced by municipal education authorities, which pledged to establish such circuit-breaker mechanisms in 2022. Previously, schools in other cities, including Fuyang, Shaoxing, and Nanjing, have launched similar initiatives, though many also asked parents to file an application or mention learning difficulties before permission could be granted to not complete homework.
But academic experts are doubtful. Chu Zhaohui, a researcher at the National Institution Of Education Science, told domestic media that such measures were not suitable for all students and would not fundamentally solve deep-seated education issues.
"The evaluation system must be reformed to truly reduce the academic burden on students," Chu said.
Editor: Apurva 
(Header image: VCG)