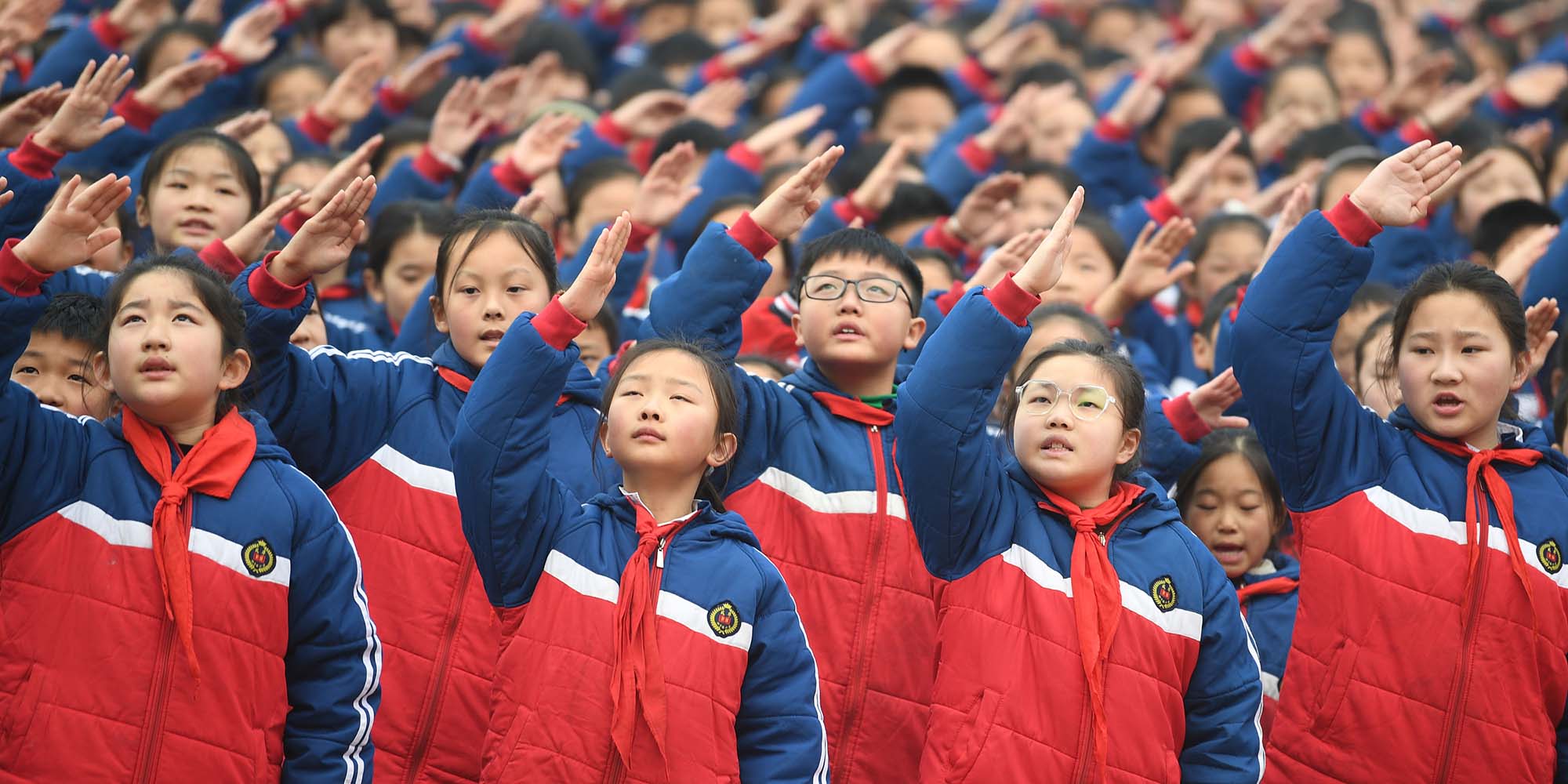 NEWS
Past the Peak, China's Schools Prep For a Normal Semester
With more than 300 million students and teachers expected back in class, authorities have scrapped regular COVID testing and eased masking requirements.
Following the dismantling of restrictions that were part of the "zero-COVID" policies last December, students across China are gearing up for their first "normal" semester since the pandemic began three years ago.
In all, nearly 300 million teachers and students are expected to return to schools across the country, according to data from a domestic report. While classes in some provinces have already begun, schools across the country have relaxed COVID-19 restrictions for students and teachers returning this week from the winter vacation. 
Regional education regulators have scrapped regular coronavirus testing, eased masking requirements, and shifted focus to help students adjust to campus life after spending several weeks in online-only classes.  
Compared with rigid pandemic measures implemented to restrict access to other public spaces, even stricter rules were mandated on campuses to avoid the spread of the disease among students. 
For three years, intermittent outbreaks and containment measures severely affected the lives of students across China as classes continually shifted between being online and offline. Even when schools were open, students were required to wear masks and take regular tests. 
It was even harder on teachers, who, in addition to classes, were also burdened with ensuring that students were safe. In universities, too, students were required to distance themselves from the outside world, even on weekends. 
Amid the country's most serious regional outbreak, Shanghai postponed the gaokao, China's college entrance examination, by one month after the metropolis was put under a monthslong lockdown in 2022.
Last week, Vice Premier Sun Chunlan asked education authorities to guarantee the "organized and safe return" of students and teachers to school, according to local media. Sun also called on schools to fully resume offline activities.  
Cherry Peng, mother of a first-grader in Shanghai, told Sixth Tone that the difference in policy was evident. "It's much less hassle preparing my son for his new semester compared to last year," she said. 
To enroll her son for the new semester last September, Peng said she had to fill in several online forms to update the school about the health condition of not just her son but all family members at home. 
"I forgot to fill in a form one day last November. My son's teacher called me late at night, reminding me to submit his coronavirus test result. He wouldn't be enrolled at school otherwise," she said. "This year, it's so much easier for parents, and for the teachers."
Concerns about resuming in-person attendance in schools have mainly focused on possible flare-ups among those who haven't been infected as well as the impact of PE classes on students recovering from COVID-19. 
"If the children and elderly weren't infected when the pandemic prevailed countrywide (earlier this year), the possibility of them getting infected is pretty low now since the peak has passed," epidemiologist Wu Zunyou told local media while commenting on possible infections among those two vulnerable groups. 
Peng's son hasn't been infected yet, but she's not particularly worried. "I'm more concerned with how to help him adjust to school life again," she said, adding that offline teaching of her son's first semester at primary school was cut short by one month. 
Editor: Apurva.
(Header image: Students at an opening ceremony at a primary school in Bozhou, Anhui province, Feb. 6, 2023. VCG)