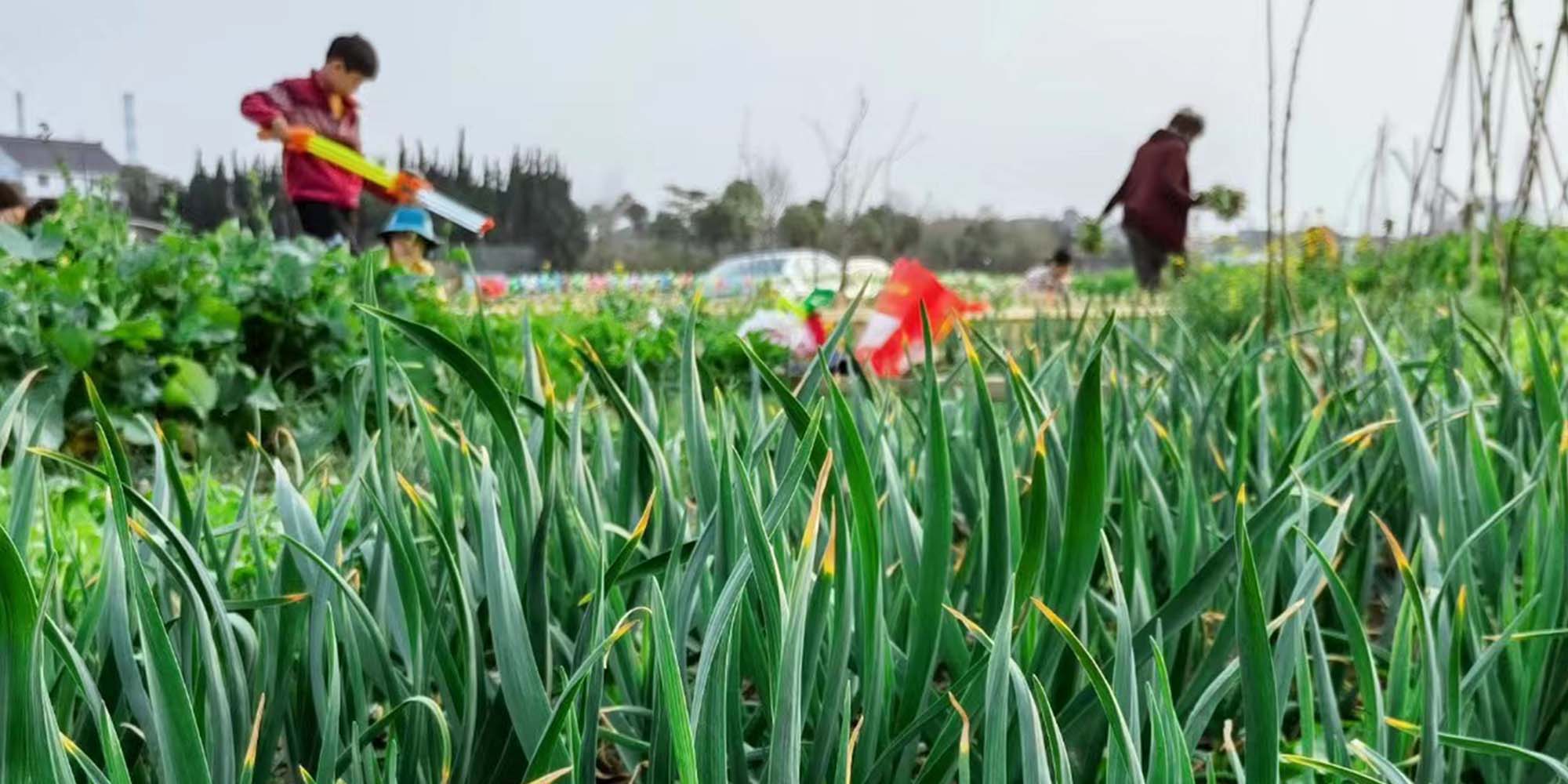 NEWS
To the Fields: China's Professionals Become Part-Time Farmers
On rented tracts of land, urban residents get to experience farming: from sowing seeds to watering them and eventually, the harvest.
From camping to frisbee, China's urban residents are always on the lookout for the next outdoor activity in vogue. In Shanghai and Beijing, that's growing vegetables on small plots of rented land. 
Over the last few months, farming vegetables has grown in popularity as more and more people seek to break away from urban routines for a short break back with nature. 
The demand for such activities is evident on lifestyle platform Xiaohongshu. Quick searches of the phrases "shared vegetable gardening" and "urban vegetable gardening" yield thousands of results on farming tips and tracts of land for rent.
Completely different from traditional farming, the pieces of land are subdivided so they can be rented out to families with kids, the elderly, and white-collar residents. They are usually located on the outskirts of cities, and promise prospective tenants hours of peaceful gardening and beautiful scenery. 
As their own "landlords," inexperienced city dwellers get to experience the whole process — from sowing vegetable seeds and watering them to eventually harvesting the fruits of their labor. 
The trend saw an uptick particularly during lockdowns as many turned to gardening or microfarming in their own kitchens or on balconies. 
Shanghai resident Tai Xin, who runs her own automobile testing company, rented a 100-square-meter plot of land on Shanghai's outskirts that costs 1,000 yuan ($147) annually. 
Speaking to Sixth Tone, she says: "I initially thought my seven-year-old son would be able to better understand crops, planting, picking, and agricultural science." But her parents, who have been helping with babysitting, are now also engaged on the "farm." "It's a good family activity," she added.  
Tai says she visits the plot of land, around two kilometers away from her home, once in a while but only on weekends. She spends a couple of hours watering the crops, removing weeds, and sometimes just organizing a picnic with her family. 
But like other outdoor activities, vegetable gardening, as an emerging trend, is not without its complications. Most of the land for such vegetable gardens are agricultural tracts rented from the local government, says Zhang Ling, who operates the Shanghai Shanxi Fruit & Vegetable Cooperative.
Zhang and her partners run the cooperative, which has rented 113 mu (75,333 square meters) of land in Shanghai's Minhang District, as a community welfare project for neighbors who want to become "city farmers." 
"The regulator wants to keep track of the kind of vegetables planted as well as the yield to guarantee the city's food supply," says Zhang. 
She adds, "It's very difficult for us to track that since our customers are mostly amateur farmers and they could be very spontaneous in what they want to plant. A failure to meet the regulatory requirements, however, may lead to the land rental contract being canceled." 
Editor: Apurva.
(Header image: Pujiang Town in Shanghai, March 2022. Zhang Ling for Sixth Tone)