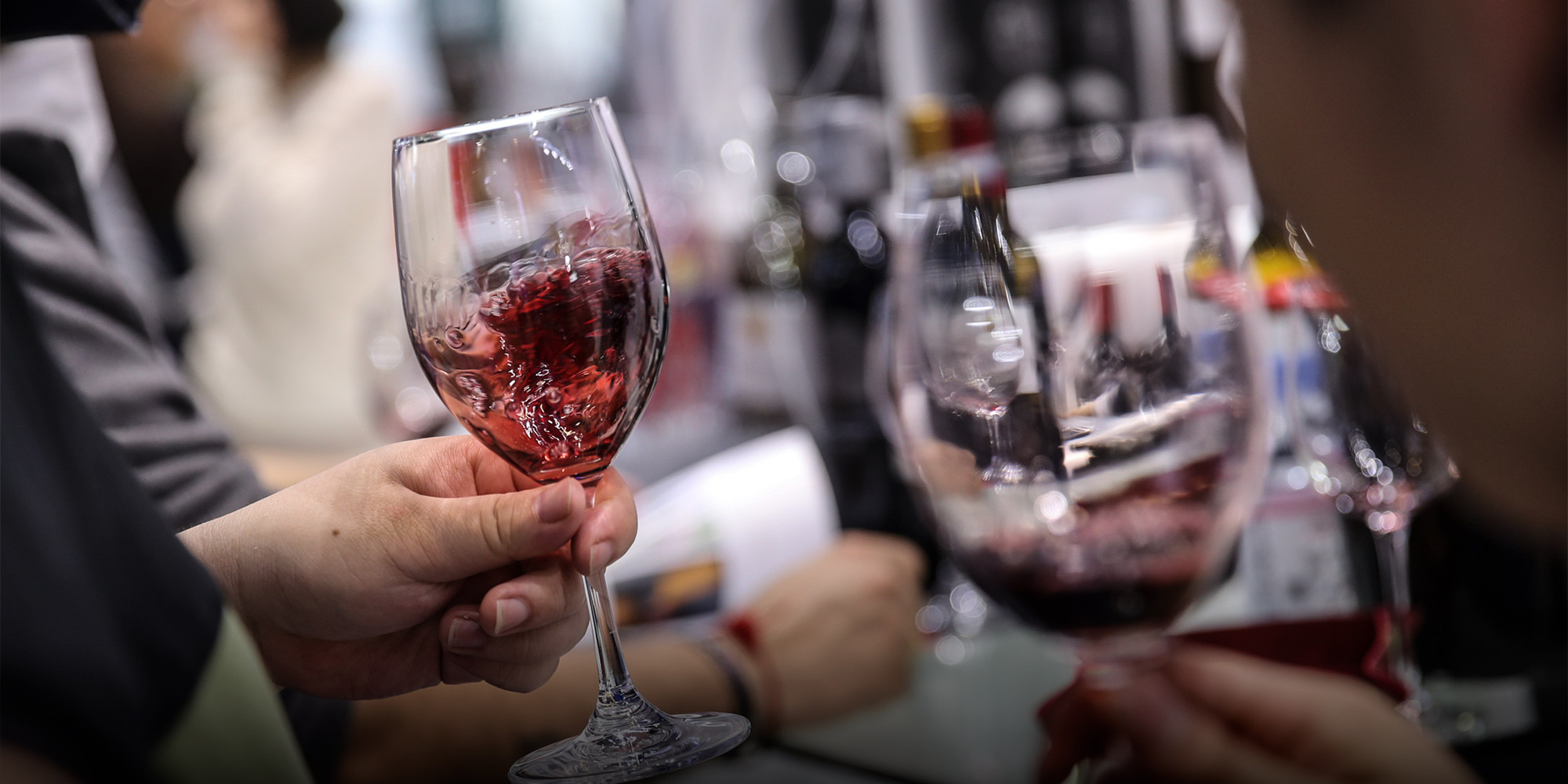 VOICES & OPINION
How China Fell In Love With Cheap Wine
Once a symbol of luxury, today's wine market is dominated by so-called little wines — and increasingly the category known as "996-es": six-bottle cases priced at 99 yuan or less.
This is the second in a three-part series on China's wine market. Part one can be found here.
A year or so ago, I was invited on a peculiar lunch date in the southwestern city of Chengdu. In a room that doubled as a warehouse and a restaurant, my hosts — an influential livestreamer and his young assistants — spent the afternoon energetically hawking bottles of wine. "If you want to get your hands on this, you'd better hurry up: We're down to our last 20 bottles or so," they warned their audience. "It doesn't get any cheaper than this!"
Whipped into a frenzy, viewers snapped up the final remaining bottles within a matter of seconds. Almost immediately, the streamer, known to his fans as Uncle Sea Horse, started pitching a new bottle. Over the course of our meal, which lasted about three hours, Uncle Sea Horse moved more than 60,000 yuan ($8,800) worth of wine. That figure is all the more impressive when you realize his bestselling bottle cost just 60 yuan.
Cécile Zhang, an experienced wine dealer who currently works for a trader based in the French region of Bordeaux, calls Uncle Sea Horse's products "little wines." Sellers like Zhang typically divide China's wine market into three categories: "big wines," "boutique wines," and the aforementioned little wines. "Big wines," which Zhang defines as any bottle costing more than 1,000 yuan, are sold through traditional channels like château-based trading networks, while boutique wines in the 200- to 1,000-yuan price range appeal to the middle-class connoisseur.
But the most rapidly expanding sector of the Chinese wine market are "little wines" priced under 200 yuan, which sell like hotcakes on e-commerce platforms. The cheapest of these are sometimes referred to as "996-es." The term isn't a reference to buyers' grueling work schedules, but rather their taste in vino: Their dream deal is a six-bottle case of wine priced at 99 yuan or less, shipping included.
Thanks in part to the pandemic, China's wine market has undergone significant changes in recent years. As elsewhere, lockdowns put an abrupt end to house parties and happy hours, leaving people cooped up at home and looking for ways to drink on their own. Aided by China's sophisticated logistics network and lax regulations on shipping alcohol, online liquor sales have skyrocketed. According to a 2021 report from market research firm Wine Intelligence, 73% of wine drinkers on the Chinese mainland reported purchasing wine through an e-commerce platform in the previous six months.
This shift has delivered a blow to the country's traditional wine distribution network. Prior to 2016, the imported wine market was dominated by a clearly defined hierarchy of intermediaries. Importers typically signed an agreement with an international wine trader, who then acquired goods on their behalf from foreign wineries. Upon receiving the wine, the importer then sold it on to so-called general agents, who distributed it to provincial and municipal agents, who finally got the bottles onto retailer shelves across the country.
This convoluted process meant by the time wines reached consumers, they cost twice or even three times more than their sticker price. It also meant sellers had an incentive to focus on the upper end of the market, where consumers could afford the high markups.
After online sales of imported wine were given the green light by regulators in 2016, however, new distribution channels turned the market on its head. Unlike traditional distributors, most online retailers at least claim to buy their wines directly from foreign wineries. By cutting out the middlemen, they can undercut traditional dealers on price. When my boyfriend bought a bottle of Cinzano wine, a brand he and his friends used to drink back home in Italy, from a store on e-commerce platform Taobao, he was surprised by two things: first, that the wine was real; second, that it was available at such a low price. A single bottle cost a little more than 60 yuan, or about what it would cost in an Italian market.
This price advantage has allowed e-commerce dealers to sell boutique wines to the little wine market. But the category is still dominated by cheap wines: Data from a major e-commerce discount day in 2022 shows that the day's top ten wines on Douyin all cost less than 200 yuan; the top three cost 20 yuan or less.
At the bottom end of the wine market, a lack of brand recognition can be an advantage. Chinese consumers can easily compare prices for well-known wines before making a purchase, forcing sellers to compete against each other. This is particularly true for "big wines" such as Premier cru and Grand cru wines from Bordeaux. But it's much harder to compare prices for lesser known "little wines," which allows importers and distributors to build in larger profit margins. "Big wines like Lafite weren't our main source of profits — they were just brands that allowed us to establish our credibility and boost our popularity," one former livestreamer explained. "What was really profitable were small wineries that were virtually unheard of in China and which you couldn't find online. Our boss was on good terms with several wineries like that in Italy and Spain, and he could get their wine for dirt cheap."
Nevertheless, intermediaries of higher-end wines say their position is relatively stable. "Online competition is only possible for 'little wines' — 'big wines' can't be sold like that," Zhang said. Her company mainly distributes bottles from eye-wateringly expensive French wineries, many of which only sell to authorized distributors. High-end French wineries often enforce sales limits for each country and only allow their products to be traded by authorized distributors known as négociants — a system known as La place de Bordeaux. Through years of cooperation, these famous châteaux have forged bonds of trust with négociants that cannot be easily replaced.
In other words, the likely outcome of the current e-commerce boom is further market segmentation. High-end wine-sellers will tighten their grip on luxury consumers in China's biggest cities, while more price-sensitive drinkers in smaller cities and towns take advantage of the ongoing price war to scoop up bargains online.
Translator: Lewis Wright; editors: Cai Yiwen and Kilian O'Donnell.
(Header image: Consumers taste wine during an import fair in Shanghai, Nov. 9, 2022. Zhang Hengwei/CNS/VCG)