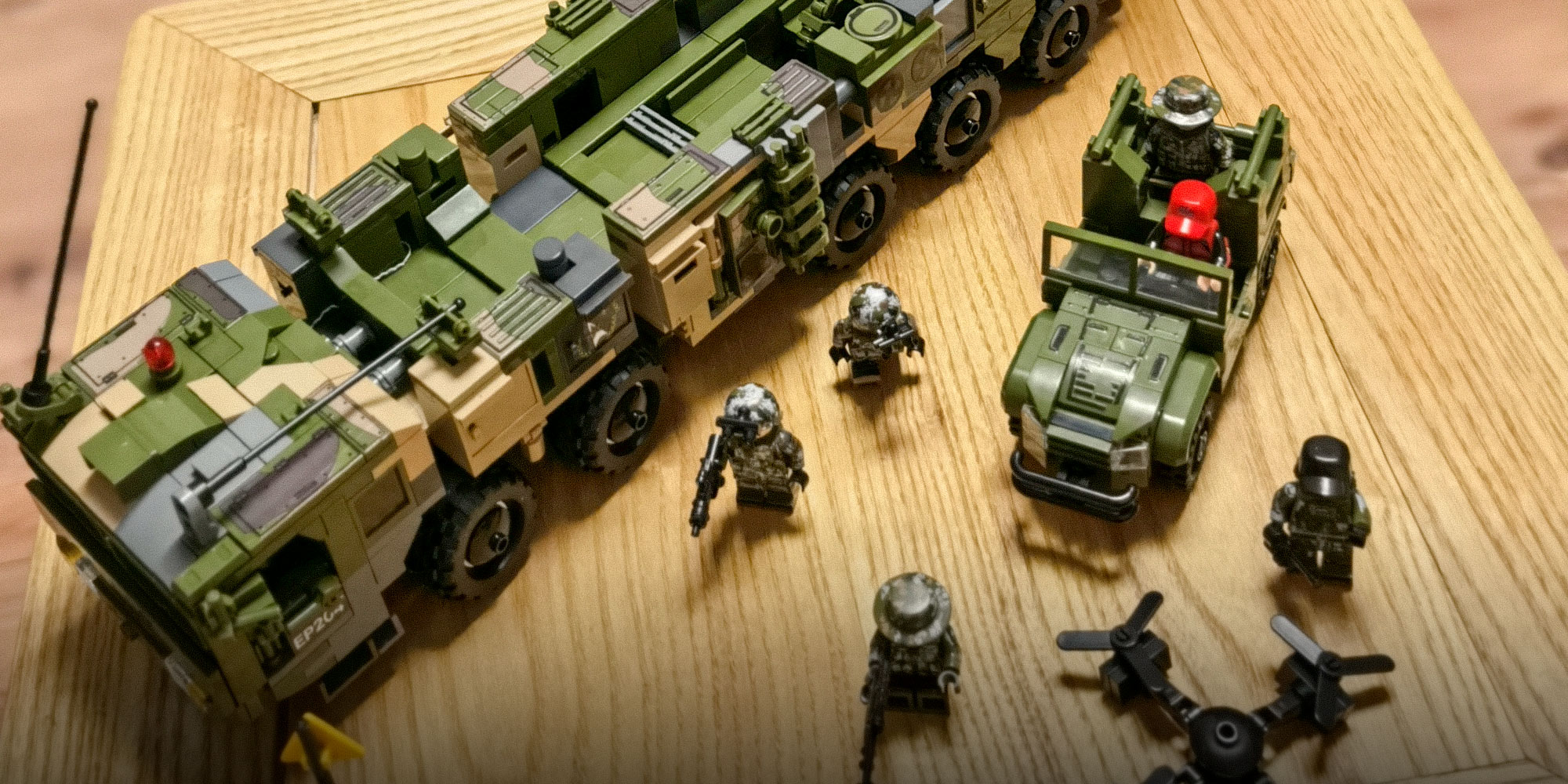 FEATURES
China's Booming New Toy Market: Hyperrealistic 'Military Lego'
Lego has found huge success in recent years by tapping into popular movie franchises like "Star Wars." Its Chinese rivals are turning to a very different source of inspiration: the People's Liberation Army.
Everyone has a consuming passion for something. For some, it's a sports team, a pop singer, or a favorite writer. For Li Haochen, it's the People's Liberation Army.
The 25-year-old obsesses over photos of new military hardware in the same way that movie fans pore over teasers for a soon-to-be-released blockbuster. Last year, he spent much of his spare time tracking the launch of China's third aircraft carrier, the "Fujian."
"Whenever there was a photo release, I would spend a lot of time online with other military fans, speculating about what new weapons had been added," Li told Sixth Tone.
In China, patriotic "military fans" like Li have become hugely influential in recent years. The military fan forum site Tiexue, or "Iron Blood," had over 10 million users until it shut down in 2022. Large military fan communities have also sprung up on Chinese social platforms such as Weibo, Bilibili, and Zhihu.
Now, passionate PLA fans are also making their presence felt in another area: the toy market.
Domestic toy brands have begun launching Lego-style models based on Chinese weapon systems, hoping to attract a new breed of patriotic young hobbyists. Pirate ships and the Eiffel Tower are out. Tanks and intercontinental ballistic missiles are in.
By doing so, the Chinese companies hope to outflank Lego. The Danish company has long dominated China's massive block toy market, which has grown from 14.2 billion yuan ($2.1 billion) in 2017 to 20.6 billion yuan in 2021. But Lego has a longstanding policy of not creating realistic models of military equipment, which has left an opening that domestic rivals aim to exploit.
The strategy appears to be working. Chinese brands say they've already scored some big hits with PLA-inspired products. When Sembo — a toy firm based in south China's Guangdong province — launched a model of the aircraft carrier "Shandong" in 2020, the company's annual sales reportedly jumped 30%.
"Based on online sales data, even many female consumers prefer this kind of product," Lin Zezhe, Sembo's general manager, told the China Toy and Baby Products Association in 2021.
Li, the military fan, is an early convert. In the past, Lego-style military sets were too "cute and childish," he said. He preferred adding to his collection of Airfix-style plastic models, which now includes a fearsome 460 miniature warships. 
But the new, hardcore military block toys have won him over. Last year, he purchased a model of his beloved "Fujian" produced by the Chinese brand Toptoy, and was impressed.
"With around 4,000 bricks, a very high level of realism can be achieved within a model length of about 1 meter," Li said.
China's toy firms appear to have arrived at their military product strategy through trial and error. There are now reportedly over 100 block toy companies in China, most of them clustered in Shantou, a southern coastal city.
In the 1980s and '90s, the firms mainly manufactured toys for international brands. Later, when the rise of video games disrupted the physical toy industry, they turned to the domestic market and began producing their own block toy sets. But it took them a long time to develop original, competitive products.
"At first, we didn't have many ideas for product development, so we mainly followed what was already popular in the market, such as the police, firefighters, and military," said Liu Zhaowen, the marketing director at Guangdong QMAN Toys, one of the country's oldest block toy brands.
Founded in 1994, QMAN began by targeting children under the age of 12. But in recent years, it has broadened its customer base by targeting military fans with ever more realistic battlefield sets.
Two of its most popular new products include models of China's J-20 fighter jet and the DF-41 intercontinental ballistic missile, Liu said. The sets even include separate models of the weapons' core components, such as the J-20's powerful jet engine.
"The design is indeed based on years of experience exploring military model themes and understanding military fans," said Liu.
Chinese public interest in the military has been boosted by several factors in recent years. China has ramped up investment in modernizing the PLA, leading to the launch of high-profile new weapon platforms like the "Fujian" aircraft carrier. There have also been a number of large military parades, such as the 2015 event commemorating the 70th anniversary of China's victory over Japan during World War Two.
Echo Chen, a 30-year-old from Shanghai, began building models of Chinese weapon systems two years ago. The first set she bought was Sembo's model of the DF-21D, a missile system often called the "air carrier killer."
For Chen, the set brought back memories of seeing the missile being unveiled during the 2015 parade in Beijing. Though she didn't previously consider herself a military fan, building the model gave her a feeling of empowerment, she said.
"I'd heard my father and husband explain the powerful capabilities of the displayed weapons when we watched military parades together on TV," Chen said. "But after assembling the core modules by myself, I developed a deeper understanding of the weapons and their power."
The military focus is also allowing Chinese toy firms to seal lucrative tie-ins with domestic movie franchises. A string of patriotic blockbusters with military themes have become smash hits in China over recent years, including "Wolf Warrior 2," "The Battle at Lake Changjin," and "The Eight Hundred."
Just as Lego has boosted sales by launching lines based on "Star Wars" and "Harry Potter," Sembo has done so by licensing the Chinese action sci-fi franchise "The Wandering Earth." The company sold tens of thousands of models of the armored personnel carrier featured in the original movie soon after releasing the product in 2019.
Though a work of speculative science-fiction, "The Wandering Earth" also has strong military themes. Unlike "Star Wars," the technology in the Chinese movies is deliberately realistic: State broadcaster CCTV even produced a program in which military experts explained which real-world systems the weapons featured in the movie are based on. For Li, that makes the films attractive to military fans.
"Aerospace and 'hard science fiction' aren't separate from the military — they're all related to technological innovation," Li said. "So, in essence, they appeal to the same group of people."
Hardcore military fans, meanwhile, have begun making stop-motion animated films that reenact historical battles using military block toy sets. Chinese toy companies now supply soldier figurines with different uniforms and handheld weapons to help them do this.
On the e-commerce platform Taobao, figurines based on "The Battle at Lake Changjin" and "Operation Red Sea" — two military blockbusters produced by Chinese state-backed studios — are the top sellers.
One creator, who posts on Bilibili under the user name White Fish Animation Studio, told Sixth Tone he had made more than 40 stop-motion animations based on military history. His most popular films depict battles from the Sino-Vietnamese War in 1979 and China's struggle against Japan during World War Two.
"When I started in 2020, there were almost no creators like me in China," he told Sixth Tone. "Now there are many more players in this circle, and everyone is sharing their creations on social media."
Editor: Dominic Morgan.
(Header image: Echo Chen's  DF-21 ballistic missile model, 2022. Courtesy of Echo Chen)