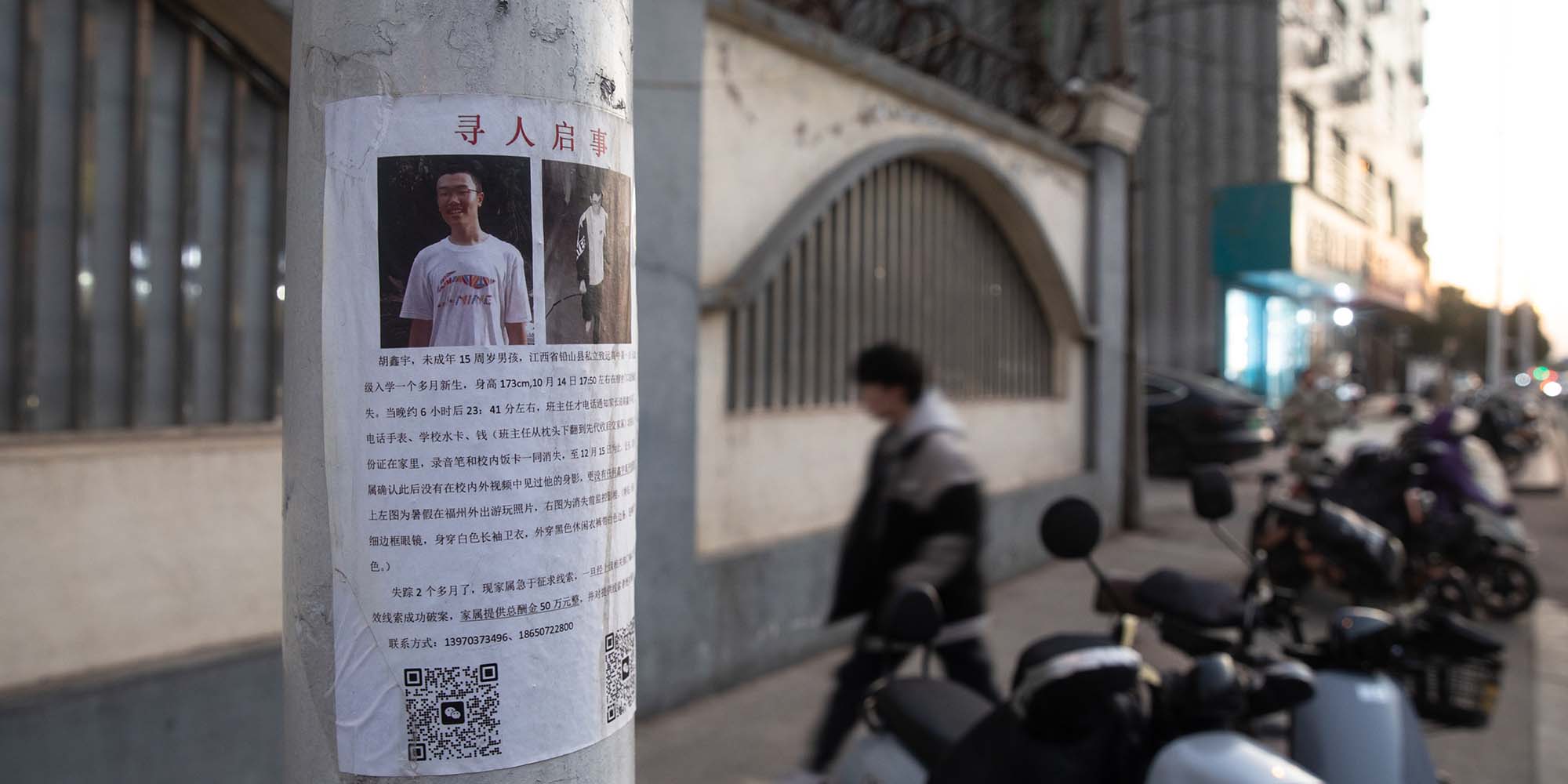 NEWS
Missing Schoolboy from Jiangxi Committed Suicide, Say Police
Officials said the teenager, who disappeared three months ago triggering nationwide concern, was struggling with depression.
More than three months after the disappearance of a 15-year-old boy gripped China, police officials in the eastern Jiangxi province announced Thursday that the teenager had committed suicide.
Putting weeks of speculation surrounding the circumstances of his death to rest, police said at a press conference that Hu Xinyu, a student from a boarding school in Jiangxi's Yanshan County, died by hanging himself with his own shoelaces due to depression brought about by academic pressure, insomnia, and difficulties with personal relationships.
On Oct. 14, the teenager disappeared while walking from his dormitory to his classroom about 15 minutes away. The incident sparked numerous debates that lasted months on social media.
On Jan. 28, a local resident found Hu Xinyu's body in the woods just a few hundred meters from the school campus, which were separated by high walls. The discovery brought to an end an exhaustive, monthslong search that involved the police, local residents, sniffer dogs, and drones.
Officials also said that an autopsy by medical examiners had found no signs of foul play. "The degree of decay in Hu's body meets the various characteristics of long-term exposure to the outdoors combined with the local environment and climatic conditions," said Hu Mansong, deputy director of Jiangxi Public Security Bureau, at the press briefing.
According to police, the teenager had expressed a wish to commit suicide in two audio clips that police found on a voice recorder he carried with him before he went missing. The recorder was found near his body.
"To be honest, there's no point, I just feel (my life) is meaningless. What will happen if I just jump off? Nobody will discover me if I jump off, at least for now," police quoted the teenager as saying in one recording dated Oct. 14 — the day he went missing.
School security video footage also showed him wandering on a balcony on the fifth floor at the time of the recording.
Local media quoted Hu Xinyu's parents as saying that he was a "very self-motivated" student. Reports also stated that Hu was under a lot of pressure after being admitted to his school on a scholarship last September.
He scribbled down notes about how he suffered from insomnia and had moments when he was suffering from mental breakdowns in calls with his mother who works in the eastern Fujian province and left him in the care of relatives, local media reported.
His sudden disappearance captivated China, becoming one of the most high-profile cases in recent years with many questioning why he went missing from school without a trace and for such a long time. Public attention was fueled by various rumors that ranged from homicide to criminals being involved.
Song Chunlei, a lawyer from Shanghai Ganus Law Firm, told Sixth Tone that without further evidence of external coercion, police investigation results show that Hu's tragedy is not a criminal case as many speculated.
However, another lawyer, who requested anonymity due to the sensitive nature of the incident, said that Hu's school should take partial liability for their negligence in supervising students.
In China, the Beijing Suicide Research and Prevention Center can be reached for free at 800-810-1117 or 010-82951332. In the United States, the National Suicide Prevention Lifeline can be reached for free at 1-800-273-8255. A fuller list of prevention services by country can be found here.
Editor: Apurva
(Header image: A missing poster for Hu Xinyu, who disappeared last October, in Shangrao, Jiangxi province, Jan. 30, 2023. VCG)