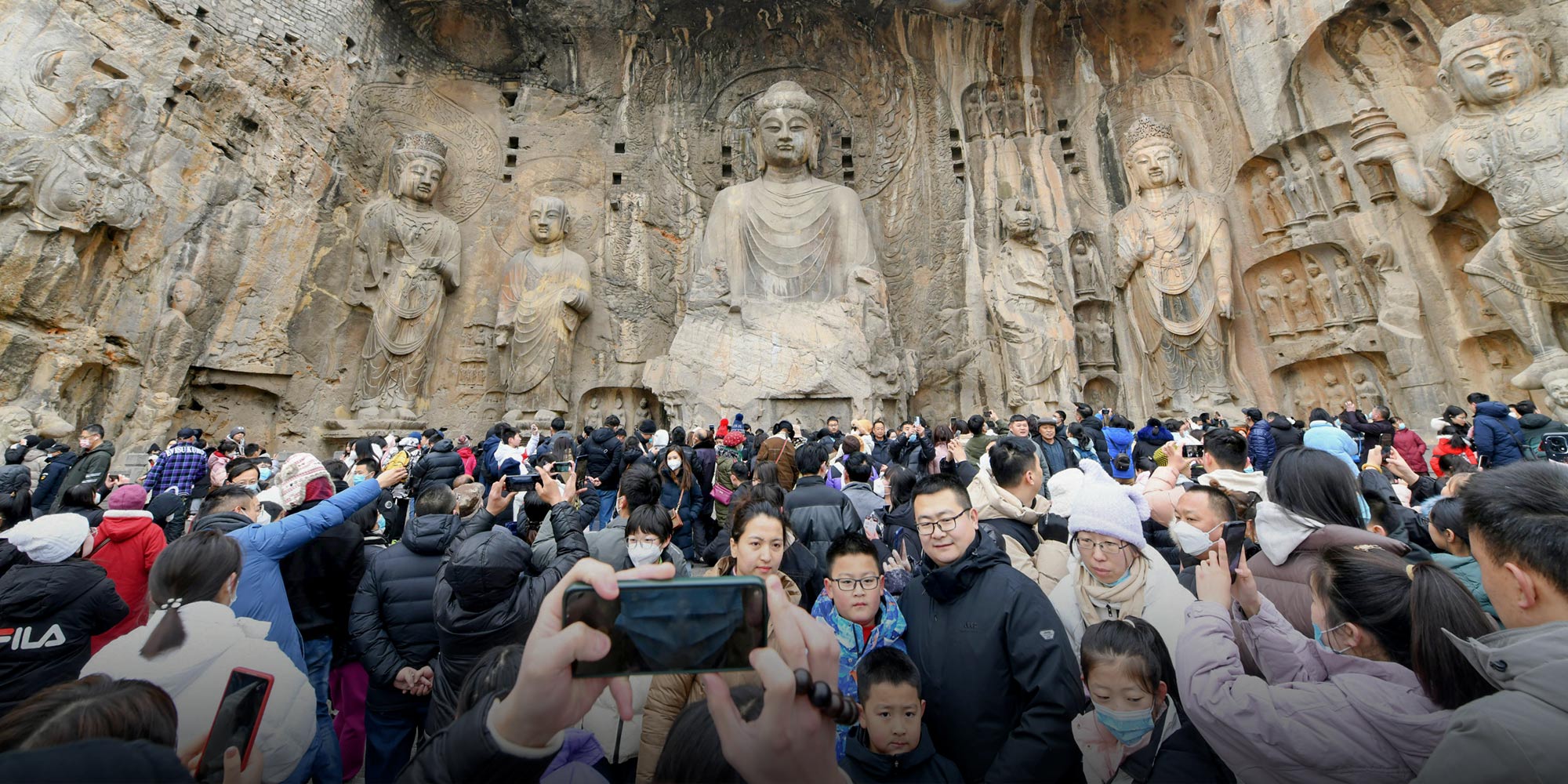 NEWS
China's Spring Festival 2023 in Numbers
From tourism to the box office, several sectors have seen business surge for the first time in years.
Packed movie theaters. Crowded tourist sites. Congested transportation.
This year's Lunar New Year has seen a surge of people and activities across sectors, as millions of people welcomed the Year of the Rabbit without being preoccupied too much about COVID-19. This was the first time in three years that many traveled home for their annual family reunion or took restriction-free leisurely trips.
Sixth Tone lists notable statistics that suggest how businesses are gradually recovering this holiday season after China eased most of its pandemic control measures last month.
300 million
Number of domestic travelers during the Lunar New Year
More than 300 million passenger trips were made across China for the seven-day Lunar New Year holiday, according to the Ministry of Culture and Tourism. This year, the figure was up 23% from 2022, contributing to a domestic tourism revenue of about 376 billion yuan ($55 billion), up 30% year-on-year.
The tourism industry has been hit hard by the pandemic, though many in the industry have been encouraged by this year's tourist numbers. Several major tourist sites were crowded, with travel booking site Trip.com saying booking for domestic travel jumped by 100% and overall orders for outbound travel increased by 640% year-on-year.
Nearly 51 million passenger trips were recorded on Friday, the last day of the holiday, according to the Ministry of Transport. It was an increase of 83% compared to the same day last year.
6.8 billion yuan
Total box office collection during the weeklong holiday
China's box office revenue amassed 6.8 billion yuan during the weeklong Lunar New Year holiday, making it the second-highest collection ever, according to ticketing platform Maoyan.
Six new movies were released during this year's holidays season, with the comedy "Full River Red" and sci-fi drama "The Wandering Earth 2" grabbing the top two spots, respectively. Some 128 million viewers are said to have visited theaters this year, which also saw the lowest average ticket prices since 2016.
The movie business, which was one of the hardest hit sectors by the pandemic, is gradually gathering pace. More than 11,500 theaters were open for business during this year's holiday period, a 98% recovery rate from last year, according to Maoyan.
28 billion
Views for firework-related videos on Douyin
With many cities loosening their ban on fireworks this year, related videos have surged exponentially on short video apps such as Douyin and Kuaishou.
Views for fireworks videos on Douyin exceeded 28 billion as of Saturday afternoon, domestic media reported. On lifestyle platform Xiaohongshu, there were 5.6 million posts, mostly showing fireworks and people enjoying them.
Hundreds of cities across China have banned fireworks mostly due to safety and environmental concerns in previous years. But with several local governments easing the rules, sales of fireworks are expected to exceed 30 billion yuan this year, according to the chairman of the China Firework and Firecracker Association.
1.7 billion yuan
Total of duty-free sales in Hainan
Millions of tourists flock to the island province of Hainan every year for sun and duty-free shopping.
The total sales in the province's 12 duty-free malls reached 1.7 billion yuan during the first five days of the Lunar New Year holiday, which started on Jan. 21, according to state broadcaster China Central Television. Average daily sales exceeded 300 million yuan, which was over three times more than in 2019.
As more Chinese decided to hit the road for the holidays this year, data shows that consumption rose by about 76% compared to the same period last year, when many travel restrictions were in place. The average daily consumption rose by 66% compared to that in 2019.
Editor: Bibek Bhandari.
(Header image: Tourists visit the Longmen Grottoes in Luoyang, Henan province, Jan. 26, 2023. Zhang Yixi/VCG)