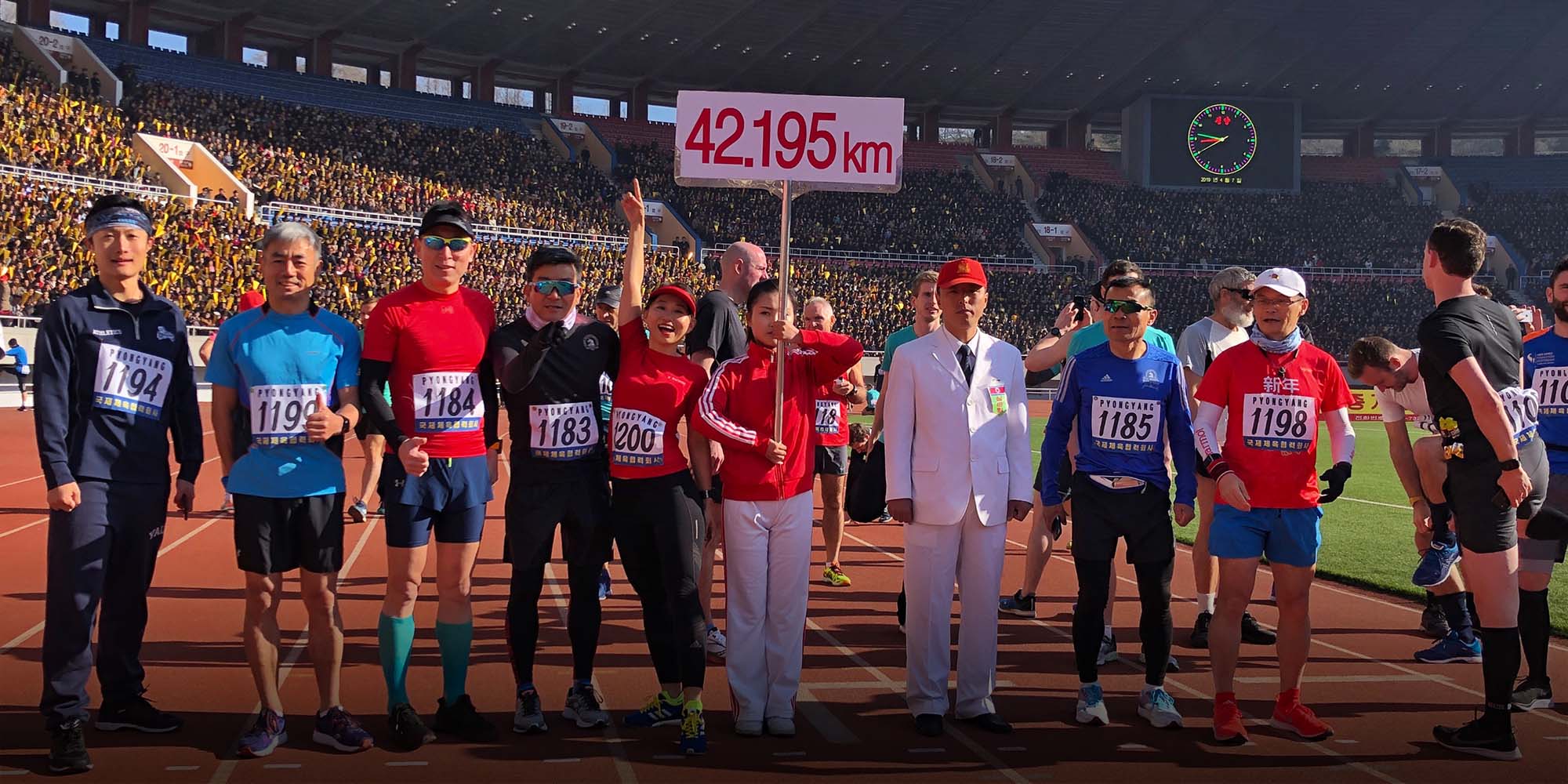 NEWS
As Global Marathons Beckon, China's Runners Ready to Race Again
With travel restrictions lifted in China, amateur runners are rushing to register at overseas events. But for now, the coveted Pyongyang Marathon will have to wait.
Brought to an abrupt standstill three years ago amid the COVID-19 pandemic, China's vast running tourism market is slowly gaining steam again.
As restrictions continue to ease after China ended its "zero-COVID" policy last month, amateur runners in China — they number in the tens of millions — are eagerly awaiting updates that will signal the return to normal, particularly traveling abroad to run.
Pre-pandemic, such was the demand for overseas races that specialized travel companies surged across the country to provide amateur runners with guides, bibs, flights, accommodation, and sometimes even pacers for races around the world.
At the time, Beijing-based industry leader ZX Tour took more than 10,000 runners every year to marathons and ultramarathons far and wide: from Afghanistan to Antarctica and Paris to Pyongyang. Over the past decade, running has become the most popular mass participation sport in China.
Such were the sheer number of participants ZX Tour could bring to races, that tourism authorities in France, Thailand, South Africa, and even North Korea sought hard to court Du Mingrui, the company's co-founder — all eager to tap into the lucrative Chinese running market.
Amid signs of a slow market recovery, Gu Haiyan, a Beijing runner described as a "hardcore ultramarathoner" by her friends, has already booked herself for the 450-kilometer Tor des Géants race in the Italian Alps.
Before the pandemic, she trotted the globe to run with like-minded friends: "We traveled together, lived together, and had fun before the race together," she says. 
While Gu seeks out ultramarathons on steep mountain trails, most Chinese runners prefer city marathons on flat asphalt, and one of the most popular ones is North Korea's Pyongyang Marathon.
And North Korea's tourism authorities are very aware of the size and potential of the Chinese running tourism market, says ZX Tour's Du.
Pre-pandemic, the company took several hundred Chinese runners each year to Pyongyang, but North Korea still has strict COVID-19 restrictions in place. 
"The DPRK border is still closed, I guess it will open by the end of the year," says Du. He anticipates that Chinese runners could possibly return to the 2024 edition of the Pyongyang Marathon.
Du told Sixth Tone that he had to stop operations completely during the pandemic, but now ZX Tour are booking runners for races again.
He says: "We are still in the recovery stage, but we already have several hundred bookings right now — Europe, North America, South Korea, Southeast Asia. Races in Thailand are in high demand. As are bookings for Tokyo, Boston, London, and Berlin marathons."
Chinese runners, he says, are especially keen on unique experiences — running at the North Pole, in the Amazon, Iraq, and Afghanistan. Packages for marathons and ultramarathons in such exotic locations sell fast among well-to-do Chinese runners.
Among the favorites are the world marathon majors — Chicago, New York, London, Boston, Berlin, and Tokyo. And the costs match the demand — ZX Tour's package to the London Marathon costs 30,000 yuan ($4,500) per runner, flights not included.
Du, however, is cautiously optimistic. He underscores that the uptick in bookings is yet to come, because many runners are still waiting out the period of post-COVID uncertainty now reigning in China. Early in December, authorities abruptly dismantled the stringent "zero-COVID" system leading to a surge in infections across the country.
He expects the earliest recovery only in 2024. "Now, flights are few and expensive, plus the visa situation is unclear. Though a lot of runners have ideas (of where they want to go), they are still waiting to see what happens," he says.
The uncertainty has meant that ZX Tour has had to increase their fees, but it hasn't deterred Chinese runners.
"All the hotel prices went up compared to pre-pandemic levels," says Du. "Take the example of the London Marathon. We work with one of the best local 5-star hotels, and this year, the price went up by 25%."
While many, especially older, runners from China prefer traveling abroad in the security and comfort of a Chinese-speaking running tour group, others who can independently manage foreign travel and bookings in English, however, are happy to travel to races across the globe on their own. 
Members of one running group in Beijing told Sixth Tone that they already booked races in Italy, Indonesia, New Zealand, Japan, Spain, and France. 
"It is all finally back to normal. Can't wait (to race)!" said one runner.
"I am so excited, I am filled with confusion!" said another one. 
For adventurous runners like Gu from Beijing, there are plenty of exotic destinations to choose from. At the moment, she is waiting for news about her application for a spot at the Rinjani 100 — an ultramarathon on an Indonesian volcano.
Editor: Apurva.
(Header image: Chinese runners at the start line of the Pyongyang Marathon, in North Korea, 2019. Courtesy of ZX Tour)