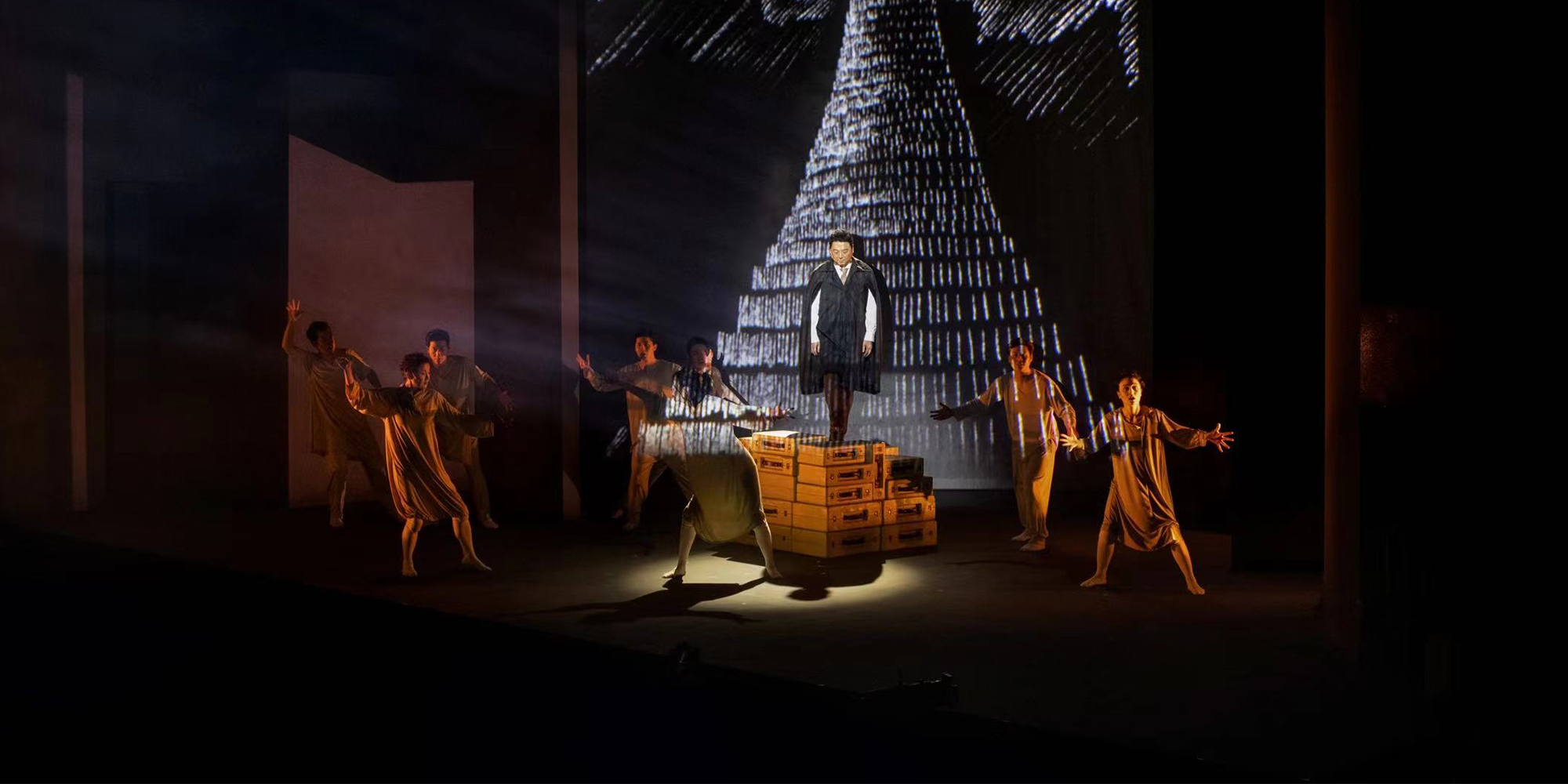 VOICES & OPINION
Defying God — and COVID — on a Shanghai Stage
Guo Chenzi, a playwright, reflects on the three-year odyssey of "Hudec," from script to stage.
This month marks the 130th anniversary of the birth of László Ede Hudec (1893-1958), the Hungarian-Slovak architect responsible for some of Shanghai's most classic and beloved buildings. People's Square is practically surrounded by Hudec's work, from the Moore Memorial Church and the Park Hotel to the Grand Theater. And those are just a handful of the more than 100 buildings he designed in the city.
As a Shanghai-based dramatist, I've long been fascinated by Hudec's legacy. But in late 2019, when I first set to work on a script for a play based on his life, I worried about falling into the clichéd nostalgia for "old Shanghai" so common in works about the 1920s and '30s. Of course, Hudec's life hardly requires embellishment: An artillery lieutenant in the Austro-Hungarian army, he slipped into China with an altered Russian passport. There, he mingled with rich European merchants and members of the Chinese elite, represented Hungary in Shanghai during World War II, and, through it all, pursued a career in architecture that blended his own ideas with his clients' needs.
What I did not foresee, however, was that a global pandemic would bring life in Hudec's adopted home shuddering to a halt. From the very beginning, COVID-19 hit theaters, cinemas, and performing venues particularly hard; international travel was all but suspended.
These feelings of concern, powerlessness, and isolation swayed the way I understood Hudec and colored how I approached the script. The final version of "Hudec" begins and ends with the imagery of the Tower of Babel, while the narrative is built around Hudec's interrogation by immigration officials when he applied for U.S. citizenship in 1952. With each round of rewrites, everything I knew about this most international of architects seemed to slip from my grasp: His fate, his history, even his identity all seemed uncertain.
"Hudec" debuted at the Shanghai Theatre Academy's Duanjun Theatre in March 2021, and we were invited to the 8th Wuzhen Theater Festival that fall. Before entering Wuzhen, the entire cast had to be tested for COVID-19. Holding up their test results, they jokingly quoted a couple of lines from the play: "Is this certain?" one asked. "Not at all!" replied another.
"Hudec" formally opened in Shanghai late last year at the Young Theater. By then, COVID tests and prevention protocols were no joking matter. Our original premiere was scheduled for March 2022, the traditional opening of Shanghai's theater season, but was cancelled as the city entered a two-month lockdown.
Ours was one of thousands of plays cancelled in the first three months of 2022. Spring came and went, then summer. In September, the Young Theater was allowed to welcome its first audience; not long after, "Hudec" was put back on the schedule for Dec. 17.
In early December, as COVID-19 case counts once again were climbing, director Zhou Ke restarted rehearsals. But concern among the cast and crew gave way to surprise as the Shanghai Municipal Administration of Culture and Tourism announced on December 15 that restrictions on cultural and tourism venues would be lifted. Audiences would no longer need to show a negative test result or their health codes to enter a venue. The various codes that had accumulated over the past three years suddenly disappeared. Changes to the COVID policy had turned all the uncertainties surrounding possible infection into certainties.
As Omicron spread like wildfire throughout China, the cast and crew encouraged each other to stay healthy — there were no understudies if anyone fell sick. A film crew working on a five-part documentary series about Hudec's life for China Central Television hurried down from Beijing. They filmed the entire play live on Dec. 17 and returned home that same night. A handful of actors fell sick after the performance, and the Young Theater cancelled all of its year-end performances.
When I started writing "Hudec" more than three winters ago, I had no idea that its creation, rehearsals, and performance would fit neatly within the timeline of the pandemic. In his review of the play, Gao Ziwen of Nanjing University wrote: "(Hudec's) buildings will last longer than any individual in the play and any of us outside the play. They stand silently in the middle of Shanghai, a witness to the miracle of defying God." That is likely true. But I also like to think our little play was its own sort of defiant miracle.
Translator: Katherine Tse; editors: Wu Haiyun and Kilian O'Donnell; portrait artist: Wang Zhenhao.
(Header image: A photo from the play "Hudec." Courtesy of Guo Chenzi)