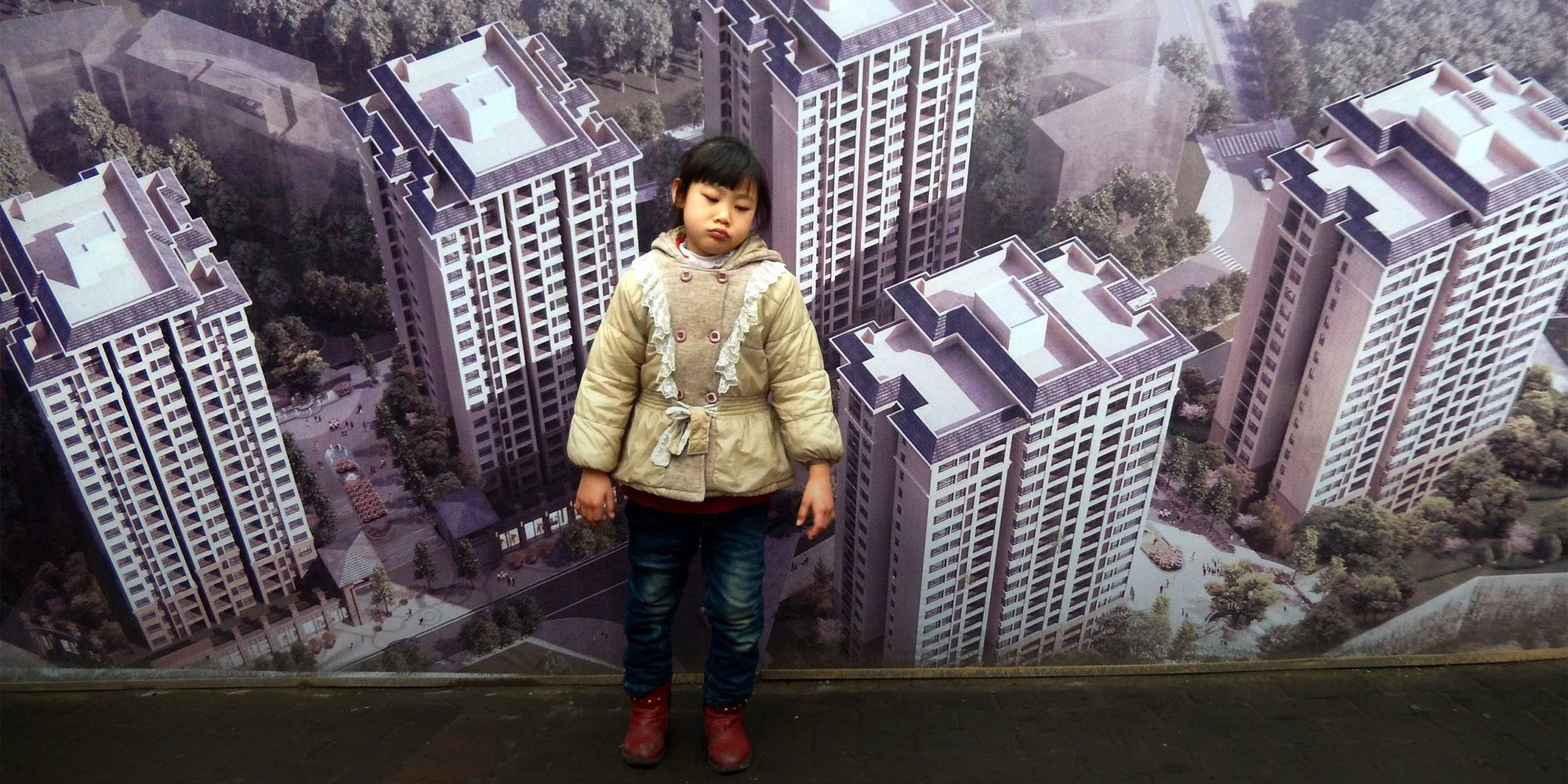 FEATURES
China's Downturn Fuels a Worrying New Trend: a Surge in Foreclosures
Home repossessions have more than tripled in China since 2019, leaving families in dire situations.
When Ya bought an apartment in the central Chinese city of Zhengzhou in 2018, he thought it was the start of a bright new chapter. 
At 1.2 million yuan ($174,000), the 85-square-meter home was pricey by local standards. But Ya liked the location, and figured property prices were likely to keep rising. Plus, the 5,300 yuan monthly mortgage payments seemed affordable.
Yet, five years later, Ya is close to losing everything.
China's economy slowed significantly last year as months of lockdowns and a debt crunch in the property sector hit businesses hard. And Ya, who designs advertising materials for new real estate projects for a living, has been directly impacted by the downturn.
The 32-year-old lost his job in mid-2021, and hasn't been able to find full-time work since. Earning enough to pay the mortgage through freelance work is impossible, he says. Unless things change soon, he worries the bank will repossess his home.
"My mortgage payments have been overdue several times already — I've been to court once over this," says Ya, who spoke with Sixth Tone using a pseudonym for privacy reasons. "If I could just find a job, my apartment might not be foreclosed."
Ya is far from alone. China is seeing a surge in home repossessions amid the economic downturn, as falling housing prices, plunging business revenues, and widespread layoffs place household finances under severe pressure.
The number of foreclosed homes has skyrocketed from 500,000 in 2019 to more than 1.6 million in 2021, according to the 2021 China Leverage Ratio Report. The number of legal cases involving banks prosecuting mortgage defaulters has also increased "significantly," the report added.
Debt crunch
In Ya's home city of Zhengzhou, several hundred homes are now being foreclosed every month, and the number is increasing steadily, a local real estate agent specializing in foreclosures, surnamed Yuan, told Sixth Tone. 
Another agent based in the southwestern city of Chengdu, surnamed Zhou, has also noticed an uptick in foreclosures. He blames the pandemic, which has taken a severe toll on Chinese businesses — especially those in the services sector.
In many cases, workers were left unable to pay their mortgages after being laid off or having their salaries cut, Zhou says. In others, business owners used their homes as collateral when their companies were affected by the downturn, and were unable to turn around the situation.
"Many people are forced into foreclosure because they incur a large number of interest penalties after violating their mortgage agreements," says Zhou. "Eventually, there are no more funds left to pay them off, and they're finally forced into foreclosure."
But the surge in foreclosures isn't just the result of a short-term economic shock; it ultimately reflects deeper problems in the Chinese economy, economists say. For decades, China has relied on the property market as one of its main engines to fuel growth, even though the housing boom was leading developers and households to take on worrying levels of debt — and left both vulnerable to a downturn.
"The debt leverage of enterprises and individuals remains high," says Lu Qiyuan, an economist based in the southern city of Shenzhen. "The capital gains from the leverage are owned by a small number of people, and a considerable amount has been transferred abroad."
Now, the housing bubble finally appears to be deflating. In 2022, Chinese real estate firms, unable to pay off their debts, halted construction on millions of apartments. The authorities stepped in with large bailouts, but confidence in the market has yet to recover. Housing prices in Chinese cities have fallen for six months consecutively.
The decline in the property market, however, is only making things harder for homeowners who bought when prices were sky-high. Many have seen the values of their homes fall significantly — and some still owe the banks money even after their homes have been foreclosed.
Another Zhengzhou resident, surnamed Ji, finds himself in just such a situation. In 2018, Ji and his wife bought an apartment in the city for 1.4 million yuan. They paid 300,000 yuan as a down payment and took out a 6,700 yuan-per-month mortgage to cover the rest. 
But a year later, Ji was sent to prison for reasons he declined to discuss. In his absence, his wife was unable to keep up the mortgage payments, and the apartment was repossessed and auctioned off in October 2022.
The sale wasn't enough to cover Ji's debts, however. During the pandemic, housing prices in Zhengzhou have plummeted, and the apartment only sold for 800,000 yuan.
"Not only did we lose our apartment, but also the down payment and the mortgage payments we made previously," says Ji. "It was all in vain. After the apartment was auctioned by the court, we still owe more than 300,000 yuan to the bank."
Bargain hunting
Yet, for others, the surge in foreclosures represents a new business opportunity. Auction assistance agencies have mushroomed in areas that have seen a large number of businesses go bankrupt, such as Shanghai and neighboring provinces Jiangsu and Zhejiang.
The nation's biggest real estate auction market, however, is Chongqing, where the number of units put up for auction reached 26,500 in 2020 and soared to 37,100 in 2021. Most of these properties were foreclosed after economic disputes or unpaid mortgages, while around 10% are related to criminal cases or suspected hauntings, according to the manager of a local auction company, surnamed Zhang.
"Due to the pandemic, the economy has been severely affected for three years, resulting in many businesses failing," says Zhang. "These business people's houses are relatively high quality and have become affordable."
Yinshan — the auction assistance agency where Zhang works — was set up to take advantage of this situation in 2020. The business does everything it can to help homebuyers acquire an auctioned home at a bargain price, identifying promising investments, handling the auction, and providing assistance post-purchase.
An important part of the process is making sure there will be no aftersale complications, Zhang says. Yinshan is careful to investigate the reason why a property was foreclosed, the original owner's identity, and whether the home has multiple mortgages.
"In most cases, people subject to enforcement are cooperative, because the court is auctioning their homes as they owe money to the bank and are unable to repay it," Zhang says. "The majority of them can't defy the law and are forced to accept an auction as their only option."
Ya, the homeowner in Zhengzhou, is hoping he can avoid that fate. He recently applied for an extension on his mortgage, and feels confident that will protect him from foreclosure — at least for now.
But he is still worried about what might happen further down the line, and is convinced that the situation in which he finds himself is unfair. He argues that China should implement a system to help homeowners get through hard times, and maybe even provide defaulters with compensation.
"It's the homeowners who suffer most from foreclosure," says Ya. "Their down payments and monthly payments were for nothing. If people forced into foreclosure have poor psychological endurance, they will do some extreme things that are not conducive to individuals and society."
Perhaps unsurprisingly, legal experts disagree with the idea of compensating mortgage defaulters. Li Xing, a lawyer from the Zhejiang Times Business Law Firm, says that homeowners asking for refunds misunderstand the legal issues involved.
"As the homeowner borrows money from the bank to purchase the property, they are obligated to repay the loan," Li says. "The house is auctioned off because of the owner's own debts, and neither the bank nor the developer benefits from it. There is no legal basis for refunding part of the house purchase fee."
Ji and his wife, meanwhile, have accepted their fate and are trying to pick up the pieces. Since Ji went to prison, his wife has been keeping the family afloat by running a food stall in Zhengzhou.
The business only makes around 100-200 yuan a day. It's enough to pay the rent on the apartment where the couple now live with their two children, but not nearly sufficient to pay off their huge debts.
Ji remains calm: He says his family has survived several storms over the years. Now that he's a free man again, he's looking for ways to earn more money. But it's not going to be easy, he admits. 
He feels that the business environment in China is much worse than when he bought the apartment in 2018. And as a debtor, he's been blacklisted via the social credit system, which places serious restrictions on his activities.
"Because we defaulted on our mortgage … my wife and I have been branded as 'dishonest' people," says Ji. "We have no choice but to take one step at a time."
Editor: Dominic Morgan.
(Header image: IC)