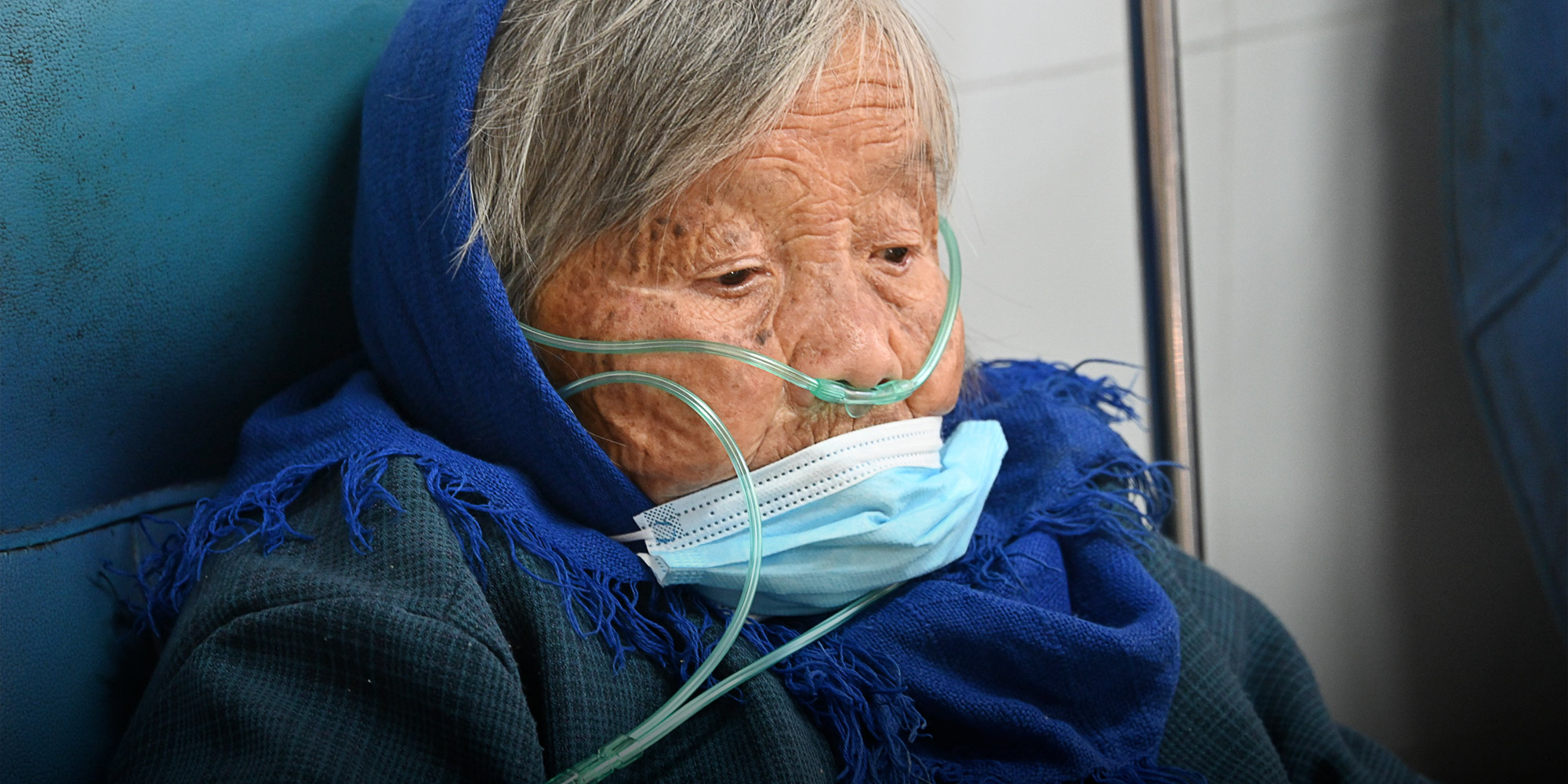 FEATURES
'It's Insane': China's Doctors Struggle to Cope Amid COVID Surge
Chinese medical workers say the COVID-19 wave is the worst crisis they have faced in decades. Mass infections among hospital staff are only making things worse.
Just weeks after China ended its "zero-COVID" policy, Dr. Xu Zuping and her outpatient department find themselves confronting an unprecedented crisis.
The team in Shanghai is treating up to 600 patients a day — almost 20% more than the same period last year, Xu estimates. And they're having to do so with four out of six doctors infected with COVID-19.
"I've worked at this hospital for over 30 years, but I've never seen the emergency room as busy as it is now," says Xu, who spoke with Sixth Tone using a pseudonym to protect her privacy. "Ambulances keep arriving with people in a critical condition. When I treat my patients, I constantly worry about whether there are enough seats in the infusion center."
Hospitals all over China are struggling to cope as a wave of COVID-19 infections rips through the population. Doctors describe shocking levels of overcrowding, shortages of key supplies, and medical teams weakened by mass infections.
China abruptly dismantled its strict "zero-COVID" system in early December, and since then the virus has spread at breakneck speed. It's unclear how many people have been infected, but local authorities estimate that case numbers in Shanghai alone have surpassed 10 million.
A surge in hospitalizations soon followed. According to China's health commission, around 8% of COVID-19 patients in China developed pneumonia in 2022. Though this appears to be a relatively low ratio, it translates into a huge number of people with lung infections due to China's vast population.
By the end of December, Xu's department was already receiving record numbers of patients. The team is based at one of two major hospitals in Chongming — an island on the northeastern tip of Shanghai, where the Yangtze River bleeds into the East China Sea.
Most of the patients are in their 80s and 90s, and the vast majority have pneumonia, Xu says. The hospital's emergency room has been completely overrun.
"Given the crisis at the emergency room, we can no longer transfer patients for hospitalization," she says. "The few remaining beds in the inpatient department are reserved for patients from the emergency room."
A few days ago, Xu was treating a patient with a serious heart condition who required immediate hospitalization. But the overcrowding in the emergency room had become so severe, she was physically unable to enter the department.
"I tried to communicate with people at the emergency room face-to-face, but I failed even to get through the gate," says Xu. "There were just so many people in equally dire conditions. The way in and out of the room was blocked."
The crisis isn't limited to fever clinics and emergency rooms. Inundated with COVID-19 patients, intensive care units have also struggled to cope. Many hospitals have mobilized all inpatient departments to accept pneumonia patients or those with other diseases triggered by COVID-19 infections.
Everywhere, all at once
Junior doctors especially were unprepared for the crisis. Just last month, Ma Jinyan became an independent resident doctor at the gynecology department in the Qinghai University Affiliated Hospital in Xining, the provincial capital of the northwestern Qinghai province.
The 26-year-old could not have foreseen starting her career under such conditions. By late December, even the gynecology department at her hospital was tasked with treating a dozen senior patients with severe lung infections. 
"I'm worried about losing lives," Ma tells Sixth Tone. "My department seldom deals with death … I understand medical workers need to face death, but when you personally need to deal with it, it's another thing."
Ma didn't sign up for this. After interning in Shanghai, she chose to settle down in the best hospital in her hometown, believing it would provide less stress and a decent income. Weeks later, she found herself on a brutal night shift on New Year's Eve.
That night, Ma was tasked with treating a patient in her 80s who had a severe lung infection. As her condition worsened, the woman started to panic and faded in and out of consciousness. Ma, who had no experience treating lung infections, was terrified.
"Time passed so slowly that night. Amid the staccato of fireworks outside, I waited nervously for help from the intensive care unit," she recalls. 
But the ICU staff were receiving requests from every department in the hospital. "I had to keep begging them for help," Ma says.
Finally, her colleagues from the ICU told her that the only way to alleviate the old lady's symptoms was to clear the phlegm. "We couldn't intubate because there weren't enough life-support machines in the hospital," Ma says. "I had to tell the patient's family the truth, to mentally prepare them."
The young doctor didn't dare leave the sick lady's bed. After hours of clearing the congestion, the woman felt better. "She was lucky to pull through," says Ma. "If it had gotten any worse, the consequence of giving the frail lady CPR would have been broken ribs. Moreover, the effort may not have necessarily saved her life."
After that nightmarish shift, Ma was given a full day off. She still hasn't fully recovered from COVID-19 herself, having tested positive on Dec. 16. Unless she's relaxed or sitting still, her heart rate easily clocks 100 beats a minute. 
"Honestly, I now regret my choice to be a doctor," she says. "I struggled even when I made the decision. I knew I would deal with many challenges. But I just didn't expect it so early into my career." 
Back in Shanghai's Chongming Island, Dr. Xu Zuping was among the four doctors who contracted COVID-19 almost at the same time late in December. That was also when patients started to flood into her hospital. 
"We requested extra personnel from the inpatient departments but the emergency room and the fever clinic were in dire need at the time. So that's where all spare hands were sent," she says.  
Xu took four annual paid leave days to recover. "I didn't ask for sick leave because that would have meant a deduction in salary. I had many annual leave days which would otherwise go unused," she says. "I originally planned to take two days of leave but my body kept shaking."
On the front lines, she witnessed firsthand the crushing demands on doctors — her two colleagues had to treat over 500 patients a day. They were forced to extend their service hours too: While they once started at 8 a.m. and finished at 4:30 p.m., they were now receiving their first patients as early as 7:30 a.m. and clocked out at nearly 6 p.m.
Speaking to Sixth Tone on Jan. 8, Xu said three of the doctors who contracted COVID-19 were back at work. But given the steady uptick of patients, the whole team is still working overtime and only gets half a day off each week.
"The medical resources on the island are limited compared with the city. We have only two comprehensive hospitals here," says Xu.
The team is also facing shortages of crucial medication such as Paxlovid, an antiviral produced by Pfizer that is effective at preventing severe COVID-19 symptoms. 
Paxlovid has been made available at community health centers in Chongming, but comprehensive hospitals on the island were never provided with the pills. Local authorities wanted to alleviate the pressure on hospitals by diverting patients to grassroots facilities, but the clinics don't have CT machines to provide a clear COVID-19 diagnosis. The result has been patients continuing to flock to hospitals.
With no Paxlovid on site, Xu's team has had to experiment with alternative treatments. They have tried prescribing a cocktail of other antivirals, antibiotics, and hormone drugs. Though these treatments are rarely used in better-supplied hospitals, Xu says they are proving effective in practice.
"Theoretically, it's a viral infection," says Xu. "In practice, many of our patients have used antibiotics and hormones. They did work."
This approach remains controversial in China. Experts at leading Chinese hospitals insist that doctors should only use antiviral treatments and avoid prescribing "unnecessary" medication. Doctors in undersupplied areas, however, consider this unrealistic.
For Xu, the alternative treatments are better than nothing. "We are a rural hospital," she says. "As long as our patients feel better, it's a feasible practice."
Slow turnaround
In Shanghai, while adults continue to throng hospitals for treatment, pediatric departments have slowly begun limping back to normal. 
Pediatrician Yu Huiju works at Shanghai Xinhua Hospital, among the largest top-tier hospitals in the city, renowned for its pediatric services. She says that since Jan. 4, the hospital saw fewer pediatric patients with severe COVID-19 symptoms.
But just two weeks before this turnaround, Yu was living a nightmare. Around Dec. 20, many of her colleagues fell ill simultaneously. "During the worst crisis, we had only three doctors and four nurses, but the number of hospitalized patients they needed to care for around the clock increased from 23 to 41. It was insane," she tells Sixth Tone.
"Originally, we had seven doctors and 15 nurses working three shifts. We tried requesting personnel from other departments but none could help — all were busy dealing with their own predicaments."
In late December, the pediatric emergency room at Xinhua Hospital was receiving around 600 patients a day. The team had received similar numbers of patients during winter flu seasons in the past, but the COVID-19 wave has been far harder to deal with, according to Xu Jing, the head nurse of the department.
"This time, many children suffered severe symptoms," says Xu. "What's worse, many of our medical workers were down with the virus … The pressure this time was beyond words to describe."
Zhu Xiaodong, a leading doctor from the hospital's pediatric intensive care unit, said none of the doctors in his team escaped infection during the recent wave. Almost all the nurses were infected as well. 
"I feel guilty that they had to keep working," says Zhu. "Professionally speaking, they deserve more time to rest. But I have no helping hands to treat children in a critical condition."
Doctor Yu is 59 and will retire next year. After local authorities scrapped requirements for patients to provide negative nucleic tests to enter hospitals on Dec. 20, Yu also got infected at the outpatient department and fell ill on Christmas.
Though she suffered a fever, sore throat, headaches, and a cough, she was well enough to return to work on New Year's Day. "My hospital is quite human-oriented. It gave infected staff seven days off. But it also encouraged them to return to their posts earlier if they recovered properly — they also offered an additional 500 yuan ($74) a day if they got back to work within seven days," she says.  
"I've picked up my routine: receiving patients at the outpatient department and checking up on my hospitalized patients. Because of COVID-19, the number of outpatients has decreased from previous years. Parents try to keep their kids away from hospitals if their conditions are not serious or urgent," she says. "I would say the worst time for pediatric services is over." 
A nurse from another top-tier hospital in Shanghai, who requested anonymity citing privacy concerns, said she was not as lucky. Though her hospital promised its staff five days leave for COVID-19 infections, they could not avail them immediately after falling sick. 
"My colleagues typically spend two or at the most three days resting at home before rushing back to the hospital to help. There's a severe shortage of hands everywhere," she says. 
At the end of December, the city health authority awarded all frontline medical workers 6,000 yuan for their contributions in the fight against COVID-19. A few days later, doctor Xu from the Chongming hospital also received a gift package of 30 eggs, 12 apples, 12 pears, and a piece of preserved pork from the local government.
"With or without such rewards, we'll continue treating patients no matter how many of them come. It's our job. We've got used to it," she says. 
Editor: Apurva.
(Header image: An elderly woman receives a transfusion at a clinic in Shanghai, Jan. 8, 2023. IC)