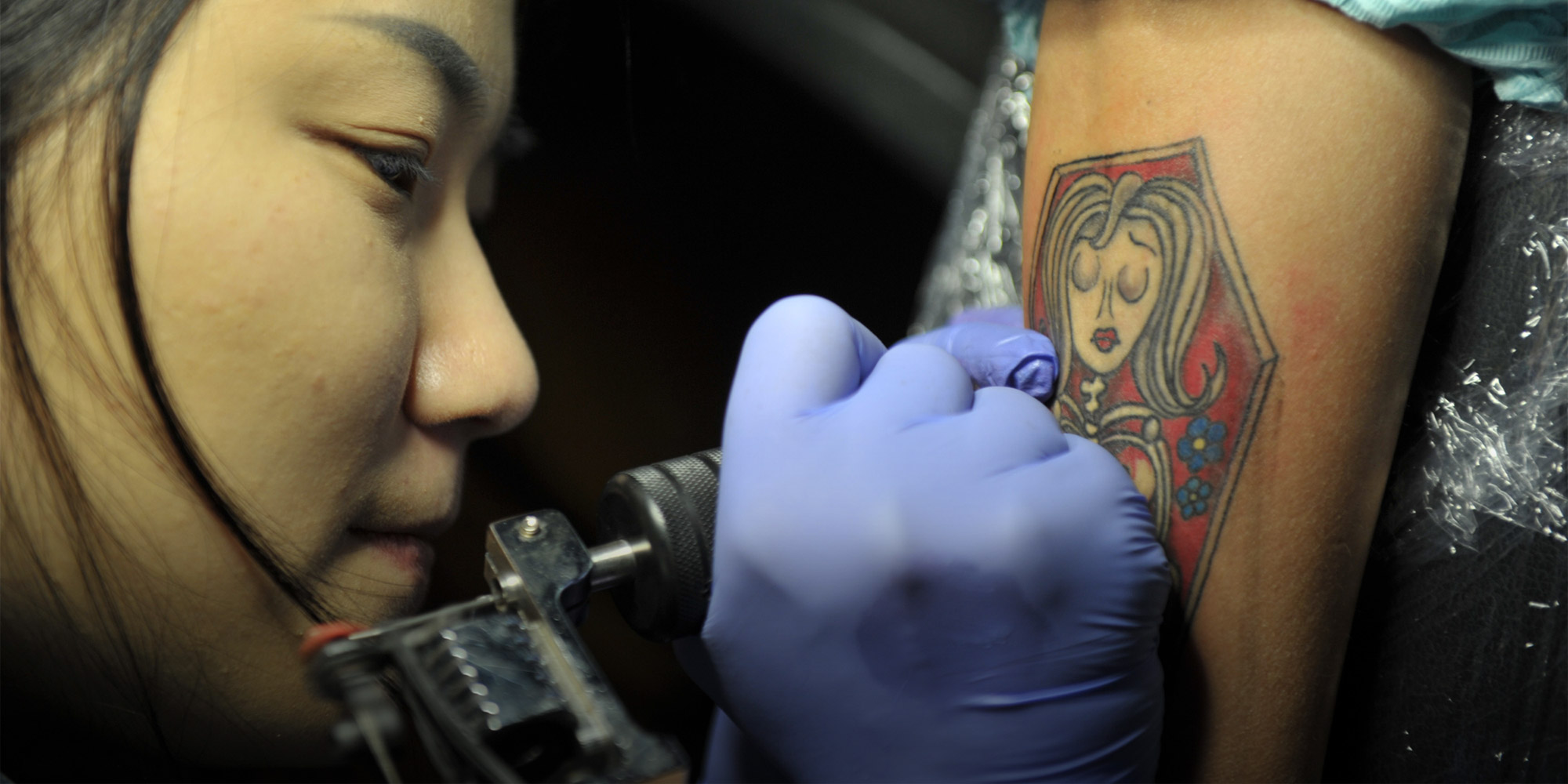 VOICES & OPINION
For China's Female Tattoo Artists, Nothing Is Permanent
Faced with social stigma and the harsh realities of gig work, breaking into the industry requires more than passion.
Whether as a hobby or a career, tattooing requires commitment. Sitting for a tattoo can be painful, and the resulting ink lasts forever.
It's odd, then, that the prevailing stereotype surrounding heavily inked tattoo artists in China is of their supposed flakiness. Although increasingly popular, especially among young Chinese, tattoos remain heavily stigmatized. On television, performers' tattoos are regularly scrubbed; tattoo artists, especially women, are stereotyped as poorly educated, financially struggling misfits.
But is the stereotype true? To find out, I conducted fieldwork at several tattoo studios in the southern megacity of Shenzhen last summer. One, the August Tattoo Studio, is run by August, a graduate of the University of the Arts London, and her husband Jeff, a Shenzhen native. (To protect the identities of my research participants, I have given them all pseudonyms.)
Except for Jeff, all the artists at August are young women. Contrary to popular stereotypes regarding women tattoo artists, however, they are neither poorly educated migrant girls from the countryside living paycheck to paycheck, nor are they rebellious urban youths looking for a way to break away from traditional norms of femininity. Rather, many of the young women I met had strong, clearly articulated rationales for getting into the industry. More importantly, almost all of them had a financial safety net.
It is not easy to make a living from tattooing, especially as a woman. To start, learning how to tattoo is expensive. Getting a foothold in the industry generally requires an expensive apprenticeship. Unlike apprentices in hair salons, who can earn money washing clients' hair or cleaning the shop, tattoo apprentices have no income and are expected to shoulder a hefty tuition fee and equipment expenses.
The average tuition fee in Shenzhen is between 10,000 and 20,000 yuan ($1,500 to $3,000) for a two- to three-month apprenticeship. That does not cover the cost of a tattoo kit or daily expenses like food, accommodation, and transportation. The entire training process can run to as much as 50,000 yuan, far more than other trades.
The reward for this process is a spot in the gig economy. There are nine artists at the August Tattoo Studio, only two of whom are full-time. The others make ends meet with part-time or full-time jobs elsewhere, treating tattooing as a side gig. For example, KK is a full-time accountant who works part-time as a tattoo artist. Another August artist, Poppy, took up tattooing as a hobby when she was a university senior, paying for her training with financial support from her family.
The studio's commission system and the lack of labor contracts or insurance make earning a living difficult. Studios take anywhere from 30% of an artist's income to as much as 70% for clients introduced by the studio. They provide no insurance or other benefits.
In addition to economic pressure, female tattoo artists often face pushback for deviating from social norms. Although Poppy's father supported her financially through her apprenticeship, he made his disapproval of her hobby clear. Finally, he issued her an ultimatum: either find a better job or pursue a graduate degree abroad. She opted for the latter. "I know I can never make a living doing tattoos in China," she said. "But maybe in Canada I will work as a tattoo artist to make money."
August, the studio's owner, entered the industry half a year after graduating from university. At the time, her family was strongly opposed to her new career. Since getting married and having a child, however, much of their opposition has faded away. Her willingness to take on the role of mother and wife apparently made her "improper" job more acceptable.
Then there is Zero. An outlier at August, she is not from a wealthy family, but she nevertheless found a way to pay for an apprenticeship thanks to financial assistance from her boyfriend. Although she does not pay rent on their shared apartment, her income from tattooing is still not enough to meet her needs.
While tattoo artists are often viewed as highly individualistic and motivated to pursue self-expression, escaping from the realities of our consumerist, capitalist society can be difficult. Rather than misfits, many female tattoo artists are comfortably middle class. Their primary role is to package and sell a trendy countercultural identity and image. Viewed through the framework of what British sociologist Mike Featherstone referred to as the "aestheticization of everyday life," they're closer to yoga instructors than anti-society "rebels."
Indeed, almost all the artists I interviewed enjoy a strong safety net. Some come from affluent families, while others work out arrangements with sympathetic partners or treat tattooing as a hobby. It may not be a wise career choice, but with the right combination of factors, they can make it work.
With contributions from Li Xueshi, a sociologist at the Chinese University of Hong Kong, Shenzhen.
Editors: Cai Yiwen and Kilian O'Donnell; portrait artist: Zhou Zhen.
(Header image: A tattoo artist at work in Nanchang, Jiangxi province, 2015. VCG)