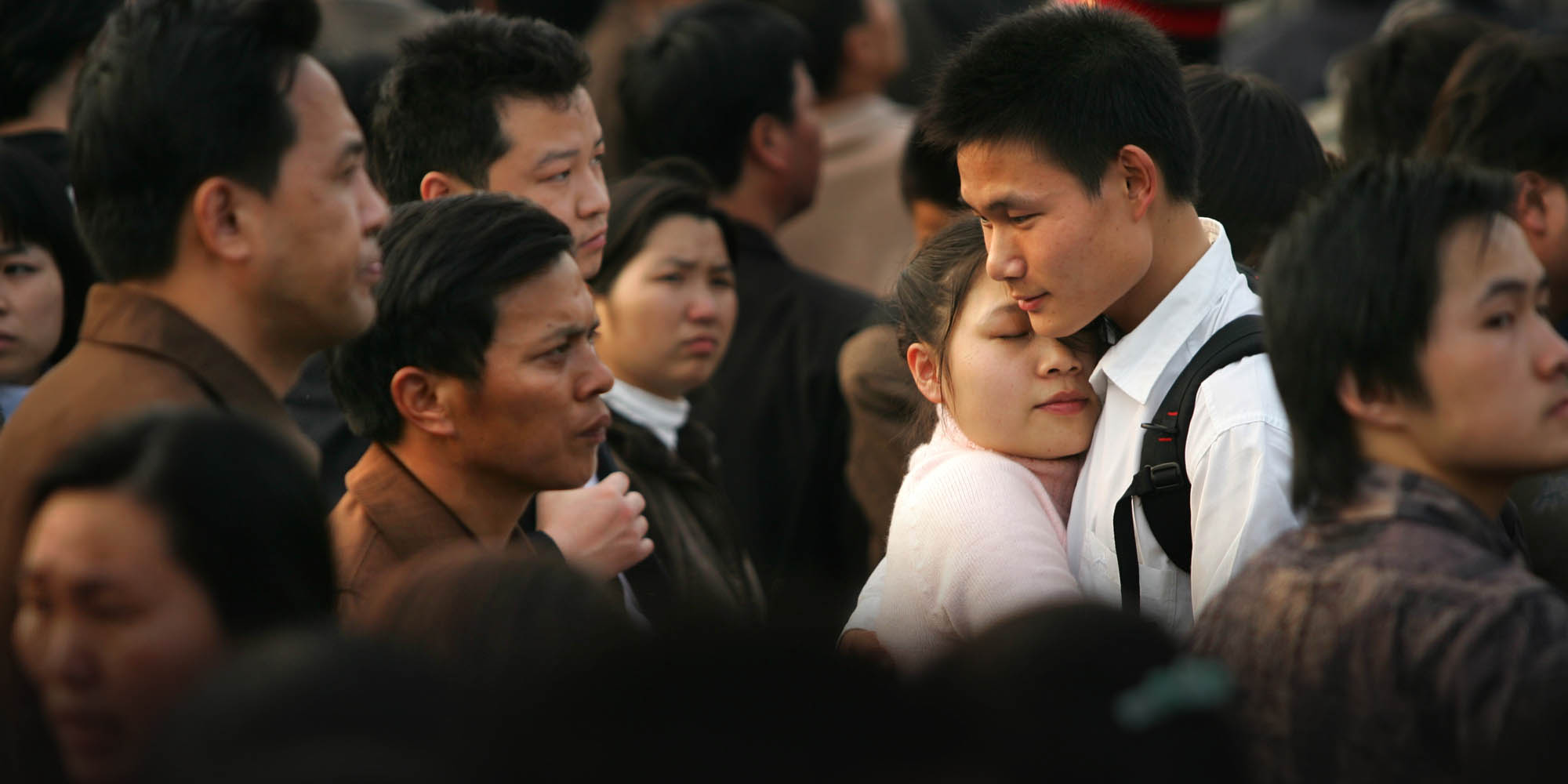 NEWS
Students' Summer Homework: 'Why Are You Still Single?'
A university counselor is getting personal — and encouraging reflection — with an offbeat writing assignment.
University students in central China's Hubei province have received some unique homework to complete this summer vacation, according to a Tuesday report in The Beijing News. The assignment? "Write a self-confession about why you're still single."
The instructions read to write a self-analysis, including strengths and weaknesses, and a long mock letter professing one's love to a crush.
Yue Xinyu, a 32-year-old counselor at Hubei Industrial University, set this assignment for her 300-plus freshmen students to complete over the long summer break. She hopes that its quirky approach might inspire a higher completion rate — since the task is not assigned by a faculty member, the homework is not compulsory and won't be graded.
Yue also hopes that students will gain some valuable introspection, which could in turn help them better understand what true love is. "I noticed that these students are reluctant to take responsibility, and they lack a sense of self-examination," she told Sixth Tone.
There has been some debate in China recently about dating while in university, with Li Yanrong, president of the University of Electronic Science and Technology in Chengdu, stating during a speech on Monday that "being in a relationship is part of university life." Last year, Zhengzhou Normal University launched a class called "the psychology of love," in which students were taught about sexual relations and problems that might arise in relationships.
Many in China hold the belief that students should focus on their studies, and that relationships can wait until after graduation. A net user commented on a news item about the speech by Li saying, "As a university president, encouraging students to date instead of encouraging them to work on their studies is truly putting the cart before the horse."
Despite the fact that young Chinese start dating relatively late in life, being single beyond a certain age is also frowned upon, leading to "leftover women" and "leftover men." In addition, many Chinese see producing offspring as one's duty in life, which means there is enormous pressure to marry — so much so many gay people choose to enter sham marriages rather than be thought of as "unfilial."
Xia Kai, one of Yue's male students, told Sixth Tone that his first reaction to the assignment was surprise, and then he felt a bit awkward. But he's going to take part, and he hopes to gain some insights from his summer task.
"Generally speaking, I think it is a good opportunity for me to reflect on myself, to figure out why I am still single." Xia said he "definitely" wants to find a girlfriend during his university years.
Yue says that she has only received positive feedback from students, and that she got the idea from an unlikely source after struggling for an assignment topic for 10 days.
"The idea came from a conversation with a taxi driver, who complained about the selfishness of university students," Yue said. "Then I came up with the idea of adding some love elements to this assignment, which I believe the students will be more willing to do." The method of handing in the assignment is also unconventional, as students are being asked to post their responses to their personal Weibo microblogs.
The assignment is not just limited to those who are single. Partnered students should write about how they found their significant other, the interactions they have had within their relationships, and which aspects are good and bad.
Xiong Bingqi, an education expert and vice president of the 21st Century Education Research Institute, believes social reaction to this assignment highlights a reluctance to discuss relationships and sex in Chinese universities.
"Dating in university shouldn't be taboo anymore," Xiong told Sixth Tone. "The reason why this news has aroused so much attention is in large part because many people still regard dating in university as a sensitive topic in China."
Xiong said that this assignment was a good start, but that more work needed to be done.
"It's very important to educate university students about how to handle sexual relationships and how to protect themselves, yet Chinese universities put little emphasis on this area," Xiong added. "What we need is long-term education, rather than merely a summer assignment."
Back in Hubei the summer holiday has yet to begin, but Yue says some students have already handed in their self-confessions.
Additional reporting by Feng Jiayun.
(Header image: A couple hug each other among the crowd at Guangzhou Railway Station, Guangdong province, Feb. 12, 2007. Tan Weishan/ Nanfang Metropolis Daily/VCG)