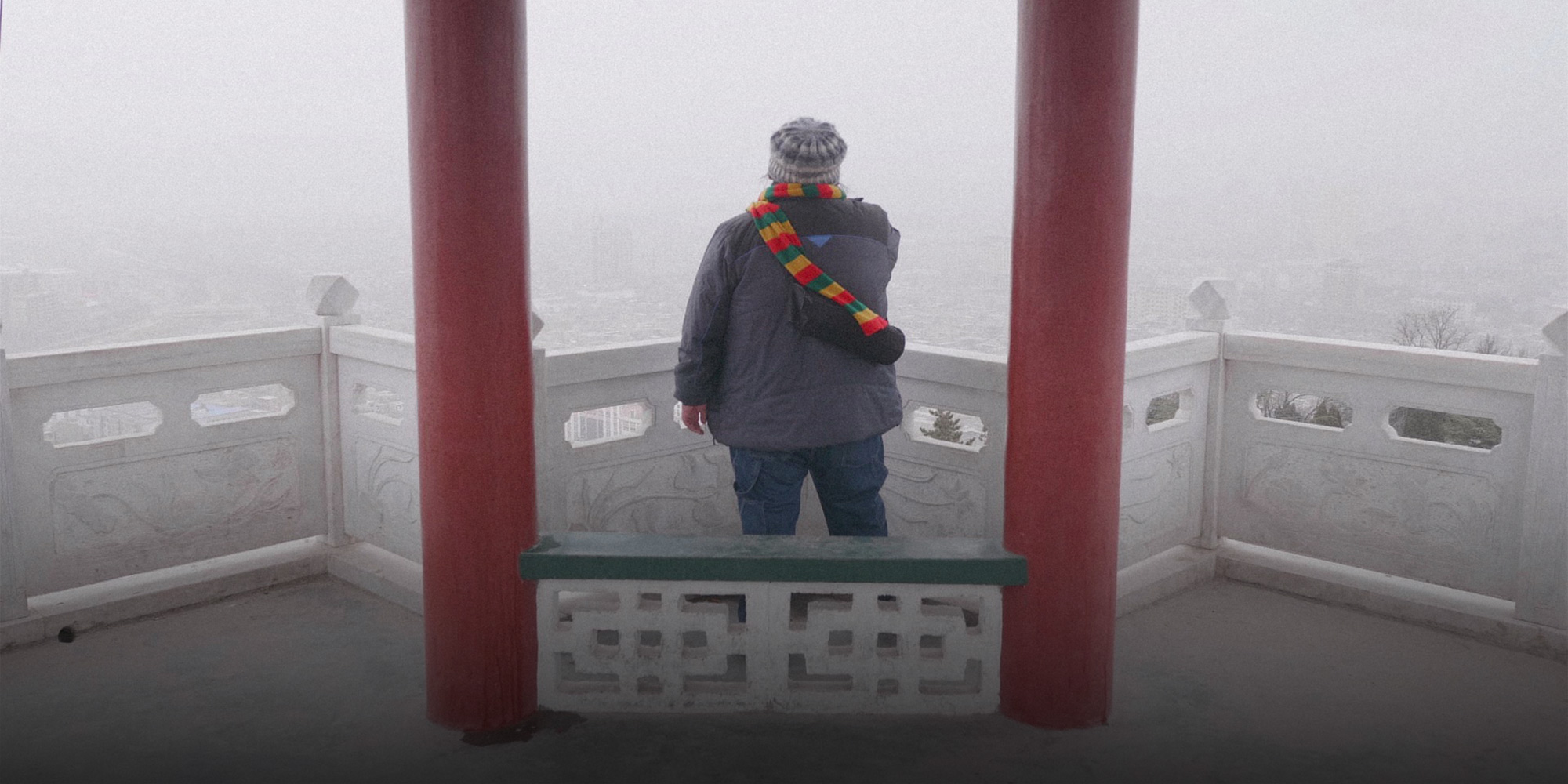 Q & A
China's Dejected Youth Find a New Anti-Hero: a 'Trashy' Wannabe Rapper
Aspiring hip-hop star Big Sponge has few fans, fewer friends, and so little money that he has to collect recycling waste to make some extra cash. But his story — captured in the award-winning film "Trashy Boy" — has resonated with disaffected young Chinese.
Inside a rundown apartment in northwest China, a rotund young man with long, braided hair is rummaging through piles of plastic bottles, cardboard boxes, and other waste strewn across the floor.
"It seems that trash isn't that valuable," the director comments. "No, but you can sell it. That's good, isn't it?" the man answers, without raising his head.
The exchange is typical of the gritty, yet gloomy mood that pervades "Trashy Boy" — an indie documentary about a struggling young rapper that has become a cult hit with Chinese millennials this year.
For the film, director Zheng Yifei follows his childhood friend Zhang Haichao as he tries — and miserably fails — to establish himself as a hip-hop star in his hometown in northwest China's Gansu province.
Zhang — who prefers to be called Big Sponge — is an unlikely leading man. Solitary, unsuccessful, and so poor that he has to collect and sell garbage to make extra cash, he spends much of the film gazing into space, roaming the streets, and fretting over what'll happen to him if his rap career fails to take off.
But it's precisely his helplessness that has made him a cult hero. The 25-year-old's doomed struggle to fulfill his dreams appears to have struck a chord with many young Chinese — a generation that has come of age amid sky-high youth unemployment, widening inequality, and draconian COVID-19 lockdowns.
"Trashy Boy" was the dark horse of this year's FIRST International Film Festival, China's leading independent film festival held in the northwestern city of Xining. It won the Audience's Choice Award and made the shortlist for Best Documentary — an impressive result given it was Zheng's first feature-length film.
For Zheng, the film's popularity springs from its relatability: Many viewers, especially those living outside China's wealthy major cities, feel "trashy" too, he suggests.
"It's a film for young people, who can find resonance in it," Zheng tells Sixth Tone. "I am also a trashy person."
Zheng and Big Sponge have both faced huge barriers to success due to their backgrounds. The pair grew up in Longxi — a remote county located on the Loess Plateau that was lifted out of absolute poverty only in 2019.
For Big Sponge, trying to make it as a rapper in Longxi proves to be an uphill battle. A high school dropout, the young man has been battling obesity, bullying, and depression since he was a teenager. But hip-hop has become his passion and consolation.
Now estranged from his family, Big Sponge lives an almost reclusive life in his rundown apartment. He has no job and barely has enough money to survive; he carefully stores every piece of trash to sell as recycling. All his time and energy is devoted to rapping — his sole emotional outlet.
In an attempt to jump-start his music career, Big Sponge begins hosting livestream shows where he makes hip-hop tracks on the spot. He manages to attract several thousand followers, and becomes something of a local influencer. To his dismay, however, his fans spend more time mocking his appearance than appreciating his music. His dreams of stardom go nowhere.
In reality, Big Sponge may have been destined to fail from the beginning. Hip-hop has been growing in popularity in China since 2017, when a string of reality TV shows including "The Rap of China" brought the genre to a mainstream audience. But the Chinese hip-hop scene is still heavily focused on major cities like Beijing and Chengdu. In rural Gansu, MCs are almost unheard of.
"My place is just too small," Big Sponge tells Sixth Tone.
The "trashy" label is a nod to this reality, Zheng says. Big Sponge has become "trashy" as a natural response to living in a deteriorating environment — one where social mobility is stalling and success seems out of reach, he says. It's a similar attitude to the one expressed by "let it rot," the popular slang term that captured the nihilistic outlook of many young Chinese in 2022.
"People share this sense of hopelessness," Zheng says. "For Sponge, I think he's fighting this kind of life by 'letting it rot.'"
Zheng could have easily followed the same path. After studying Tibetan language in Gansu's provincial capital, Lanzhou, he lacked direction and spent a restless few years working in youth hostels and theaters. He fell in love with film during this period, but breaking into the film industry as a graduate from Gansu with no experience seemed unlikely.
But the 31-year-old had the fortune to meet Zhang Nan, an independent filmmaker whose documentary "Stammering Ballad" — a portrait of the famous Chinese folk singer Ga Song — won acclaim and screened at the International Film Festival Rotterdam. Working with Zhang Nan allowed Zheng to get his foot in the door, and laid the foundation for his later success.
Speaking with Sixth Tone via phone from their homes in Beijing and Longxi, respectively, Zheng and Big Sponge discuss the meaning of being "trashy" and the hip-hop scene in China's smaller cities. The interview has been edited for brevity and clarity.
Sixth Tone: How did you become interested in hip-hop in the first place?
Big Sponge: It used to be very difficult to come into contact with hip-hop where I grew up. But when I was still at school, I heard a generic album from Yin Ts'ang at a record store. That was my first time listening to a rap song. I was raised in a very strict family — it's probably because of my family background that I don't like cursing — but I immediately fell in love with Yin Ts'ang. After that, I downloaded a lot of similar music and got into hip-hop. 
Sixth Tone: What was the rap scene like in Longxi? Is hip-hop popular there now?
Zheng Yifei: My hometown isn't some third-tier city; it's more like an 18th-tier small county. It used to be an important town on the ancient Silk Road, but now it's very small and earthy. So, in Longxi, hip-hop is an alien thing. Nobody is into it. Before "The Rap of China" branded hip-hop as trendy, hip-hop only existed in Beijing, Chengdu, and Xi'an, where this genre has strong local roots.
Sponge encountered hip-hop out of the blue. He first listened to rock legend Cui Jian, who had some rap songs, then Yin Ts'ang. But our hometown retained a very traditional lifestyle, so when a kid listened to that kind of music, nobody understood him. I didn't understand, either. His father used to say that when he was rapping, he sounded like he was chanting scripture.
When reality TV shows made hip-hop popular, young people in lower-tier places like Longxi began to discover this culture. Some people around Sponge began to understand what he was doing, and would approach him to learn how to rap. I think this is the power of business branding.
Big Sponge: There have always been very few people who do hip-hop in Longxi. I tried to promote this culture, but now I'm not enthusiastic anymore. Reality shows have made hip-hop popular, but I don't necessarily agree with what the newcomers have learned from hip-hop celebrities.
Sixth Tone: As one of the first local rappers, how do you view your role in building Longxi's hip-hop scene?
Big Sponge: I truly think I played a part. I didn't just rap by myself; I also tried to bring together everyone I knew — bands and folk singers — to put on shows. But the reaction wasn't so enthusiastic, because there wasn't a big audience for it. Still, I am happy that I made an effort.
I don't consider myself part of the hip-hop scene, and I only chat with a few friends and like-minded people. Living in a small place, I don't talk with people about hip-hop. Most of them love to make fun of it, and I don't want to argue with them. Now, I sometimes do livestreams, but the views are in the hundreds — just a few. I'm just about getting by now, whatever.
Sixth Tone: Where did the term "trashy" come from?
Zheng Yifei: When I started to brainstorm ideas for the title of my film, popular buzzwords like "lying flat," "involution," and "letting it rot" didn't exist yet. I didn't know the slang, but I think this feeling of being trashy is something that we all share. Society is full of pressure, and there is a very narrow channel for social mobility — and the inequality is widening. Given that reality, I think it becomes inevitable that this sense of hopelessness penetrates the heart of every young person.
After I chose this title, many people said to me that they wanted to watch the film just because of the name. They wanted to know whether the story was about them. The name is attractive. I am also a trashy person; we all think of ourselves that way.
Editor: Dominic Morgan.
(Header image: A still from the documentary "Trashy Boy." Courtesy of Zheng Yifei)