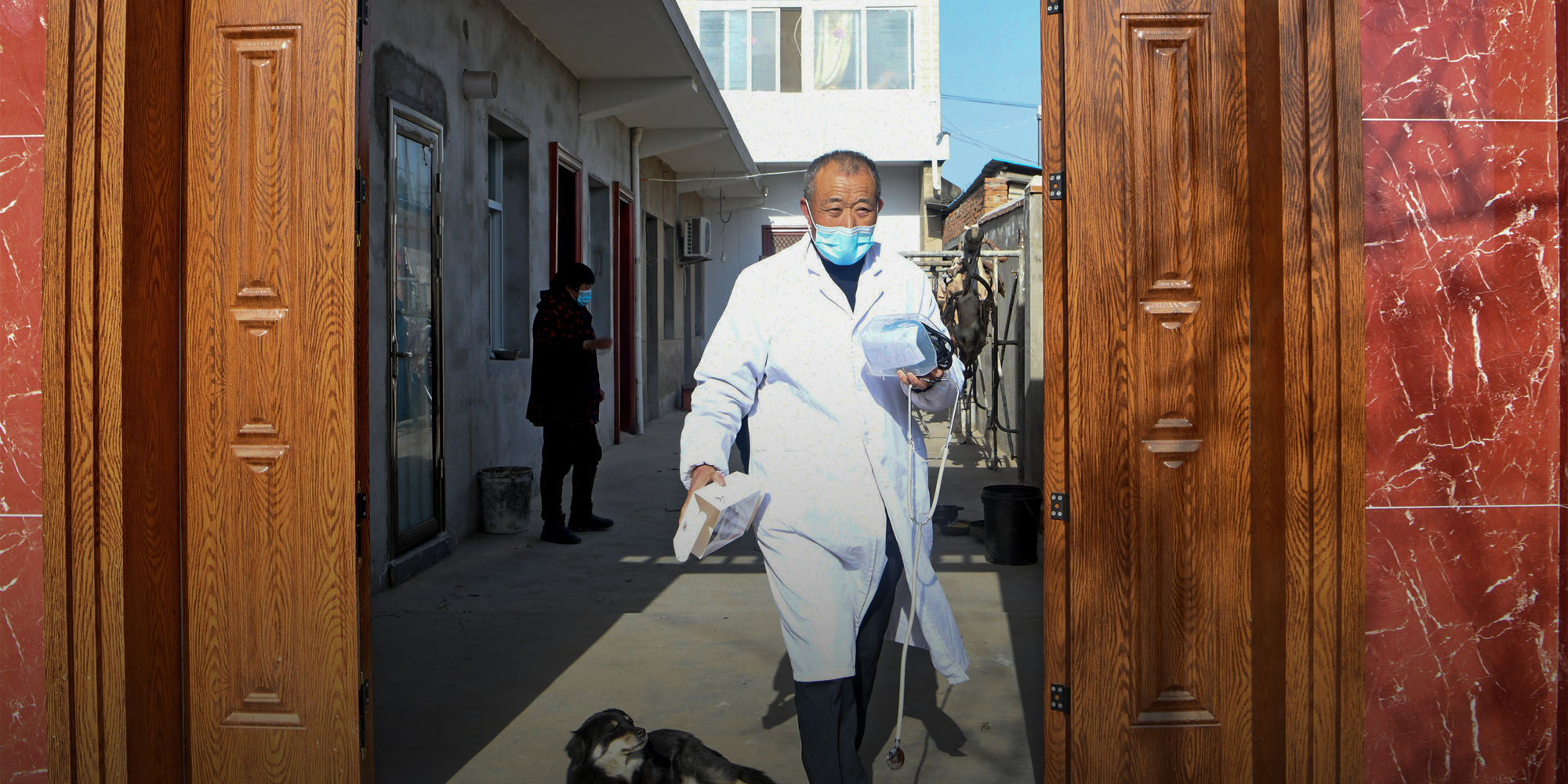 VOICES & OPINION
As Cities Ride the Surge, How Rural China Can Brace for Covid Impact
As Spring Festival nears, many county towns are already staring at health care staff and medicine shortages.
After three years of stringent COVID-19 measures, China began relaxing restrictions on Nov. 30. Most recently, on Dec. 26, the National Health Commission announced that China's management of the pandemic would be downgraded, and that incoming travellers would no longer be required to quarantine.
In the month since the policy shift, COVID-19 cases have surged across the country. Beijing, Shanghai, and other major cities are already experiencing drug shortages and strained hospital resources as their case numbers peak.
But the greater challenge perhaps lies in China's vast rural areas, where the elderly account for an increasing percentage of the population, and where medical resources are scarce. This challenge is likely to be compounded as millions of migrants return to their hometowns for the upcoming Spring Festival that begins Jan. 21.
The pandemic has rapidly spread from large and medium-sized cities to counties and rural areas. Though rural areas have a low density, low rate of population mobility, and relatively low degree of exposure, many county towns are already staring at shortages of health care staff and medicine.
With the inevitable wave of internal migration during Spring Festival, the spread of the pandemic in rural areas could dramatically worsen.
Over the last three years, many migrant workers in the city have been unable to return to their rural hometowns because of mobility restrictions that containment measures mandated.
Now that these restrictions have been reduced, the movement of this population will undoubtedly increase. Moreover, pre-holiday markets in rural areas are booming, while activities such as visiting friends and relatives as well as events like weddings and funerals are bound to increase.
Combined, all these factors will accelerate the spread of the pandemic throughout the countryside. Based on my judgement of the situation, I believe that the infection rate in rural China may reach as high as 50% after the holidays.
China's rural areas have thus far received less attention compared with large cities when it comes to COVID prevention. However, they may be far more vulnerable than cities in the event of a sudden outbreak. On the one hand, since most young adults in rural China leave to work temporary gigs in the city, villages are mostly abandoned with the exception of elderly empty-nesters.
In some areas, more than half the local population is aged over 60 and is therefore at greater risk of complications from COVID. For example, a survey of 3,371 people over the age of 65 in a township in the northwestern Shaanxi province showed that the proportion of people at medium to high risk was greater than 27%; and though the rate of vaccination was high, more than one-fifth of the survey group had chronic diseases and unstable conditions.
On the other hand, the quality of health care in rural China pales in comparison to that of urban areas. First of all, many places already suffer from a serious shortage of drugs, blood oxygen tests, and antigen tests, not to mention respirators and other crucial equipment.
According to a report on a township of more than 30,000 people in the central Henan province, when cases reached their peak with more than 300 people seeking medical assistance per day, the health center only had five boxes of ibuprofen, several boxes of TCM cold-relief granules, and one box of cephalosporin injections.
Previously, to prevent the ill from spreading the virus while consulting doctors and buying medicine themselves, a policy stipulated that primary health care institutions could not receive patients with ten major symptoms including fever, a dry cough, a runny nose, and diarrhea.
Some village doctors who accepted fever patients even received criminal punishments. On many occasions throughout the pandemic, primary care institutions' reserves of four types of drugs — antipyretics, cough medicine, antiviral drugs, and antibiotics — have been liquidated, while the sale of these drugs has also often been banned in pharmacies.
Due to prior bans and restrictions on sales, many rural primary care institutions had no drugs in stock at all when the restrictions were loosened. Simultaneously, due to the government's stifling of the market demand for these drugs, pharmaceutical companies chose to limit their production, leading to a severe shortage in their supply.
The rural health care system is also severely understaffed. Medical resources in rural areas were already strained before the pandemic: The dwindling community of village doctors is aging and young people are unwilling to take up the baton.
Rural health workers have also been under tremendous pressure over the last three difficult years of fighting the pandemic. China's strict measures have largely curbed outbreaks in rural areas, but at the same time, in order to achieve the objective of "dynamic zero-COVID," grassroots medical personnel have had to endure treacherous journeys to carry out nucleic acid tests in mountainside villages, set up prevention and control checkpoints, as well as track down first- and second-degree connections of positive cases.
These tasks consume virtually most of their time and energy. Many staff have also been transferred to other regions to help with the testing and transportation of positive cases to quarantine facilities. As rural medical practices have largely been deserted, revenue has shrunk considerably, and some haven't even received their government subsidies. As a result, many village doctors have chosen to resign.
But even among those who refuse to walk away, many lack proper training and skills to cope with the pandemic. There are still many doctors and clinics in rural areas that primarily treat diseases through intravenous infusions. While this approach has not been proven effective in treating COVID-19, it also wastes already limited medical resources. Infusions lead the already dwindling number of primary medical staff to be run off their feet, undoubtedly putting them at a greater risk of infection.
Now that the floodgates have been opened, rural areas will have tremendous difficulty responding to the increased demand for health care — whether in terms of drugs, human resources, or COVID-19-related expertise, they will need to fight tooth and nail to flatten the next curve.
Given that population structures and medical conditions in rural China are vastly different from those of urban areas, measures from the latter can't be blindly applied to the former.
First of all, in the current circumstances, an emphasis on prevention above all else is unlikely to be successful, because it is difficult to identify where the pitfalls lie. However, rural areas can nonetheless avoid the worst by reducing their residents' risk levels to the greatest possible degree.
This means conveying to residents with underlying conditions the importance of keeping these conditions in check, as well as urging unvaccinated residents to get vaccinated as soon as possible.
Second, rural areas must do a good job of managing high-risk groups. In recent years, local health systems have established health records for residents in their areas and therefore should have a good understanding of their underlying conditions and vaccination history.
This information should allow systems to define the risk level of residents under their jurisdiction and manage them accordingly so that primary care institutions with fewer resources can identify and refer patients to bigger hospitals in a timely manner and, in doing so, reduce the rate of serious illness and mortality.
Third, when cases rise rapidly in rural areas, especially during Spring Festival, governments should try their best to prepare primary health care institutes with drugs and medical devices.
But if medicine shortages cannot be promptly resolved, health care institutions should bring into play their Traditional Chinese Medicine (TCM) resources, which are not yet in short supply, as well as medicinal herbs that can be readily picked in the local area.
Primary health care institutions can prepare traditional medicinal decoctions for the general public in accordance with national and local prevention and treatment programs. As for the current lack of antigen test kits, whether people obtain a positive or negative result is irrelevant: Everyone presenting flu symptoms should receive the same treatment.
But we also need to be prepared for the fact that a rise in the number of infections due to Spring Festival migration is inevitable, and the spread of the coronavirus throughout rural areas could last a long time.
The insufficiency and unequal distribution of rural health care resources is a long-standing problem. In the face of a widespread outbreak, it's all the more important that we address these shortcomings head-on.
Translator: Lewis Wright; editors: Cai Yiwen and Apurva; portrait artist: Wang Zhenhao.
(Header image: A village doctor walks out of an elderly person's house in Shou County, Anhui province, Dec. 21, 2022. Chen Bin/VCG)