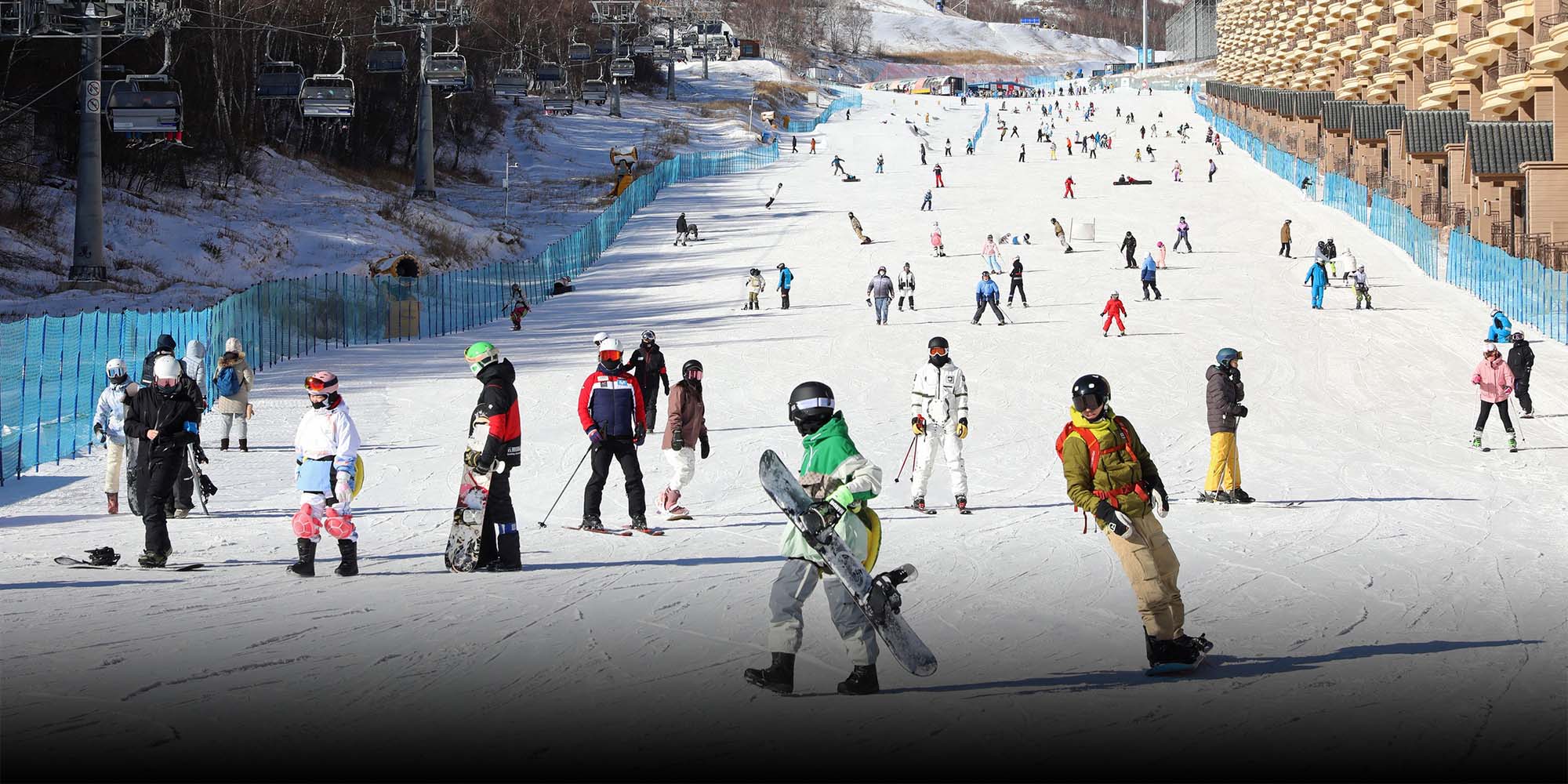 NEWS
Recovered From COVID, Young Chinese Are Now Gripped by Snow Fever
Although ski resorts are not as crowded as last year's holiday season, they're gradually witnessing a rebound.
China's ski slopes were hoping to welcome massive crowds this winter just as the country lifted almost all of its virus control measures. But they've largely remained empty, as people either caught COVID-19 or remained indoors fearing infections.
Now, with many of them — particularly the young — recovered from the virus, they have headed for winter sports destinations to celebrate the New Year's holiday. Major ski resorts in the capital Beijing and neighboring Zhangjiakou in Hebei province — hosts of the 2022 Winter Olympics — were among the first to show signs of recovery.
Hao Shihua, a skiing coach in the Chongli area of Zhangjiakou, told Sixth Tone that the resorts have seen more footfall since Christmas, with several more joining the New Year celebrations. Online travel platforms said that there was an uptick in searches for ski resorts, with Chongli ranking third.
"There have been fewer than last year's peak period, as people are cautious," Hao said. "Most of the visitors were young people, and there weren't so many families."
Winter sports have become a newfound interest for many Chinese, who have been buoyed by the Beijing Winter Olympics that contributed to their increase in popularity. As of 2019, there were over 770 ski resorts in China, with that number expected to reach 1,000 by the end of 2022.
To attract visitors amid the strict virus restrictions, many ski resorts were previously offering discounted travel packages, though prices have shot up for the holidays. Luo Zijuan, who headed to the Wanda Changbai Mountain Ski Resort, said she paid at least 5,400 yuan ($780) for the five-day trip.
The 28-year-old said she arrived at the resort in the northeastern Jilin province on Dec. 29, just days after recovering from COVID, though experts have warned against doing strenuous activities for a few weeks after being infected. She added that though there were fewer people when she arrived, the number of visitors increased by about 10 times on New Year's Day.
"My body felt energized the moment I hit the slope," she told Sixth Tone.
Ma Nan, a coach at Beidahu Ski Resort in Jilin province, told Sixth Tone that the resort only started fully operating from mid-December, just as many people were getting infected. Though they remained away for the first few weeks, the crowds are slowly trickling back.
"Now I am glad to see it get crowded by visitors from everywhere," Ma said. "I am pretty sure the upcoming Lunar New Year holiday will witness another tourism peak."
Editor: Bibek Bhandari.
(Header image: People ski at Yunding Ski Resort, Zhangjiakou, Hebei province, Jan. 1, 2022. IC)