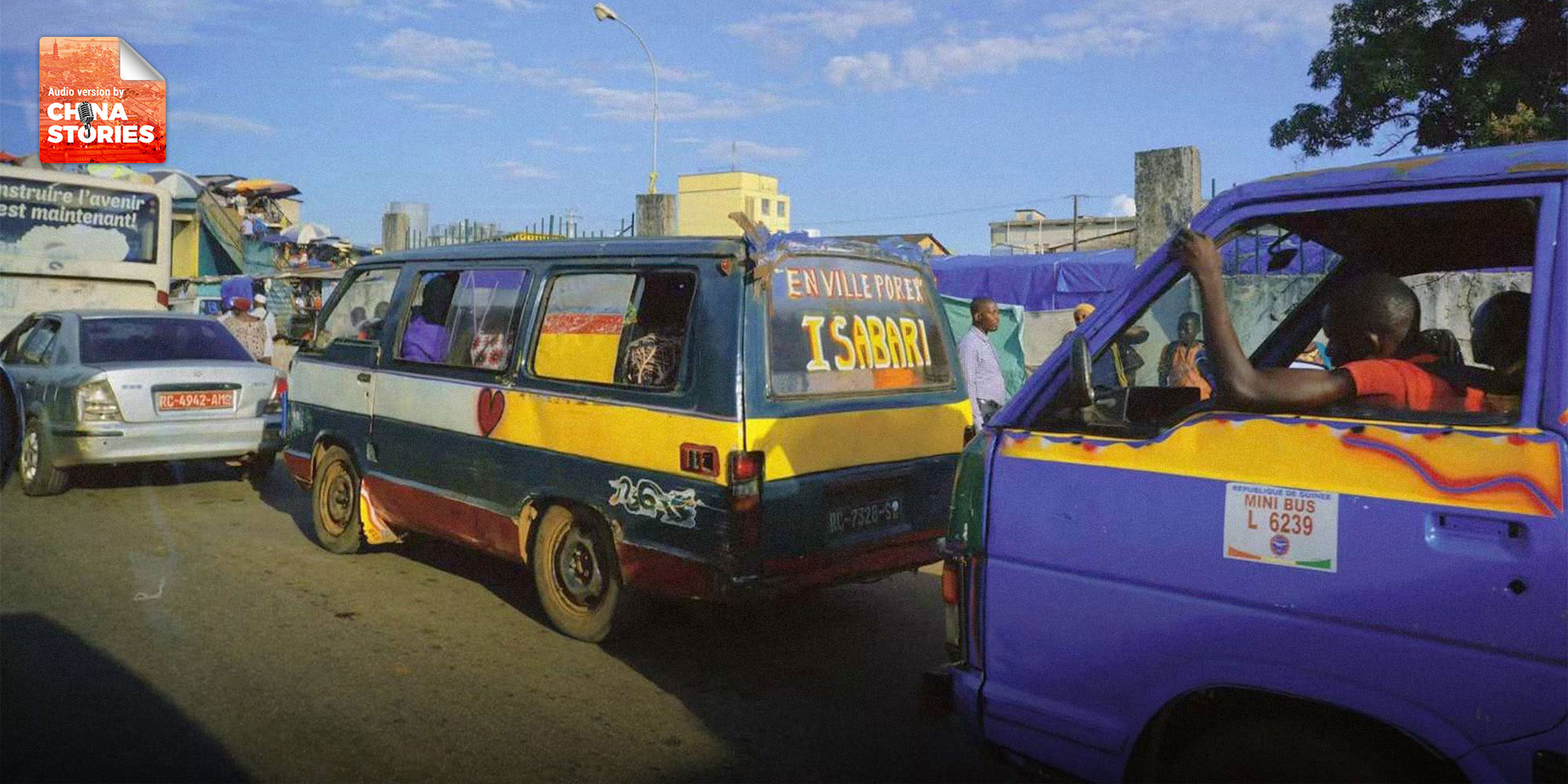 FEATURES
With Jobs at Home Scarce, Young Chinese Are Heading to Africa
Today's Chinese graduates are facing the toughest domestic job market in decades. That's leading many to look further afield for opportunities.
When Zhu Yuying began looking for graduate jobs this fall, the finance major quickly realized it was going to be tough going.
The 24-year-old sent out around 70 applications, attended rounds of interviews, but only managed to secure offers for positions providing meager starting salaries of 90,000 yuan — just under $13,000 — per year.
Then, one day, a video caught his eye on the Chinese social platform Bilibili. In it, a vlogger suggested an unconventional way to find a high-paying job: moving to Africa.
Intrigued, Zhu followed the vlogger's advice, and sent his résumé to several Chinese state-owned enterprises. Within days, he'd been hired as a financial assistant by a construction group operating on the continent.
The company didn't tell Zhu to which African country he'd be sent, but the annual salary was enough to convince him to take the job. He's starting on 240,000 yuan, with the figure set to rise by tens of thousands each year.
"I plan to work in Africa for a few years and then come back when the economy is better," Zhu tells Sixth Tone. "It's easier to find a job in Africa right now."
For young Chinese, moving to Africa is becoming a trendy choice in 2022. With China's youth unemployment hitting record highs, millions of graduates are struggling to find decent jobs at home — and are increasingly looking further afield to find work.
Many of them are trying their luck in Africa. Working for a Chinese company operating on the continent has disadvantages, chief among them the security concerns: In many African countries, Chinese workers spend almost all their time confined inside their employer's compound due to the tight security measures.
But the advantages — high salaries, generous vacations, and a less frenetic pace of work — look enticing to a generation that has come of age amid China's pandemic-stricken economy. Some graduates also value the opportunity to see the world, develop their foreign language skills, and experience new cultures.
It's unclear exactly how many Chinese graduates are moving to Africa, but there has been a noticeable uptick in interest in the topic on Chinese social media. Chinese recruiters say they've also seen a marked increase in the quantity — and quality — of graduate applications this year.
'Double not' applicants
Li Yao, a 26-year-old who works for a Chinese company in Guinea, has witnessed the transformation first-hand. Since she started vlogging about her life in the country in 2020, she has seen a growing number of Chinese influencers start to post similar content, she says.
Posts with advice on moving to Africa appear to do particularly well: how to find work, what to pack, the do's and don'ts of living in different countries, Li says. Her own posts on these topics now often receive floods of questions and comments.
"Even if I don't post those kinds of things, there'll be one or two people every day asking questions like, 'How's this African country?' or 'How's this company?'" Li tells Sixth Tone.
Many of the graduates considering a move to Africa have one thing in common: They studied at universities outside Project 211 and Project 985 — the groups of around 100 Chinese universities considered to be the best in the country.
These alumni of middling universities outside the two Projects — often derided as shuangfei, or "double not," graduates — are struggling to find work in China this year. Chinese employers tend to pay a lot of attention to which universities applicants attended. And the graduate job market has never been more competitive.
China's youth unemployment rose to nearly 20% this summer, and things look set to get even harder. This fall, many Chinese employers announced plans to slash graduate recruitment amid a sharp economic slowdown.
In Africa, however, Chinese grads are in demand. Trade between China and Africa has remained robust throughout the pandemic: In 2021, total trade between the two sides rose to a record $254 billion, up 35% year-over-year. Chinese investment on the continent also continues to grow steadily.
Ma, a 24-year-old accounting graduate, also agreed to move to Africa after trying and failing to find a job at home. Like Zhu and Li, Ma — who gave only her surname for privacy reasons — had attended a "double not" university, and found she had limited career options after graduating this summer.
She applied for around 300 positions in China, but only received two offers from companies promising an annual salary of 50,000 yuan. Then, like Zhu, she began looking at Chinese companies in Africa, and quickly secured a job offering a far higher wage.
But even Africa-based jobs are becoming competitive as the buzz around moving to the region grows on Chinese social media.
Ida moved to the Democratic Republic of the Congo in late 2021, after finishing her bachelor's degree in French from a "double not" college. Besides the chance to earn more money, she said the prospect of escaping China's strict "zero-COVID" policies was a major reason behind her decision to work abroad.
Despite catching malaria five times, the 23-year-old says she is delighted with how the move has worked out. She has been particularly impressed by the conditions in the compound, where her employer — a Chinese state-owned conglomerate — provides free food and accommodation for its staff.
"The accommodation is even better than expected, with a personal dorm," says Ida, who spoke with Sixth Tone using a pseudonym for privacy reasons. "I'm very satisfied."
An investment and recruitment manager at a Chinese state company in Algeria, who gave only his French name Luc for privacy reasons, says that late 2021 was an inflection point for Chinese recruiters in the region.
During 2020, as the pandemic raged overseas but infections were quickly suppressed in China, many companies in Africa struggled to hire, he says. But that changed when China began ramping up its "zero-COVID" measures to contain the highly infectious Omicron variant.
"Since the end of 2021, recruitment became easier, and this year it became extremely popular," says Luc. "The number of interviewees increased by 80%."
Ida, the French graduate working in the DRC, says that Chinese students who studied at top foreign language universities in China and France are now applying to join her company. Many of them even hold a master's degree, she adds.
Li has also noticed that more and more graduates from top universities have started to ask her questions about working in Africa. To her amazement, some have told her they're worried they might fail to find a job there.
"I was confused," says Li. "Since when did African jobs become so attractive?"
Life inside the compounds
In many cases, these graduates are choosing to move overseas for highly pragmatic reasons. Like Zhu, a large number see working in Africa as a stopgap — a way to build up savings while waiting for conditions in China to improve.
When asked about the advantages of living in Africa, most of the young people who spoke with Sixth Tone focused on financial concerns: the high salaries and free accommodation on offer, as well as the low cost of living.
Others mentioned the long vacations: Many Chinese companies in the region offer a full month of paid leave for every three to five months of work completed — far more than the typical employer in China. A few also said they valued the less intense pace of work compared with back home.
When it comes to the drawbacks of living there, safety concerns are often top of people's minds, according to Li. The vlogger says she tells her followers that security conditions vary across the continent: Northern Africa is generally safer than southern and eastern Africa, which is in turn normally safer than central and western Africa.
Currently based in Guinea, where a coup happened last year, Li says she advises Chinese workers to avoid crowded places, public transport, and going out at night. She also recommends asking a local friend to accompany them when shopping, as locals often rip off Chinese expats, believing they are wealthy.
The medical situation is another common source of concern. Many Chinese who have never lived in sub-Saharan Africa fear catching malaria, according to Li. But Ida, who has caught the disease every three months since moving to the DRC, says that the disease is rarely worse than the flu, as most African countries have a mature system for treating it.
"What I fear about malaria is that it will delay my work, because I need to go to the hospital for injections," she says.
But accessing treatment for more regular health issues, such as a toothache, can be more difficult. "The health care here is bad, so it's difficult to get doctors," says Ida. "For us, it will take about two hours to get to a standard hospital owned by foreigners. And it's not cheap."
Due to these concerns, almost all the graduates Sixth Tone spoke with had opted to work for Chinese state-owned enterprises. State firms are generally viewed as safer and more reliable employers in China — and that appears to be especially the case when it comes to working overseas.
"There are quite a few cold-hearted bosses at private companies in Africa," says Ida. "And state companies can react better if there is a war. Parents also feel more comfortable if it's a state company."
But the tight security enforced by Chinese state companies in Africa also has downsides. Many workers find their freedom of movement is heavily restricted. Several sources, including Ida, say they can only leave their company's base if they can prove their trip is "necessary" and get their bosses' explicit approval.
Stuck inside their compounds, Chinese workers often complain bitterly of boredom. Many claim there is a lack of entertainment options in most African countries compared with China. The fact they are physically and socially isolated from the rest of society — and often have little passion for exploring the local culture — only makes things more difficult.
Li says she became a vlogger in large part as a way to fill up her time. The boredom is so overwhelming, Li says she cries almost every month, and occasionally suffers "emotional breakdowns." She suspects many other Chinese influencers in Africa are making content for similar reasons.
"I'm far away from my family and far away from the interesting life in China," she says. "Sometimes, I ask myself why I spent all my youth in Africa."
Planting roots
Many of the workers spend significant time plotting their return to China — and worrying about how easy it will be to do so.
Often, they feel like the clock is ticking: In China, it's still common for families to expect their children to buy property, get married, and start families by the time they turn 30.
Some workers took jobs in Africa precisely because they thought it would help them stick to this timetable. They want to gain useful work experience, save up as much money as possible, then head back to China to settle down.
But that can be easier said than done. Ida worries whether she'll be able to find a good job back in China: The experience she's accumulated in Africa might not be valued by employers back home.
"You have planted your roots in Africa," she says. "If you go back, it's like uprooting yourself."
Workers often joke about getting stuck overseas. "If you spend one day in Africa, you'll spend your whole life in Africa," the saying goes. By this, they mean that Chinese expats often get used to the high salaries, long vacations, and sense of adventure that come with working in Africa, and can't find satisfactory work back home.
Yet, despite all their complaints, many of the workers do appear to have developed an affection for their new homes. Li talks excitedly about the seemingly never-setting sun in Guinea. Ida revels in the slow pace of life in the DRC. Suna, a long-term Africa resident, is still thrilled by the sight of the Mediterranean Sea after a decade living in Algeria.
Zhu, meanwhile, says he's excited to move there. Though he's still uncertain where he'll be posted, he feels that working in such a dynamic region will provide him with lots of opportunities.
For now, he expects to work in Africa for three years. But he doesn't rule out staying longer. He's in no rush to get married, and his parents are in good health. The long vacations will even allow him to see them for two months each year — longer than if he was working in China, he says.
"If the job really has potential, and if my family supports me, I could actually spend my entire working life in Africa," Zhu says.
Editor: Dominic Morgan.
(Header image: A street view in Guinea, 2021. Courtesy of Li Yao)