SHANGHAI — Two days after Shanghai's Jinshan District rolled out its second booster dose against COVID-19 for high-risk and older residents, volunteers set up a mobile vaccination center on Wednesday, as residents rolled up their sleeves to guard them against the coronavirus that is running wild nationwide.
Masked up and wrapped up in their cozy winter clothes, many of the elderly from the district's Zhongmin Village walked to the vaccination center, as volunteers explained to them the benefits of the vaccine. Xu Yafang, 64, was among them.
"I'm afraid (of the virus) so I came here for the vaccination," she told Sixth Tone after getting the shot. "I exercise for an hour every morning and always keep my mask on when outside."
Wednesday's initiative in Shanghai is part of the central government's push — which had been lagging — to vaccinate and boost the elderly after the country suddenly eased most of its virus control policy earlier this month. Volunteers are either setting mobile vaccination camps or going from door to door to those with mobility and other health issues.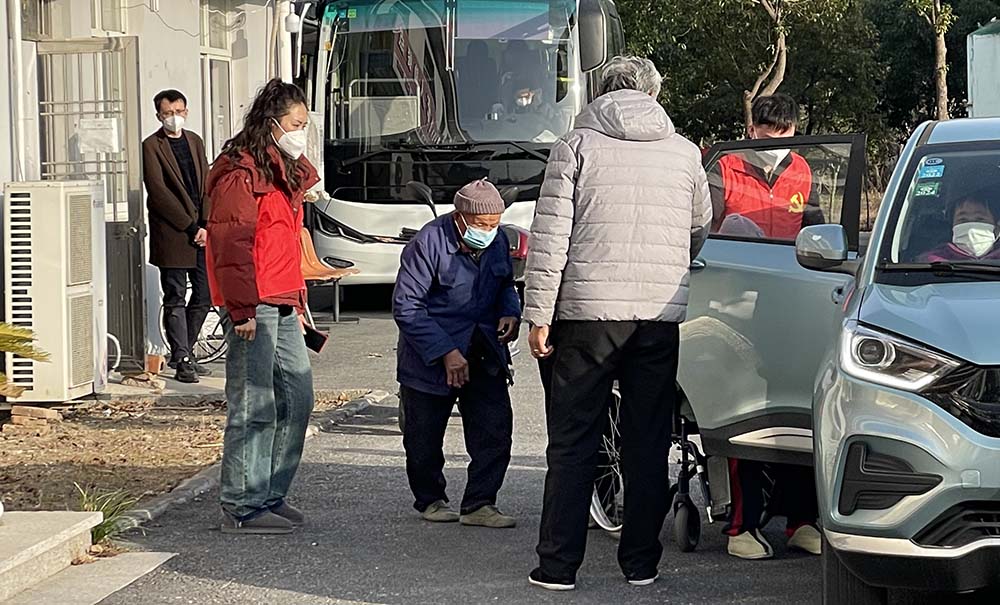 Volunteers offer to drive an older resident to a vaccination center, Shanghai, Dec. 21, 2022. Yang Caini/Sixth Tone
The country's top health officials have said that people over the age of 60 were at a greater risk of severe illness from COVID, with those in the over-80 demographic facing even more complications.
China is home to an estimated 260 million people over the age of 60, who are more vulnerable to the coronavirus. As of November, some 25 million people over the age of 60 hadn't been vaccinated against COVID and only about 40% of those over 80 had received a booster, according to official data.
Xia Gang, director of the health immunization division at the Chinese Center for Disease Control and Prevention, attributed a lower vaccination rate among older people to their lack of awareness of the risks of COVID. Many with underlying health conditions were also concerned about side effects that may further restrict their mobility.
In Zhongmin Village, Wang Yaqian, who works at the local community health care center, concurred that many older people were still wary of the vaccine's side effects, adding that they were partnering with grassroots medics to gain their trust. She said the two-hour mobile vaccination camp has been vaccinating about 120 people, and on Wednesday many were there for their second or third shot, while over two dozen of them had come for their fourth booster.
"The key is cooperation with family doctors," she told Sixth Tone. "Locals have great trust in them. We have to cooperate with them to convince the elderly about getting vaccinated."
Experts say that vaccination against COVID remains one of the most essential defenses against the virus, especially for older people and those with long-term conditions.
"Though vaccination cannot guarantee people from getting infected, it's been confirmed that vaccination is essential to protect people from death or serious illness after infection," Hu Bijie, director of the department of infectious diseases affiliated to Fudan University, told state media.
(Header image: An older woman gets COVID-19 vaccine in Beijing, Dec.11, 2022. Hou Yu/CNS/VCG)