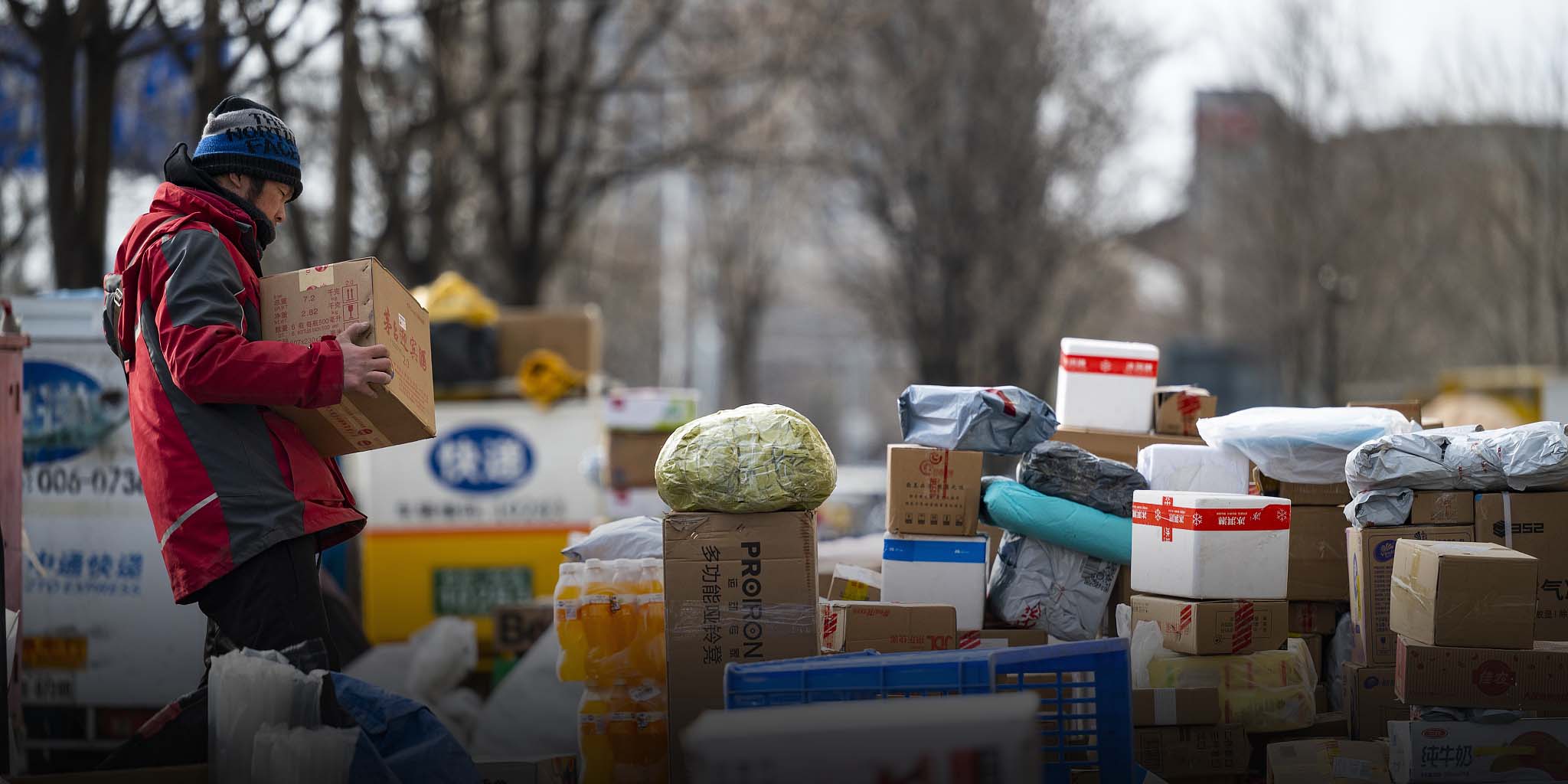 NEWS
Beijing's COVID Surge Stretches City's Delivery Workforce
Courier companies are transferring workers from other cities and offering more pay to meet the demand for mounting orders.
China's coronavirus-stricken cities are stacking up more challenges onto overloaded delivery networks, highlighting the logistical pressures the country may face after stringent pandemic control measures were stopped earlier this month.
The State Post Bureau, which regulates the country's postal services, called on delivery companies Tuesday to send couriers from other parts of the country to Beijing to support the capital city while prioritizing last-mile deliveries for medicine and health care products. Anecdotal evidence suggests that Beijing is currently under assault from the coronavirus, with authorities saying that the number of fever patients had surged to 22,000 on Sunday, 16 times higher than the figure the previous week.
Chinese cities that have been weathering coronavirus outbreaks recently are facing a shortage of delivery forces due to mounting orders following an increase in COVID cases and the "Double Twelve" shopping festival, according to media reports. The rising number of delivery workers who have been infected and couriers returning to their hometowns earlier for Lunar New Year next month have worsened the shortage, especially in Beijing.
The manager of a logistics distribution center in Beijing, which employs more than 40 delivery personnel, told local media that nearly half of the workers have been sick with COVID. Another executive from YTO Express said they were facing a labor shortage despite doubling daily pay to 400 yuan ($55).
Beijing residents Sixth Tone spoke with, who had all tested positive for COVID, said they had encountered different degrees of difficulty when ordering food and groceries online and faced delayed deliveries for their parcels. White-collar worker Emilie Wang said her purchases made on Monday would only arrive a week later "due to changes in COVID prevention measures," an unusually long time for people used to next-day deliveries.
"To buy fresh food online, I need to set an alarm for 6 a.m. each morning so that I can place orders before all the delivery workers are booked for the day," said Wang, adding that she and her husband decided to stay indoors to avoid infecting others.
Amid a labor shortage, thousands of couriers from delivery companies including JD.com, STO Express, and SF Express were transferred to Beijing as of Wednesday, with employers promising increased pay and welfare for the workers, according to the State Post Bureau.
A spokesperson from Meituan told Sixth Tone that the food delivery platform was also recruiting drivers, while a representative from on-demand delivery app JD Daojia said they planned to attract drivers by offering more incentives.
Outside of Beijing, metropolises such as Chongqing and Guangzhou have also started to see a rise in coronavirus infections. The virus is likely to spread to the rest of the country, including eastern, northwestern, and northeastern regions, around the beginning of next year, according to data compiled by the stock trading and finance information service Tonghuashun.
Editor: Bibek Bhandari.
(Header image: A delivery worker holds a package at the entrance of a residential compound in Beijing, Dec. 15, 2022. VCG)