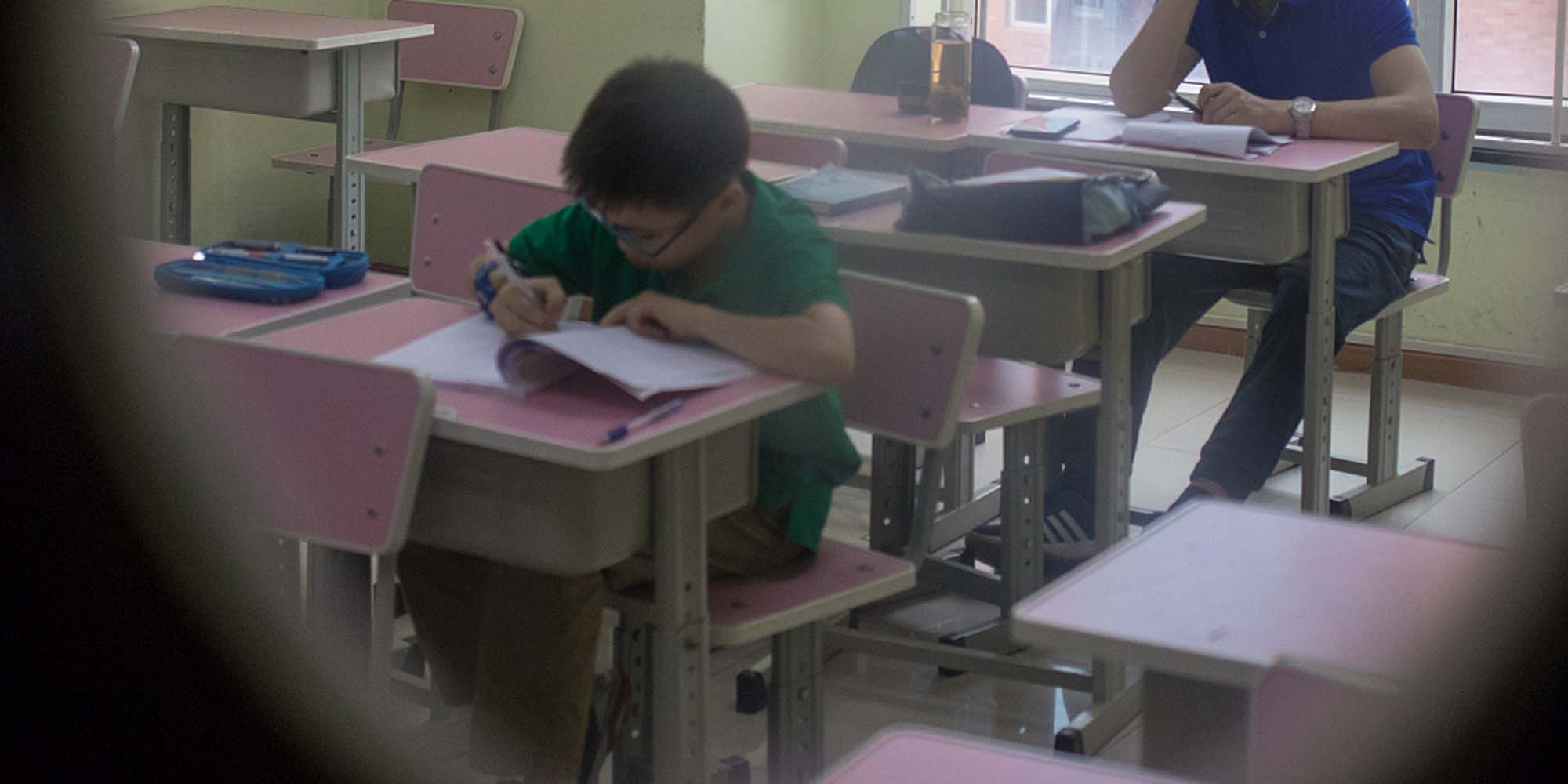 NEWS
China Is Cracking Down on 'Hidden' Tutoring Schools
Authorities are adamant on getting rid of private after-school classes, which they say add an academic and financial burden on students and parents, respectively.
More than a year after banning private academic tutoring, Chinese authorities have found that their efforts are still inadequate — and they're trying to fix that.
Twelve government departments, led by the Ministry of Education, published a new guideline Tuesday, targeting underground tutoring activities and pledging to stamp out the trend by June 2024. The plan aims to set up a "basic mechanism to prevent, locate, and punish" offenders in the next six months.
"The various forms that hidden tutoring comes in, compounded by the unsound tackling mechanism and lack of collective efforts, have to some extent undermined the 'double reduction' reform," the guideline said.
In July 2021, China announced the "double reduction" policy in a bid to ease the academic burden on students and save parents from spending eye-watering amounts on after-school classes. The campaign sent shockwaves through the $300 billion industry, leaving household names in the education sector spinning and sending tens of thousands of people out of work.
Though authorities initially claimed the policy was working, it has led to a large number of tutoring firms offering classes secretly, with as many as 3,000 of them providing illegal academic training during the second quarter of 2022, according to the education ministry. In July, a Sixth Tone investigation found an emerging black market that particularly targeted rich families eager to give their children a competitive edge.
The new regulation also urged local officials to curb illegal academic tutoring hidden in venues such as residential compounds, commercial buildings, hotels, and cafés through "community management." Additionally, the ministry also called for supervision of online job websites to be strengthened, and job ads related to after-school tutoring to be banned.
Authorities have asked schools to discourage students and parents from supporting private tutoring activities, calling upon guardians to instill "correct educational values." But parents, who were already anxious over the closure of private classes, said they are still willing to pay for such services, even if they were illegal.
"The 'double reduction' policy hasn't made us less anxious about our kid's education at all," a mother of four surnamed Xu from Guangzhou told Sixth Tone. "It's not just about wanting them to be the best. It's more about the fact that we feel incapable of teaching our children and need more professional support."
Editor: Bibek Bhandari.
(Header image: VCG)