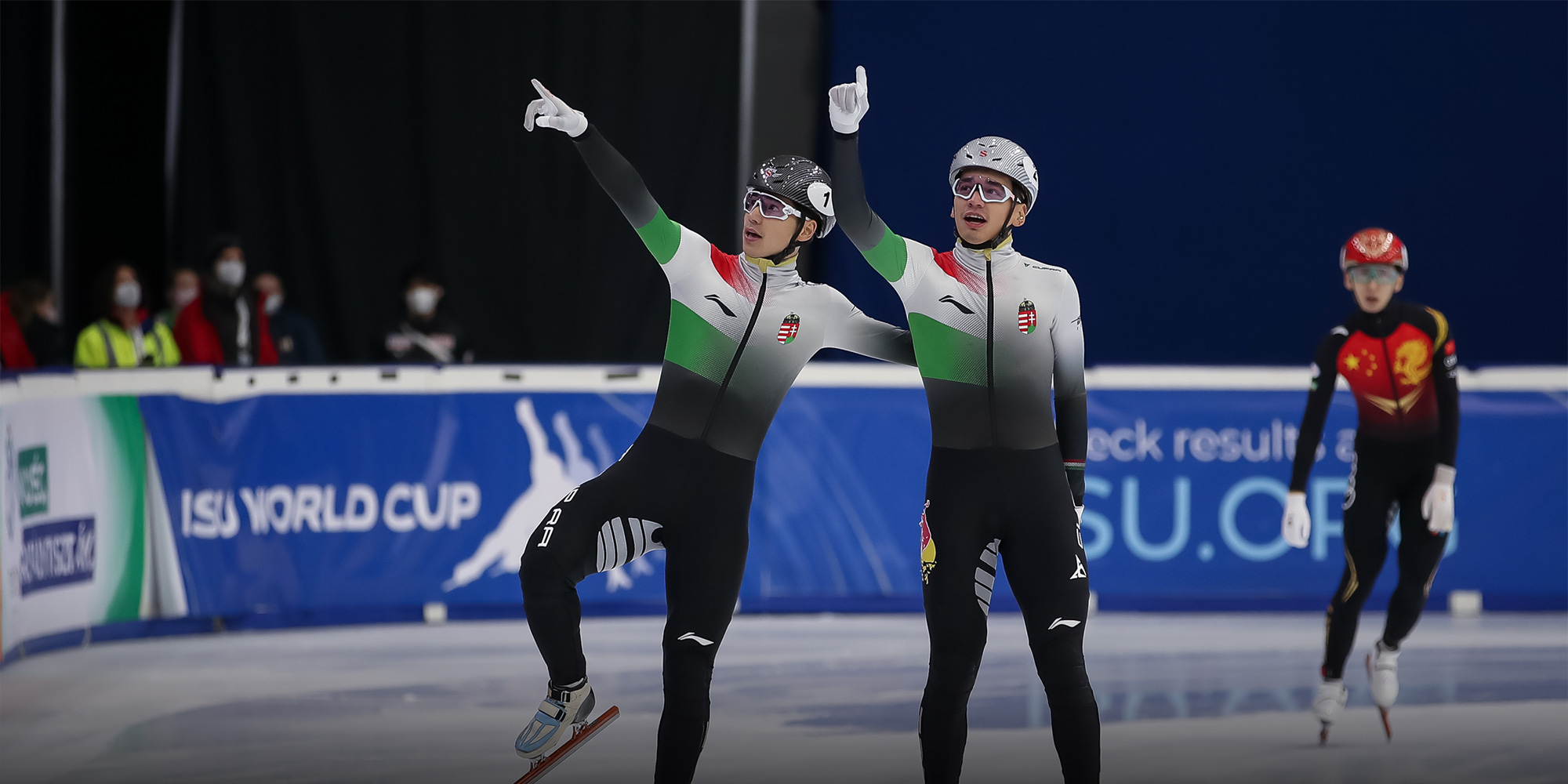 NEWS
Two Star Athletes Have Chosen to Represent China. Netizens Are Furious.
Champion speed skaters Liu Shaolin Sandor and Liu Shaoang have become the targets of unexpected vitriol after switching allegiances from Hungary to China — a sign of Chinese fans' growing skepticism toward naturalized athletes.
In early November, short-track speed skating stars Liu Shaolin Sandor and Liu Shaoang lit up Chinese social media with a bombshell announcement: They planned to switch allegiances from their native Hungary to China.
The move represented another coup for China's Olympic team, which has attracted a string of naturalized athletes in recent years. The brothers Liu — who between them have won both world and Olympic titles — were the most accomplished athletes to join Team China since superstar aerial skier Eileen Gu, who caused a sensation when she changed her affiliation from the United States to China in 2019.
Gu would go on to become the face of the Beijing 2022 Winter Olympics — not only winning two golds and a silver, but also signing a string of lucrative deals in China to endorse everything from cosmetics to coffee. The Lius were also widely expected to become a major draw for Chinese brands.
"Whether the Liu brothers could reach the same level of fame as Gu is unlikely, but their potential earnings could be in the millions," Allison Malmsten, an analyst at Chinese market research firm Daxue Consulting, told Sixth Tone.
But things might not turn out that way. After hearing the news of the Lius' impending arrival, many Chinese sports fans have reacted not with joy, but with fury.
Posts about the Lius on social media app WeChat and microblogging platform Weibo by Beijing Youth Daily Sports, 163 Sports, and other media outlets have been flooded with comments from angry netizens. Many are short and to the point: "You are not welcome." "Don't come to China." "Don't take Chinese nationality."
The vitriol is partly a result of Liu Shaolin Sandor's disqualification after a clash with China's Ren Ziwei at Beijing 2022. But it also reflects a wider shift in public attitudes toward naturalized athletes in China, as fans accuse foreign-born stars of trying to cash in on their Chinese heritage.
Before the Games, the Liu brothers — who were born in Hungary, but whose father is Chinese — received a warm reception from both Chinese media and netizens despite the fact they were representing Hungary at the time. Many praised the pair for their good looks, sporting success, and connection with Chinese culture: Both speak fluent Mandarin with pronounced northeastern accents and trained under a Chinese coach.
But the love affair came to an end during the Games. In the 1,000m final, Liu Shaolin held off China's Ren Ziwei in a razor-edge close finish. But the judges ruled that Liu used his arm to hold Ren back. Liu was disqualified and Ren was declared Olympic champion.
In short-track speed skating, physical contact that causes falls is inevitable as skaters are overtaking each other at great speeds, tussling for positions in very limited space. But the Chinese public never forgave Liu Shaolin.
The Liu brothers' previous on-ice collisions with Chinese rivals, going back to 2014, were remembered and packaged together into a body of evidence of the Lius deliberately targeting Chinese athletes to injure them.
During the 2018 World Championships, the younger Liu Shaoang was accused of having pushed Han Tianyu into the side barrier to make him miss the 2018 PyeongChang Olympics. Han was carried out on a stretcher.
Liu Shaolin, meanwhile, was supposedly guilty of deliberately injuring Wu Dajing, the legend of Chinese short track, in the 2019 World Cup final. The accusers chose to ignore that the Lius regularly trained in China with both Han and Wu, and even called both friends.
The hostile reaction to the Lius' naturalization, however, is also being fueled by wider concerns. Until recently, China was a relative minnow in winter sports. But it's now considered a powerhouse, having finished third in the medals table at Beijing 2022. Many netizens feel the country no longer needs to recruit foreigners to win medals.
"We don't want these kinds of people and we don't need these kinds of gold medals. This is completely meaningless!" said one commenter. "The moment I see them in the Chinese national team uniform, my heart will ache!" said another.
Many have also accused the brothers of deciding to represent China after seeing Gu make a fortune as a Chinese athlete. Born in California to an American father and a Chinese mother, Gu is estimated to have earned millions of dollars after choosing to compete for China.
"This does not feel right, it seems that Gu Ailing set a bad example," said one, using Eileen Gu's Chinese name. "Coming to make money! To say it like it is — China is good for making money!" agreed another.
Others questioned the brothers' integrity: "They stabbed Hungary in the back, and they could do this again to China."
"They are not good people. We do not want them," was another verdict. "Go elsewhere, we do not like people without sporting qualities."
Throughout the furor, the Weibo accounts for Liu Shaolin Sandor, who has 1.3 million followers, and Liu Shaoang, who has almost a million, have remained silent.
Professional Chinese athletes have mixed views on the Lius.
A Chinese Olympic swimming champion, who spoke to Sixth Tone on the condition of anonymity, said: "They are part Chinese, they are trained by a Chinese coach, they understand Chinese culture. If they compete and get glory for China — that's a good thing! But, will they be like Gu Ailing — a firework in a star-studded sky, but no lasting power?"
The fellow Olympic champion queried Gu's claims that she was an inspirational figure for young Chinese, and had helped bring the US and China closer together.
"She did not deeply integrate into Chinese society, caused controversy both in China and abroad, then went back to America, walking away with a lot of money from advertising. In the end, there was no great significance in this for Chinese society."
The Olympic swimmer had a word of advice for the Lius, who claim the city of Changchun in northeast China as their home. The Chinese public's support for naturalized athletes will quickly wane, he said, if people feel that the foreign-born athletes do not make an effort to integrate and grow real local roots in China. 
However, a former member of the Chinese national athletics team told Sixth Tone that she understands the Lius' decision. She added that they should not let negative comments by netizens — who do not know much about the reality of being an athlete — affect their decision making. She added that she will support the Lius in competitions as much as she would support native-born Chinese.
Editor: Tom Arnstein and Dominic Morgan.
(Header image: Liu Shaolin (right) and Liu Shaoang celebrate after finishing first and second in the Men's 500m final during the ISU World Cup Short Track Speed Skating in Debrecen, Hungary, 2021. Christian Kaspar-Bartke/International Skating Union via VCG)