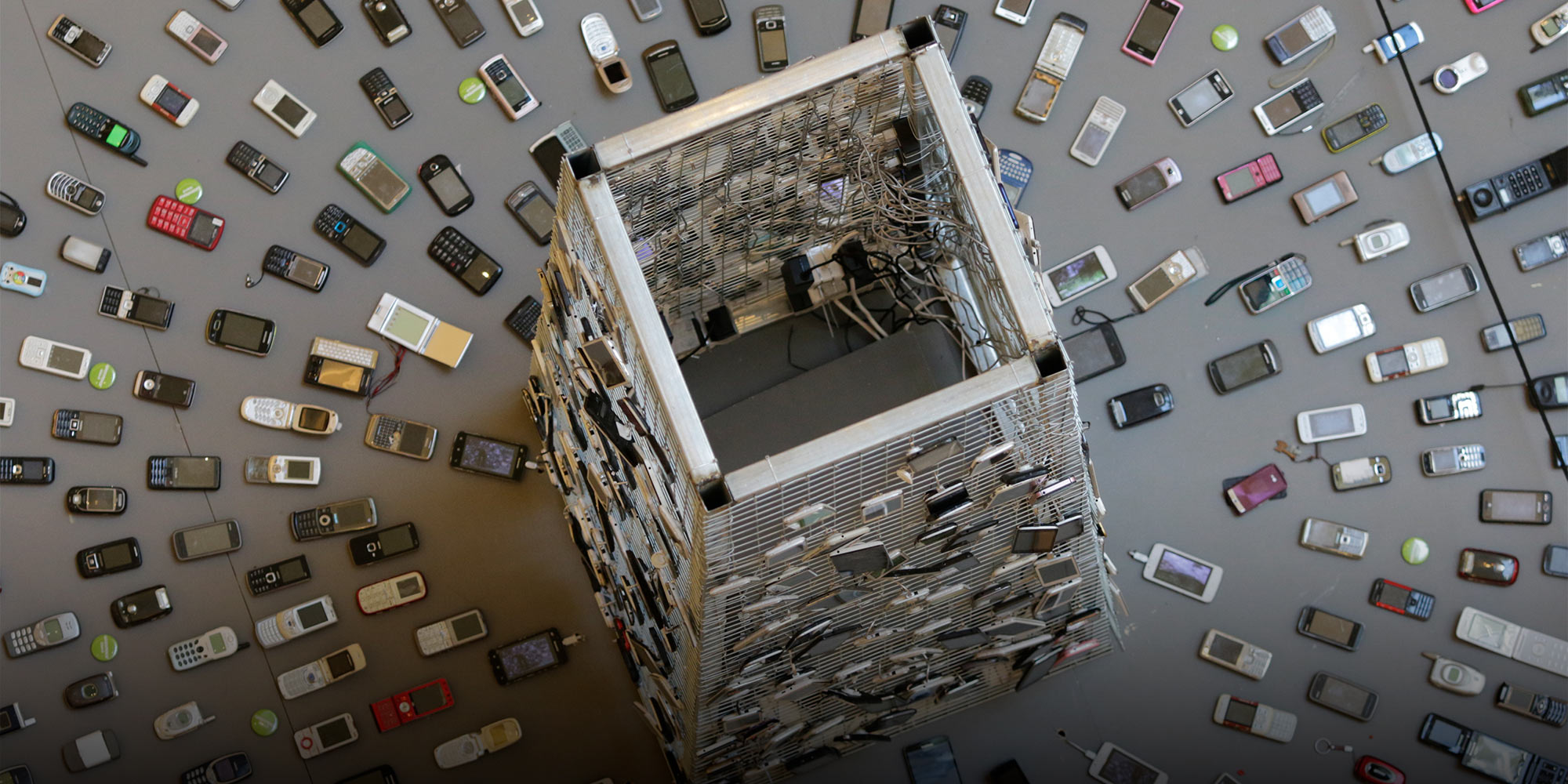 SIXTH TONE ×
How China's New Gold Rush Started a Race for Junk
There's gold in your phone. But how much is recycling it really worth?
"Get 50 used phones for 150 yuan ($21) and remove their CPUs. Pour in the stripping powder. Then add hot water, followed by an eco-friendly displacer to adjust the pH of the solution before dipping the zinc wires in to absorb…" Dalei describes this "magic experiment" in his vlog.
Three hours later and with the help of a spray gun, the gold taken from all 50 CPUs had been transformed into a pea-sized chunk weighing half a gram.
Short videos about refining gold from electronic scrap have been going viral in China. Teaching courses and toolkits have started popping up on e-commerce platforms. These viral videos have quietly set off a wave of "mining gold at home."
Dalei, a vlogger, regularly ventures into niche small-profit businesses for his videos. Gold is his latest hit.
Last year, a friend told him about two brothers in Harbin, the capital of the northeastern Heilongjiang province, who do this for a living. They run a small workshop with a couple who are in the recycling business and earn up to 400,000 yuan annually.
Dalei's videos of their gold-mining process blew up. Recognizing the inherent appeal of obtaining gold from trash he posted more videos, such as extracting the gold plating from a Rolls Royce hood ornament and then replating it back. After that, he turned to experimenting on other electronics besides phone parts. People began recognizing him in public.
Some vloggers also sell their refined gold at a gold store to prove its purity. Refining tools and guides — typically selling for a few hundred yuan — include various reagents, spray guns, beakers, electronic scales, mixers, and videos with operating instructions.
These techniques work and are relatively simple. Most electronics often contain precious, high-purity metals like gold, silver, platinum, and palladium. Xu Zhenming, a professor at the Department of Environmental Science and Engineering of Shanghai Jiao Tong University, experimented in 2014 by refining one ton of used computers into 1,000 grams of silver, 150 grams of copper, and nearly 2,000 grams of other rare metals. Moreover, one ton of used phones yielded 400 grams of gold, 2,300 grams of silver, and 172 grams of copper.
And it's not just husband-and-wife shops turning a profit. The medals for the 2021 Tokyo Olympics were made from precious metals found in recycled phones and small home appliances. The Tokyo Organising Committee for the Olympic Games started recycling 28 types of electronics in 2017 and eventually collected about 79,000 tons of e-waste, from which 32 kilograms of gold, 3,500 kilograms of silver, and 2,200 kilograms of copper were refined.
Any story of the e-waste recycling industry has to include the town of Guiyu in Guangdong province. Stretching back into the first half of the 20th century, locals in Guiyu roamed the larger Chaoshan area, buying and selling scrap metal for a living.
Since the 1980s, Guiyu has continued to develop the e-waste recycling industry. It eventually became the key industry of Guiyu, earning it the reputation as "China's capital of e-waste processing." In 2010, the town recycled and processed 2.2 million tons of e-waste from appliances, hardware, and plastics, with a combined value of 5 billion yuan. At its height, there were more than 100,000 people — including family workshops — working with e-waste. A family workshop might even make a million yuan a year.
Starting with procurement, each step of the chain in this industry is well-established: The less valuable plastic parts are sold to nearby plastic factories, while the more valuable circuit boards are dismantled for parts. Chips, capacitors, and diodes that can be reused are sold to refurbished electronic parts distributors.
The rest of the board is then refined for precious metals. Copper, tin, and other metals are melted with an electric soldering iron, while gold is washed out with strong acid in a process dubbed "gold washing." This part of the process is often the focus of the short videos on social media, followed by the purification process.
"Let's put it this way: It's easier than cooking some stir-fried shredded potatoes," said Dalei. "But I certainly don't recommend it as a career."
Gold washing and other similar technically unsophisticated ways of dealing with e-waste result in serious pollution problems. In Guiyu, for example, most family workshops used to refine gold through crude methods like incineration or using acid. They would then discharge the toxic waste into the surrounding environment, causing excess levels of heavy metal to accumulate in the local water and soil. Many locals then moved away after making their fortune. Today, the local government has enacted comprehensive efforts to fix the pollution and explore options for industrial modernization.
Since 2005, Xu Zhenming's team has been looking into more efficient, cleaner alternatives, developing equipment that separates metals by repeatedly pulverizing the circuit boards. But Xu admits that implementing this method in workshops is the biggest challenge facing e-waste recycling technology. "We need this technology, but very few people can implement it effectively," he lamented. Its economic viability also remains questionable.
In January 2011, China implemented its "Regulation on the Administration of the Recovery and Disposal of Waste Electrical and Electronic Products," and Guiyu subsequently banned the trade of e-waste. Since January of 2021, China has also banned all imports of solid waste.
Dalei also mentioned that vloggers often omit how they discharge the waste products after refining gold. "Even though the amount is so minimal, refining gold at home is technically illegal due to pollution issues," he explained. "In my videos, for instance, the waste is taken to local authorities for handling. Normally, you have to meet environmental qualifications and do the refining at a designated site."
Those two brothers in Harbin, for example, are affiliated with a licensed plant, which grants them legal access to designated waste disposal facilities.
The profit margins of gold washing are relatively low, considering the technical and legal issues involved. Take the half gram of gold that Dalei has extracted, the market value of which is 190 yuan, leaving him a net profit of 40 yuan. That doesn't even include the labor or the cost of reagents and tools — though he had his tools gifted by a friend.
"The technique is simple, but that alone isn't enough. The main thing is to get the e-waste at a low enough price," Dalei said. "It's a lot harder than it sounds. It's not something you can do just because you know someone who works in recycling."
In fact, now that gold washing has gone viral, selling reagents and the tools needed for it may yield more profits than actually refining gold. A chemical engineering expert said that the toolkits are sold online for 600 yuan, when they actually cost less than 100 yuan to manufacture. This calls to mind the old adage from past gold rushes: "When there's a gold rush, sell pickaxes and shovels."
Extracting gold in this way — a simple if flawed technique — has gradually faded out in industrial production. Yet, somehow, it has gained renewed interest online as people found a new way to "strike it rich." As Dalei said, "The notion of 'refining gold' is always going to catch people's eyes."
Reported by Cui Siye.
A version of this article originally appeared in Neweekly Lifestyle. It has been translated and edited for brevity and clarity, and is published here with permission.
Translators: Katherine Tse; editors: Zhi Yu and Elise Mak.
(Header image: An art installation made of over 500 old mobile phones on display in Beijing, 2019. Chen Zheng/VCG)