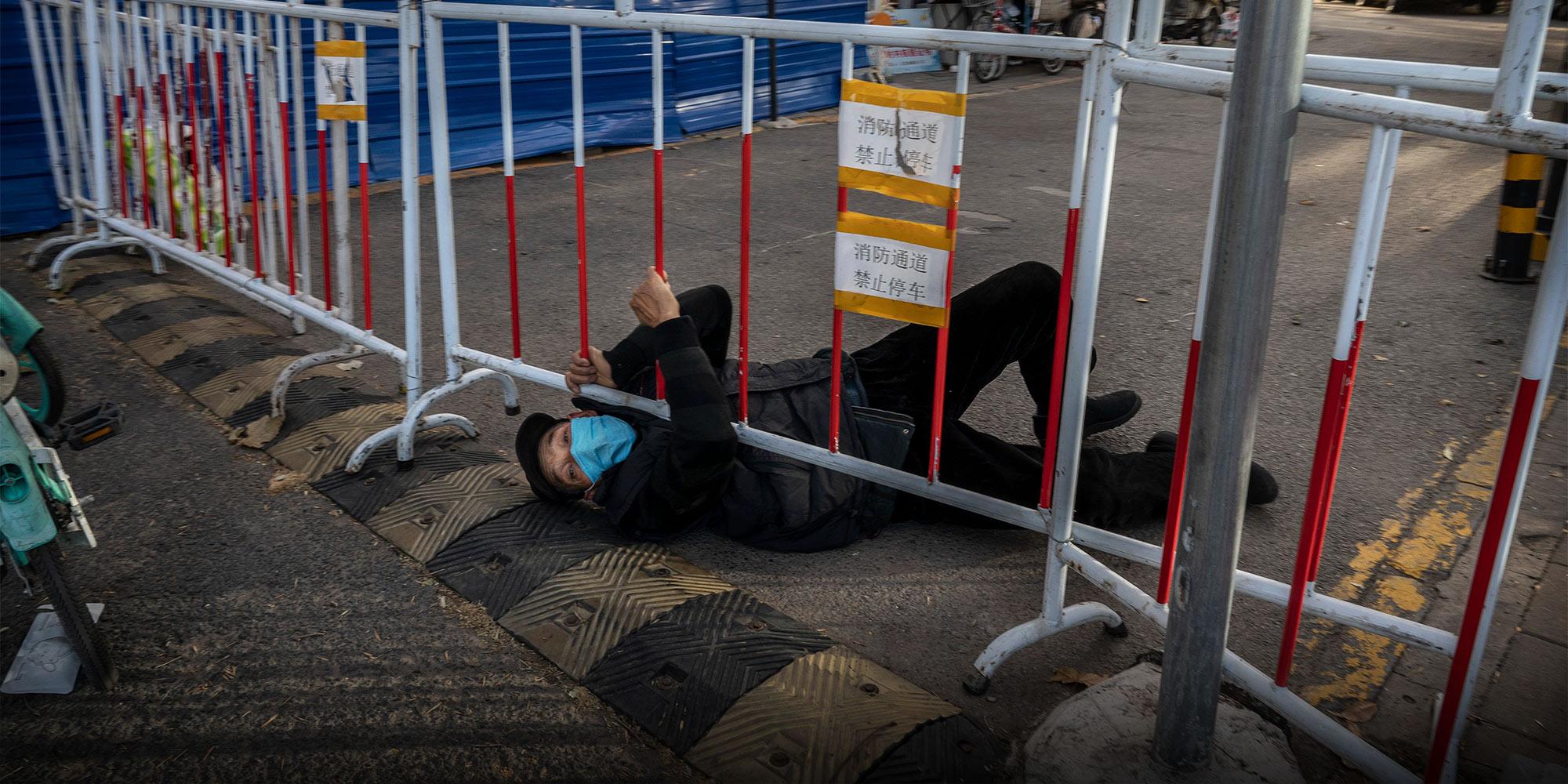 NEWS
China Relaxes COVID Rules. But Are People Relieved?
Sixth Tone speaks with people from various walks of life to gauge the public mood after the relaxation of coronavirus restrictions.
China's long war against COVID-19 appears to be tapering off.
After three years of relentless mass testing and lockdowns to defeat an "invisible enemy," the country abruptly relaxed its strict anti-virus policies Wednesday, signaling a willingness to join the rest of the world in living with the coronavirus. The announcement came as a relief for hundreds and millions of people whose lives and livelihoods had been largely upended since the pandemic started.
But the relaxed rules have also sown confusion, as ordinary Chinese waver between anticipation of the end of the pandemic and anxiety over the very real dangers still posed by COVID. Sixth Tone spoke to people across different demographics and geographic locations to find out their thoughts on the sudden policy change.
Hu Yujie, 21
University student
Chengdu, Sichuan province
When I heard about the relaxation of the COVID policy, I felt a sense of hidden danger. It seemed that all the protection just disappeared, and I'm not sure what life will be like in the future — is it real? Will I be infected soon? Will the policy change again?
However, I think the rules will be completely abandoned in the future, people's lives will return to normal, and fewer people will talk about it. COVID-19 will remain part of everyone's collective subconsciousness.
As soon as I left the campus gates, all my worries and anxiety faded. I applied to leave school on Dec. 9 to visit Jiangxi province. I first noticed how easy it was to enter the railway station without having to deal with all the travel and health codes.
It's been a long time since I've seen so many strangers apart from students. I felt relaxed, happy, and relieved when I was at the railway station after a long period of stress.
Lu Mei, 30
Pregnant woman
Shanghai
Before being pregnant, I longed for the loosening of the strict "zero-COVID" policy every day: I wanted to hang out with friends, travel around the country, and fulfill my dream of having a honeymoon in France. I wasn't afraid of being infected by COVID-19 at all.
But now, I don't even dare to step out of my apartment. I've asked for a long period of time off from work, and last week I only went out once, to a grocery shop next to my residential complex. Even a common cold will be tough during pregnancy; who knows whether the coronavirus will hurt my baby?
There's still half a year until my due date, and I believe the policy will be clearer by then. I'll still stick to wearing masks and ensure I have hand sanitizer while going out. I want to minimize the risks as much as I can.
Jin Huimin, 59
Director of nephrology department, Shanghai Pudong Hospital
Shanghai
We're expecting the first group of COVID-19 positive patients this week. The medical staff are generally in good spirits, although we're under great stress. The hospital has booked two hotels for quarantine once they're infected, as going home risks infecting our families.
We've prepared 50 dialysis machines where we previously used to accommodate inbound passengers who tested positive. We have the resources and space but are concerned about a possible shortage of health care workers.
We are training more nurses from other departments for dialysis patients, but it's difficult to train doctors in a short period of time. There are 12 doctors and 33 nurses serving nearly 500 patients with kidney failure who visit regularly for dialysis. Honestly, at the moment, we have no idea if the doctors' team can cope with the first wave of COVID infections.
What I can do now is inform and educate more kidney failure patients that they must be vaccinated against COVID and receive two booster shots for their own benefit. Many people still don't understand the vaccines well enough and are afraid of receiving the shots. But I'm trying to make patients aware that these shots are vital to them.
Liu, 40
Pharmacy staff
Wuhu, Anhui province
We are out of Lianhua Qingwen (traditional Chinese medicine), paracetamol, and ibuprofen. There has been a shortage of medicine since people heard about the loosening of the COVID policy.
There are many forms of dosage, specifications, and manufacturers of ibuprofen. As a pharmacy chain, we normally don't store much of it. Even Lianhua Qingwen is now sold out, and we always have it well stocked.
We are doing everything we can to prepare medicines for people needing them.
*Liu is a surname
Zhong Lan, 63
Retiree
Shanghai
Previously, I mostly wouldn't wear a mask while going to stores and wet markets, as infected people were quarantined under strict COVID restrictions. I'm much more careful now.
Wearing a mask at groceries stores is a must for me now. I also wash my hands and disinfect my bags and clothes after returning home.
Although I've been vaccinated and don't have serious illnesses, I'm still a bit worried about getting infected and its impact on my health. The ailments during the infection may be tolerable, but my main concern is the aftermath. After all, the disease is quite new, and it remains to be seen whether there's really no sequela or other consequences. It's like we are now holding on to the stones to cross the river.
Wu, 50
Unvaccinated parent
Tianjin
I didn't get vaccinated and neither did my daughter. I haven't been well since my rheumatism diagnosis. My doctor discouraged me from getting vaccinated. The situation is the same for my younger daughter.
After the relaxation of the COVID policy, we are trying to go out as little as possible to reduce the chance of getting infected. We've stored some N95 masks at home if we need to go outside. However, the masks are now in short supply at pharmacies.
Omicron is so contagious that I think getting infected is merely a matter of time regardless of whether you are vaccinated or not. The long-term effects of the virus are unclear. It would be a lie if I say I'm not afraid.
*Wu is a surname
Peipei, 32
Mother of a newborn
Beijing
During the past three years, I've realized it's impossible to entirely get rid of the virus from our lives, and the long lockdowns have affected people's mental health. So I'm totally supportive of the opening up.
But I have a six-month-old newborn and older family members. My mother couldn't be vaccinated due to her allergy history. I was wondering whether there would be a buffer period before the opening up, so that the government could issue more children- and elderly-friendly policies to protect them.
I guess the following months may be chaotic. I've heard from other mothers that hospitals are crowded with more COVID-positive cases. I now have no idea about arranging my daughter's regular medical checkups and vaccinations. She also needs a hip ultrasound before the end of this month, but I'm still hesitating right now.
But I'm glad the opening up will make it easier to visit my grandparents in Hebei province. I haven't had a chance to go back to my hometown since my daughter was born. After three years of the pandemic, I'm really looking forward to a big and warm family reunion.
*Peipei is a pseudonym
Zhang Minghui, 21
Tech company intern
Beijing
I felt China's easing of COVID-19 rules was abrupt — the policy would have been relaxed at some point, but I didn't expect it to happen so rapidly. Suddenly, I didn't need a negative PCR test result to go to work.
But life hasn't been easy though. The speed of infection is surging, and the fear of infection has replaced the worries associated with excessive epidemic prevention. People don't know much about dealing with infections or treatment. We browsed the internet to learn more about potentially effective medicine and started hoarding some.
Many of my colleagues are infected, but we're still required to come to the office. I have no option but to risk infection. While I feel alright being infected, I worry about the impact on my family and pets, considering what happened to them during the epidemic prevention.
Life will never be the same as it was before 2019. Chinese people may find it difficult to get over the trauma even after gaining complete control of the virus.
Li Zhongyue, 52
Truck driver
Qiqihar, Heilongjiang province

Over the past three years, I have spent countless days stranded on highways in the middle of nowhere and being forced to eat and sleep in the vehicle. So when the state eased the pandemic control measures and finally ended "closed-loop" management requirements for freight truck drivers last week, I was so relieved.
Truck drivers earn based on how many trips they do. The COVID-induced business shutdowns reduced our work opportunities and onerous requirements for negative COVID test results brought uncertainty to our trips. Routes that normally took a day or two could be delayed to three or four days in some cases.
Before the pandemic, I would take short trips every day or every other day. But reduced work and logjams on the road have reduced my jobs to one trip every three or four days. With some check stations on highways being removed recently, I expect to get more jobs over the next few months.
Yuan, 53
University dormitory manager
Shanghai
I'm quite relieved. I prefer the relaxation of the rules because it's the only way for the country to develop its economy. And only then can we enjoy a better life and welfare.
As a dormitory manager on campus, I'm required to have negative PCR test results every 24 hours, but it's convenient to do so.
I'm optimistic about the policy change and think that life will return to normal, as it was before COVID. Infections are not a concern as long as we maintain personal protection. Even if I get infected, I wouldn't be concerned because the virus is weaker. It'll be like catching a cold. However, I am concerned that young children may suffer some side effects or sequelae after being vaccinated or infected.
*Yuan is a surname
Li Xiaohong, 50
Middle school teacher
Chengdu, Sichuan province
It's been a torment for both teachers and students over the past three years. After taking online classes for three weeks in September, we returned to school, but with rigid PCR test protocols — it was annoying and disruptive.
Earlier last week, students were asked to take it in turns to do COVID tests, with 20% of them in class each day. Since Friday, we have finally gotten rid of the PCR tests.
I feel more relaxed and comfortable now. I don't need to think about the PCR tests all day. Personally, I never took it seriously, but our school was always nervous about any potential outbreaks. Also, I don't need to show test results to enter gyms or swimming pools unlike before. I can go anywhere I want freely.
Zhang Min, 25
Programmer
Xi'an, Shaanxi province
I have mixed feelings about the sudden loosening of COVID restrictions. I need some time to adapt to it.
It's like two extremes. While I don't have to do PCR tests as often as before — sometimes once a day — now there aren't enough testing stations, resulting in long lines of people waiting. Such spots shouldn't have been removed all of a sudden following the relaxation of policies.
On Thursday, I planned to take a PCR test, which is still required for entering hospitals. It took me an hour and a half, and there were hundreds of people there. It's annoying and troublesome. It was difficult to stand in line in such cold weather. And there were some elderly people queuing up, too.
Also, I'm worried about the increasing risk of getting infected when going out, as negative COVID test results are not required for entering most places. I still fear feeling ill, suffering from symptoms, and my work being affected due to the infection.
Huang Qian, 22
Master's student
Shanghai
Like many universities in Shanghai, our school moved all classes online and encouraged us to return home last Thursday. The abrupt policy change has been surprising and now many of my classmates are worried about getting infected during the journey.
For those planning to stay, the rules haven't changed much. We still need a PCR test result from the past 48 hours to get into campus and are only allowed to leave for 15 minutes — otherwise, our school health code will turn red, barring us from re-entry. But since Nov. 29, we're finally allowed to apply for a long leave, though we need to apply for that every time, and the approval depends on the counselor.
Eventually, I think the campus will be fully open. I feel a sense of relief knowing my parents can finally visit my school and see what it's like. I missed out on my undergraduate graduation ceremony and hopefully I can make up for it this time.
Han Xuehong, 49
Parent
Deyang, Sichuan province
After taking online classes for two weeks, my 16-year-old daughter finally returned to school this Monday. The school said parents could choose whether students return or not. So far, apart from the students who have COVID, most of them preferred to go to school.
My daughter is a high school senior and will take the gaokao — college entrance exam — next year, but it's easy for her to get distracted when taking online classes at home. It was also a burden for parents, as it disrupted our work and life balance, and we had to shoulder more responsibilities.
I feel more relaxed now. We may all end up getting infected, so what's the point of dragging out the loosening of restrictions? The COVID control measures were extremely annoying.
Zhou Zhixue, 30
Village cooperative head
Xishuangbanna, Yunnan province
I mostly stayed in my hometown of Hebian for the past year but have now traveled to Jinghong City to discuss work opportunities as COVID rules are relaxed.
The lockdowns earlier this year have affected our farming. We couldn't even take my brother to the hospital for his surgery straight away. Now that the policy is being relaxed, I'm quite happy because we can now go out and do a lot of things.
In the last two years, Hebian didn't receive travelers due to virus control rules and other requirements, so people had to rely on farming to make a living instead. I'll return soon and restart our guesthouse business.
Our guesthouse business has been deserted for two years. Many villagers may not be as motivated and interested in it as before. This is an issue I'll need to address.
Xiu Chunlei, 36
Acupuncturist
Harbin, Heilongjiang province
In Harbin, I can't say if the policy has been completely relaxed or not — I don't even know which direction we're heading.
On one hand, the government is telling people not to do PCR tests if it's unnecessary, but restaurants and other indoor places still require a 48-hour negative result — it discourages people from going out. But, unlike before, I wasn't required to do a test after arriving in Harbin from my hometown.
There are fewer people on the streets in Harbin now. The cold temperatures may be a factor, but the streets are just depressing.
Personally, I'm not worried about contracting the virus, and I don't want to hoard cold and flu medicines. My colleagues and family members seem scared though, thanks to videos on social media that say how bad the virus is. Even some of the professors I know believe such information, and when I try to argue with them, they say I've been "westernized."
Wang Zhe, 36
Personal shopper
Ji'an, Jilin province
For me, there have been no changes. Before the new policy, we were required to scan a provincial health code while going to public places. Now, we need to scan a location code instead, which is basically the same thing. So it's pointless.
I used to be very afraid of catching the virus, but after learning about it for so long, I don't feel so scared anymore. We need to focus on personal protection, and try not to get infected. I am still worried, because after all, the elderly are not in good health, even if they're fully vaccinated.
Now everyone is hoarding Lianhua Qingwen, but I didn't bother buying it. I've stocked up on some regular cold and anti-inflammatory medicines at home.
Bai Shu, 23
Postgraduate exam taker
Shanghai
Everything seems like a mess to me now. Though the COVID policy has been relaxed, I don't see how it benefits me.
The school is encouraging students to return home, even after my exam at the end of the month. Once there's a positive case in our dorm, the whole building will be locked down. I have to take the exam and I have nowhere else to go.
I woke up Sunday to the news that our building was going to be locked down sooner or later. Fearing I'd miss the exam, I spent an hour packing all my belongings and left the school. Now I'm staying in a hotel. I need to stay here for 20 days. It's so expensive, and I can't see an end to it.
Peng Jinxia, 43
Internet café owner
Changde, Hunan province
The policy changed so fast that not everyone can get used to it, at least not my customers. In the past three years, we've heard that the virus is fatal and we must do everything to protect ourselves. It won't be easy to erase that fear. As long as people are still afraid of getting infected, people won't come to my internet café like they did before the pandemic.
My internet café can hold over 140 people at a time, and it used to be the most popular venue in town. But now we're lucky if we have some 30 customers. We are losing them.
When's the end? When will my customers come back again? Will they come back?
Reported by Fan Shuying, Fan Yiying, Li Xin, Luo Meihan, Ni Dandan, Wang Lianzhang, Yang Caini,Ye Zhanhang, and Yuan Ye; edited by Bibek Bhandari.
(Icons: Shijue and Dimitris66/VCG)
(Header image: A man slides under a barrier at his locked down compound on December 3, 2022. Kevin Frayer/Getty Images)