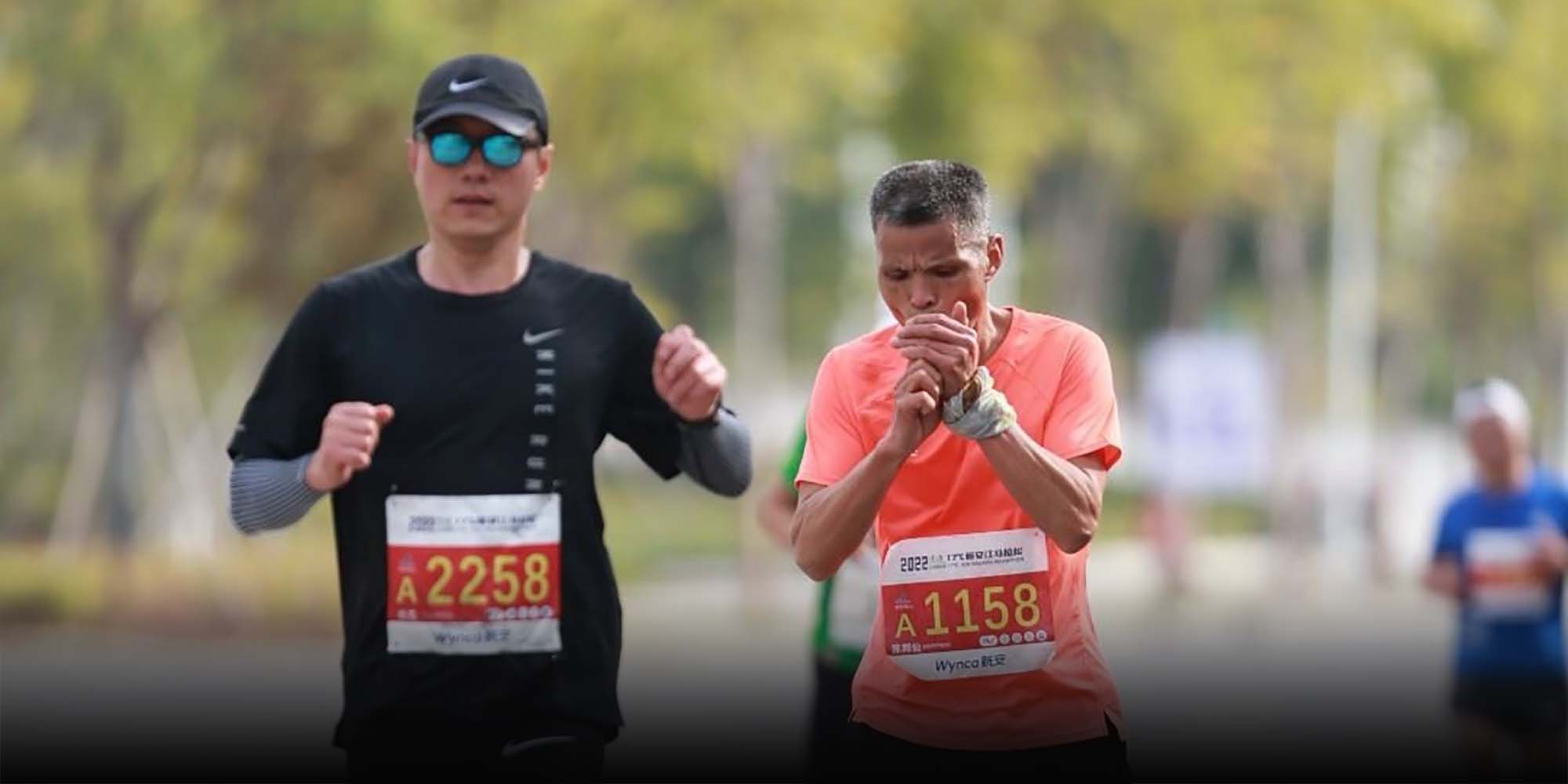 NEWS
How a Chain-Smoking Marathon Runner Sparked a Furor in China
Middle-aged runner Chen Bangxian became an internet sensation after finishing a marathon with a cigarette dangling from his mouth. The Chinese authorities are not amused.
In November, a gray-haired, buzzcutted Chinese amateur runner became an internet sensation after he was spotted doing the one thing most runners would advise against while running a marathon: smoking a cigarette.
The 50-year-old man, later identified as Chen Bangxian, quickly became known as Smoking Big Brother on Chinese social media.
Pictures of Chen, lighting up without breaking his stride and running with a butt nonchalantly hanging between his lips, were published around the world.
In an impressive display of lung power, Chen finished the race — held in Jiande City in eastern China's Zhejiang province — in a remarkably fast three hours and 28 minutes, beating his own record of three hours and 32 minutes at the Xiamen Marathon in 2019.
But controversy soon erupted over Chen's antics and his global fame.
Despite fellow runners being amused by Chen's smoking during the race, and many asking him for selfies at the finish, Chinese netizens' reaction was overwhelmingly negative post-race.
On the Chinese microblog platform Weibo, many runners commented that they hated smoking, with some even calling for Chen to be banned from future marathons. Others, however, joked that by smoking, Chen was "moistening the lungs," a traditional Chinese medicine term, to help him run.
The Chinese Athletics Association (CAA), which oversees the organization of marathons in China, also took a dim view of Smoking Big Brother's worldwide fame.
In response to the furor, on Dec. 5, they went as far as to publish a "Proposal for Running Civilized and Healthy Marathons."
"Recently, a runner smoking during a marathon attracted widespread media attention and caused a negative impact on society," the document states. 
Currently, China has no specific rules to ban smoking during marathons. However, the CAA used the opportunity to remind runners that smoking, which is detrimental to health, also adversely affects those who unwittingly inhale secondhand smoke.
The CAA implored China's running community to be "non-smoking runners" and "nurture excellent hygiene habits and a civilized way of living."
Smoking Big Brother is not alone: There are many others like him, Yao Jia, a running writer and influencer, told Sixth Tone. "(They tend to be) middle-aged and older, and began smoking a long time before they took up running," said Yao.
According to the World Health Organization, China has approximately 300 million smokers, including nearly half of all adult men in the country.
But China is also experiencing a running boom, and the country may now have as many as 60 million amateur runners, though estimates vary widely. Many took up the sport at a later age.
A good proportion of them are smokers who see running as no reason to give up an age-old habit. Some even compete in ultra-marathons, running races that can be several hundred kilometers in distance.
At ultra-marathons, runners prepare drop bags that are deposited by the organizer at checkpoints at different distances into the race. Drop bags usually contain food and changes of shoes and equipment.
"I know one ultra-marathon runner who is a heavy smoker," says Yao. "In every drop bag, he prepared cigarettes and smoked at every checkpoint."
As well as not smoking, the proposal also asks runners to steer clear of other forms of "non-civilized" marathon behavior. These include carelessly discarding drinking cups and using nefarious means to gain access to races.
So popular is running in China that most Chinese marathons are now heavily oversubscribed, and runners have to go through a lottery to get a place.
"Scrounge running," or ceng pao, is one way to get around that; in the event that a runner fails to qualify for a marathon, they infiltrate the starting crowd and complete the race. Some even manage to get hold of finisher medals and apparel.
Meanwhile, "substitute running," or ti pao — by no means an exclusively Chinese phenomenon — describes an entrant who gets a stronger runner to wear their race bib and timing chip in order to get a better qualifying time or a CV-boosting personal best. More commonly, though, a runner cannot participate in a race and gives, or sells, the bib to a friend.
At this point, however, the majority of China's millions of runners — starved of marathons after three years of travel restrictions and lockdowns — are concerned with little other than their next race.
As draconian zero-COVID policies are gradually lifted or removed across the country, the Chinese Athletics Association is also excited to get on with it, albeit in an environment where fitness is prioritized.
"We hope to meet you at a civilized, hygienic, and healthy marathon," ends their proposal.
Editor: Tom Arnstein.
(Header image: Chen Bangxian lights up a cigarette without breaking his stride during the Xin'anjiang Marathon in Jiande, Zhejiang province, Nov. 6, 2022. From Weibo)