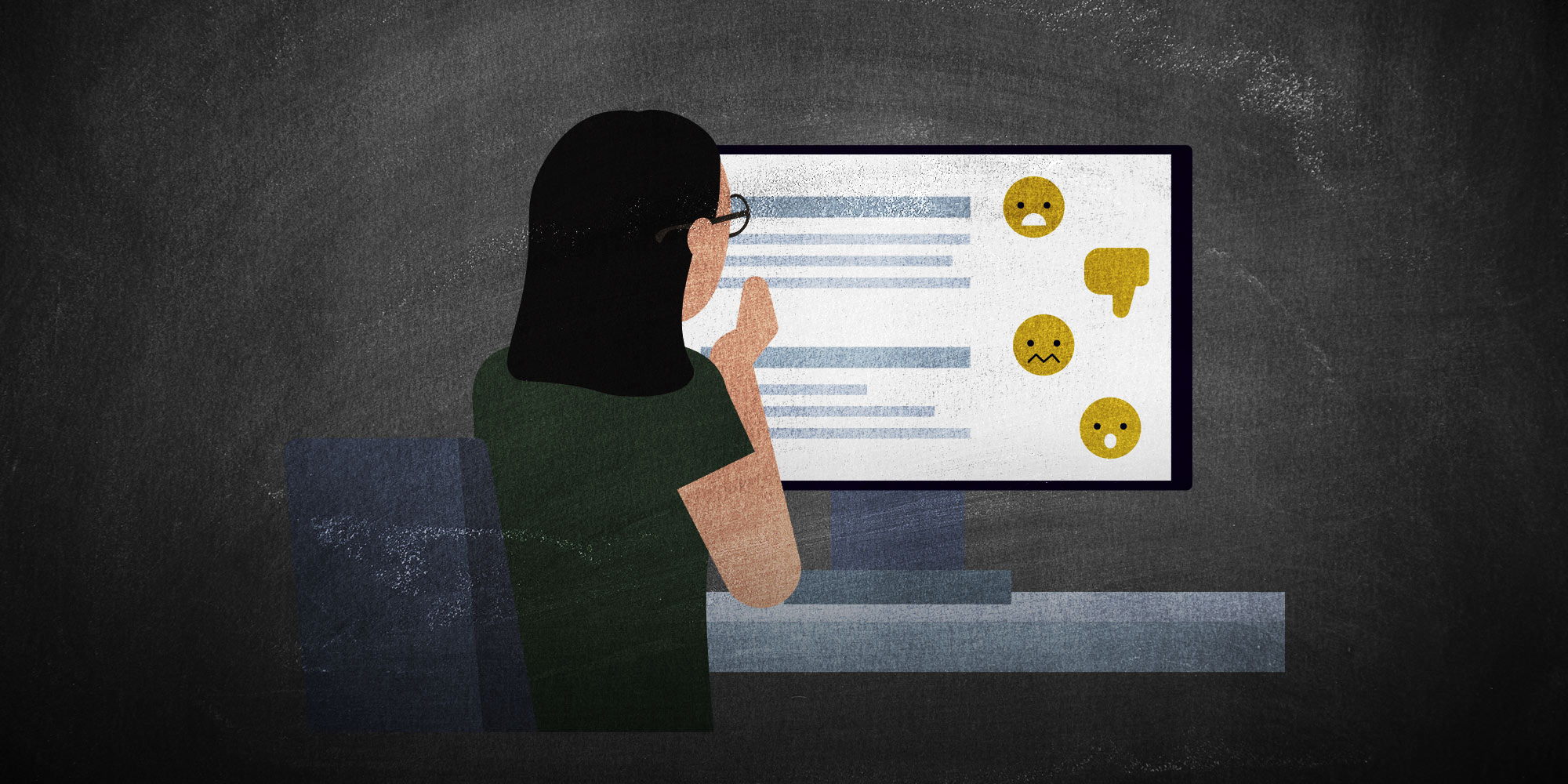 NEWS
China's Online Classrooms Have a 'Bomber' Problem
A growing trend of outsiders gatecrashing online classes is tormenting teachers and has even led to tragedies.
It happened more than just once.
When Liu Hanbo logged on to her computer to teach her high school class in October, the online lessons were frequently disrupted by those who weren't her students. The faceless intruders verbally harassed the 46-year-old teacher, hurled profane slurs, played loud music, and humiliated her in front of her students.
The online harassment continued in at least three separate classes. Then Liu died later that month.
Liu's daughter, citing medical reports, said the history teacher from Xinzheng, in the central province of Henan, died of a heart attack. In an emotional social media post on Nov. 2, the bereaved kin shared details of the online harassment and blamed her mother's death on the bullies who trolled her for unknown reasons.
"After the class (on Oct. 28), students assumed my mom was 'angry' and 'disappeared.' No one knew she had passed away alone at home," the daughter wrote on microblogging platform Weibo. "My sister and I never imagined that the rest of our life would be without our mother."
Liu's death sparked an outpouring of grief and anger, and continues to be a topic of discussion on Weibo, short video app Douyin, and other social platforms, as local police investigate the cause of the tragedy. The incident, however, points to a disturbing trend that has existed since 2020 — that's when most schools shifted to virtual classrooms due to COVID-19 — but seems to have proliferated this year, according to media reports and social media posts. For teachers, whose mental health has been deteriorating after almost three years of frequent online classes, the gatecrashers are only fueling their anxiety.
Four students Sixth Tone spoke with, as well as social media posts, suggest that the interlopers crashing into online classes call themselves "bombers." They disrupt virtual classes and insult teachers, usually by hurling verbal abuse, playing loud music, sharing their screens, and spamming the in-app chat box, among other tactics.
Liao Mei, a student in the northeastern province of Liaoning, told Sixth Tone that her online class was interrupted by strangers nearly 10 times in late September. Once, dozens of people barged into the virtual classroom, unmuted themselves, called the teacher a "fool," and caused chaos. The debacle lasted about six minutes, before the teacher kicked them out one by one.
"I felt speechless — it took up our time," said the 14-year-old, who is preparing for her high school entrance exam next year. "After their intrusions, I could tell that our teacher was in a bad mood and less energetic. She ended the class hastily and didn't crack jokes like usual."
Despite no data about the demographics of those who are hijacking online classes, a screenshot posted online from a "bomber" chat room with 178 members on messaging app QQ — many such groups were banned after Liu's death— showed the majority were Gen-Zs and over 70% were male, domestic media reported. Various social media chat groups suggested that while some "bombed" the classes for fun, others charged a certain fee on the behest of disgruntled students.
Students Sixth Tone spoke with believed the trolls managed to get meeting numbers and passwords from classmates who leaked the information out of "fun" or "discontent" for having to take lessons online. A telecommunications expert also told The Paper, Sixth Tone's sister publication, that such gatecrashers mostly gain access from existing group members, given the technical difficulties in hacking into password-protected online meetings.
Ma Ai, a professor of sociology who specializes in psychology at the China University of Political Science and Law, told Sixth Tone that intruders in online classes are mostly teenagers hoping to gain recognition from their peers and rebel against the rules set by parents and schools.
"The incident reflects how teenagers can go to extreme lengths to do unique acts, and it is associated with technology on the internet and remote teaching methods during the pandemic," Ma said. "The more unconventional and reckless they behave, the more they feel a sense of freedom and self-control."
In the wake of the increasing number of disruptions to online classes, authorities and internet companies have taken action.
Just weeks after Liu's death, China's internet watchdog ordered stricter supervision against cyber violence on internet platforms, requiring them to set up a taskforce to identify and tackle potential cyberbullying threats and better protect users. Meanwhile, a month before the tragedy, online conference app Tencent Meeting added a feature to instantly suspend all user activity to resist such attacks.
But despite interventions from tech platforms and authorities, education experts stressed that online classes aren't a sustainable alternative to in-person classes. And even though China has relaxed many COVID measures, widespread outbreaks mean many classes are still being run virtually.
"Online classes can connect people beyond the limitations of time and space," Xiong Bingqi, director of the 21st Century Education Research Institute, wrote in a media commentary last month. "But they are only a supplement to education and should only be a last resort."
Editor: Bibek Bhandari.
(Header image: Yulia Sutyagina and dem10/VCG, reedited by Sixth Tone)