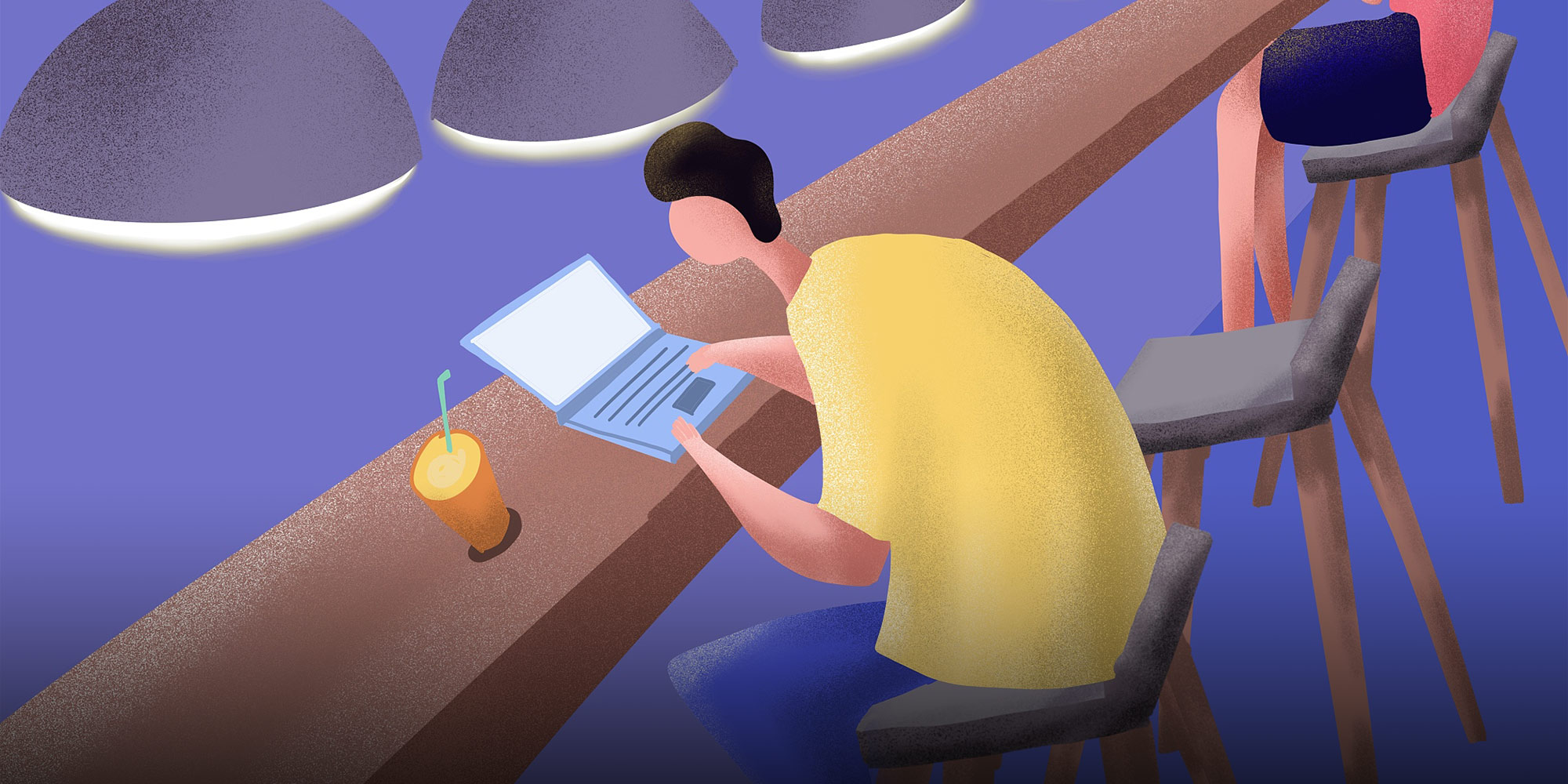 FEATURES
For China's Gen-Z, Entrepreneurship Represents a Ticket to Freedom
Starting a business in China's pandemic-stricken economy is far from easy. Young Chinese are plowing ahead anyway.
2022 was the year China's Gen-Z came of age. The first cohort of young Chinese born in the 21st century — known as the "post-'00s" generation — have now reached the legal marriage age and graduated from university.

In this four-part series, Sixth Tone will explore how the post-'00s differ from earlier generations, and how they might shape China's future. The final story in the series explores the hunger among post-'00s to start their own businesses, despite the tough economic climate.

Click the links to read the other three stories, which examine post-'00s and labor disputes, sports, and the pandemic.
Three years into her degree in Chinese language education, Dong Zhenzhen realized she was on the wrong path.
As she learned more about education, the student began to understand that she wouldn't be happy as a teacher. She wanted a job that offered freedom, creativity, and the chance to quickly increase her income. Working in a school would give her none of those things.
"The fixed work schedule was hard for me to accept," Dong tells Sixth Tone.
So, Dong decided to strike out on her own. After graduation, she set up her own studio in the southwestern city of Chengdu, and managed to find a niche helping startup founders build their personal brands on social media.
Budding entrepreneurs like Dong are an often-overlooked part of China's post-'00s generation — the first cohort of Chinese born in the 21st century, which is now beginning to graduate from college and enter the workforce in large numbers.
At first glance, 2022 looks like a terrible year to launch a startup in China. The economy has slowed sharply, as unpredictable pandemic controls force businesses to shut down en masse. Consumption is stagnant, and venture capital funding is drying up as investors eye higher-growth emerging markets.
The economic turbulence has led many young Chinese to seek the security of a state sector job: Applications for civil service jobs have soared. Others are trying to wait out China's record wave of youth unemployment by staying in school or heading abroad.
But that's not the whole picture. Despite these fierce headwinds, the post-'00s are also showing growing interest in starting their own businesses — and some investors believe they could even be an upgrade on earlier generations of Chinese entrepreneurs.
On Bilibili, a video platform popular among Gen-Z Chinese, content related to entrepreneurship received 830 million views in 2021, up 77% year-over-year. A large majority of post-'00s say they're willing to consider non-traditional careers or look beyond full-time employment.
Post-'00s are freer to consider alternative career paths for a simple reason: They're far more likely than previous generations to come from well-off families who are able to support them financially.
Between 2000 and 2021, the disposable income of the average urban Chinese resident grew more than sevenfold. Today, over 90% of young Chinese founders' seed funding comes from savings or loans from their friends and relatives, according to a 2021 report on youth entrepreneurship.
Family wealth has also given post-'00s more subtle advantages. They have only known a world in which China was prosperous and connected to the global economy. Many of them grew up amid privilege and traveled overseas with their families from a young age.
This has given post-'00s a self-assurance that their elders lack. At work, they've already acquired a reputation for being cocky, headstrong, and willing to take risks. They're also known for being more outward-looking and creative.
For Chinese investors, it's an intriguing prospect. Several venture capital firms have set up dedicated teams to find and nurture post-'00s founders, believing that their backgrounds will make them well-suited to creating successful companies.
"Most of them have a global perspective and cultural confidence," Jin Yikai, a tech investor whose firm works with post-'00s founders, told domestic media. "They're eager to innovate, and are more daring."
But VCs also remain cautious when working with post-'00s, according to Lei Yating, a Shanghai-based investor. Still in their early 20s, the founders tend to be immature, inexperienced, and overconfident, she says.
"They often present themselves as ideal entrepreneurs who are perfect and have no weaknesses," Lei tells Sixth Tone. "But they don't really know what they want to do, or what they should do. They just follow the existing market hotspots."
Dong, the studio founder, admits that this description is probably accurate. Although her studio is now doing well, she says that starting a business is often an "impulsive and unwise" choice.
In many cases, post-'00s launch startups too early, rather than building valuable experience at larger companies first, Dong says. Earlier generations — such as the post-'80s — often focused on getting a job at a big tech company and moving up the ladder, but the post-'00s appear to be more inclined to forge their own path.
"Many young people from big companies choose to start their own businesses motivated by enthusiasm," says Dong. "But they mistake the company's strengths for their personal ability, and underestimate the difficulty of starting a business."
Wang Tianran has learned the hard way how challenging it can be to make a business work during the pandemic. A year into her fashion design degree in the United States, the 22-year-old returned to China and opened a hat store in 2020, using a cash gift from her parents to get the business off the ground.
The idea for the store was based on Wang's careful analysis of China's apparel market. But she didn't anticipate how the Shanghai lockdown in early 2022 would devastate the local economy. For months, the store remained shut, but Wang had to continue paying rent and her staff's wages. Even today, sales are still way down, she says.
"The store closed in March and footfall gradually recovered in late August, but consumer purchases are still less than 50% of what they were this time last year," Wang says.
As digital natives, however, post-'00s founders often find it easier to shield themselves from China's economic turbulence than older generations. Many are finding success by moving into Web3 — the new, blockchain-based internet field, which is attracting huge interest from Chinese investors.
Chen Jinchu is one of them. The 21-year-old had already found success developing a mobile plug-in that allows users to connect with their friends by tapping their phones together — an idea he got from watching an American TV show. He began promoting the plug-in on Douyin, China's version of TikTok, in 2020.
"We attracted hundreds of millions of views on Douyin, and many VC companies have been chasing us to invest," says Chen, a Beijing native.
Now, Chen says that several well-known investors are asking whether his team can pivot into Web3. He expects to close his first round of financing by the end of the year.
Chen says the wave of lockdowns has disrupted his business this year, as his team has been forced to work at home for weeks at a time. But his main worry isn't the state of the economy; it's the lack of work ethic among young Chinese. He considers the spread of anti-labor buzzwords like "lying flat" and "letting it rot" to be "very scary," especially as they're becoming mainstream.
Governments and companies need to find ways to combat this chronic lack of motivation among staff, Chen says. He's hoping to develop a "perfect system" that allocates wages fairly according to his workers' contributions.
"As a boss, entrepreneur, and leader, I have the obligation to find a perfect system so that everyone can get rewarded based on their work," Chen says.
Dong also has reservations about her generation. In the long term, post-'00s will be a positive force in Chinese workplaces, as they bring a new way of thinking and are keen to move up, she says. But when it comes to hiring for her own studio, she tends to favor older workers.
"They are more stable — the post-'00s are too impetuous," Dong says. "They may work for you for a month, and then run away."
Jaly, the founder of an online jewelry store, says she's trying to foster an open and inclusive culture at her company. The 22-year-old wants to build relationships with her staff as friends and equals — a style of work that she saw and liked while living in the United States.
"There's no flattery, but more sincerity and respect for each other," says Jaly, who spoke with Sixth Tone using a pseudonym for privacy reasons. "There's no sense of distance between colleagues of different ages."
The idea for her business also came from her time studying in the U.S. One day, while chatting with another Chinese student, Jaly discovered that the West has a huge demand for jewelry. Since the domestic market is pretty much saturated, they realized they could make a profit by exporting Chinese-made jewelry to overseas markets via Instagram.
Though still in her early 20s, Jaly has now been running the store for three years, and has opened a company office in the southwestern megacity of Chongqing. But she wishes that she'd also had the opportunity to gain more experience by working at a large company.
"If I could, I definitely want to go in and study, because we're still relatively young," she says. "We may have a lot of deficiencies in dealing with problems, and with systematic thinking."
April Hu, however, believes there are also disadvantages to biding your time. The 22-year-old interned at several tech giants, including Alibaba, ByteDance, and Google, while at university. But after she graduated, she went straight into founding a metaverse startup in Beijing.
The business — which develops digital accessories and games for Web3 users — has gone from strength to strength. Hu now employs 20 people, and has closed three rounds of funding that valued her company in the tens of millions of dollars.
Hu has had to work extremely hard to reach this point. At a tech company, her sole focus would likely have been on fine-tuning her products; as a business owner, she also has to worry about the marketing, fundraising, and management.
"Starting a business is not easy," she says. "If you really want to make good products, it's 10 times more tiring than working for big-name brands."
But Hu still feels she made the right choice. If you have a good idea for a product, it's better not to wait around, she says. By the time you start, the field might have moved on.
"If you work for a big internet company for a few years … then the direction you want to take has already been done by your competitors," she says. "I think it's better to start your business right away."
Hu also says she prefers to hire young people: the average age of her staff is just 25. In Web3, self-motivation and the ability to learn quickly matters more than experience, she says.
"The metaverse is a new field for everyone, so it's not something you can do with experience," says Hu. "I find that many college graduates are very quick learners, which is what we need."
Editor: Dominic Morgan.
(Header image: Shijue/VCG)