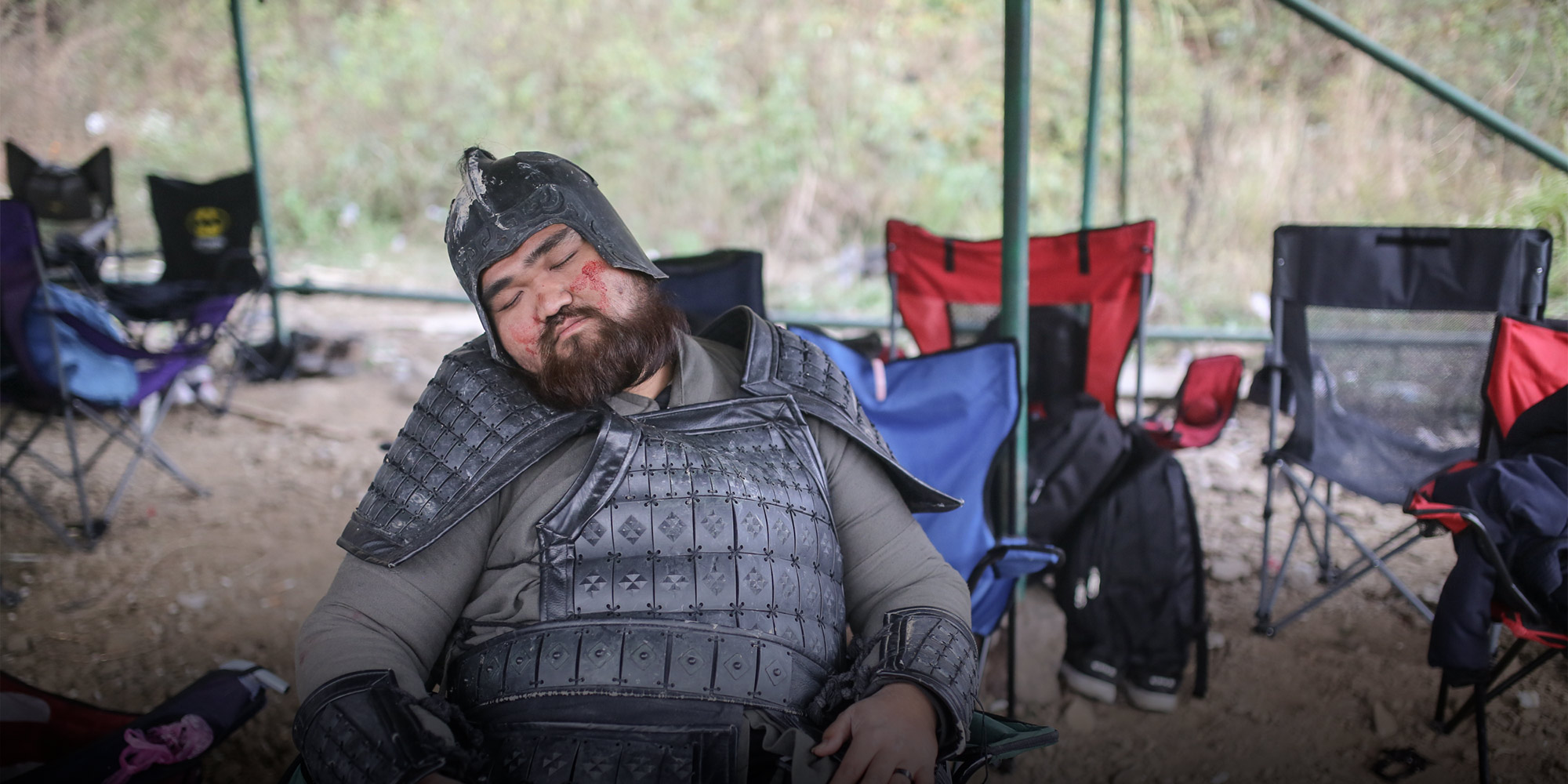 VOICES & OPINION
Almost Famous: How China's Extras Are Chasing Viral Video Fame
Treated as disposable by the film industry, extras are living their dreams of stardom on streaming platforms like Bilibili.
In October, a short video of a group of retired women recreating scenes from the well-known drama "Empresses in the Palace" went viral on Chinese social media. Viewers praised the group for their meticulous attention to detail, glamorous costumes and makeup, and obvious passion for the source material. What they may not have realized is that these so-called self-insert films aren't just passion projects — they're big business for China's largest movie production lot, Hengdian World Studios. For about 4,000 yuan ($575) per person, anyone can create scenes from their favorite shows, complete with professional hair, make-up, and even full sets.
There was just one thing missing from the retirees' otherwise fastidious reproduction: a cast of extras scurrying about in the background. Although they're easy to overlook, these bit players, many of whom spend months or years working on the industry's fringes, are indispensable to Hengdian's success. Like the aunties paying for self-insert films, many dream of one day being the star of the show. Unlike middle-class tourists who can afford a self-insert package, extras, who typically make about 80 yuan for a day's work, must seek validation in other ways.
Growing numbers are doing so on video streaming sites like Bilibili, where they document their lives playing body doubles, attendants, or waiters to the country's biggest stars. One of the most popular of these extra-cum-vloggers, Jiang Wenhua, films snippets of his day-to-day life in Hengdian for tens of thousands of followers. In one of his most popular videos, he and his girlfriend share how they spent a day playing beggars in a new TV series. Dressed in rags, they talk about working with some of China's biggest stars and sing songs for the site's virtual currency. On TV, they're just a couple of indistinct faces in the crowd, but on Bilibili, they're stars in their own right.
Until recently, people had little interest in where extras came from or what their lives were like off-screen. Jiang's videos remind me of the extras I met in 2018, during my fieldwork in Hengdian. Most came from small towns and the countryside; some were drawn to the job because they liked to perform; others because they thought they could lift themselves out of poverty by becoming an actor. A few even said they came to expand their Taobao business selling imitation crafts. Many fell into the gig because they didn't know what else to do.
Every evening in their shared rental apartments, they kept their eyes glued to their phone screens, waiting for the next day's casting calls. Demand for extras varied from day to day, and those who failed to respond quickly enough might be left without an income.
Between the low pay and uncertain schedules, extras have to take whatever gigs they can get their hands on. They are expected to assemble on set hours in advance of the lead actors so the crew can film crowd shots. After the stars finally arrive, the extras stick around for scenes where they appear in the background. When productions shoot at night, extras typically need to pull an all-nighter — and, if they're not completely exhausted, they might head straight to another set the next morning.
The luckiest — those who are particularly photogenic or who manage to hang on in Hengdian long enough to build a relationship with a studio — might book announcing gigs or even roles with the occasional line. These jobs pay much better than typical extra work, anywhere from a few hundred to several thousand yuan a day.
But even the most successful extras are plagued by financial instability. In the off-season, generally from November to February, many of them leave Hengdian in search of other job opportunities. Some never return. Others set up stalls on the roadside, or take factory jobs while they wait for production to resume. The pandemic and resulting "winter" for China's film and TV industry has greatly reduced the ranks of Hengdian's extra community.
For those who are left, making short videos is a way to pass the time, draw attention to themselves, and make a little extra money. Some of these vloggers are all but indistinguishable from other livestreamers. They post videos of themselves dancing and singing in public for their fans. Others, like Jiang, use their vlogs as a kind of diary in which they document and even poke fun at their lifestyles. In the process, they turn their disillusionment into a source of creative inspiration and productivity. One extra even mastered the basics of film and editing to direct and act in a music video with their fellow bit players. Called "Drunk on my Own," the short film evokes the widespread sense of disillusionment felt by many on the margins of China's film industry.
As one of the best-known extra vloggers, Jiang has more than 30,000 subscribers on Bilibili. His success not only nets him and others like him cash via virtual currency transactions, it's also an important selling point with casting directors and a source of emotional support and positive feedback in an industry known for neither.
But extras' short video careers don't always pan out. An extra who went by the pseudonym Struggle Brother was criticized for a video in which he claimed to be hundreds of thousands of yuan in debt after a failed business venture, and which he somewhat unrealistically planned to pay back by working as an extra. Even the extra who made "Drunk on my Own" got more negative comments than praise for his rudimentary editing efforts. Extras' stated motivations for making short videos are often questioned or rejected by their audiences.
The last time I looked at Struggle Brother's Bilibili channel, he was back in his hometown, publishing videos about his new life raising pigs and ducks for his 1,400 followers. The reality is, despite years spent working in the industry, most extras don't have the resources or know-how to make videos as slick as the ones wealthy retirees might commission on a lark, but their motivations aren't so different. In their short videos, no matter how unsuccessful, extras finally get a taste of stardom. They might never headline a blockbuster, but for a few minutes each day, they can re-assert control over their unstable lives, draw strength from their followers, and make sense of a life devoted to an industry that often treats them like outsiders.
Translator: Lewis Wright; editors: Cai Yiwen and Kilian O'Donnell; portrait artist: Wang Zhenhao.
(Header image: An extra takes a break at the movie set in Jinhua, Zhejiang province, December 2018. Beijing Youth Daily/VCG)