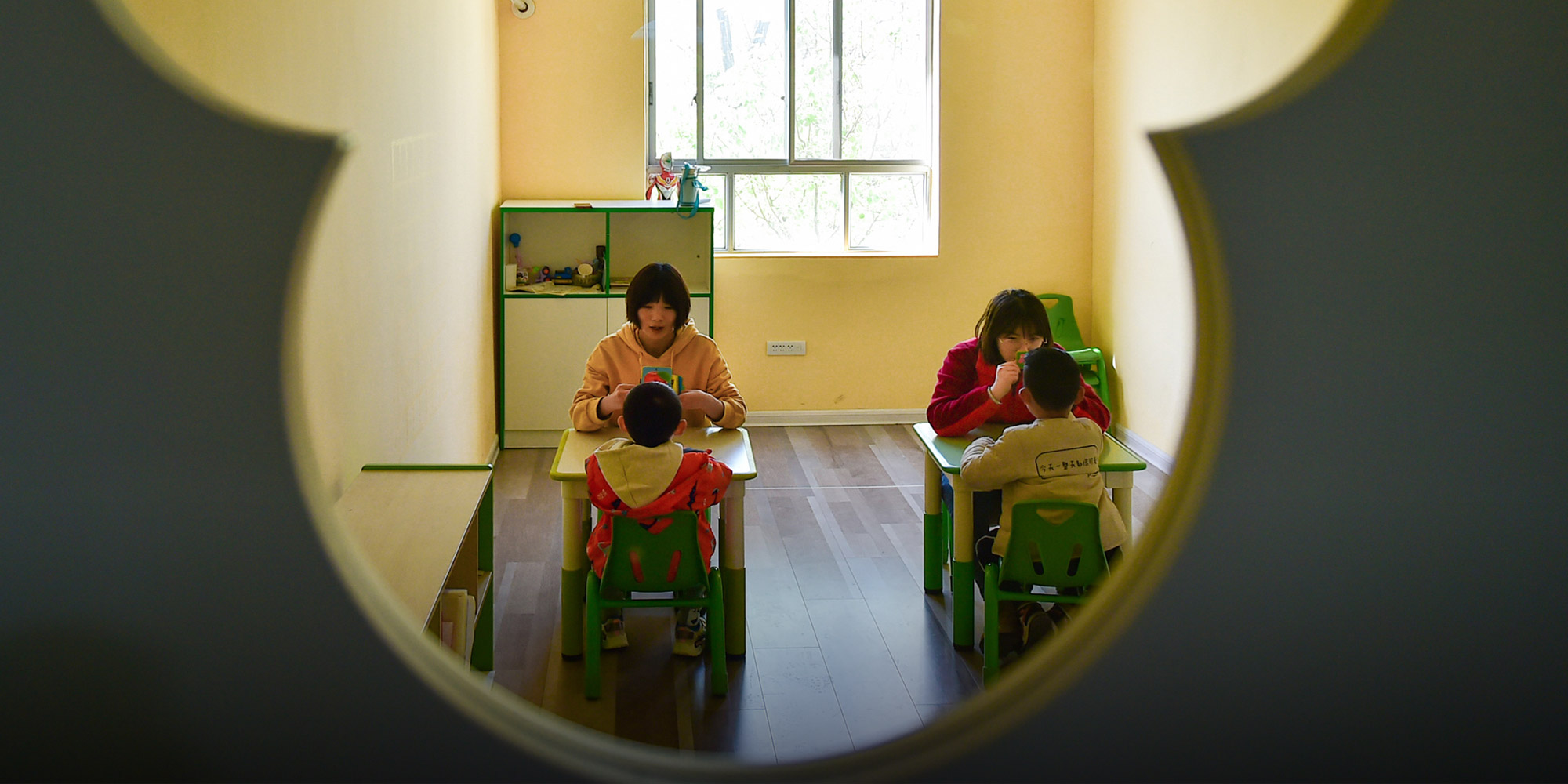 VOICES & OPINION
Can China Keep Its Special Education Teachers?
They help kids with developmental disorders ranging from ADHD to Down Syndrome and autism. They're also burned out, underpaid, and, in many cases, poorly trained.
The mother tried her best to redirect her son's attention back to the task at hand. "Say bye-bye to your teacher!" she said, taking his hand and helping him wave goodbye. But the boy squirmed in her grasp, looking anywhere and everywhere else.
The teacher, a 24-year-old surnamed Zhou, took it in stride. Dressed in her customary yellow uniform, she was all smiles as she bid the boy farewell. (To protect the identity of my research participant, I am identifying her only by her surname.)
I met Zhou at an early-childhood intervention facility in the southern megacity of Shenzhen, where she worked with children with autism, Down syndrome, ADHD, and other developmental disorders. Her official title there was "special education teacher," though her responsibilities were closer to those of a therapist.
Early intervention for children with developmental disorders is a relatively young field in China. In contrast to Europe or the United States, where rehabilitative specialists like Zhou, usually called therapists, are typically required to obtain specific degrees and complete supervised internships before they are certified, many Chinese practitioners enter the industry with little to no relevant education or experience. Zhou studied early childhood education in college; her colleagues had backgrounds in psychology, nursing, and even information technology. For years, workers like them provided valuable services to an often-overlooked community. Now, they find themselves caught between a rapidly growing — and commercializing — industry and a government finally ready to take the need for qualified, professional therapists seriously.
China's first private rehabilitative institution for children with developmental disorders was established in Beijing in 1993, by the mother of a boy with autism. Over the ensuing two decades, families — and not the state — drove the expansion of the early intervention industry in China, as educated parents traveled overseas in search of resources and techniques that could help their children, which they then introduced into China upon their return, often by founding their own rehabilitation institutions.
If "parent-run institutions" kickstarted China's developmental disorder rehabilitation industry, the past ten years have seen the issue of neurodevelopmental disorders in children — and autism in particular — receive more and more attention from the Chinese government. The Chinese medical community now advocates for early screening and intervention for children with developmental disorders, while local officials and disability associations are incorporating intervention training for children showing signs of developmental delay into disability prevention projects and enlisting the services of professional rehabilitation institutions to help provide treatment.
The resulting boom in rehabilitation services has attracted a group of passionate, if not overly qualified individuals to the field. Given her complete lack of prior experience, Zhou was surprised that her employer didn't turn her away at the door. She quickly discovered the reason: As demand for rehabilitation services grew, the industry found itself faced with a severe labor shortage. As of 2020, only 23,000 people had acquired an autism rehabilitation certification from the China Disabled Persons' Federation — theoretically a requirement to work in the field. That year, therewas just one qualified autism specialist for every 130 children diagnosed with the disorder.
Because of the acute shortage of qualified professionals, many teachers, Zhou included, are hired first, and get qualified later.Zhou took a particularly diligent approach to her new profession, receiving her certification in less than six months and studying other useful intervention techniques, including behavioral analysis, natural environment teaching, and social stories training. Given the intensity of her training, she naturally believed that her job would be highly technical, but she quickly discovered that there's a huge difference between studying these skills in a workshop and applying them in the field. In her three years working at the center, she often felt more like an "auntie" at a nursery than a professional therapist. She spent most of her time, not teaching, but providing physical care — for example, holding children as they go to the toilet, cleaning them, serving them food, helping them eat, and coaxing them to take their afternoon naps.
After three years on the job, Zhou was one of her center's most experienced staffers, but her base salary was still just 5,500 yuan ($789) a month, plus occasional overtime. That's significantly lower than the average monthly income of Shenzhen residents.
In addition to poor pay, Zhou struggled to be taken seriously by her students' parents. After years of unchecked, largely unregulated growth, horror stories of abuse have spread widely among the parents of children with developmental disorders. Teachers are stereotyped as poorly educated and trained, and rarely respected by their students' families. After a day of exhausting work, Zhou often had to answer text messages from parents in the middle of the night questioning why their child was in a bad mood that day or why they weren't making progress quickly enough.
Many of these issues are caused by the vague standards and regulatory confusion that often accompany an emerging industry. Regulators have yet to decide whether the work of people like Zhou is a medical or an educational service, with the result that it falls under no one's jurisdiction. On top of that, many rehabilitation institutions can't make up their minds between serving the public welfare and profiting off concerned parents.
Some institutions have decided to eschew their charitable origins and embark on a thoroughly market-oriented path. Many of China's best-known early-childhood intervention centers are courting investors, offering paid online classes, or expanding their physical footprint. Others have been acquired and restructured by large-scale conglomerates. Even institutions that advertise their low tuition and take their responsibility to parents seriously often survive only by exploiting teachers.
Because for-profit institutions want to cultivate a more professional brand, they try to spare teachers from the work of physically caring for students. These centers hire nursery-style nannies to take on tasks such as coaxing children to sleep or helping them go to the toilet, freeing teachers to teach. But they also bring in therapists trained abroad as supervisors, and it is these supervisors, not teachers, who earn the highest salaries and get the most credit for students' progress. Ordinary staff like Zhou, who lack international degrees or impressive titles but do the bulk of the work, often feel frustrated at what they perceive as a glass ceiling.
Thus, while the industry has made strides toward professionalization, it is also facing an exodus of its most experienced front-line practitioners. In 2019, Zhou messaged me to say she'd resigned from her job and returned to her hometown in the central province of Hubei. She had previously expressed the hope that she could one day use the skills she acquired at the center to set up her own rehabilitation institution back home. But in our exchange that day, she said she wanted to leave the industry behind. Speaking two years before China's tutoring crackdown, she said she might go into preschool education. "The market is big and making money doesn't come at the cost of my morals," she explained.
Translator: Lewis Wright; editors: Cai Yiwen and Kilian O'Donnell; portrait artist: Zhou Zhen.
(Header image: Teachers talk to children with ADHD at a school in Luoyang, Henan province, April 2, 2022. Huang Zhengwei/VCG)