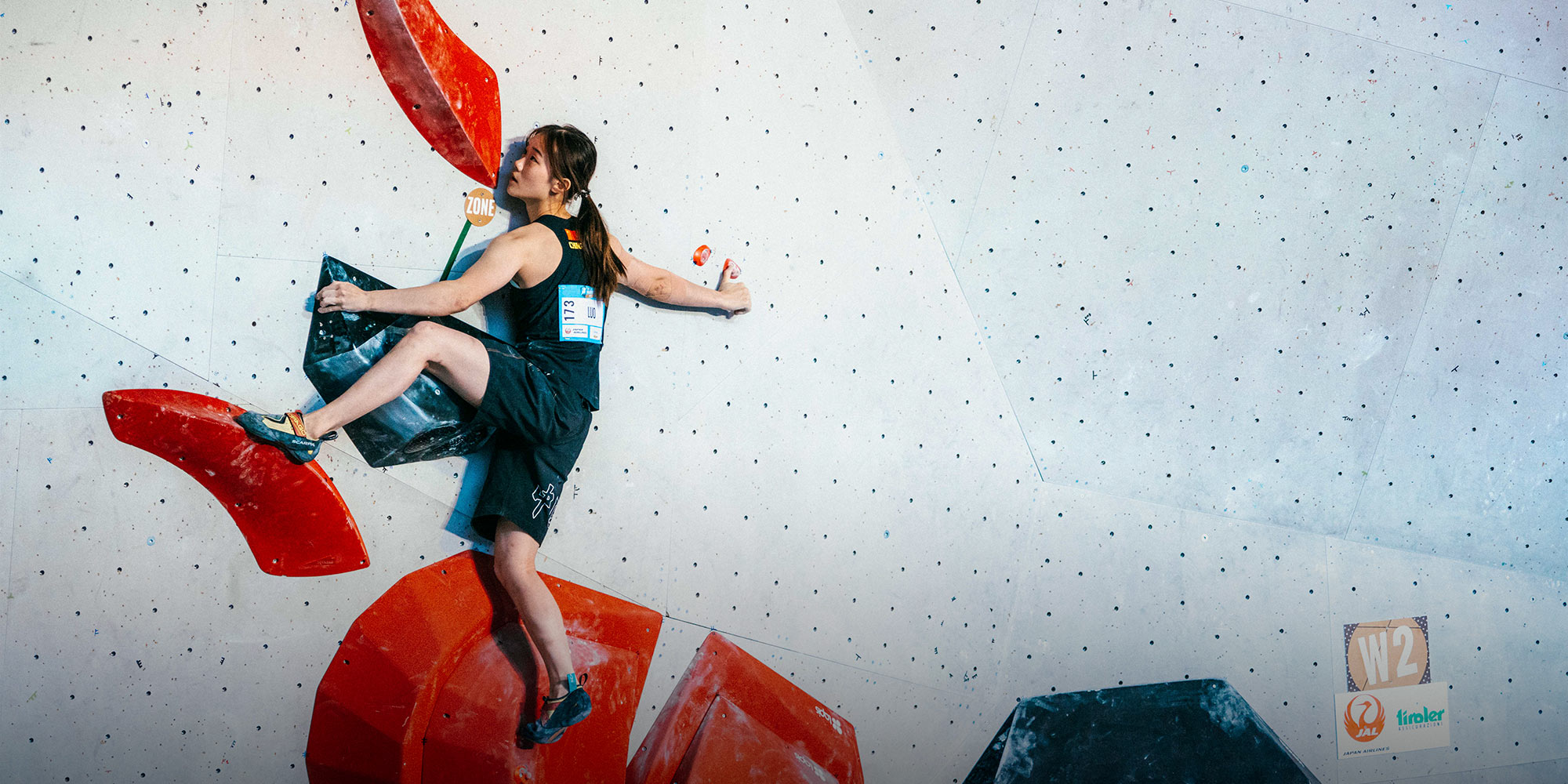 FEATURES
The Teenagers Revitalizing China's Sports Prospects
For decades, China's sporting prowess has been built on a state-driven system that excels at drilling athletes in traditional Olympic disciplines. But a new generation of young stars is determined to break the mold.
2022 was the year China's Gen-Z came of age. The first cohort of young Chinese born in the 21st century — known as the "post-'00s" generation — have now reached the legal marriage age and graduated from university.

In this four-part series, Sixth Tone will explore how the post-'00s differ from earlier generations, and how they might shape China's future. This is the third story in the series, exploring how post-'00s are shaking up Chinese sports.

Click the links to read the first two articles, which examine post-'00s and labor disputes and the pandemic.
In February, 17-year-old Su Yiming won China's first-ever snowboarding gold medal at the Winter Olympics in Beijing. A few months later, 16-year-old Luo Zhilu became the first Chinese climber to claim a podium spot in the Climbing World Cup's bouldering discipline. And 18-year-old Qiu Zhuo recently made history by advancing beyond the first round of the World Surf League — a first for a Chinese surfer.
These are just a few examples of how a new generation of Chinese athletes is emerging — one that's excelling in sports far beyond China's traditional areas of strength.
Prior to the past decade, much of China's sporting success relied on tiyu tizhi, the state sports system. Athletic children were selected, placed in boarding schools, and forged into champions in the sports assigned to them. The system excelled at producing champions in disciplines such as weightlifting, gymnastics, and diving.
Athletes within the system would often toil away in closed training, or fengbi xunlian — unable to leave the training base. Some athletes training with the national team were only allowed to spend one hour outside the base a week, one former team member told Sixth Tone. In return, they received free housing and food, a modest but steady income (with generous bonuses for winning Olympic medals), and the promise of a coaching job and a state pension after retirement.
But an alternative to this system is now emerging. In today's China, the ambitions of middle-class parents go beyond their son or daughter becoming a gymnast or diver with a guaranteed pension. And their kids have access to a whole range of trendy sports — from skiing to surfing — that previous generations in China did not.
Rather than putting their children through the state sports system, parents are training them up themselves: hiring coaches, buying the best equipment, and even sending them to train abroad. The children excel because they love what they're doing, and many are now good enough to represent China on the world stage — and even win world and Olympic titles.
'Alien sports'
Bao Xuping is one of the pioneers of surfing in China, who today runs the nonprofit Surfing China and organizes surfing competitions. He has a simple explanation for why his sport is taking off in the country.
"People in China are getting richer," he tells Sixth Tone matter-of-factly. "They're also bored with badminton, ping-pong … and kids are looking for new sports."
It's also a reflection of a cultural shift in China, Bao adds. Where outdoor sports used to be associated with danger, they're now seen as fun and aspirational, as the emerging middle-class embraces "close to nature" and "individualistic" lifestyles.
"Surfing used to be an alien sport to Chinese people. The Chinese term for such adventure sports is jixian yundong — extreme sports," he says. "In traditional Chinese culture, whenever people talk about something 'extreme,' it is related to danger or risk — not good."
Qiu "Alex" Zhuo, now China's best surfer, is the product of this change. When Qiu was a toddler, his parents moved from the landlocked city of Chengdu to the tropical island province of Hainan. "We wanted to change our way of life," Xu Jing, Qiu's mother, tells Sixth Tone.
Qiu became a surfer at the age of 4. "Qiu Zhuo starting to surf was very natural," says Xu. "His father really loves surfing, and he wanted his son to share that joy with him."
In 2020, the then-16-year-old Qiu made history by making it through to the second round of the World Surf League competition. Now a fully professional athlete, Qiu may have bleach blond hair and fluent surfer dude English, but he is also a member of the Chinese national team — an embodiment of how far the country has come — and is aiming to qualify for the 2024 Paris Olympics.
More are likely to follow him in the future, according to Bao.
"Ten years ago, 20 or 30 kids surfed. Now there are about 100 surfing schools in China. My gut feeling is that about 20 to 30,000 kids have tried surfing," he says.
Little Wooden Head
Yet surfing is still far behind climbing in popularity. Thousands of climbing gyms have opened across China in the past few years, and there is a booming competition scene for both amateurs and professionals.
Ola Przybysz, an elite climber and co-owner of the Climbing Factory gym in Shanghai, tells Sixth Tone that a local competition can see several hundred children participate. Parents, she says, think that climbing builds character.
Twelve-year-old Mu Zerun, known as Xiao Mutou, or "Little Wooden Head," started out on a climbing wall in his school. Three years later, he came second in the National Championships, competing against much older kids.
His father, Mu Jianhong, who goes by the nickname Lao Mutou, or "Old Wooden Head," tells Sixth Tone: "Doing sport was normal for us. Before Xiao Mutou started climbing, we would take him skiing, diving, and hiking."
"His progress has been very fast because he really likes climbing," he adds. "In China, coaches prioritize results, but to us results are not the most important thing."
"You get addicted to the challenge of climbing, and you feel like nothing controls your freedom," his son says.
"The coach said, 'You have talent, you should take the professional road,'" his father continues. "Professional training in China is very tough, but Xiao Mutou said he wanted to try to become a professional. I said, OK!"
Now, Mu Zerun trains four times a week, and says his ambition is to compete at the Climbing World Youth Championships and then the Olympics. But his training is about having fun, his father says.
"Actually, it is not very professional training. When he gets to the climbing gym, it is like he is playing a game," he says. "China is developing very fast. People's value systems are changing. You can no longer keep kids locked in school studying, then send them to college, then to work."
High-end sport
Skiing and snowboarding have exploded in popularity in China over recent years — driven in part by a huge government drive to promote the sports ahead of the recent Beijing Winter Olympics. There are now over 700 outdoor ski resorts in the country, and the world's three largest indoor ski resorts can be found within its borders.
Wen Xiexin is a retired national team member and the former head coach at Wanlong Ski Resort, located a four-hour drive northwest of Beijing. She tells Sixth Tone that parents see skiing as a high-end, prestigious sport on par with horse riding and golf. Skiing is also now part of the physical education curriculum in schools and there are plenty of competitions for children.
This is a far cry from the old days, when the few available ski slopes were reserved for professional skiers from the state sports system.
"When I was a kid, China had only one way of preparing athletes," says Hao Sihua, a nine-time Chinese alpine skiing champion during the 1990s. "In the second year of middle school, kids would be sent to a tixiao, a sports boarding school, then advance to a sports team, which means you are a professional."
Liu Yongxi, 15, has taken a very different route. To polish her skiing technique, she was not shipped off to a tixiao, but sent to France and Italy by her parents. Now, she has a long list of skiing titles and is a member of Beijing's Chaoyang District team.
Her father, Liu Zheng, says the family decided to pay for his daughter's coaching themselves "to improve her results." It hasn't been easy, or cheap: Private coaching costs at least 3,000 yuan ($420) per day, and good coaches are extremely selective. One of his daughter's Italian coaches only accepts 12 students for her masterclasses in China.
Yongxi has also had to work hard to juggle elite training with school, but she hasn't needed any extra motivation, her father says.
"You wake up at 5 a.m., it is still dark, but that's nothing to her — you don't need to wake her up," says Liu Zheng. "After training, the coach says stop, but she sneaks into the cable car to have a last run."
Yongxi followed her skier brother onto the slopes: "I was curious at first, then discovered that I really liked skiing, then step by step, I started to compete. After a competition, I have this feeling of achievement," she tells Sixth Tone.
There are two types of competitions for kids, explains Wen: guanfang bisai, organized by the sports authorities, and shangye bisai, organized commercially. The former is only for elite, officially registered athletes.
"Yongxi can take part in both, representing Beijing," says Liu Zheng. "Coaches said they want her to go pro, but we want her to put her studies first."
Into the wild
White-water river kayaking is still in its infancy in China. American Travis Winn, one of the first people to teach the sport in the country, estimates that "there are a few hundred adults and less than 100 children" practicing the sport in China.
But one of his students, 17-year-old Chen "Barry" Yuhao, has already run rivers in China, the U.S., and South America.
"It gives me a different world. I can drop everything and go into the wild," Chen tells Sixth Tone.
When Barry was 7, his parents took him on a kayaking trip on Nujiang River in Yunnan, organized by Winn's outfit Last Descents. "We wanted to teach our son the connection between people and the natural world," Chen Ge, Barry's father, tells Sixth Tone.
Barry loved kayaking and continued to learn. When he was 14, his parents agreed to send him to the U.S. to attend the World Class Kayak Academy, "a traveling high school for students who want to earn their education while exploring unique rivers and cultures around the world," as described on their website.
"That was the biggest change in my life. Otherwise, I would have just stayed in China, studying and writing assignments," says Barry. 
Instead, he learned to jump waterfalls in a kayak: "My first jump was a 30-foot waterfall, and I was very scared. After, I felt … a huge happiness."
Barry was spotted by the national kayaking team and got invited to an elite-grade competition in Guizhou this November.
"The Chinese team is preparing for the 2024 Olympics. They saw — ah, this kid is good, very experienced, let him try," says Chen Ge.
But, despite the lure of the Olympics, Barry has no plans to be a pro athlete.
Having seen the retreat of wilderness on China's rivers, Barry decided to study environmental science at university and then work on "harmonizing development and nature."
"I don't think I would love kayaking if I were a professional; you then treat it like a job. I want to kayak when I do my research, but I don't want to be a professional athlete."
His father is happy with that: "I think in kayaking Barry found his own way to grow — a wonderful and harmonious one."
One country, two systems
As more families choose to keep their children out of the sports school system and pay for their athletic training themselves, Chinese sports is starting to resemble a twin-track system. But can the two approaches — state and private — coexist?
Bao Xuping, the surfing industry professional, says the two systems should actually complement each other. Ultimately, it should give China the chance to produce a greater number of elite athletes in a wider variety of sports.
"There's a saying in Chinese: baihua zhenfang — a hundred flowers in full bloom," he says. "Wealthier families can pay for coaches — that's good. Poorer families can send children to sports schools, which is also good."
And as the government invests more into extreme sports, it's giving athletes inside both systems more options, Bao says. "Beijing recently founded a youth surfing team. They're training overseas, and they hired an ex-Olympic surfing coach from the U.S.," he says. "It's a very good opportunity for kids."
Zhou Lei, who works in the climbing industry, has also benefited from rising government interest in outdoor sports. In 2018, the sports authorities paid professionals to open new climbing routes in Liupanshui, southwest China's Guizhou province, which is now a world-class climbing destination, he says. The development of Mashan — a highly popular climbing area in neighboring Guangxi — was also government-funded.
Zhou himself recently developed a new climbing area in Tengchong, southwest China's Yunnan province, with the government's approval, and now provides introductory climbing classes to families and groups of children.
Some of the kids Zhou Lei introduces to climbing may get hooked on the sport, just like China's teenage climbing star Luo Zhilu did at the age of six.
A spokesperson for the International Federation of Sport Climbing told Sixth Tone: "To see Luo Zhilu on the podium of the world cup was fantastic. I am sure that the Chinese team will be a tough competitor in the coming future."
Bao, the surfer, agrees: "It is great to see China catching up in these sports. We have a very bright future."
Editor: Tom Arnstein.
(Header image: Luo Zhilu on her way to coming third in the IFSC Climbing World Cup, June 2022. Lena Drapella/IFSC)