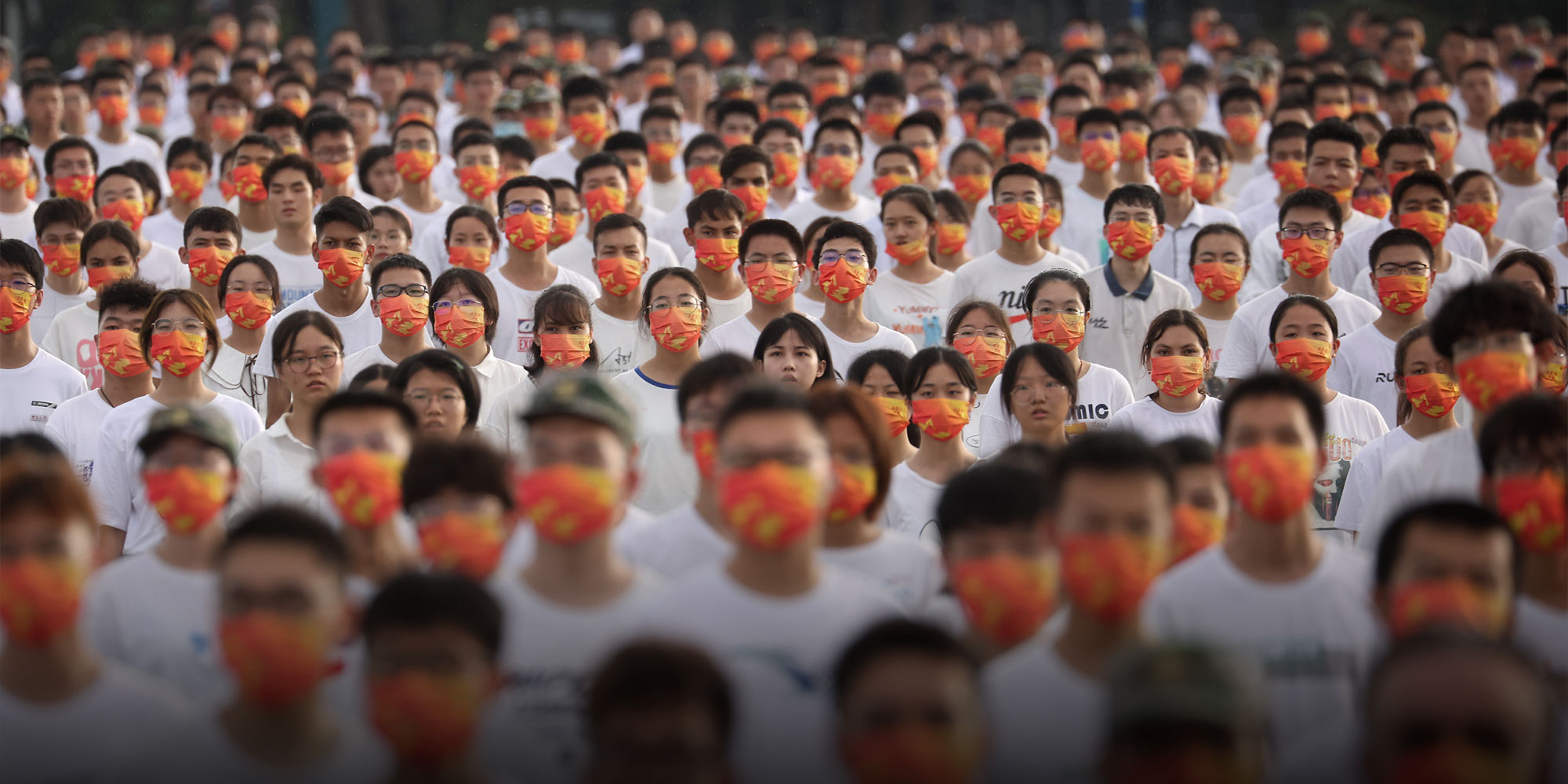 FEATURES
After 3 Years of COVID, China's Gen-Z Face a Tough New Reality
For young Chinese, the pandemic hasn't just brought years of lockdowns; it has fundamentally altered their expectations for the future — and their understanding of their place in society.
2022 was the year China's Gen-Z came of age. The first cohort of young Chinese born in the 21st century — known as the "post-'00s" generation — have now reached the legal marriage age and graduated from university. 
In this four-part series, Sixth Tone will explore how the post-'00s differ from earlier generations, and how they might shape China's future. This is the second story in the series, focusing on how the post-'00s have been affected by the COVID-19 pandemic. The first story is available here.
In October, Chen began to feel seriously unwell. Worried he might need emergency medical treatment, the 20-year-old student went to his tutor for help.
The tutor's response frustrated him. Rather than ask Chen how he was doing, his tutor bluntly informed him that he would need to apply for permission to leave campus due to the college's strict virus-control rules.
For Chen, the incident encapsulates life inside China's universities during the pandemic — a period where institutions have come to be ruled by fear.
"It feels like people are not very important," says Chen, who gave only his surname to protect his privacy. "Following the rules is what's important."
For young Chinese like Chen, the COVID-19 pandemic has meant more than just three years of lockdowns. It has often been a life-shaping event — one that has altered their view of the world and their expectations for the future.
Chen is a member of China's "post-'00s" generation — the first cohort of young Chinese born in the 21st century, whose time at university has coincided almost exactly with the coronavirus era.
After growing up during an age of rapid economic growth, many "post-'00s" arrived at college full of confidence. They took it for granted that they'd find good jobs and enjoy a comfortable life after graduation.
Then came COVID-19, and everything changed. Chinese universities implemented some of the country's strictest "zero-COVID" rules, locking down again and again. Leaving campus for nights out, internships, or even trips home became challenging at the best of times — and all but impossible this year as cases rose.
Meanwhile, China's economy has slowed sharply and white-collar jobs have dried up. By July, the country's urban youth unemployment rate was nearly 20%. When the first class of post-'00s finished their degrees this summer, domestic media dubbed it "the hardest graduation season in history."
For many post-'00s, it has been a dizzying — and distressing — reversal of fortunes. In a July survey of post-'00s by Chinese business media outlet Yicai, nearly 85% of respondents said the pandemic had made their university lives less fulfilling than they'd expected. Over 75% said it had reduced their sense of security, while nearly 70% said it had lowered their confidence in the future.
Online, this sentiment has crystallized into an often-repeated refrain: "Youth is short, and three years of it have been lost to the pandemic." Many who expected to spend their late teens and early twenties exploring and experimenting are instead learning to deal with feelings of helplessness and anxiety.
To better understand how young Chinese are coping, Sixth Tone asked six members of the post-'00s generation for their views on zero-COVID, growing up in the shadow of a pandemic, and how the past three years have changed their outlooks on life.
Gao Ling, 21, university student in Shanghai 
This spring, after Shanghai went into lockdown, one of Gao's classmates tested positive for the coronavirus. Within days, she and over 100 of her fellow students were transferred to a city in the neighboring Jiangsu province for quarantine.
"The quarantine was probably the worst time of my life," Gao says. "I felt like I had been cut off from the world."
Gao had been dealing with depression for some time before the lockdown. Although her mental state improved after a semester speaking with a senior psychology student, she experienced intense emotional swings and anxiety during the 10 days she spent in the quarantine facility.
Slowly, however, she learned to control her moods. Attending online classes and meetings and working on her own projects, she even began to see the bright side of time away from campus.
She now thinks she was depressed because she was "too young," and that the experience helped her mature. Not long after China's October National Day holiday, she was quarantined again. This time it barely fazed her.
"I don't really let the bad things make me unhappy anymore," she says. "It's enough to just keep on living."
Her future remains a sore spot, however. Gao believes that post-'00s have had a fundamentally different pandemic experience from older generations. The post-'80s and post-'90s "already have their own lives," she says, while the post-'00s confined to campuses have been "pushed around."
A senior, she plans to work in human resources, the major she picked nearly four years ago. But she feels her job search has been affected by the pandemic and she has yet to receive a job offer.
"Frankly, I don't see the end of the pandemic yet," she says. "I'm not hopeful about it. There is no despair without hope."
Chen, 20, university student in Shanghai
The past year has been a reality check for Chen. In October, he fell ill and wanted to go to the hospital for emergency treatment. Rather than ask how he was doing, his tutor bluntly informed him that he would need to apply for permission before he could leave campus — a rule instituted after Shanghai's citywide lockdown in the spring.
"It seems the whole system from top to bottom is very touchy and fearful of making a mistake," he says.
He and his classmates live in fear of another lockdown. In October, as cases ticked back up in Shanghai, students cleared out the campus supermarket's shelves almost instantly.
"Everyone, including me, suddenly had this strong sense of looming crisis," he says. "I felt like I was going to go back to the days when I couldn't move for months."
As a student, Chen says he doesn't need to worry too much about food or having a place to stay. But he's felt the pinch of China's "zero-COVID" policy in other ways. Chen's father, who runs a small shop, had to pay rent and staff salaries during a separate lockdown of his hometown in the southwestern province of Guizhou. His father's business has yet to fully recover.
Before the pandemic, Chen thought that if he studied hard, he could find a stable job and live a good life. Now he's not even sure he'll finish school: "College was supposed to be the most important years of my youth, but I lost those years to this."
Xie Bin, 21, content creator in Zhejiang province
Xie lives alone in the eastern tech hub of Hangzhou, where he works for a new media company. He says the job, which pays him 7,000 yuan ($987) a month, wasn't what he was hoping for, but that he took it because of "the bad environment" caused by COVID-19.
"The pandemic has made people more anxious about money and its absence," he says.
If it hadn't been for the pandemic, perhaps he might have spent the past few years expanding his personal networks by going out and meeting new people. Instead, he spends most of his time either at work or at home, in part to avoid unnecessary quarantine risks.
On the other hand, "zero-COVID" does have its benefits. His relationship with his parents, who are unsupportive of his career, is strained, and the policy has occasionally promised relief. "Last year, I briefly hoped that Hangzhou would be locked down so I wouldn't have to go home for the holidays," he admits.
Xie also says COVID-19 has brought new opportunities to his industry, as people spend more time watching short videos and surfing livestreaming platforms. He likes the work, low pay notwithstanding, and thinks he can find success, given time. But he feels uncertainty hanging over everything.
"This uncertainty stems from frustration with the country, its institutions, and its policies," he says.
Li Xiaohan, 16, high school student in Guangdong province
When Li's high school announced it was switching to remote learning, her first reaction was relief at the prospect of being able to sleep in. She even hoped the pandemic would last longer.
Relaxation soon gave way to tedium, however. "I felt bored staying home all the time, and every day I wondered when I could go out again," she says. Her attitude hardened further when she learned her parents were earning less working from home: "I changed my mind. I want it to end quickly."
The pandemic and shift to online classes have also impacted her grades. Although China has not published official data on learning outcomes during the pandemic, studies elsewhere suggest that the shift to remote learning has been rocky.
Li, who spent much of the remote learning period shopping online to relieve stress, admits her scores were not "very ideal" after her school resumed in-person instruction. "Based on my exam results, I might not get into college," she says.
Nevertheless, Li is proud of the job China has done controlling COVID-19. "Everyone is working hard on this," she says. "It's a great demonstration of the unity of the Chinese people." 
Fu, 20, English teacher in Fujian province
In the spring of 2020, Fu was a university student in the English city of Manchester. When the COVID-19 outbreak there spiraled out of control, he decided to return to the relative safety of China.
Prior to the pandemic, Fu, who gave only a surname for privacy reasons, had always assumed he would complete his undergraduate and postgraduate studies in the United Kingdom before finding a finance job and settling down there. But as case counts skyrocketed, his opinion of the U.K. soured. 
"Everyone was testing positive," he recalls. "It was stranger if someone's test came back negative." Opposition to mask mandates ran deep, and, most important to Fu, racism against Asians was widespread.
Now, Fu works as an English teacher in a small city in the southeastern province of Fujian. His salary, 3,000 yuan per month, is far less than what he might have earned in finance, but he says money feels less important since the pandemic.
He has regrets — China's COVID-19 controls kept him from seeing his grandmother before she died and the strain of going long-distance led him and his girlfriend to break up — but he's confident he made the right decision. "The pandemic shows the difference between China and the West, and China's system is better," he says. 

Li, 20, university student in Shanghai 
Ask Li what she thinks of the Shanghai lockdown, and her first response is to brush it off. "It's all kind of forgotten now," says Li, who gave only her surname for privacy reasons. 
Push a little harder, however, and it's clear she has no shortage of thoughts on the politics of "zero-COVID." She remembers a key moment in the spring, when one of her instructors was posting politically sensitive stories and she chose to repost them on her own accounts.
"When some grassroots officials are incompetent, or they are wrong about some aspects of governance, and no one points it out, or they are afraid to point it out, that's the real threat to social harmony," she says.
A native of the nearby city of Suzhou, Li appreciates Shanghai residents' willingness to speak out during the lockdown, "People are starting to talk about (their experiences) in public," she says, calling it "a very hopeful thing" and "a point of pride as a Chinese person."
Li says she originally wanted to become an academic, but now feels that the ivory tower is too insular. "Scholars' work is rarely heard at the highest levels, and it doesn't have much impact when posted online," she says. "I'll just get on with my life, get a job, or open a shop or something."
Editors: Kilian O'Donnell and Dominic Morgan.
(Icons: Shijue/VCG)
(Header image: Students attend a ceremony at a university in Nanjing, Jiangsu province, Oct. 9, 2021. Yang Bo/CNS/VCG)