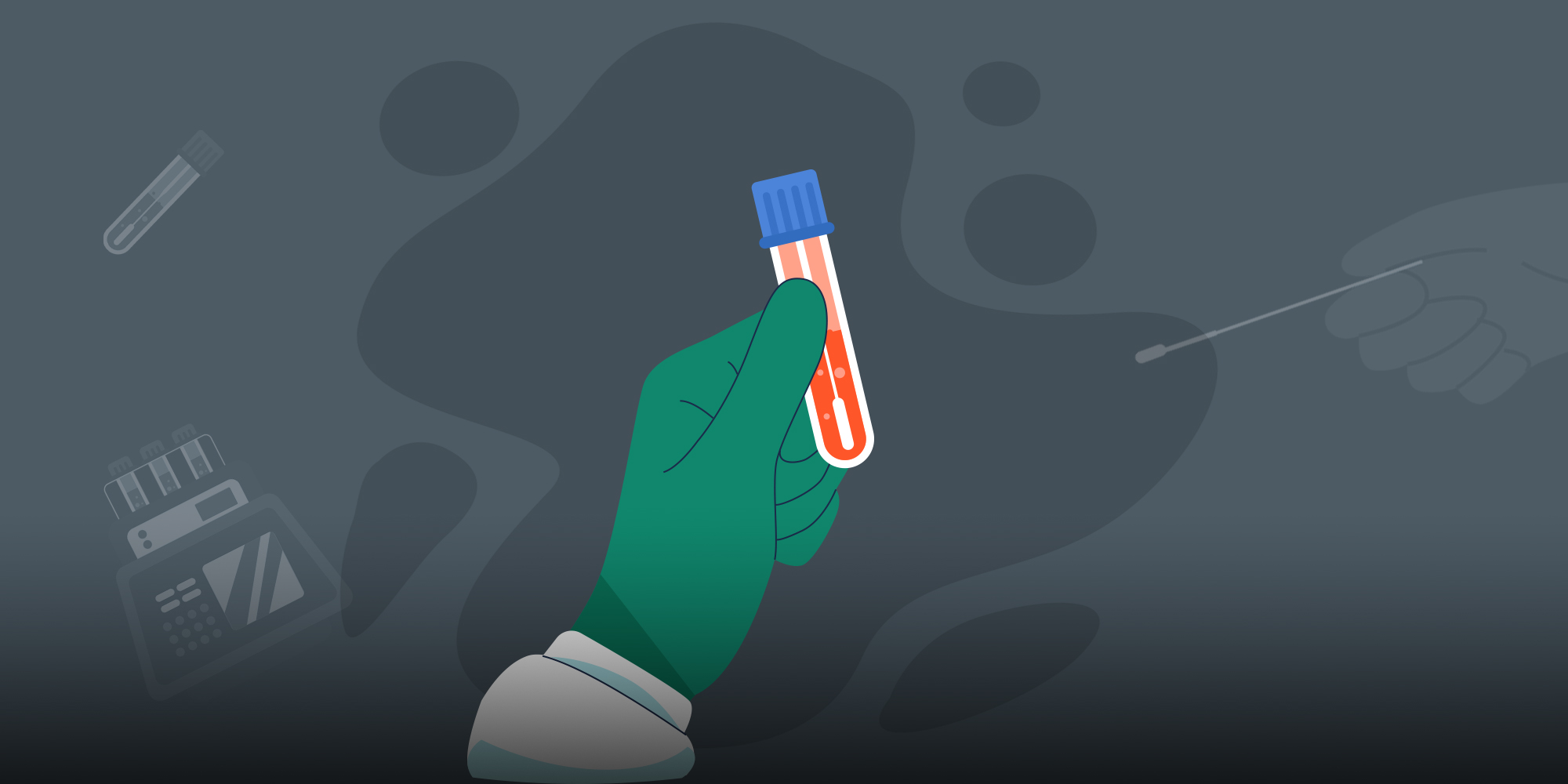 SIXTH TONE ×
China's COVID Testing Complex Complains of Paper Profits and Real Losses
The Paper dives into the data to see who's making bank and who's in trouble.
Editor's note: Mass nucleic acid testing has been central to China's efforts in combating COVID-19 as the pandemic enters its fourth year. However, multiple cities and counties have recently changed their policies, with Chongqing suggesting residents only take nucleic acid tests when necessary and Shenzhen, Beijing, and Tianjin no longer checking test results on public transportation. Meanwhile, IPO applications by testing companies have come under intense scrutiny as they reaped much of their revenue from the pandemic.
Four years into the pandemic, how are China's COVID testing companies faring? As many companies have released their interim reports for 2022, The Paper's data team looked into their finances and had three key findings.
Increasing disparity between revenue and net profit
As the pandemic enters its fourth year, the booming nucleic acid testing industry has well and truly come to an end. Newcomers are no longer guaranteed big profits as the market reaches saturation. The disparity of the companies' profit margins has widened.
The Paper looked into their interim reports for 2022 and categorized them by their total revenue and net profit.
First are companies whose revenue and net profit have both continued to grow. They have dominated both the domestic and international markets to stimulate growth.
There are also companies whose revenue and net profit have both dwindled. They have failed to keep up with market competition and thus have a shrinking market share.
Last but not least are companies with revenue growth but a declining net profit. These players have generally turned to low-profit, high-volume sales in the hope of securing more market share.
In the first category, YHLO Biotech stands out with the highest growth rates in the first six months of 2022, with its revenue and net profit up 326% and 648% year-on-year, respectively. The company's SARS-CoV-2 antigen rapid test kits have been approved and procured by health authorities at home and abroad to generate 1.82 billion yuan ($259 million) in revenue, a whopping 3,046.6% increase compared to the same period last year.
Similarly, PONY Testing, Labway, and EasyDiagnosis — companies that saw growth in both revenue and net profit — all said in their reports that routinized nucleic acid testing in China had driven up demand for their products and stimulated rapid growth of the industry. These players have all come out on top in the nucleic acid testing market, making it easier for them to stay afloat through industry consolidation.
Meanwhile, companies such as BGI, Hotgen, and Lepu Medical saw both revenue and net profit drop significantly in the first half of 2022 compared to the same period last year. To them, the testing business is no longer as lucrative as it once was but there is still some profit to be eked out.
"The growing competition in the domestic and international markets for COVID testing products has forced us to lower our prices, causing our revenue to drop compared to the same period last year," Hotgen wrote in its interim report. As more countries enforce regulation on COVID-19 test prices and more players enter the market, competition has intensified and affected profit margins.
Though the third category of companies posted a year-on-year increase in revenue, their net profit had dipped. Orient Gene attributed the decline in net profit to an aggressive price cut by the government for SARS-CoV-2 test kits during the reporting period. Given the thin profit margin, these companies hope to secure their position in the industry by selling more tests. However, they're unable to turn a large profit despite revenue growth.
Big bucks from the upstream sector
But a COVID-19 test does not start or end with a simple swab. There are raw material suppliers to help make the test kits, companies that provide the tests, and laboratories that produce the test results. Who has the most lucrative business?
The Paper analyzed the annual reports for 2021 of nearly 30 companies and found that the upstream companies make the most profits in the supply chain. For example, Fapon Biotech revealed in its prospectus that the gross profit margin for raw materials was as high as 96% in 2021.
The midstream segment, meanwhile, saw the widest gap in profit between the top performers and everyone else. A case in point is DaAn Gene, who reported a gross profit margin of 88% on its nucleic acid test kit in 2021.
Downstream organizations saw a more moderate profit margin ranging from 45% to 65%. In recent years, Hybribio has directed its efforts toward building and operating third-party clinical laboratories. In its annual report for 2021, the company reported a 63% gross profit margin for its clinical testing services.
Unsustainable cash flow
But companies that see rapid growth are not immune to underlying risks.
Companies do not receive payments immediately after providing testing services, so selling on credit has become a common practice in the industry. This in turn significantly increases the risks of bad debt.
Illustrated below are the accounts receivable — the amount customers owe the company — of the testing companies recorded at the end of 2021 and mid-2022. For example, Labway wrote in its interim report that its accounts receivable reached 66% as it waited longer for the payment for the mass testing services it provided.
Overdue payments have put these companies' cash flow positions under serious strain. PONY Testing, BGI, Labway, Dian Diagnostics Group and many other companies reported a negative cash flow for the first half of 2022. This points to trouble chasing down debts and balancing operation costs and earnings.
The disruption in cash flow prompted companies to resort to financing to stay afloat. However, the intensifying competition in the COVID-19 testing industry only means that a strong cash flow will be key to their survival.
Reporters: Jiang Xin'er, Wang Yasai, Liu Yuzhe, and Gu Xiaolei
A version of this article originally appeared in The Paper. It has been translated and edited for brevity and clarity, and is published here with permission.

Translators: Lewis Wright and Luo Yahan; editors: Xue Yongle, Luo Yahan, and Elise Mak.
(Header image: Visuals from Shijue Focus/VCG, reedited by Sixth Tone)